Current Focus List

The VoSI Focus List is a compilation and reference list of stocks for which Pocket Pivot or Buyable Gap-Up Reports have been issued. It is not intended as a "buy list" or a list of immediately actionable recommendations. Stocks on the list may or may not be in proper buy positions, and investors should exercise discretion and proper judgement in determining when and where stocks on the Focus List can be purchased. The following notes are intended to assist in this process. Please note that members can enlarge the Focus List image by clicking on the body of the email and then holding the Control Key while pressing the "+" key until it is large enough to read.
General Observations
:The general market was hit with heavy selling volume on Thursday, but the indexes found support around their 20-day exponential moving averages. Then on Friday, the indexes gapped down but held their ground, once again finding support at the 20-dema. The market's direction from here is currently unclear, and there is the possibility for further corrective action. This could come in the form of more downside as support at the 50-dma might come into play, or simply a choppy, volatile range such as we saw back in June.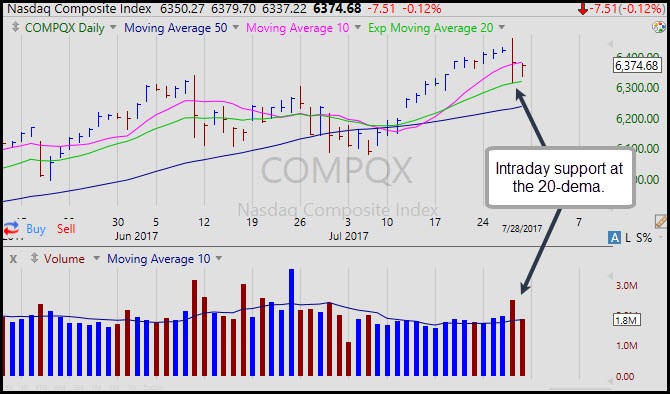 The most concrete way to deal with this is to simply maintain awareness of your exit points for existing long positions. Then react accordingly based on the real-time market evidence. Meanwhile, any new long entries should be done at areas of potential support where risk can be kept to a minimum by using that same area of potential support as a nearby or "tight" selling guide.
Removed from the List this Week:
Yandex (YNDX)
- the stock was already trading below its buyable gap-up (BGU) low of 30.90 from July 13th before it reported earnings on Friday morning and gapped down further.
Focus List Stocks Expected to Report Earnings this Week:
Take-Two Interactive (TTWO)
on Wednesday, August 2nd,
Applied Optoelectronics (AAOI)
,
Arista Networks (ANET)
,
Lumentum Holdings (LITE)
(unconfirmed - check with company),
Appian (AAPN)
, and
Baozun (BZUN)
all on Thursday, August 3rd, according to
Briefing.com
. Other sources may have different dates.
Notable Action:
With several names on the list expected to report earnings this week, there are only a select few names on the list that may be in buyable positions currently. The viability of any of these, however, will likely depend on where the general market goes from here. Further corrective action could result in some of these stocks pushing below selling guides. For example,
Arista Networks (ANET)
closed below its 50-dma ahead of earnings this week.
In all cases below where a stock is sitting right at an area of support, or has just pulled off a successful undercut & rally (U&R) move back up through a prior low, keeping stops very tight will be critical in case the general market continues to weaken, which is a tangible possibility.
Netflix (NFLX)
is testing its 10-dma here following the prior week's post-earnings buyable gap-up move. The 10-dma should be used as a tight selling guide for any shares purchased here along the line on this pullback.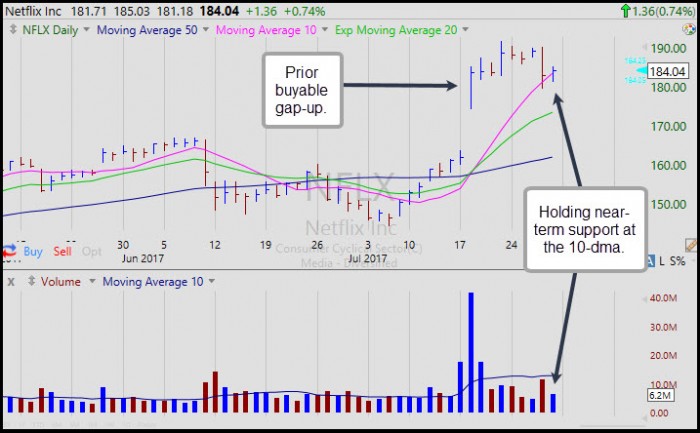 ServiceNow (NOW)
gapped up Thursday after reporting earnings on Wednesday after the close. The stock opened at 115.13 and then traded lower all day as the general market selling pressure weighed on the stock. However, the stock was able to close positive on the day and about 1/3rd of the way off its intraday lows, where it found support along the 20-dema. Thus Thursday's action qualified as a stalling pocket pivot, and the stock can be viewed as buyable here using the 20-dema as a tight selling guide.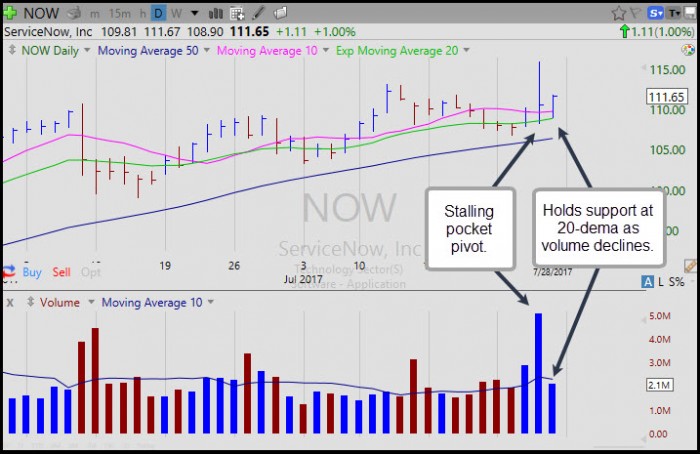 Nutanix (NTNX)
is testing its 20-dema as it undercuts and rallies back above the prior 21.62 intraday low of its July 14th buyable gap-up (BGU). The successful undercut & rally moves over the past two days put the stock in an actionable long position right here using the 21.62 BGU low as a tight selling guide.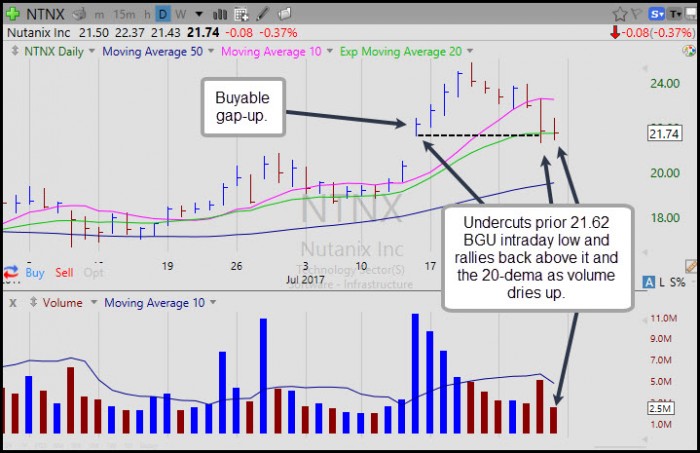 Veeva Systems (VEEV)
was hit with heavy selling on Thursday, closing just five cents below its 50-dma. It was able to regain the 50-dma on Friday as volume came in light. This would need to hold the 50-dma to remain viable, but one could view the stock as buyable here using the 50-dma as a tight selling guide.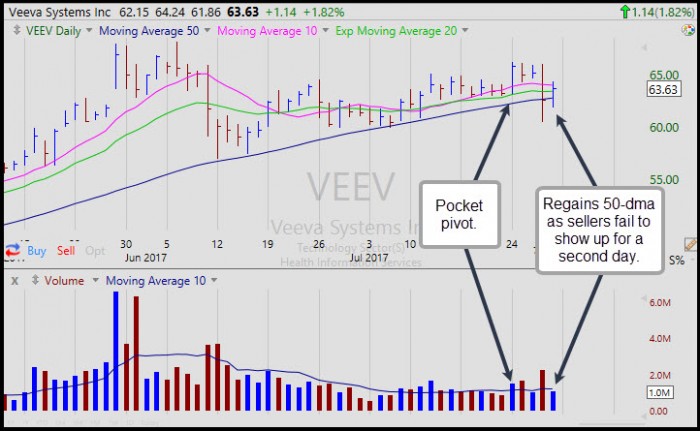 Yext (YEXT)
has fallen back below its 20-dema and 50-dma in reaction to the recent market weakness. The stock had a strong upside move after it was added to the Focus List in early July, but is now back to "square one" as it tests the prior lows in the pattern. If it can hold, it may set up for move back up through the 50-dma, which could trigger a new entry.