Current Focus List

The VoSI Focus List is a compilation and reference list of stocks for which Pocket Pivot or Buyable Gap-Up Reports have been issued and which have been deemed suitable for inclusion on the Focus List. Not all stocks for which a Pocket Pivot or Buyable Gap-Up report has been issued will necessarily be added to the list. It is not intended as a "buy list" or a list of immediately actionable recommendations. Stocks on the list may or may not be in proper buy positions, and investors should exercise discretion and proper judgement in determining when and where stocks on the Focus List can be purchased. The following notes are intended to assist in this process. Please note that members can enlarge the Focus List image by clicking on the body of the email and then holding the Control Key while pressing the "+" key until it is large enough to read.
General Observations:
We noted last weekend that we did not see much in the way of "opportunistic entry points as the market takes on a somewhat stale character as leaders either get extended or simply continue to flop around in their chart patterns ahead of expected earnings reports." The stale character of the market became more problematic this past week amid some strange action in over-shorted stocks like GameStop (GME), AMC Entertainment (AMC), and Tootsie Roll (TR) that experienced absurd price jacks as shorts were forced to cover. Certain hedge funds, such as Melvin Capital, required "mini-bailouts" due to liquidity stress as a result of their short exposure to these names. In addition, brokerage app Robinhood was forced to find $1 billion in financing to remedy its own liquidity issues as a result of wild trading activity in these heavily-shorted stocks on its platform.
This made for a very raucous week, with major market indexes selling off on heavy volume Wednesday after the Fed policy announcement and then stalling badly on Thursday in a bid to retrace Wednesday's sell-off. Friday the indexes continued lower. Volume has been well above average for both the NASDAQ and the NYSE, thus the action qualifies as three days of distribution off the peak.

The
Market Direction Model (MDM)
remains on a
BUY
signal. A new stimulus package is around the corner. The Fed Chair Powell signaled at its recent meeting that the QE pump will have to continue due to struggling businesses and individuals. He said the resurgence in COVID-19 cases that prolong the economic lockdowns against the efficacy of a new vaccine to accelerate herd immunity leaves the outlook "highly uncertain." More on this in the most recent Market Lab Report.
Focus List Stocks Expected to Report Earnings this Week:
None.
Notable Action:
Apple (AAPL)
reported earnings on Wednesday after the close and was unable to move higher on what was allegedly a positive earnings report. It has now failed on a recent breakout attempt, dropping below its 20-dema on Friday on heavy volume. This is now starting to show signs of a possible late-stage failed-based (LSFB) short-sale set-up where the stock becomes shortable just under the 20-dema while using the line as a tight covering guide.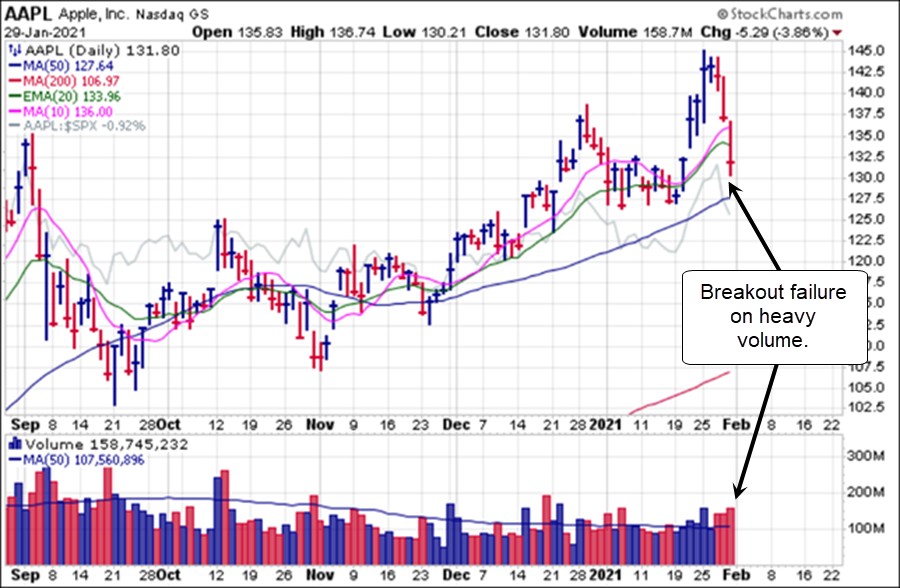 Tesla (TSLA) reported on Wednesday after the close as well, and sold off down to its 20-dema on Thursday. It then slipped below its 20-dema on Friday as volume picked up.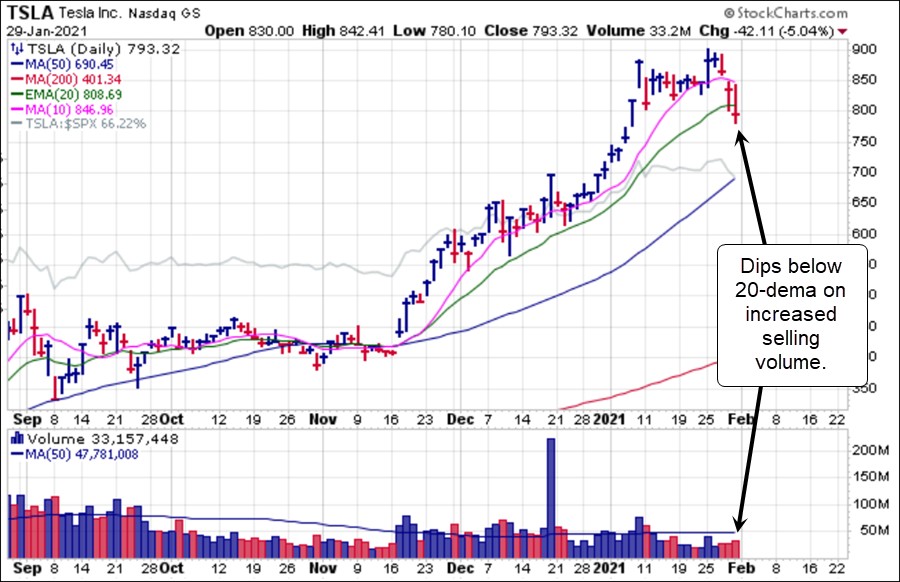 Fertilizer name Nutrien (NTR) has also failed to hold a recent breakout as it broke below its 20-dema on Wednesday and then moved lower on Friday, closing below its 50-day moving average on heavy selling volume.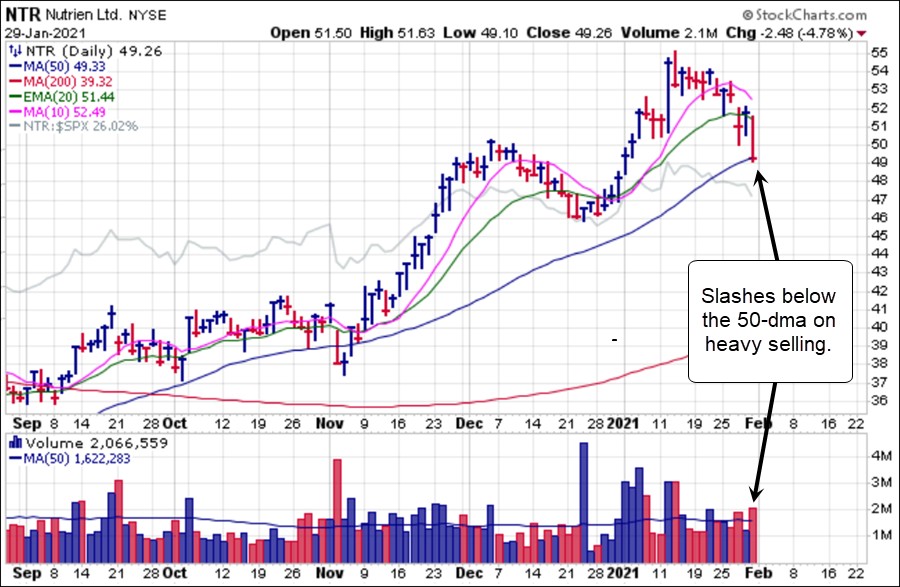 Microstrategy (MSTR) broke out to new highs on Friday but reversed near the $700 Century Mark. This is the only stock on the Focus List that is not failing, yet, but still remains extended.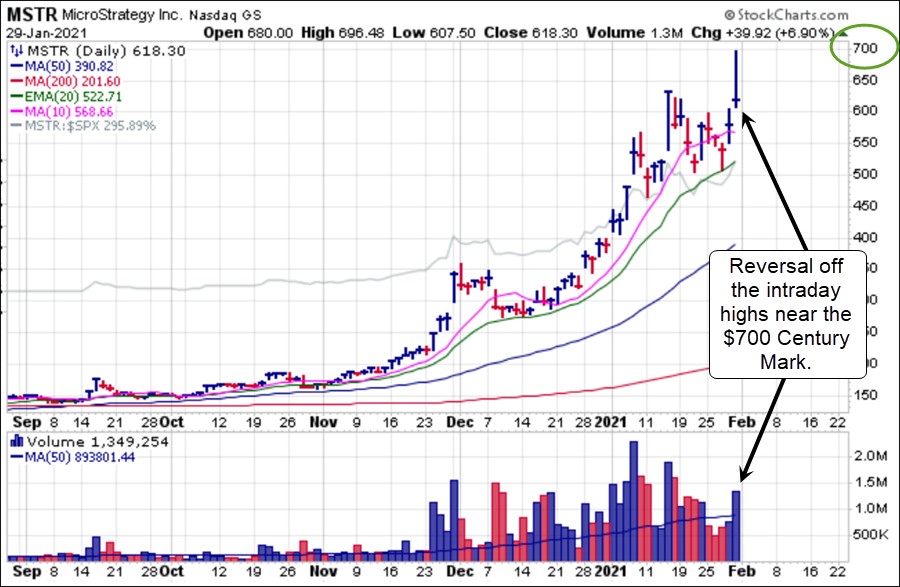 Bitcoin made a bid for its prior highs but fell short on Friday. The Grayscale Bitcoin Trust (GBTC) reversed off its intraday highs on Friday and closed near its lows for the day on heavy volume. This needs more time to set up again in our view following a near-term climactic run in early January. The largest fund in the cryptospace, Grayscale, has an influence on the bitcoin markets. Accredited investors are locked in for 6-months when they buy bitcoin or ethereum from Grayscale. The bitcoin unlocking period starts February 3, so this should provide a strong tailwind for bitcoin.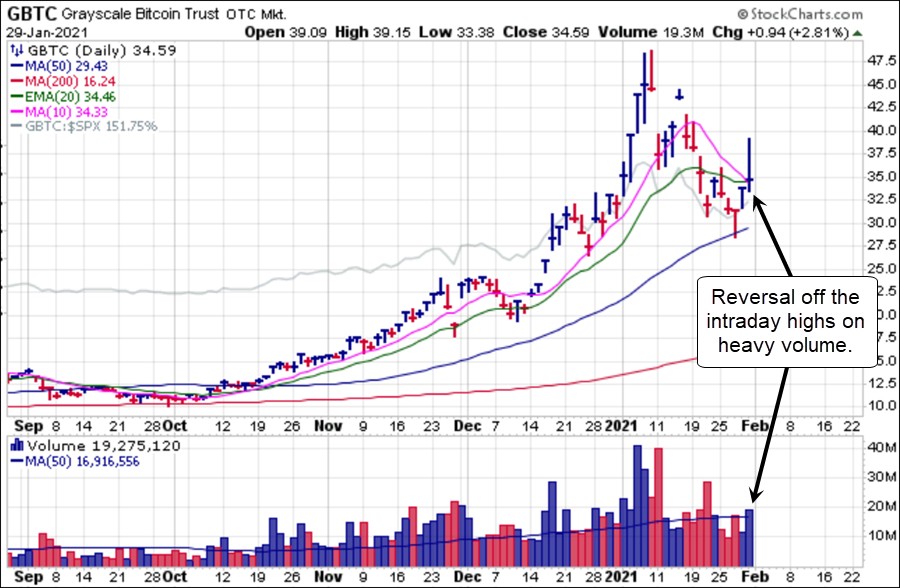 Silver made a strong move on Thursday that was not followed by gold, but both metals were higher on Friday amid the market pullback. While the Sprott Physical Gold Trust (PHYS) has run into resistance and reversed at its 200-day moving average, the Sprott Physical Silver Trust (PSLV) posted a big-volume gap-up move that was both a buyable gap-up (BGU) with an intraday low of 8.97 and a pocket pivot through three moving averages on Thursday and continued higher on Friday. It is now extended. Keep in mind that a continued market correction could eventually weigh on the metals and drag them down as well, so keep your stops tight.

The market action has turned decidedly negative, and with big-stock leaders like AAPL starting to fail on recent breakouts, the situation remains highly cautionary at best. Review your selling guides and be prepared to exercise both absolute and trailing stops as necessary.