Current Focus List

The VoSI Focus List is a compilation and reference list of stocks for which Pocket Pivot or Buyable Gap-Up Reports have been issued and which have been deemed suitable for inclusion on the Focus List. Not all stocks for which a Pocket Pivot or Buyable Gap-Up report has been issued will necessarily be added to the list. It is not intended as a "buy list" or a list of immediately actionable recommendations. Stocks on the list may or may not be in proper buy positions, and investors should exercise discretion and proper judgement in determining when and where stocks on the Focus List can be purchased. The following notes are intended to assist in this process. Please note that members can enlarge the Focus List image by clicking on the body of the email and then holding the Control Key while pressing the "+" key until it is large enough to read.
General Observations:
Major market averages started the year out with a bang, posting four straight up days in the first week of trading in 2018. In the process, the Dow Jones Industrials Index cleared the 25,000 price level for the first time in history. The indexes are of course well-extended from their breakout levels at the beginning of the week. We could see a normal pullback at any time, as some investors may look to take profits in names that have had strong moves ahead of earnings season, which begins to move into full force over the next two weeks.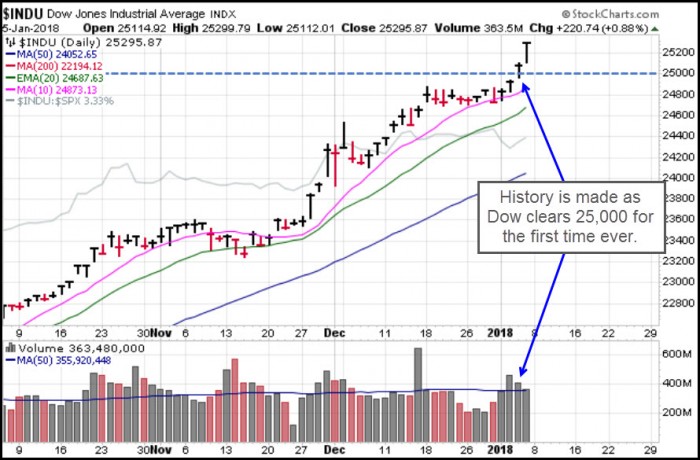 The
Market Direction Model (MDM)
remains on a buy signal.
Removed from the List this Week:
None
Focus List Stocks Expected to Report Earnings this Week:
None.
Notable Action:
Caterpillar (CAT)
is extended after finding strong support at the 10-dma, which can serve as an initial selling guide for those playing this close to the vest.
Facebook (FB)
has broken out, but on light daily volume. However, the weekly chart reveals a breakout from a base-on-base formation on higher weekly volume.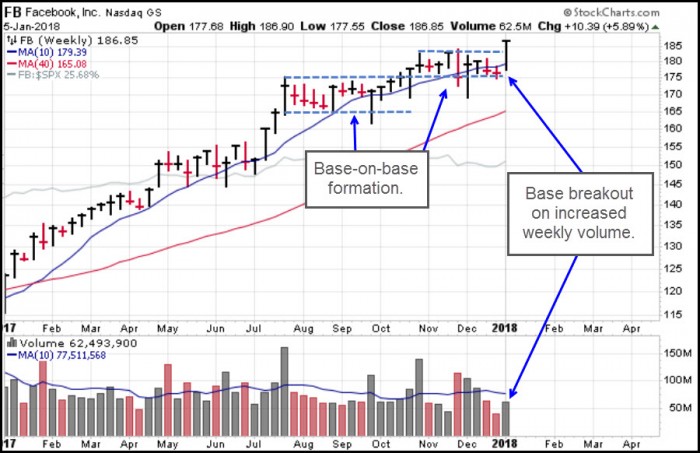 Netflix (NFLX)
was added back to the Focus List by virtue of its pocket pivot move of the prior week at the 50-dma. It ended the week just below the 50-dma, but remained actionable. Interestingly, at the time, it appeared that overhead resistance might present a near-term issue for the stock as it would likely have to work its way through it. That did not happen as talk from a Citigroup analyst of a "40% chance that
Apple (AAPL)
would buy NFLX out sent the stock gapping higher at the beginning of this past week. That move sustained and became a base breakout on higher weekly volume.
Most of these big-stock NASDAQ techs and internets were dormant throughout much of the last 1-2 months of the year, but many have begun to break out again, including
Amazon.com
(AMZN)
. However, we favor these base-on-base formations since they show that names like FB and NFLX have put in a fair amount of time building longer base formations, which is often helpful in setting up more sustained upside moves. NFLX is expected to report earnings on January 22nd, and FB on January 30th, so we shall see whether their current action is foreshadowing strong earnings reports. We would note that NFLX has the better profit cushion if one had acted on the pocket pivot of two Thursdays ago.