Major market indexes failed at 20-day exponential moving average support on Tuesday and continued lower until finally holding positive on Friday ahead of a long July 4th holiday weekend. The NASDAQ Composite is again plumbing the fresh lows of the prior week as the market remains in a firm downtrend. Even if one tried to make a case for a new bull phase, there is nothing set up in a proper base - in the past new bull markets are generally presaged by leading stocks holding up in constructive bases as the market begins to settle out.
Today nothing of the sort is evident, and we do not expect that it will become evident until the technical damage has taken some time to heal. Even if the Fed does reverse its current hawkish course, that alone is no guarantee that the market will suddenly launch back to its old highs. Collateral damage from a rapidly weakening economy is likely to impede money flows, and is one reason why bubble-bursting bear markets generally take time to stabilize and heal as collateral damage runs its course. So far, the current bear market shows no signs of either.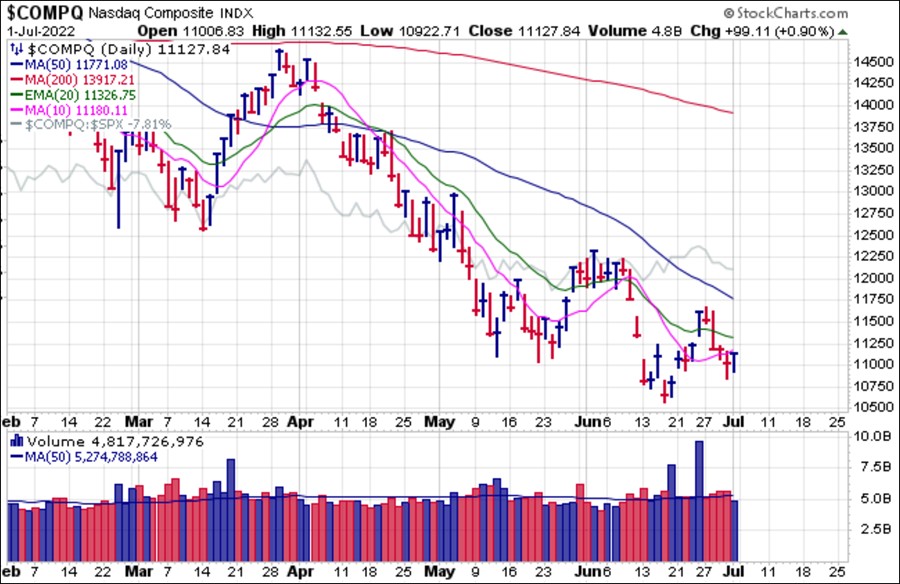 The final estimate for first quarter GDP was released this past week and showed a -1.6% decline vs. the prior estimate of -1.5%. At the same time, the Atlanta Fed's latest GDP estimate for the second quarter has been revised to -1.0% vs. a prior 0.0%. Two quarters of negative GDP growth meet the government's definition of a recession, so while Fed Chair Jerome Powell, the man responsible for telling us that inflation was merely
transitory
throughout 2021, tells us that the economy
is in good shape
, the data tells otherwise. Meanwhile, the
10-Year Treasury Yield ($TNX)
has declined sharply from its prior 3.483% peak of a little over two weeks ago as money flying out of stocks likely finds 3% Treasury yields more attractive.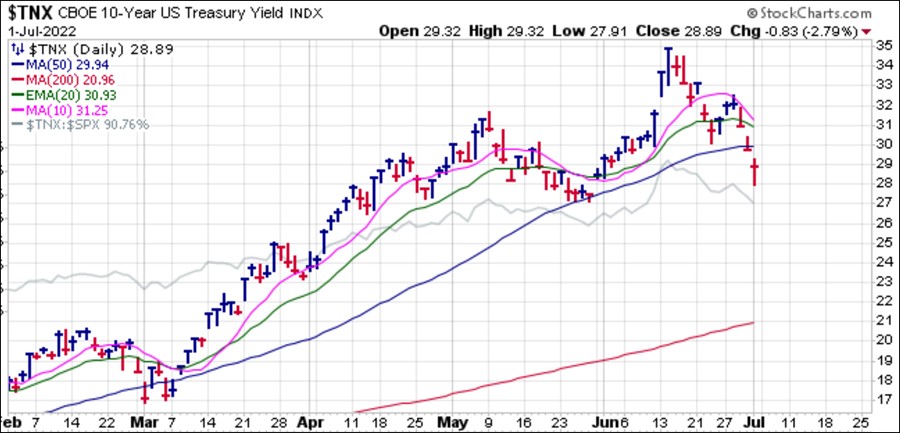 Precious metals are having a rough time along with every other asset class in this market, with silver posting fresh gap-down lows in 2022 while
Gold Futures ($GOLD)
are testing prior 2022 lows. Gold futures did post a U&R along the prior 1785.00 low of May 16th, hitting an intraday low of 1783.40 before closing at 1801.50. Whether this U&R holds up or not remains an open question, as previous rallies into moving average resistance at the 50-day and 200-day moving averages have merely worked out as short-sale entries.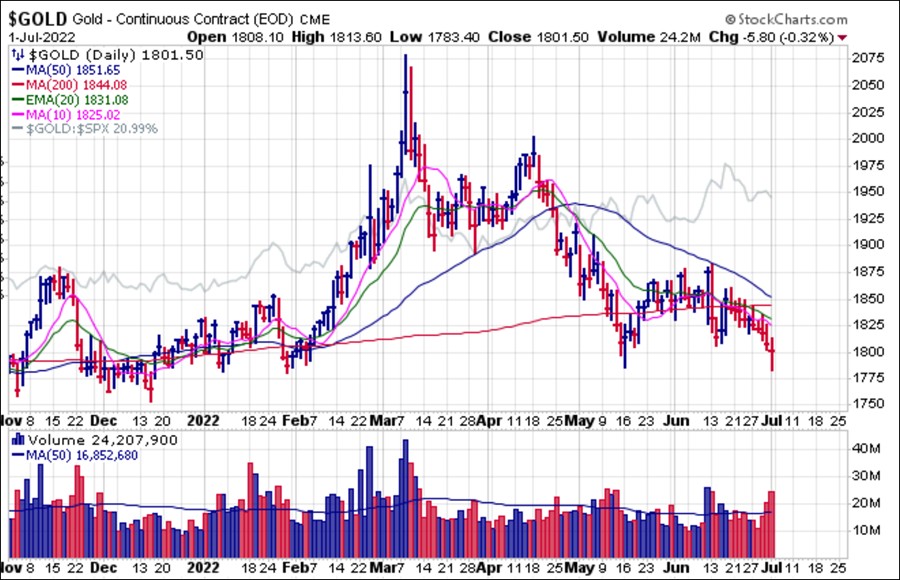 The crypto-bubble continues to unravel with
Bitcoin $BTCUSD
forming another bear flag like that formed from early May to early June. The entire crypto-space has suffered from severe confirmation bias as crypto-promoters try to find unnatural reasons for the crypto-bubble bursting when in fact the entire upside move in 2020-2021 was almost certainly due to trillions of dollars in massive monetary and fiscal stimulus creating an Everything Bubble.
This essential fact is often overlooked by the crypto-promoters and perma-bulls who tried to ascribe the 2020-21 crypto bull to compelling "fundamentals." In hindsight, this, along with claims that $BTCUSD had "replaced gold," appears laughable. While both can be viewed as potential alternative-currencies, they have entirely different technical and fundamental dynamics. Ultimately, a massive washout of the crypto-bubble will allow whatever future investment opportunities that blockchain technology has to offer investors to crystallize into more tangible value outside the realm of QE-induced and uber-hyped tulip-manias, but this will likely take some time to develop.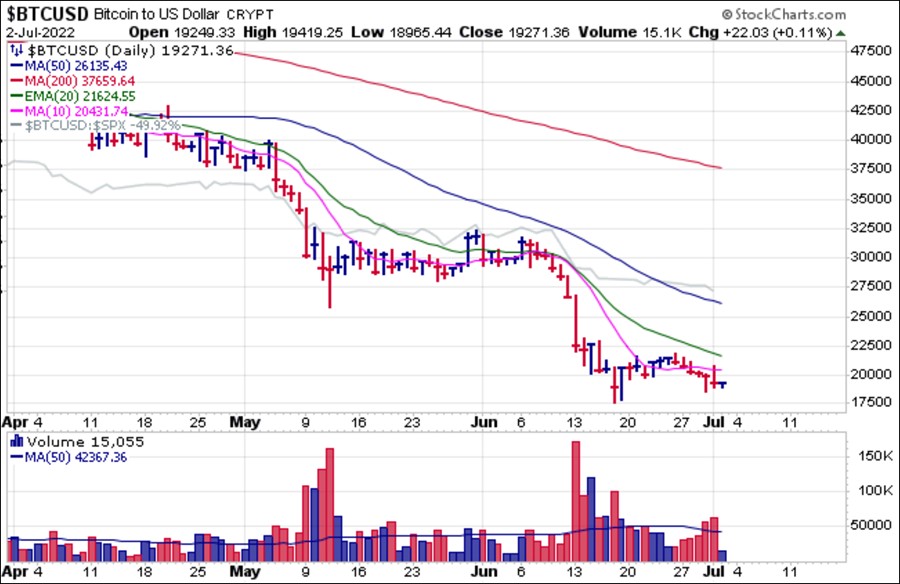 The
Market Direction Model (MDM)
remains on a
SELL
signal.