Current Focus List

The VoSI Focus List is a compilation and reference list of stocks for which Pocket Pivot or Buyable Gap-Up Reports have been issued and which have been deemed suitable for inclusion on the Focus List. Not all stocks for which a Pocket Pivot or Buyable Gap-Up report has been issued will necessarily be added to the list. It is not intended as a "buy list" or a list of immediately actionable recommendations. Stocks on the list may or may not be in proper buy positions, and investors should exercise discretion and proper judgement in determining when and where stocks on the Focus List can be purchased. The following notes are intended to assist in this process. Please note that members can enlarge the Focus List image by clicking on the body of the email and then holding the Control Key while pressing the "+" key until it is large enough to read.
General Observations:
The
NASDAQ
Composite
Index
posted another all-time high on Friday as volume has diminished over the past week. From an index point of view, the NASDAQ-based indexes remain in a strong trend while the
S&P
500
and
Dow
Indexes
remain in one-month consolidations.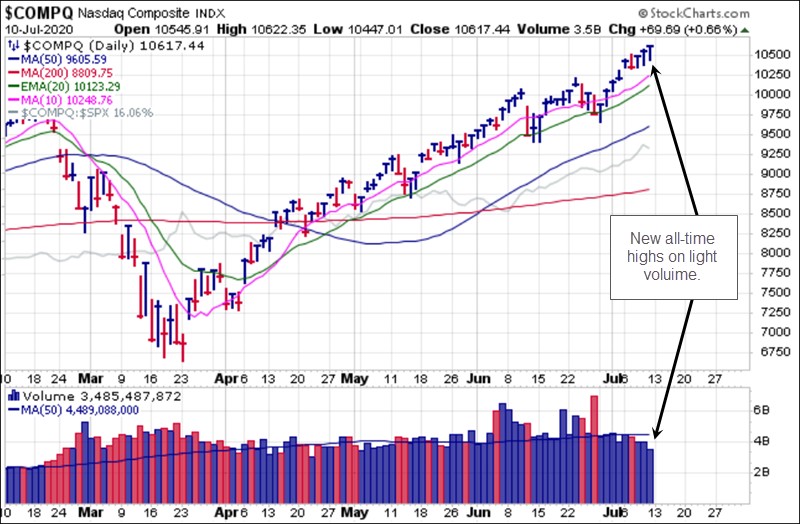 An interesting divergence is currently being seen in the NASDAQ Percentage of Stocks Trading Above Their 50-Day Moving Averages chart below. Even as the
NASDAQ Composite
and
NASDAQ
100
Indexes
have continued to forge all-time highs, the percentage of stocks trading above their 50-day lines has in fact declined precipitously. This indicates that the rally is being led by an ever-narrower group of stocks as the
Dow
and the
S&P
500
remain in consolidations following their island-top highs in early June, as we noted in last weekend's Focus List Review. This could resolve in two ways - either the underlying weakness in participation is a cautionary sign or simply indicates that there is a whole raft of stocks in Ugly Duckling types of positions, ready to resume their participation in this rally. In a QE-Infinity market old technical relationships are at times obsolete.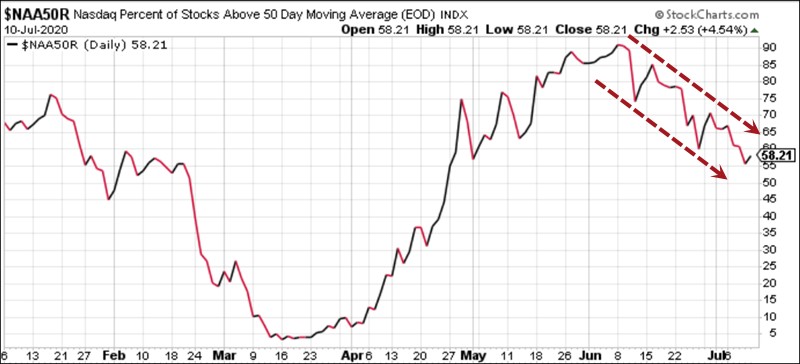 The
Market Direction Model (MDM)
remains on a
BUY
signal.
Focus List Stocks Expected to Report Earnings this Week:
Netflix (NFLX)
Thursday after the close.
Notable Action:
While leadership in this market is narrow, it does not have to be problematic. Effective stock selection is the key factor in extracting performance from those stocks that are working, and working well. Three names that have occupied the Focus List for several weeks had big moves this past week as they cleared significant Century Marks.
Livongo
Health
(
LVGO
) streaked higher this past week to clear the $100 level, while
Netflix
(
NFLX
) did the same thing through its own $500 Century Mark. It reports earnings this coming week. At the same time, the true rocket stock on the list,
Tesla
(
TSLA
), has cleared four move Century Mark levels since we last reported on it after it cleared the $1,000 level last week. It ended the week with a flourish as it cleared both the $1400 and $1500 Century Mark levels in one day. Some of this action looks near-term climactic, so set your trailing stops accordingly.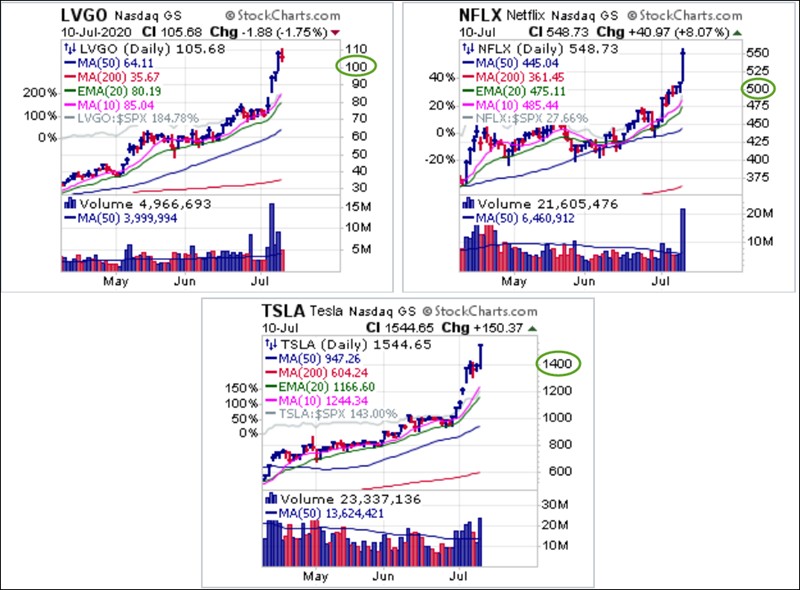 Note that all of the stocks above began their moves from quiet consolidations. Four other names on the list are in similar consolidations as they recently cleared trend line breakout levels and are currently pulling back into buyable range while using their 10-day moving average or 20-day exponential moving averages as tight selling guides. These are
Cisco
Systems
(
CSCO
),
Fortinet
(
FTNT
),
Lululemon
Athletica
(
LULU
), and
Atlasssian
(
TEAM
).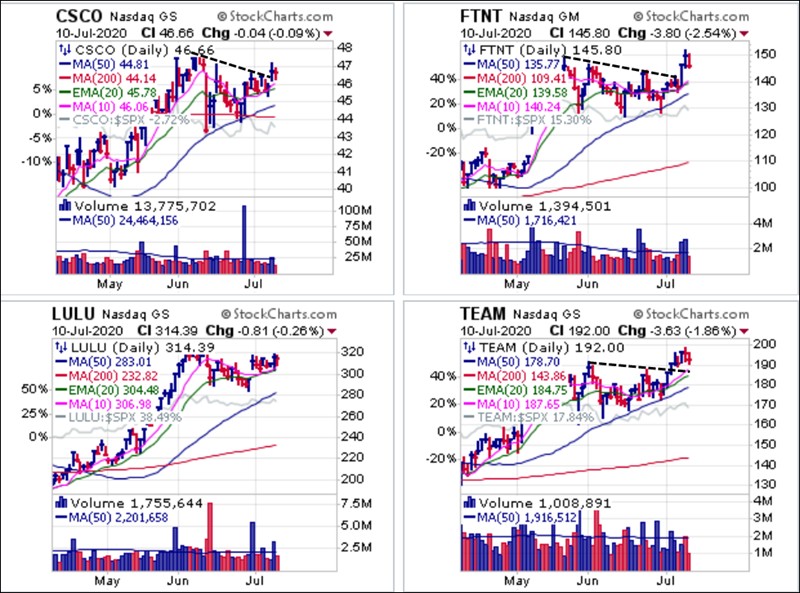 Precious metals continue to lead the alt-currency space, with gold now coming within 7% of its all-time highs at $1923.70 after ending the week at $1801.80/oz. Silver remains above the $19/oz. level, ending the week at $19.08/oz. Meanwhile, Bitcoin remains in a two-month consolidation, and was recently under selling pressure on new pending legislation that may have implications for the security and privacy of Bitcoin ownership. In our view, this is not clear, and the pullback may offer a buying opportunity. The
Grayscale
Bitcoin
Trust
(
GBTC
) regained its 200-day moving average this past week and on Friday pulled into the 200-day line as volume dried up sharply. This puts it in a lower-risk entry position at the line, using a selling guide of one's choosing based on its recent porosity around the moving average.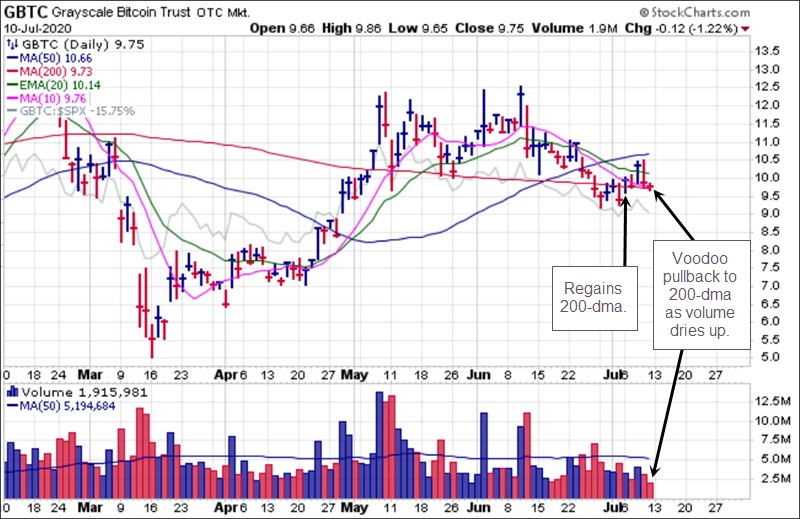 This remains one of the most, if not the most unusual environment that either of us have experienced in our respective 30-year careers as traders and investors. However, while the economy/market equation make appear to be upside down, or entirely illogical, one can simply focus on individual stock set-ups as the most concrete approach that simply side-steps the need for opinions regarding what is or isn't "right" about the current situation. Price is always the final judge so using our strategies to keep entry risk below 2-3% while being rewarded with a potential double digit upside is key.