Major market indexes gapped higher on Wednesday and Thursday in response to light Consumer Price Index and Producer Price Index data reported on those days, respectively. The move lost momentum by Friday, however, as the NASDAQ Composite Index reversed off an opening gap-up open on heavy and higher selling volume.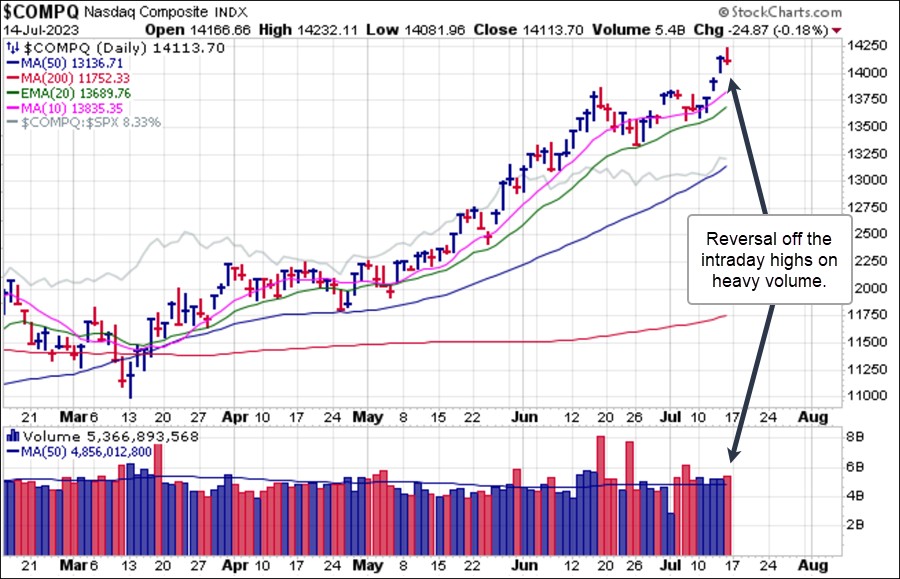 Favorable inflation data sent interest rates and the
U.S. Dollar ($USD)
streaking lower. $USD had already run into 50-dma resistance the prior week, well ahead of the CPI report, and broke sharply lower on Wednesday and Thursday before finding a bid on Friday.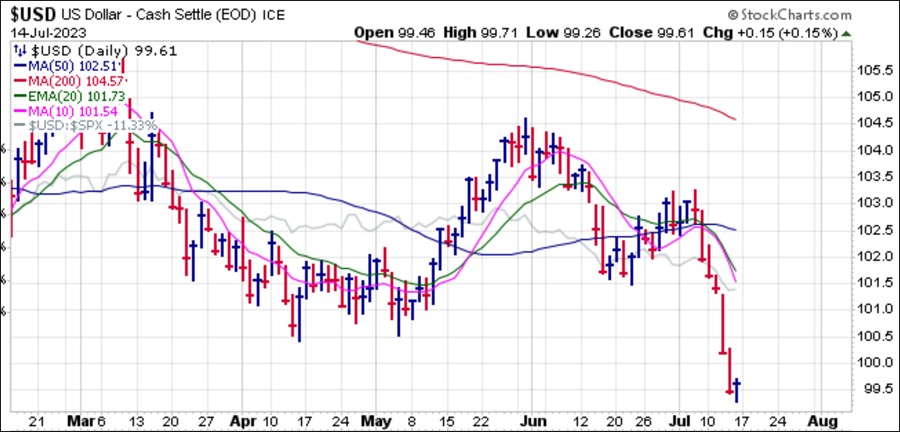 The breakdown in the dollar set precious metals on fire, with the white metal showing much more upside thrust. Silver as represented by the
Aberdeen Physical Silver Shares (SIVR)
posted a bottom-fishing buyable gap-up (BFBGU) in response to Wednesday's CPI report and then gapped up again on Thursday following the PPI print. At this stage it is well extended as the moving averages scramble to catch up to the current price levels.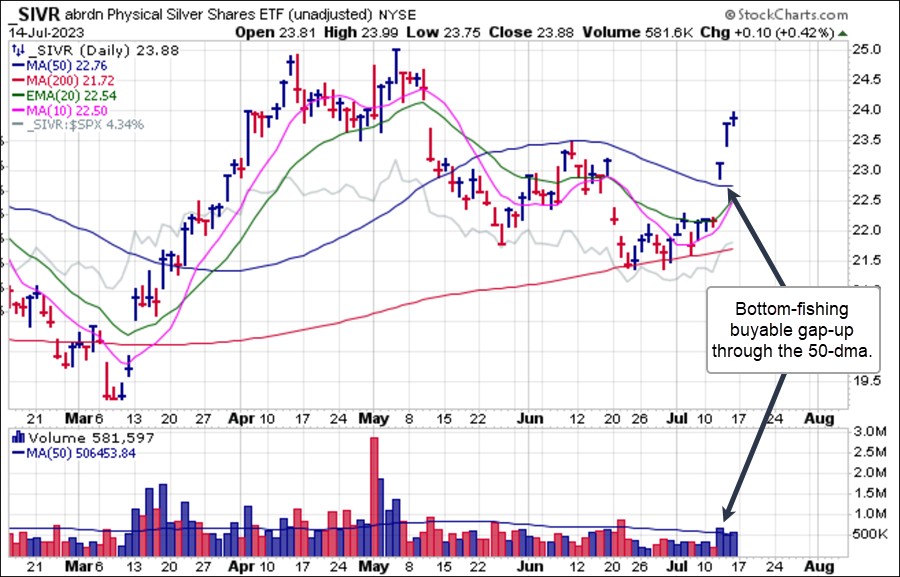 The
SPDR Gold Shares (GLD)
also gapped higher on Wednesday but has lacked the velocity and thrust of the silver ETFs. The yellow metal ETF ran into 50-dma resistance right away on Wednesday and held there as silver gapped higher on Thursday.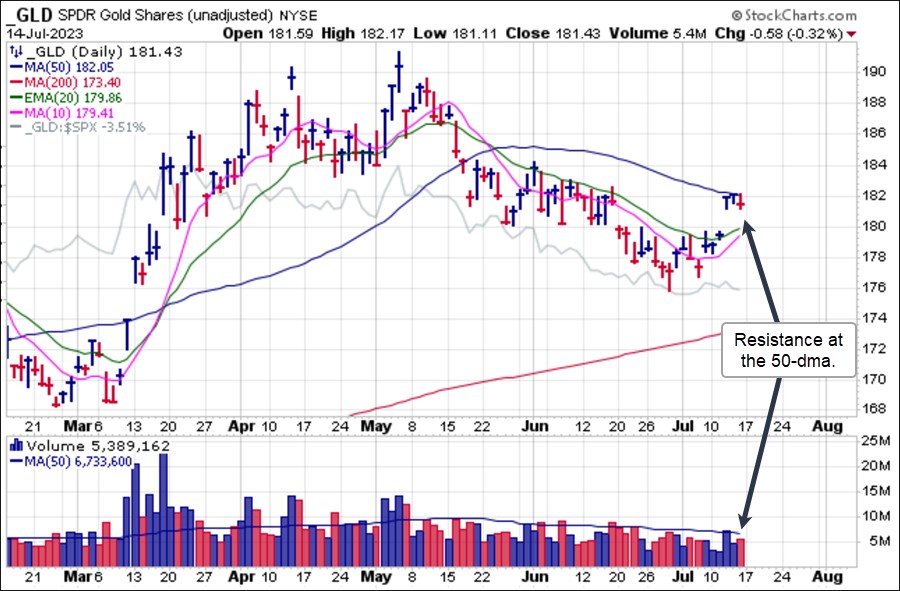 We reported on a continuation pocket pivot in
Bitcoin ($BTCUSD)
on Thursday that also represented an attempted cup-with-handle breakout. The moved immediately failed on Friday on heavy selling volume.
$BTCUSD
is now attempting to hold support at the 20-dema which could be treated as a lower-risk long entry spot using the 20-day line as a selling guide but the overall lack of thrust and follow-through following Thursday's big-volume pocket pivot move is not constructive. The crypto market surged on news that Ripple (XRP) was ruled in court not to be a security. The market assumed this was a total win when in reality, this only applies when selling XRP to retail investors. XRP is considered a security when sold to institutional investors. Cryptocurrencies got ahead of themselves. Still, t
his ruling is considered a significant win for Ripple and the broader crypto industry, as it challenges the SEC's position on XRP. The SEC had filed a lawsuit against Ripple and its co-founders, accusing them of misleading investors by selling over $1 billion worth of unregistered tokens.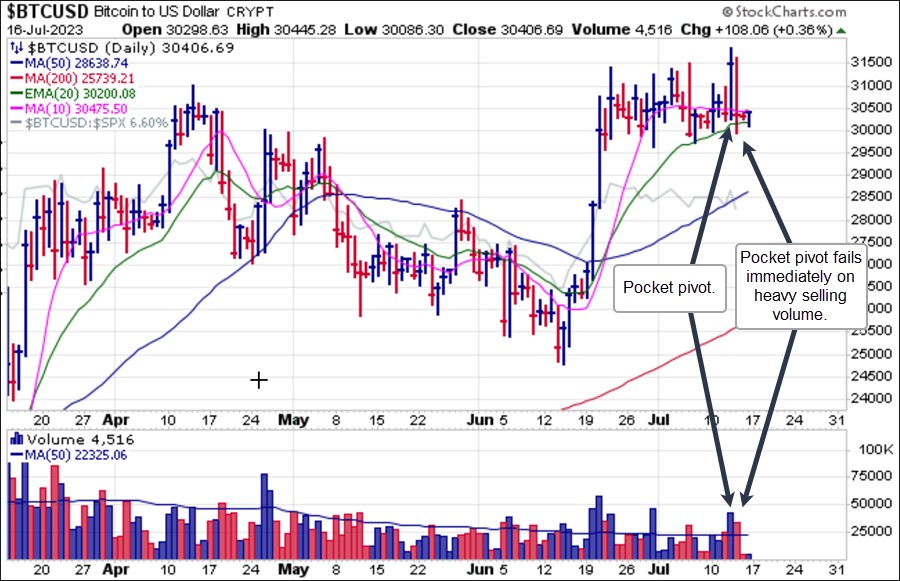 AI meme-stock and overall market leader
Nvidia (NVDA)
has been on fire lately, and we reported on a five-day pocket pivot this past Thursday. For now, the rising 10-dma serves as the initial reference for moving average support if NVDA continues to pull in after Friday's bearish reversal.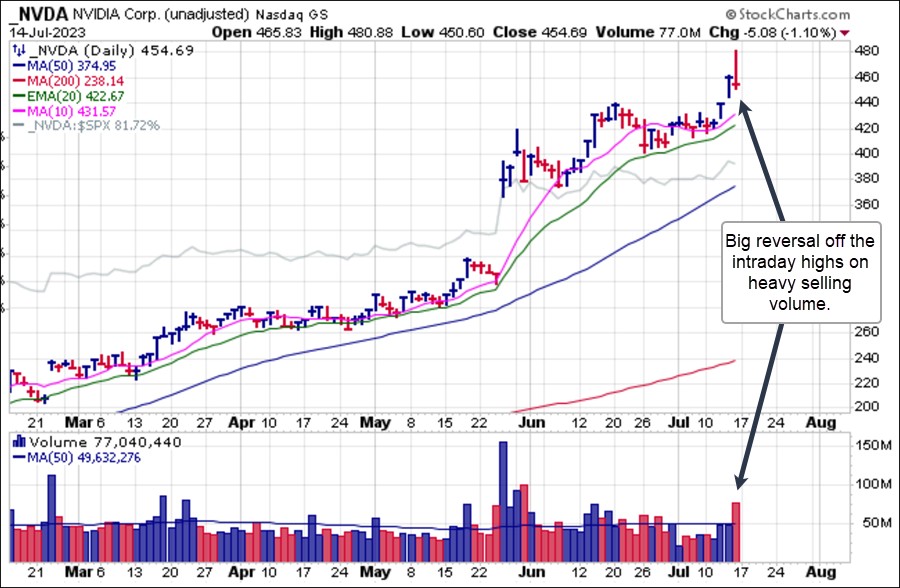 On Thursday we also reported on a pocket pivot in
Netflix (NFLX)
. The move gave out badly on Friday as the stock reversed and closed below its 10-day moving average on heavy selling volume. This in fact triggers a later-stage failed-base type of short-sale entry just below the 10-dma using the line as a covering guide.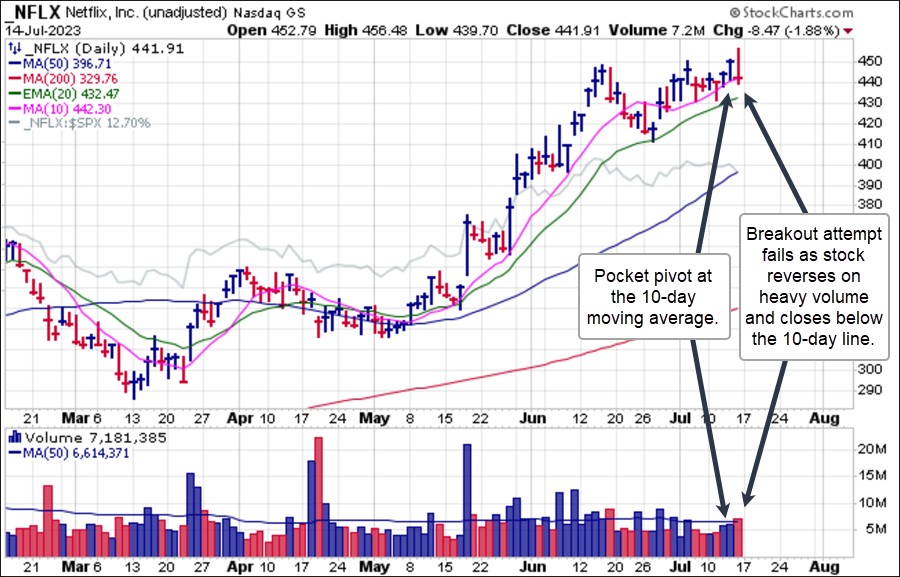 MongoDB (MDB)
and
The Trade Desk (TTD)
have been discussed in recent Focus List Review reports. MDB is faltering here as it reverses back below its 10-dma on Friday. It is possible that this triggers a short-sale entry using the 10-day line as a covering guide. TTD meanwhile launched higher on Tuesday, ahead of the CPI report on Wednesday. It ran into stiff resistance on Friday as it reversed and closed near their intraday lows on very heavy volume, giving the move a bearish look.

Marvell Technology (MRVL)
has also been discussed in recent Focus List Review reports and was last buyable as a moving average undercut & rally (MAU&R) move on Monday. That has led to an upside move that is now running into resistance along the left-side highs of the current seven-week base.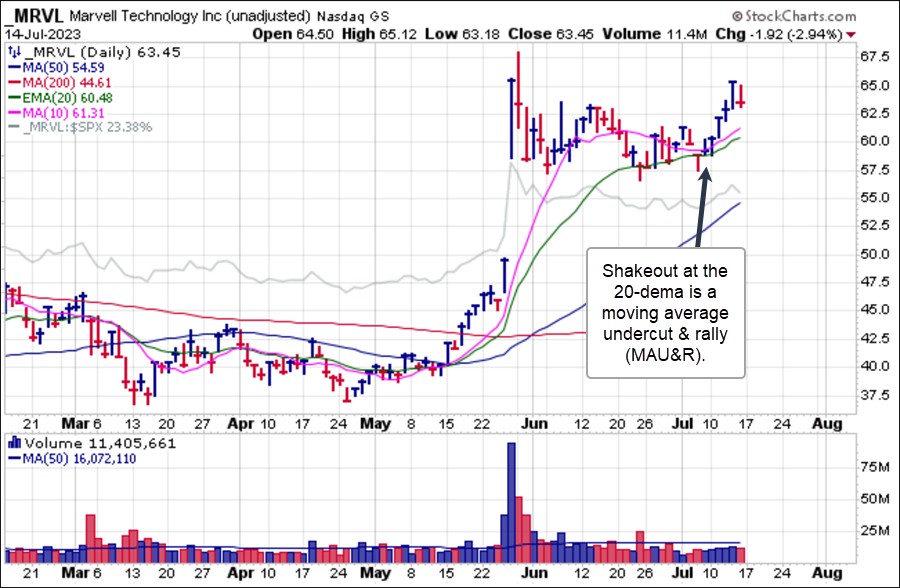 The
Market Direction Model (MDM)
switched to a
BUY
signal on Wednesday, July 12th.