Current Focus List

The VoSI Focus List is a compilation and reference list of stocks for which Pocket Pivot or Buyable Gap-Up Reports have been issued and which have been deemed suitable for inclusion on the Focus List. Not all stocks for which a Pocket Pivot or Buyable Gap-Up report has been issued will necessarily be added to the list. It is not intended as a "buy list" or a list of immediately actionable recommendations. Stocks on the list may or may not be in proper buy positions, and investors should exercise discretion and proper judgement in determining when and where stocks on the Focus List can be purchased. The following notes are intended to assist in this process. Please note that members can enlarge the Focus List image by clicking on the body of the email and then holding the Control Key while pressing the "+" key until it is large enough to read.
General Observations:
Market indexes pulled back on the final two days of the trading week after posting new highs on Wednesday. The
NASDAQ Composite Index
posted an all-time high while the
S&P 500
and
Dow Jones Industrials Indexes
posted higher highs and remain below their late January peaks. For now the market uptrend remains intact, although the action among individual stocks remains mixed. We expect that as we progress through the heart of earnings season, the market situation with respect to the primary leadership will clarify. We have maintained focus on a very select roster of Focus List names, and these have continued to perform well. In this environment, the simplicity of staying with and working around a smaller handful of high-quality names that demonstrate better consistency is preferred.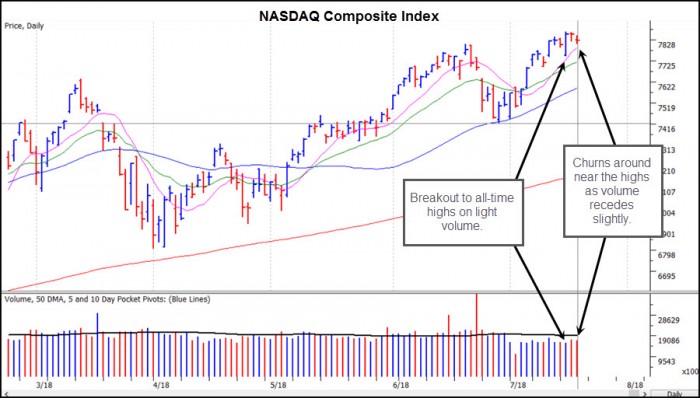 The
Market Direction Model (MDM)
is currently on a buy signal.
Removed from the List this Week:
None.
Focus List Stocks Expected to Report Earnings this Week:
Amazon.com (AMZN)
on Thursday, after the close.
Notable Action:
Baozun (BZUN)
has rallied back up near its highs after finding support at its 50-dma and the top of its prior base breakout. It appears to be attempting to form a cup-with-handle formation ahead of its expected August 22nd earnings report. Among Chinese names, it has been perhaps the most consistent performer and has held up much better than just about every other name in the space.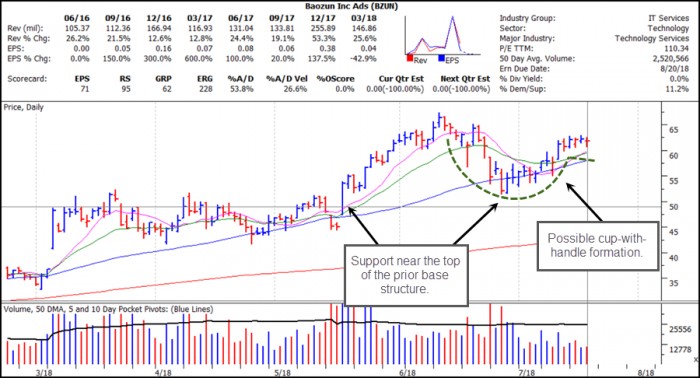 Fortinet (FTNT)
posted a pocket pivot on Wednesday as it has continued to trend higher. It has been a steady upside performer since added to the Focus List many months ago. The company is expected to report earings on August 1st.
Netflix (NFLX)
has technically violated its 50-dma and may be set for a test of the Tuesday intraday lows near 344. The breakdown occurred after the company reported earnings and missed badly on subscriber growth. In this market, 50-day moving average violations have not necessarily resulted in significant, further downside, so for now we are watching to see how the stock handles this current breach of the 50-dma. We note that the stock was able to find support near the top of its prior base structure extending back to April/May of this year.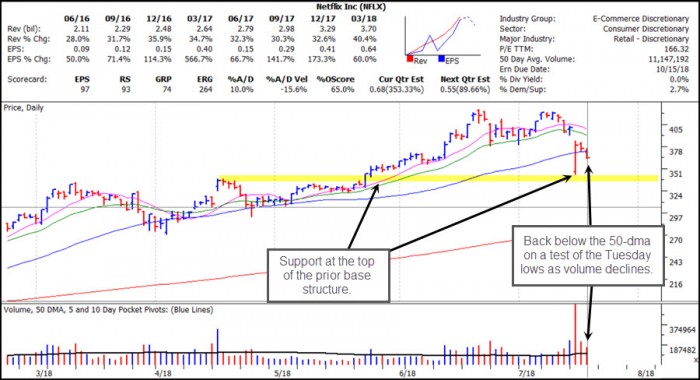 Square (SQ)
made an all-time high on Friday as volume picked up sharply. It has been a steady, strong performer as a mainstay of the Focus List. Earnings are expected to be reported on August 1st.