Current Focus List

The VoSI Focus List is a compilation and reference list of stocks for which Pocket Pivot or Buyable Gap-Up Reports have been issued. It is not intended as a "buy list" or a list of immediately actionable recommendations. Stocks on the list may or may not be in proper buy positions, and investors should exercise discretion and proper judgement in determining when and where stocks on the Focus List can be purchased. The following notes are intended to assist in this process. Please note that members can enlarge the Focus List image by clicking on the body of the email and then holding the Control Key while pressing the "+" key until it is large enough to read.
General Observations
:
The NASDAQ Composite and S&P 500 Index capped off a week of upside by pulling in slightly at the end of the week on Friday. Given the fact that the NASDAQ had been up nine days in a row coming in to Friday's open, a small pullback on lighter volume appears as normal action. Big-stock NASDAQ names have been leading the NASDAQ higher, but breadth throughout the market has been advancing as both the NYSE and NASDAQ Advance/Decline lines continue into new-high territory.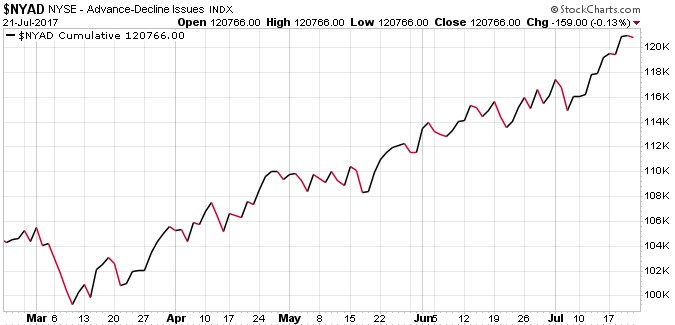 For now the market trend remains to the upside, and it is simply a matter of remaining aware of your trailing stops and profit objectives. Meanwhile, any new positions should meet at least two requirements: 1) that they are bought at lower-risk entry points near key supporting levels like a moving average that can then be used as a tight selling guide, and 2) that earnings are not expected within the next week or two. One should have a significant profit cushion in the stock if one chooses to hold through earnings since stocks can gap lower on the news.
The Market Direction Model (MDM) remains on a buy signal. After briefly testing a buy signal on Thursday and Friday, the VIX Volatility Model (VVM) moved back to a cash signal on Friday roughly breakeven.
Removed from the List this Week:
None.
Focus List Stocks Expected to Report Earnings this Week:
ServiceNow (NOW)
, Wednesday after the close;
Yandex (YNDX)
Friday before the open. Generally, we do not advise buying these stocks and holding into earnings unless one has a significant profit cushion in the position. To do otherwise is what we like to call "playing earnings roulette."
Notable Action:
Applied Optoelectronics (AAOI)
got over 20% extended from its 10-dma early in the week, which in our view put the stock in a reasonable profit-taking position. Barring that, one could give the stock some room on the downside by using the rapidly-rising 10-dma as a trailing stop on any core position. As of Friday's close, AAOI was 9.8% above its 10-dma.
Arista Networks (ANET)
was hit by heavy selling after it confirmed that the International Trade Commission had denied its motion to "suspend the limited exclusion order and cease and desist order issued in connection with Investigation No. 337-TA-945 against Cisco Systems (CSCO)." That sent the stock careening below its 50-dma, but by the close on Friday the stock posted a supporting type of pocket pivot at its 50-dma. This could create an opportunistic entry here using the 50-dma as a tight selling guide. Earnings are expected in early August.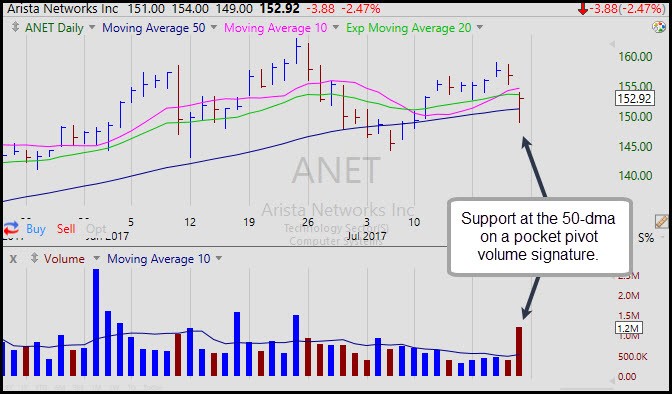 Alibaba (BABA)
found support at its 10-dma on Friday. That type of pullback is what buyers need to be looking for as an opportunistic, lower-risk entry point. Earnings are expected during the second week of August.
Baozun (BZUN)
has been a stellar performer since it was added to the list down around the 16 price level back in April after it was first featured in the VoSI Voodoo Report. It continues to make new highs, and for now we would simply use the 10-dma as a selling guide ahead of earnings in mid-August.
Lumentum Holdings (LITE)
posted another pocket pivot along its 10-dma on Friday, its second over the past two weeks as it consolidates near its prior June highs.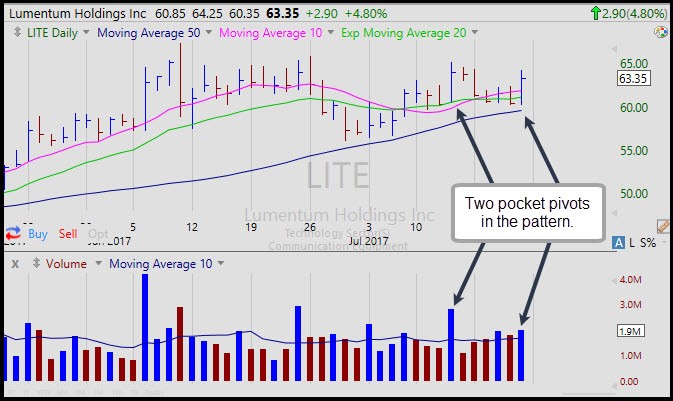 Nutanix (NTNX)
has acted well since its buyable gap-up move of two Fridays ago. On Thursday it finally ran into resistance at its newly-emerged 200-day moving average (NTNX is a relatively recent IPO, and has only been trading for 203 days since coming public on the last day of September 2016). We would watch to see whether the 10-dma catches up to the stock over the next few days, whereupon the next lower-risk entry point might present itself.
Veeva Systems (VEEV)
has pulled into the area between its 10-dma and 20-dema as volume declined to -62% below average on Friday. This puts the stock in a lower-risk entry position using the 20-dema as a tight selling guide, or the 50-dma as a wider selling guide. Earnings are not expected until late August.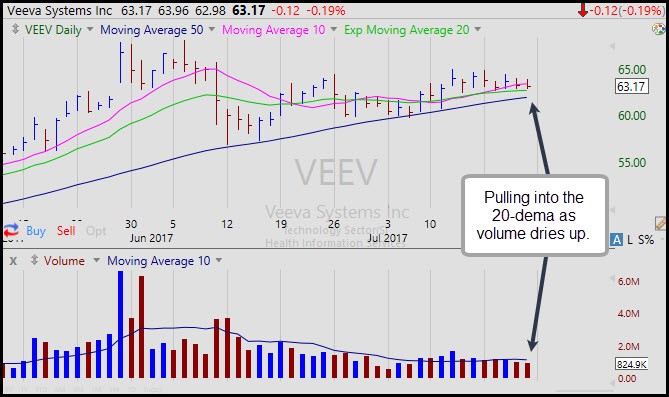 Yext (YEXT)
pulled back into its 10-dma on Friday, putting it in a lower-risk entry position using the 10-dma as a selling guide.