Major market indexes have rallied past their 50-day moving averages after several fits and starts this past week as they approach the late May/early June highs. The NASDAQ Composite reversed near those highs on Friday as volume expanded. Earnings season remains in full force, and as we move into this coming week where big index names like Apple (AAPL), Amazon.com (AMZN), Alphabet (GOOG), Intel (INTC), and Microsoft (MSFT), among others will be reporting, the potential for market-moving earnings news is elevated.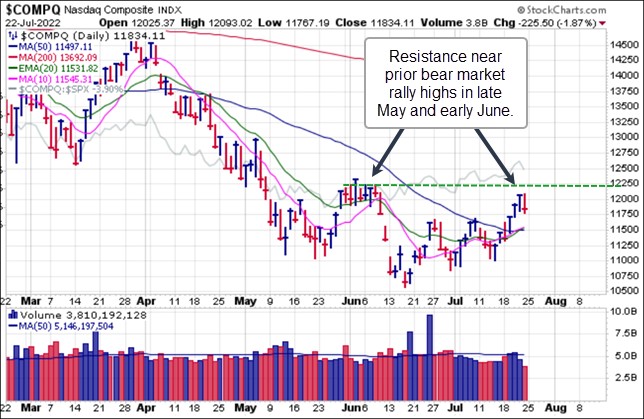 This past week we saw earnings reports from
Netflix (NFLX)
and
Tesla (TSLA)
, both of which rallied after their reports came in not as bad as expected. At this stage of a bear market, and as former leading stocks break down 70-90% or more off their peaks, analysts have mostly lowered expectations and this creates the potential for even poor earnings reports to spark reaction rallies off recent lows if they exceed those lowered expectations. NFLX is currently headed for the bottom of the gap-down window, the windowsill, around $240 which could potentially serve as near-term price resistance. With current guidance from the company indicating a decline of -33% earnings growth in Q3 we tend to believe that NFLX's problems are more than just near-term issues.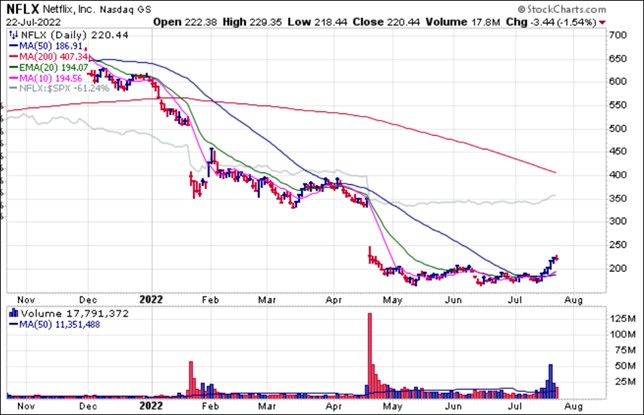 Tesla (TSLA)
reported on Wednesday after the close and gapped higher, but the move was not sufficient for a clear buyable gap-up. It remains well off its 2021 highs as it stalled on Friday in an undefined position between its 50-day and 20-day moving averages. TSLA has had prior bear market rallies that have extended for several days, but in each severe downside failures to lower lows ensued. This current move could resolve in a variety of scenarios so we would not assume anything at this stage of this particular post-earnings move.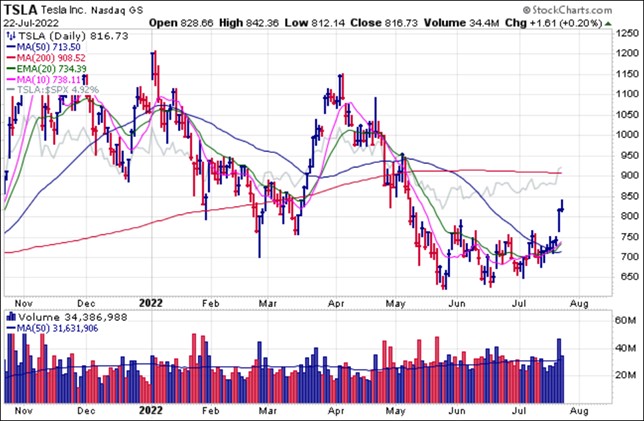 Precious metals have been plumbing new lows, but we note that the
Sprott Physical Gold Trust (PHYS)
has posted a U&R through the 13.23 low of March 2021.It briefly moved above the 13.56 low of late September 2021 on Friday but failed to hold, closing at 13.47. It remains within buying range of the prior 13.23 U&R low which serves as a tight selling guide.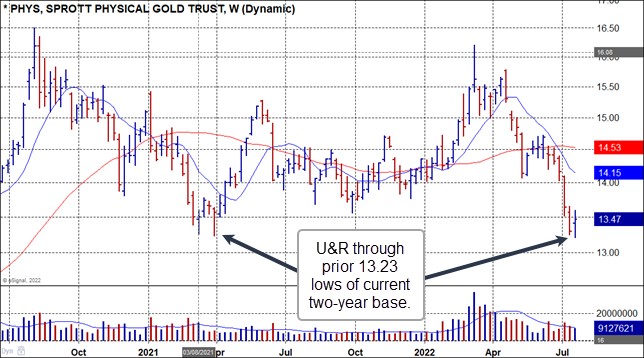 Meanwhile, the crypto-currency space remains in No-Man's Land. Bitcoin, as represented by its proxy the
Grayscale Bitcoin Trust (GBTC)
, has managed to ride the contrarian near-term wave of crypto bearishness to post what appears to be a natural reaction rally that ran into solid resistance at its 10-week moving average this past week. We remain in a wait-and-see mode for Bitcoin, but note that one could have shorted it at the 50-day line using the new inverse Bitcoin ETF, the
ProShares Short Bitcoin Strategy ETF (BITI)
.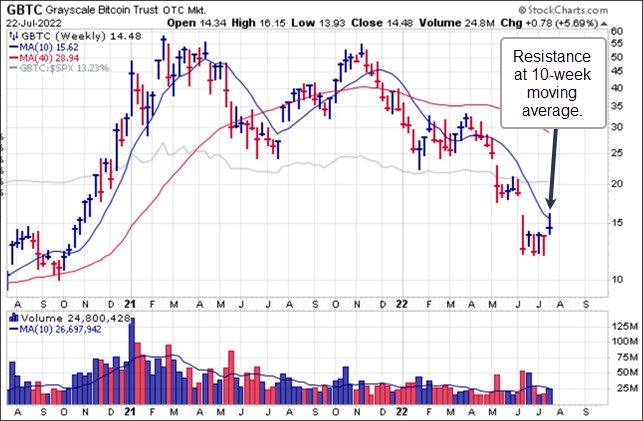 The Market Direction Model (MDM) remains on a SELL signal.