Current Focus List

The VoSI Focus List is a compilation and reference list of stocks for which Pocket Pivot or Buyable Gap-Up Reports have been issued and which have been deemed suitable for inclusion on the Focus List. Not all stocks for which a Pocket Pivot or Buyable Gap-Up report has been issued will necessarily be added to the list. It is not intended as a "buy list" or a list of immediately actionable recommendations. Stocks on the list may or may not be in proper buy positions, and investors should exercise discretion and proper judgement in determining when and where stocks on the Focus List can be purchased. The following notes are intended to assist in this process. Please note that members can enlarge the Focus List image by clicking on the body of the email and then holding the Control Key while pressing the "+" key until it is large enough to read.
General Observations:
The
Market Direction Model (MDM)
remains on a
BUY
signal.
Removed from the List this Week:
Atlassian (TEAM)
.
Focus List Stocks Expected to Report Earnings this Week: Everquote (EVER) on Tuesday after the close, Pan-American Silver (PAAS) on Wednesday before the open, Livongo Health (LVGO) and Silver Standard Resources (SSRM) on Thursday after the close. The list above is sorted by earnings due date with the earliest earnings due dates at the top for easy reference.
Notable Action:
Major market indexes rallied back to the highs of their current price ranges. The NASDAQ Composite Index rallied on Thursday and Friday on successively higher volume, which looks constructive. Friday showed an interesting divergence as breadth was 2148 to 1139 negative. Most of the buying was in heavy index influencers like Apple (AAPL), Amazon (AMZN), and Facebook (FB). AAPL's move on Friday accounted for 273.13 Dow points, which was up 114.67 on the day. AAPL's move essentially kept the Dow from suffering a distribution day, and along with AMZN and FB likely helped do the same for the S&P 500 Index. Breadth on the NYSE was also negative, but only by 1674 to 1259 in favor of the decliners. Despite the divergences, the general market trend remains positive and select long opportunities have been there for the taking.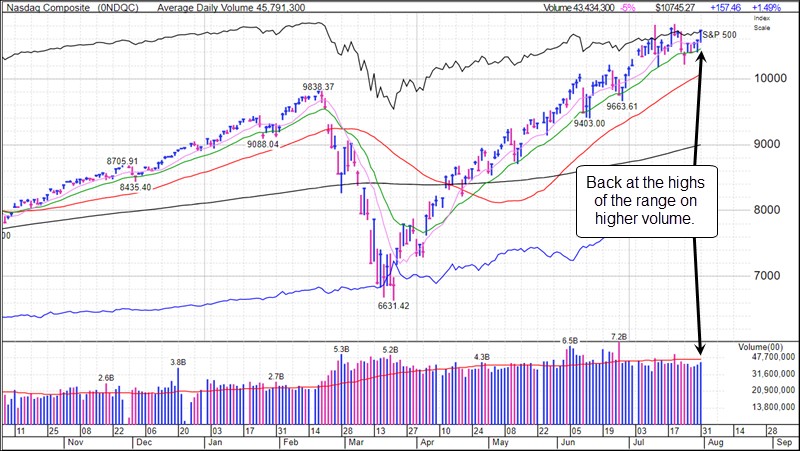 Apple (AAPL), Amazon (AMZN), Facebook (FB), and Alphabet (GOOG) all reported on Thursday after the close, and all but GOOG gapped up on Friday morning. We reported on AAPL's gap-up pre-open on Friday, and it became buyable as a BGU once it set an intraday low at 403.30. Note also that at that point the stock was also a long entry trigger based on Jesse Livermore's Century Mark Rule for the long side once it cleared the $400 Century Mark, and it closed just 62 cents off the intraday high.
Also on Friday: AMZN stalled near prior highs above $3200 closing in the lows of its range. However, it remains an actionable BGU using the 2995.76 intraday low as a selling guide. FB closed at 253.56 so remains actionable as a BGU using the intraday low at 249.00 as a tight selling guide. GOOG bounced off its 50-dma on heavy selling volume Friday does not strike us as attractive here although one could watch for possible U&R long entries showing up if it can clear the lows of its prior base structure.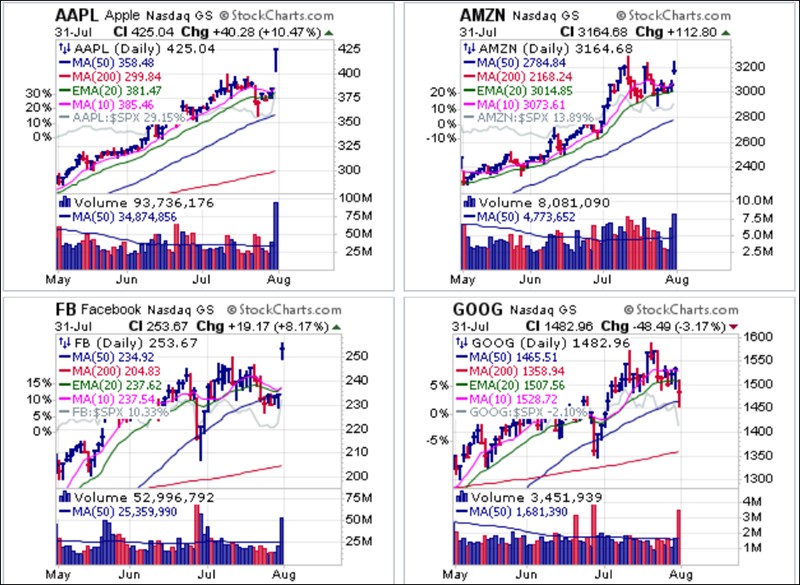 Lululemon Athletica (LULU)
and
Oracle (ORCL)
are at potentially actionable long entry points. LULU is holding tight along its 10-dma and 20-dema where it looks buyable using the 20-dema as a selling guide while ORCL posted a U&R long entry signal on Friday as it undercut and then rallied back above its prior 54.69 July low.This becomes actionable as a long entry signal using the 54.69 price level as a selling guide.

Precious metals and precious metals stocks on the Focus List have been on fire. Kirkland Lakes Gold (KL) reported earnings on Thursday morning and launched higher on Friday. We reported on the stock in our Pocket Pivot Report of July 7th much lower in the pattern. Two other metals names on the Focus List include SSR Mining (SSRM), which was also mentioned in the July 7th Pocket Pivot Report, and Pan-American Silver (PAAS), which was reported on June 22 when it had a BGU then again on July 7 when it had a pocket pivot.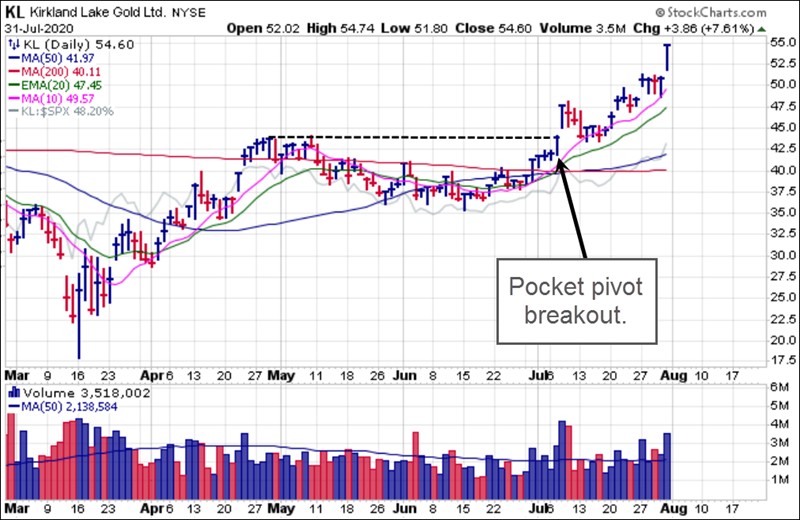 SSR Mining (SSRM)
recently changed its name from Silver Standard Resources. Both companies are pulling back into their 10-dmas ahead of their expected earnings reports, PAAS this Wednesday after the close, and SSRM this Thursday after the close.

The moves in precious metals stocks were driven by sharp upside moves in both gold and silver. The
Sprott Physical Gold Trust (PHYS)
posted an all-time high this week with the near futures contract ending the week at $1994 an ounce. The Sprott Physical Silver Trust (PSLV) posted a nearly seven-year high as the near silver futures contract ended the week at $24.56 an ounce. It briefly rallied above $26 Monday night on news that the U.S. Mint was cutting back production and therefore would only be minting coins from one metal at a time. It has since pulled back and bounced off its 10-dma on Thursday. The metals' price moves since late June are impressive, and reaction pullbacks as the yellow and white metal digest their heady gains should be expected.

Alternative-currencies are the rage currently, and crypto-currencies are no exception. In our Focus List Review report of exactly two weekends ago, we pointed out the undercut & rally (U&R) long entry in The
Grayscale Bitcoin Trust (GBTC)
that prior Friday as it undercut and then rallied back above the 9.18 low in the pattern. It has since broken out powerfully, and the initial breakout pulled back for two days in what looked like a normal reaction to a steep move off the lows. To be precise, that move was 43% from the 9.18 U&R long entry point to Tuesday's peak at 13.20.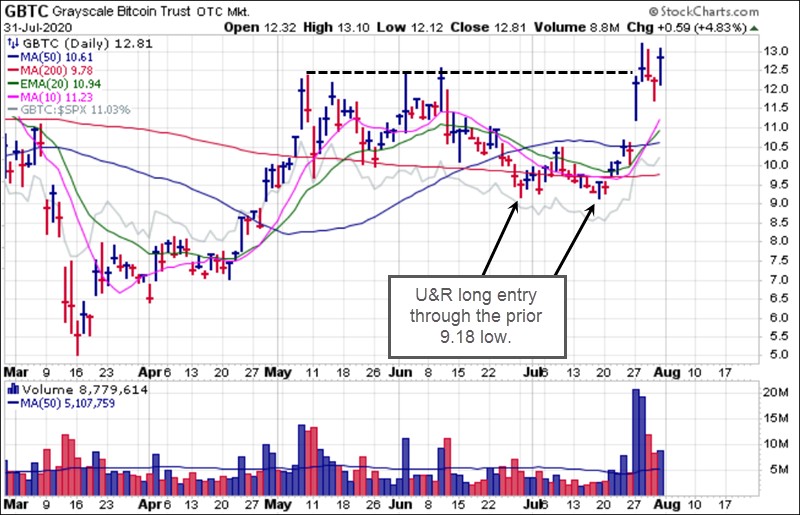 We have been constructive on alternative-currencies for some time now, and the past two weeks have seen both silver and gold as well as Bitcoin all rally sharply. Certainly, the profit opportunities have been for the taking. As the market continues to remain volatile and chameleon-like at times, focusing on where money can be made in the individual set-ups is a concrete approach that simplifies matters in what is a very unique market period.