Current Focus List

The VoSI Focus List is a compilation and reference list of stocks for which Pocket Pivot or Buyable Gap-Up Reports have been issued and which have been deemed suitable for inclusion on the Focus List. Not all stocks for which a Pocket Pivot or Buyable Gap-Up report has been issued will necessarily be added to the list. It is not intended as a "buy list" or a list of immediately actionable recommendations. Stocks on the list may or may not be in proper buy positions, and investors should exercise discretion and proper judgement in determining when and where stocks on the Focus List can be purchased. The following notes are intended to assist in this process. Please note that members can enlarge the Focus List image by clicking on the body of the email and then holding the Control Key while pressing the "+" key until it is large enough to read.
General Observations:
After testing its 50-dma twice over the past two weeks, the NASDAQ Composite Index regained its 20-dema on Thursday and moved sharply higher on Friday on the heels of what was touted as a strong jobs number. Volume was lighter, but the index is now within 2% of its prior all-time highs. Note that the index has now filled its gap-down window of two weeks ago, where it could run into resistance. However, any successful retest of the 20-dema, assuming the index doesn't continue through its prior highs, may simply set up a move to new highs. With the U.S.-China Trade Tiff going through its first phase as both countries imposed $34 billion worth of tariffs on each other on Friday, and the market failing to decline further in response, a move to higher highs may be in the cards.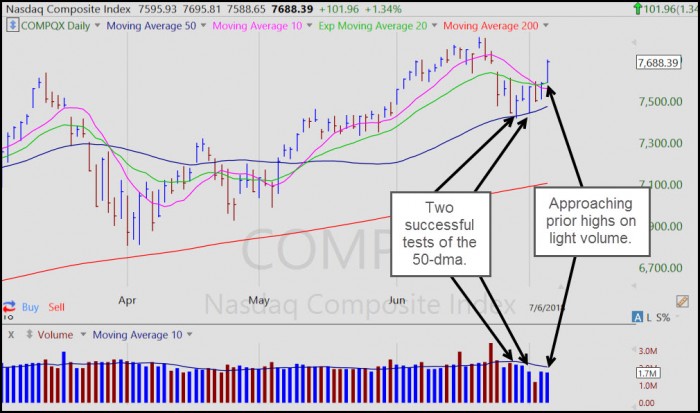 The remaining Focus List names continue to hold their ground, and in at least two cases have posted undercut & rally type moves off their lows. Others may be setting up along their 10-dmas and 20-demas, as noted below. The
Market Direction Model (MDM)
is currently on a sell signal.
Removed from the List this Week:
None.
Focus List Stocks Expected to Report Earnings this Week:
None.
Notable Action:
Amazon.com (AMZN)
is trading back above its 10-dma and 20-dema as volume declines. This may be set for a test of its prior highs, thus could be considered buyable here while using the 20-dema as a tight selling guide.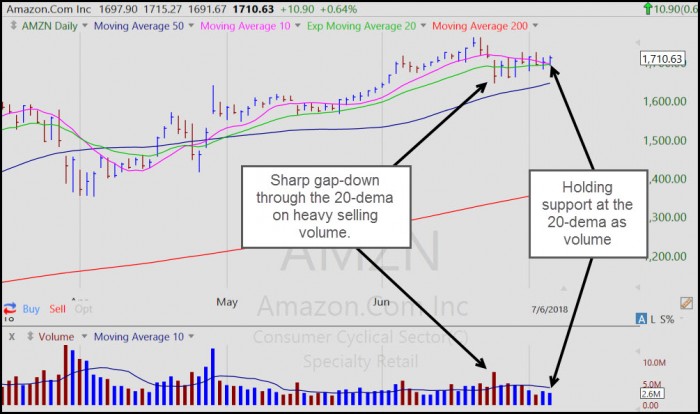 Baozun (BZUN)
is holding along its 50-dma and above the prior base breakout point. This puts it in a buyable position using either the 50-dma or the prior breakout point just below 50 as reasonably tight selling guides.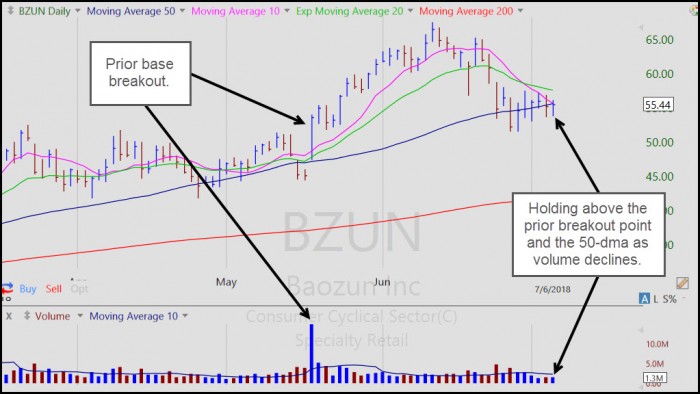 Fortinet (FTNT)
undercut a prior low in its pattern and rallied, two Thursday's ago. After running into near-term resistance at its 20-dema, the stock was able to regain the 20-dema and 10-dma on Monday. After holding tight along the moving averages, it pushed off the 10-dma/20-dema confluence on strong volume. Retests of the 10-dma and 20-dema might provide lower-risk entries from here.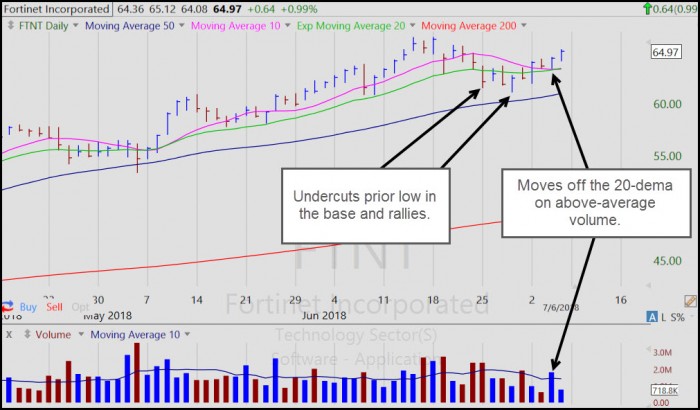 Netflix (NFLX)
regained its 10-dma on Friday as volume picked up slightly. The stock may be set for a retest of its prior highs if the general market continues to rally this week.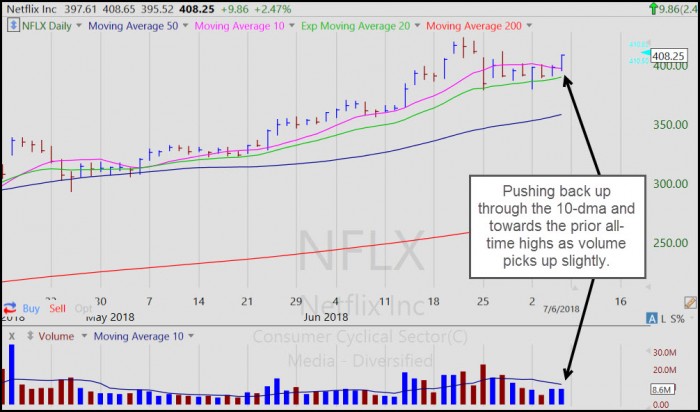 Square (SQ)
undercut a prior low in its pattern two Thursday's ago, much as FTNT did at the same time. It pushed strongly beyond its 10-dma n Friday on above-average volume.