Current Focus List

The VoSI Focus List is a compilation and reference list of stocks for which Pocket Pivot or Buyable Gap-Up Reports have been issued and which have been deemed suitable for inclusion on the Focus List. Not all stocks for which a Pocket Pivot or Buyable Gap-Up report has been issued will necessarily be added to the list. It is not intended as a "buy list" or a list of immediately actionable recommendations. Stocks on the list may or may not be in proper buy positions, and investors should exercise discretion and proper judgement in determining when and where stocks on the Focus List can be purchased. The following notes are intended to assist in this process. Please note that members can enlarge the Focus List image by clicking on the body of the email and then holding the Control Key while pressing the "+" key until it is large enough to read.
General Observations:
The
NASDAQ Composite Index
broke out to a higher high on Friday as it closes in on its 2018 highs from early March.
Volume was lighter, but above-average. The question is whether the index will encounter any resistance as it moves to the highs of a volatile price range extending back to late January. For now, as long as this breakout holds, the potential for new all-time highs remains a distinct possibility.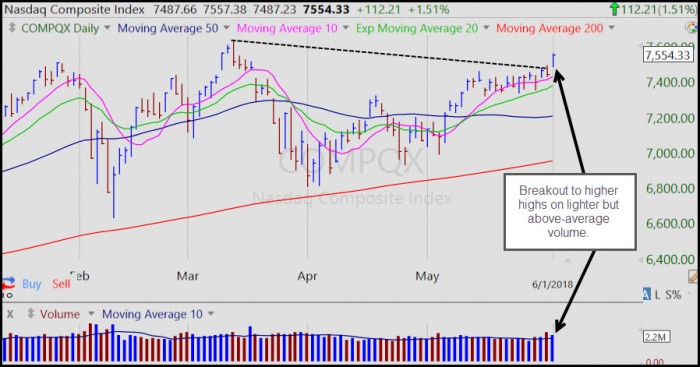 Meanwhile, the
S&P 500 Index
has moved back to the highs of its range, although it did manage to post a higher closing high on Friday. Volume was much lighter vs. Thursday's levels and only about average. We would like to see the S&P 500 breakout and follow the NASDAQ to new highs as additional confirmation of the market rally.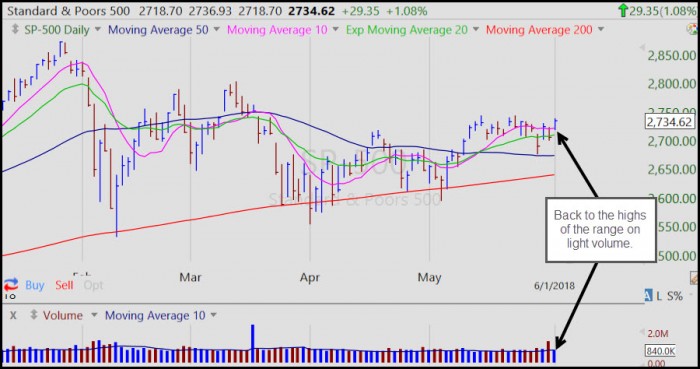 The
Market Direction Model (MDM)
went to a buy signal on Friday at the open.
Removed from the List this Week:
None.
Focus List Stocks Expected to Report Earnings this Week:
None.
Notable Action:
All of our Focus List stocks made new all-time highs on Friday, with the lone exception of
Nvidia (NVDA)
. However,
NVDA
did stage a re-breakout attempt as it cleared the highs of its prior base. Previously, the stock had broken out but failed after earnings. It has since held along the 20-dema and is now attempting to push back into new-high price territory as it gets prodded higher by the general market action. Technically, one could consider this buyable using the top of the base or the 10-dma as a selling guide.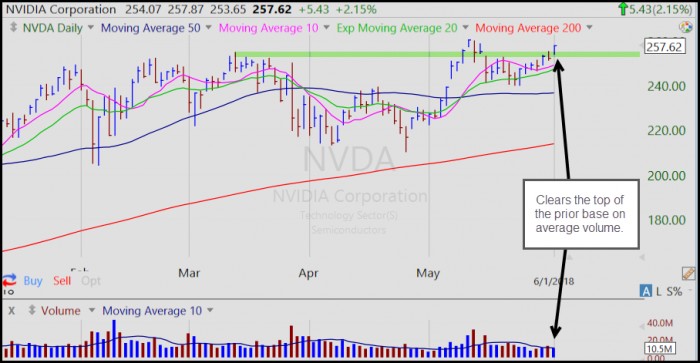 With respect to the other names on the Focus List, all are currently extended and out of buying range.