Current Focus List

The VoSI Focus List is a compilation and reference list of stocks for which Pocket Pivot or Buyable Gap-Up Reports have been issued and which have been deemed suitable for inclusion on the Focus List. Not all stocks for which a Pocket Pivot or Buyable Gap-Up report has been issued will necessarily be added to the list. It is not intended as a "buy list" or a list of immediately actionable recommendations. Stocks on the list may or may not be in proper buy positions, and investors should exercise discretion and proper judgement in determining when and where stocks on the Focus List can be purchased. The following notes are intended to assist in this process. Please note that members can enlarge the Focus List image by clicking on the body of the email and then holding the Control Key while pressing the "+" key until it is large enough to read.
General Observations:
The
NASDAQ Composite Index
gapped up on Wednesday and churned around in all-time new-high price ground before selling off into the end of the week. Volume was very heavy on Friday as a result of the Russell Index rebalancing. A break below the low of the fifth recent distribution day is a yellow flag. Meanwhile, as the NASDAQ and the small-cap
Russell 2000
sit near all-time highs, the
S&P 500
,
Dow Jones Industrials
, and broader N
YSE Composite Indexes
all lag badly. The divergence may be signaling caution ahead, and we are indeed seeing some selling in leading stocks. For now, it remains a concrete problem of simply watching one's trailing stops in the event that the general market situation begins to deteriorate.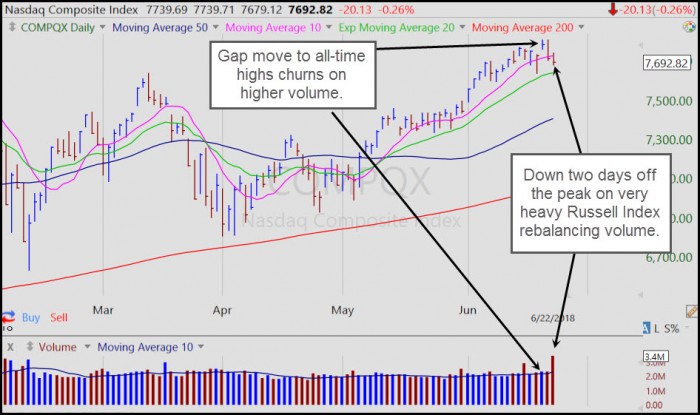 The
Market Direction Model (MDM)
is currently on a buy signal.
Removed from the List this Week:
None.
Focus List Stocks Expected to Report Earnings this Week:
None.
Notable Action:
Focus List names were hit with some selling volume on Thursday and Friday as the NASDAQ Composite peeled off to the downside and off its recent all-time highs. Most are holding up in their patterns and above their 10-dmas and 20-demas, with the exception of
Baozun (BZUN)
and
Nvidia (NVDA)
. BZUN is still holding along its 20-dema despite closing just below the line on Friday, and may be attempting to build a new base. For now, owners of BZUN should keep clear trailing stops in mind.
NVDA, on the other hand, is showing marked weakness after decisively breaking below its 20-dema over the past two days. It has also dropped below its prior base breakout point, from which it first failed back in early May. The ensuing re-breakout move carried a little further, but not much more than 10% from the breakout point. That is far short of anything we would consider a "robust" gain following a base breakout, and the stock may now be finally engaging in a late-stage failed-base type of short-sale set-up. At the very least, a test of the 50-dma looks imminent, and would represent the lowest selling guide in the pattern. Our own preference would have been to use the 20-dema as a selling guide.