Current Focus List

The VoSI Focus List is a compilation and reference list of stocks for which Pocket Pivot or Buyable Gap-Up Reports have been issued and which have been deemed suitable for inclusion on the Focus List. Not all stocks for which a Pocket Pivot or Buyable Gap-Up report has been issued will necessarily be added to the list. It is not intended as a "buy list" or a list of immediately actionable recommendations. Stocks on the list may or may not be in proper buy positions, and investors should exercise discretion and proper judgement in determining when and where stocks on the Focus List can be purchased. The following notes are intended to assist in this process. Please note that members can enlarge the Focus List image by clicking on the body of the email and then holding the Control Key while pressing the "+" key until it is large enough to read.
General Observations:
The
NASDAQ Composite Index
set the context for a reaction rally after finding logical near-term support at its 50-dma and the prior May consolidation price region. A large number of leading stocks have suffered severe technical damage over the past several days as the market has descended rapidly from its peak of the prior week. Friday's action has the appearance of implying a potential retest of the 50-dma. In most cases, trailing stops in leading stocks have been hit, leading to a natural movement into cash or at least more of it. We remain cautious as the pullback plays out from here, pending new evidence.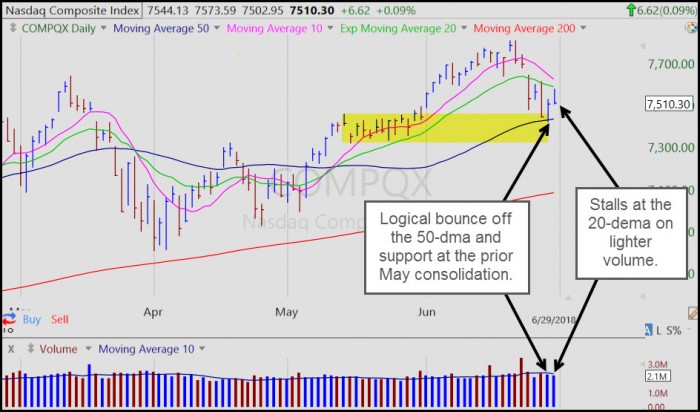 The
Market Direction Model (MDM)
remains on a cash signal.
Removed from the List this Week:
Nvidia (NVDA
).
Focus List Stocks Expected to Report Earnings this Week:
None.
Notable Action:
Amazon.com (AMZN)
remains above its 20-dema, but may be susceptible to further downside in a continue market correction.
Baozun (BZUN)
has come down sharply since peaking in the early part of June. It has now nearly retraced the entire move it had after breaking out in mid-May on heavy volume. It provides a strong argument for the practice of using the 20-dema as a selling guide for extended positions. The stock is now back to its 50-dma where it stalled badly on Friday, and this would represent final support.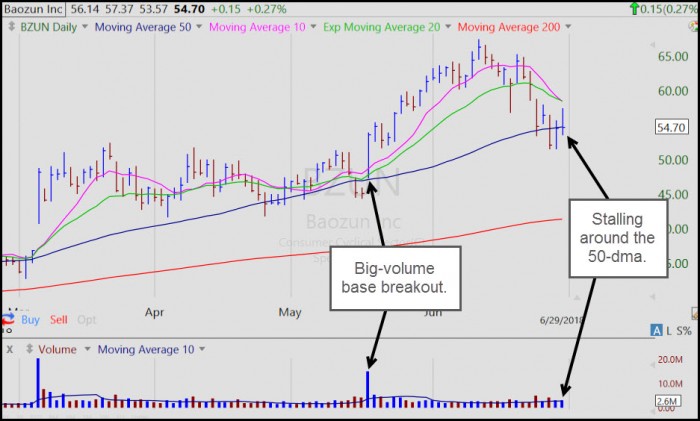 Fortinet (FTNT)
closed below its 20-dema an appears set for a test of the 50-dma.
Netflix (NFLX)
continues to hold above its 20-dema, which we would use as a selling guide for traders. Otherwise, the 50-dma would represent deep support for the stock.
Nvidia (NVDA)
has not yet technically violated its 50-dma, but has already failed on a recent breakout and re-breakout after a heavy-volume gap-down move below the 50-dma on Monday. We would have been out of the stock on the breach of the 20-dema two Fridays ago. We would also note that the stock is in fact an active late-stage failed-base (LSFB) short-sale formation. Rallies up into the 50-dma could very well offer lower-risk short-sale entries using the 50-dma as a guide for an upside stop.
If the stock continues to find resistance near the 50-dma, then we would not be surprised to see an eventual test of the 200-dma. This would be the first time such a test occurred since NVDA began its stellar run in 2016. NVDA had a near test with its 200-dma earlier this year due to interest rate headwinds which unsettled markets, but it has yet to hit its 200-dma since 2016. Should such a test of its 200-dma occur, it would be a bad omen since NVDA has been one of the premier market leaders. It could be signalling a deteriorating trade situation and/or the deep issues that won't go away concerning global QE, the global economy, and the future direction of interest rates.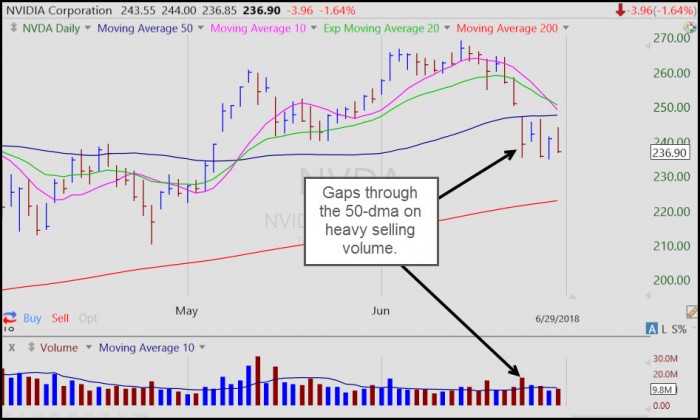 Square (SQ)
may be set for a test of its 50-dma after breaching its 20-dema on heavy volume five days ago on Monday. The stock rallied on Friday but stalled and reversed to close near the lows of its daily trading range on weak volume. The stock is approaching its prior base breakout point, and positions bought on the breakout should likely be sold on this breach of the 20-dema.