Money continued to pile into AI meme stocks on the last day of the second quarter and first half of 2023, sending the S&P 500 to marginally higher highs. The other major market indexes all moved back up towards the prior highs of two weeks ago. Friday's Personal Consumption Expenditures (PCE) inflation data held few surprises, and futures responded positively to the data when it was released one hour before the open. Core PCE now sits at the lowest growth rate since April 2021. Indexes finished off the month-end, quarter-end and mid-year-end trading session in a flourish, but volume was lukewarm as both exchanges traded below average volume on Friday but still slightly more vs. the Thursday session.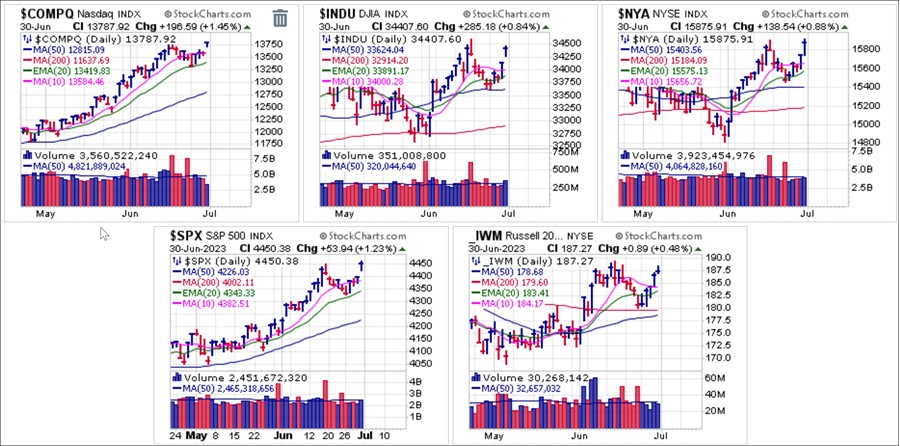 We reported on the
iShares Silver Trust (SLV)
which posted a moving average undercut & rally (MAU&R) along its 200-day moving average. The action was confirmed in other silver ETFs, including the
Aberdeen Silver Trust (SIVR)
and the
Sprott Physical Silver Trust (PSLV)
.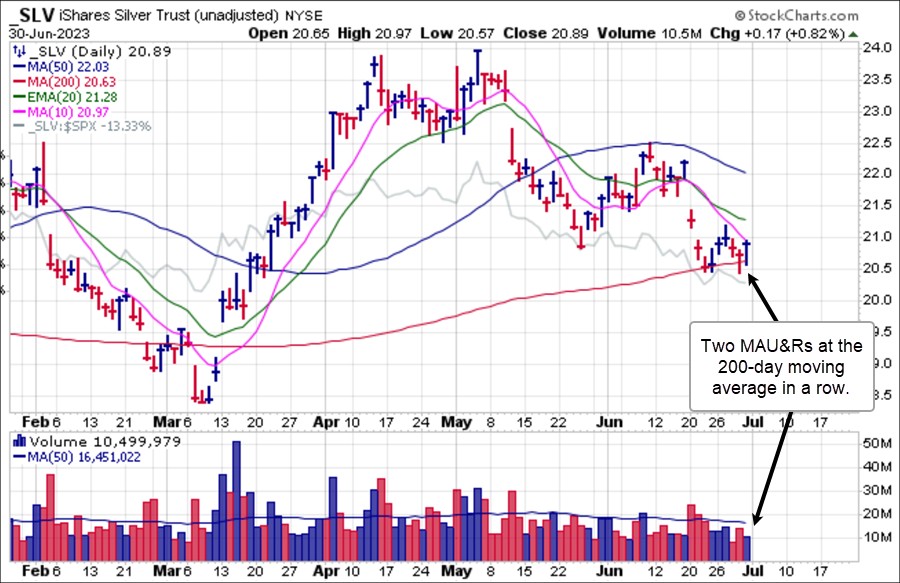 We reported on
Kinross Gold (KGC)
on Thursday as it posted a big-volume bottom-fishing pocket pivot at at its 10-dma and 20-dema.
KGC
sold off early in the morning on Friday but recovered to closed back above its 10-dma which serves as a reasonable selling guide. Thursday's move also qualified as an undercut & rally move through the prior 4.62 low of May 30th.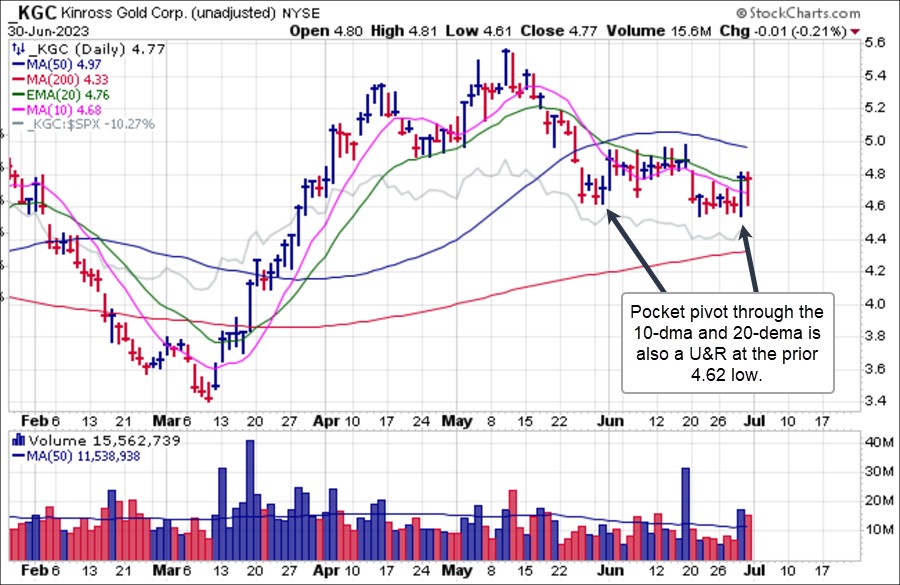 We previously reported on semiconductor and AI meme name Marvell Technology (MRVL) as a short-sale entry following its breach of the 58.58 buyable gap-up low of late May after earnings. Instead of breaking down, MRVL has continued to hold up in what is now a five-week base as volume dries up. The stock held tight at the 10-dma on Friday but we would watch the 20-dema as a critical level. Constructive pullbacks to the line could serve as lower-risk long entries while any break below the 20-dema would trigger a potential short-sale entry so can be watched for.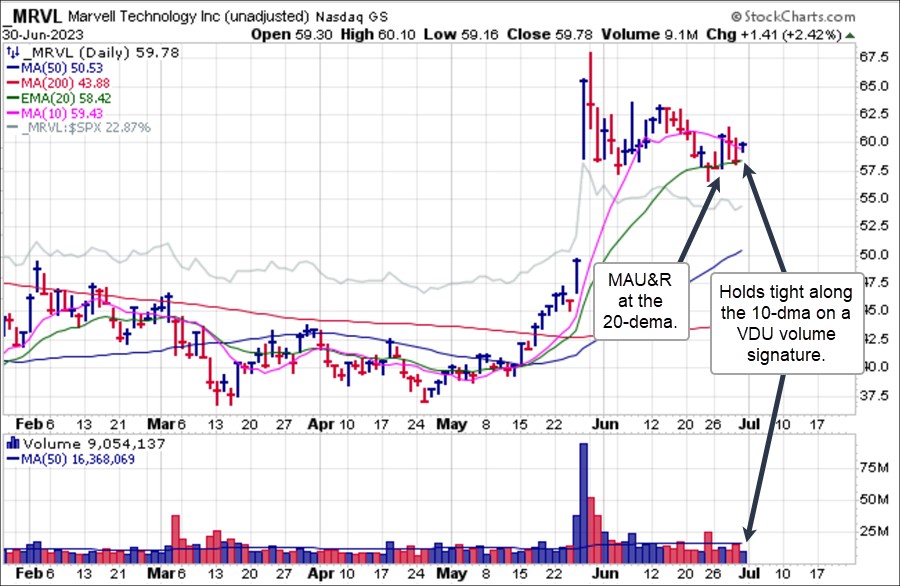 While short-sale set-ups that we have reported on have failed to play out bearishly, long set-ups we reported on this past Wednesday have worked only marginally. AI meme play MongoDB (MDB) posted a pocket pivot on Wednesday, which we reported on, but stalled badly. Nevertheless, it moved to higher highs by the end of the week and in this position lower-risk entries would only be found on any constructive pullbacks to the 10-day moving average.
On Wednesday we also reported on a possible pocket pivot during the trading day in
The Trade Desk (TTD)
another AI meme related name. Volume tapered off by the close, however, and
TTD
failed to post a valid pocket pivot. It remains in a tight trading range.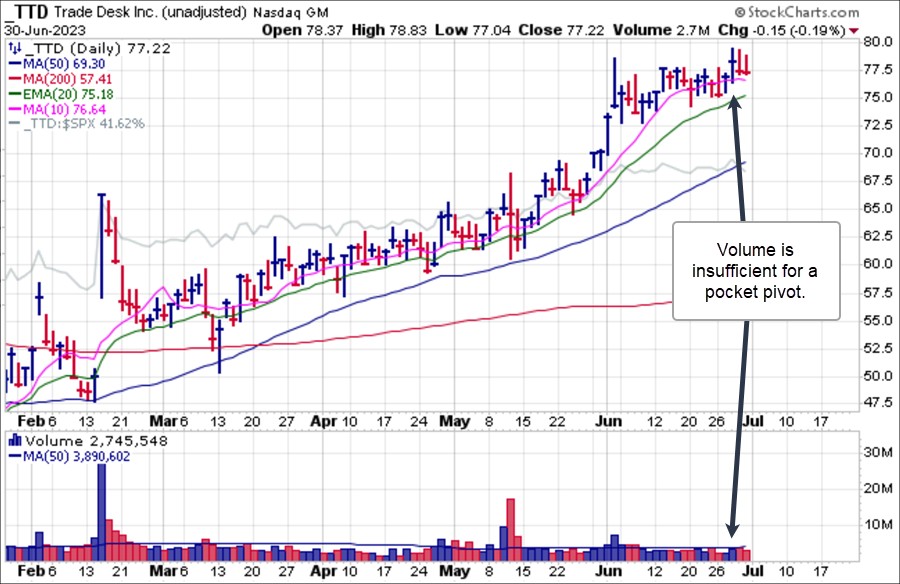 We discussed Bitcoin miner
Marathon Digital Holdings (MARA)
as possible double-top short-sale set-up and it worked quite well on Monday as MARA reversed back below the 12.82 left-side double-top peak in the pattern and broke 10% to the downside. Underscoring the short-lived short-side of this market, MARA then turned right around and pushed to higher highs where it has stalled over the past two days. We would continue to watch for any breaks back below the 12.82 price level as potential short-sale entry triggers from here.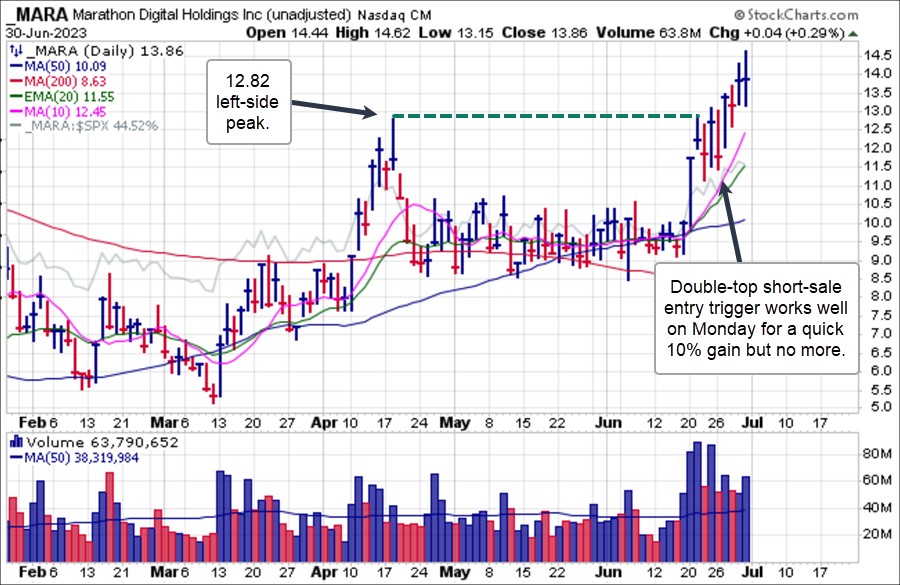 The
Market Direction Model (MDM)
remains on a
CASH
signal. Liquidity continues to fall overall, both in the US and globally:
Given the strong correlation between the direction of stocks and liquidity, this is likely to be a headwind for stocks.