Current Focus List

The VoSI Focus List is a compilation and reference list of stocks for which Pocket Pivot or Buyable Gap-Up Reports have been issued and which have been deemed suitable for inclusion on the Focus List. Not all stocks for which a Pocket Pivot or Buyable Gap-Up report has been issued will necessarily be added to the list. It is not intended as a "buy list" or a list of immediately actionable recommendations. Stocks on the list may or may not be in proper buy positions, and investors should exercise discretion and proper judgement in determining when and where stocks on the Focus List can be purchased. The following notes are intended to assist in this process. Please note that members can enlarge the Focus List image by clicking on the body of the email and then holding the Control Key while pressing the "+" key until it is large enough to read.
General Observations:
The
NASDAQ Composite Index
shook out at its 50-day moving average on Thursday and Friday, although Friday's recovery came on much lighter volume. The index remains in a wide, choppy range extending back to February with no real trend.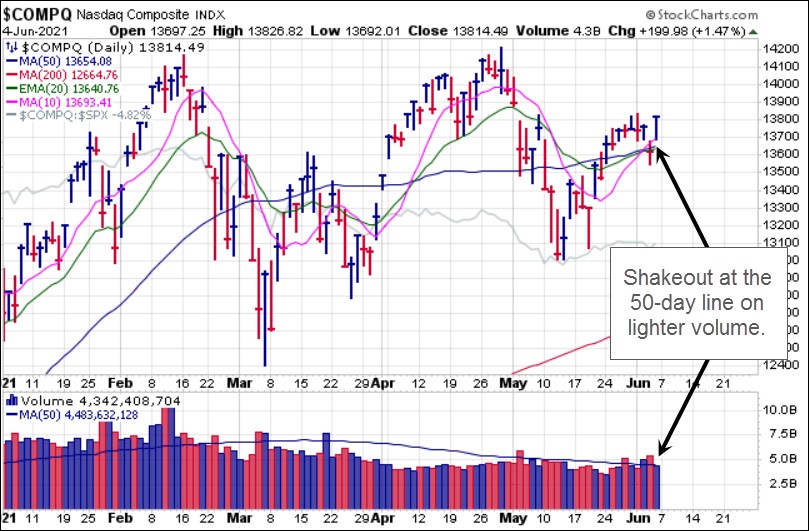 The
S&P 500
fell short of all-time highs on Friday as volume declined vs. the prior day. Again, we find ourselves in the paradoxical position of having nothing hitting our stock radar that warrants inclusion on the Focus List. Individual stocks are mostly chopping around in their chart patterns, with rare exceptions, and in our view this remains a market mostly for swing-traders and not trend-following investors.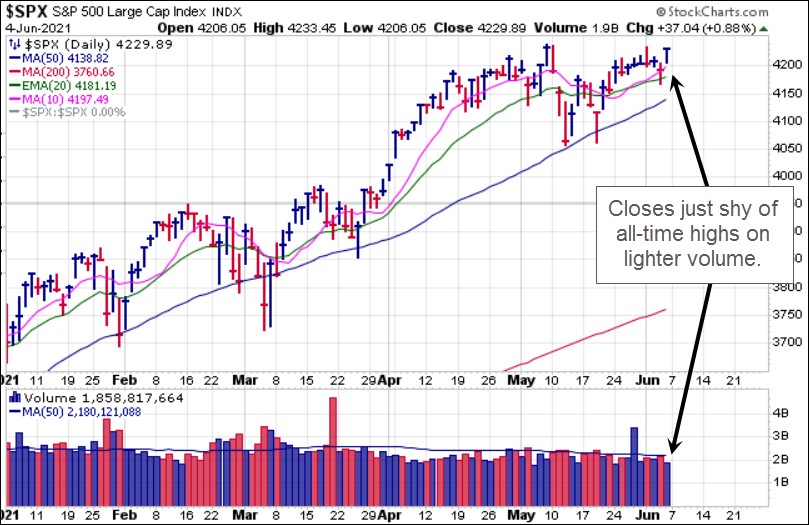 The
Market Direction Model (MDM)
remains on a
CASH
signal.
The action in precious metals over the past two months. has closely and inversely correlated to the two-month downtrend in the
U.S. Dollar ($USD)
. Thursday's upside move in the dollar led to gaps to the downside in both gold and silver, but on Friday the dollar dropped right back to where it began the week near the 10-day moving average.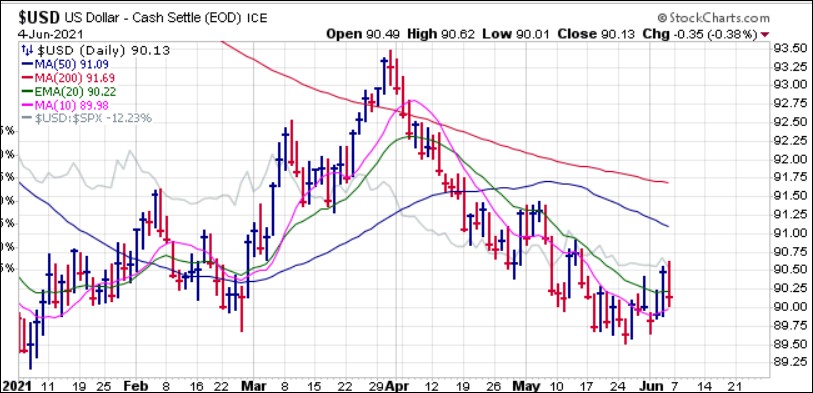 The
Sprott Physical Gold Trust (PHYS)
gapped down on Thursday but held above its 20-day exponential moving average. Its chart juxtaposed against the U.S. Dollar, above, illustrates the inverse correlation between precious metals and the dollar over the past two months.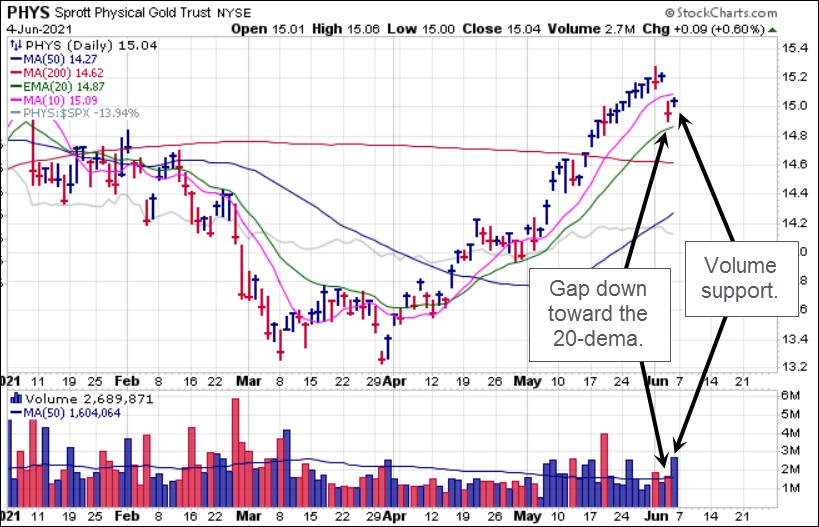 The
Sprott Physical Silver Trust (PSLV)
also gapped down on Thursday but ended up posting an undercut & rally move at the prior 9.77 low. It ended the week 20 cents higher, right at 9.97 and the 10-day moving average.