General Observations:
We have removed all names from our Focus List as a bear market takes hold. The major market indexes have remained in free-fall as forced selling overcomes the market and anything that isn't nailed down is getting sold, including gold, silver, and Bitcoin. Therefore, unless one is oriented towards playing the short side, cash is king until further notice.
The
NASDAQ Composite Index
undercut its June 2019 low on Thursday and then rallied back above it on Friday, triggering a U&R type of move. This may lead to an oversold rally that could carry as far as the 200-dma up near 8400. We do not believe that this signals a new uptrend, only the potential for a decent oversold rally after a brutal leg down off the peak, in fact the fastest decline into bear market territory for the market since 1987.
In a week where we saw many records broken, with the Dow posting both its largest single-day point decline on Thursday and then its largest single-day point rally on Friday, we can expect that volatility will remain high. Therefore, nimble, opportunistic, and daring swing-traders and day-traders should be the only ones trying to capitalize on the volatility. For those seeking for more intermediate- to longer-term trends, cash remains king, in our view, until further notice.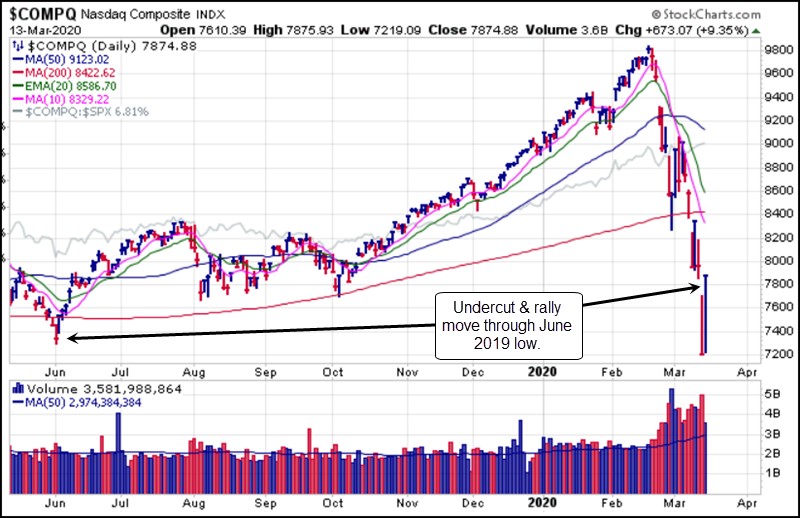 The Market Direction Model (MDM)
remains on a sell signal.
The Federal Reserve just announced that it is doing another emergency rate cut, this time 100 bps, which brings the target rate down to 0-25 bps. This will most likely cause markets to gap higher on Monday. That said, as the report sent early stated, It's a tug-o-war between:
=Super easy money, financial incentives, the low price of oil, and lower taxes
vs.
=Quarantines, corona containment, and damage to the global economy.
While some may rightfully believe the Fed has lost the plot on how to handle the current situation, the fact remains that easy money will flow into stocks and hard assets as fiat degrades. This could spark hyperinflation at some point. The depth of any recession will be mitigated by these factors but the exponential jump in cases in the U.S. and U.K. is likely to unsettle markets so a second wave of panic selling is possible. In other words, while markets may gap higher on Monday, we may retest lows as the corona situation plays out. Always obey your stops, especially in times of heightened volatility. The VIX has been at levels not seen since 2008.
A report sent tomorrow will focus on how to capitalize on this crisis-born opportunity. Crises bring opportunity. Always.