Current Focus List

The VoSI Focus List is a compilation and reference list of stocks for which Pocket Pivot or Buyable Gap-Up Reports have been issued and which have been deemed suitable for inclusion on the Focus List. Not all stocks for which a Pocket Pivot or Buyable Gap-Up report has been issued will necessarily be added to the list. It is not intended as a "buy list" or a list of immediately actionable recommendations. Stocks on the list may or may not be in proper buy positions, and investors should exercise discretion and proper judgement in determining when and where stocks on the Focus List can be purchased. The following notes are intended to assist in this process. Please note that members can enlarge the Focus List image by clicking on the body of the email and then holding the Control Key while pressing the "+" key until it is large enough to read.
General Observations:
Major indexes reversed on Tuesday off their recent peaks, and the rest of the week saw both the NASDAQ Composite and S&P 500 Indexes begin to test near-term support. The S&P 500 is churning around and just above its 50-dma, while the NASDAQ is pulling into its prior breakout point around the 7438-39 price level. This implies that the NASDAQ could pull back further from current levels as it has so far been unable to stage a strong rebound over the past three days, closing near the lows of its intraday trading range each day.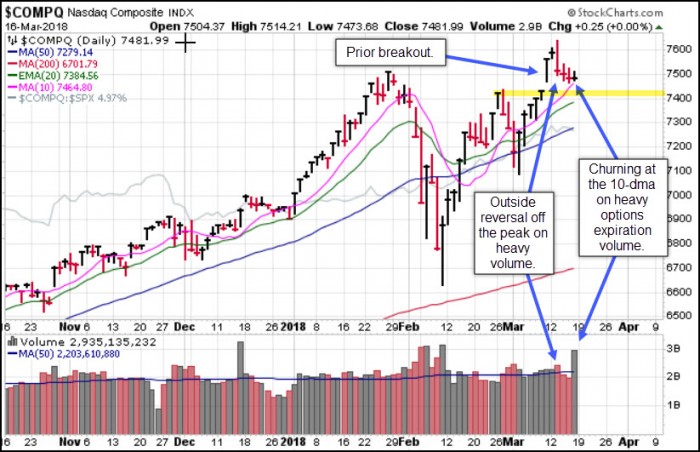 Meanwhile, the
Dow Jones Industrials Index
remains below its 50-dma while the small-cap
Russell 2000 Index
has traded up to its prior January highs but has not broken out in conjunction with the NASDAQ Composite's recent breakout. Talk of additional tariffs on China has played a role in slowing down the market's upside momentum, which was already reaching an extreme overbought state as many leading names became extended to the upside. Should the NASDAQ fail to hold support at its prior breakout point while the S&P 500 breaches its 50-dma, then further downside may be likely.
The
Market Direction Model (MDM)
remains on a buiy signal.
Removed from the List this Week:
None.
Focus List Stocks Expected to Report Earnings this Week:
None.
Notable Action:
Currently we are not seeing any Focus List names pulling into near-term support at their 10-dmas on declining volume. For example,
AMZN
and
LITE
are pulling into their 10-dmas on increased volume while
AMAT
,
NFLX
and
TEAM
have dipped below their 10-dmas. In such cases we might look to the 20-dema as a possible entry point on any further pullbacks in these names. The only name on the list that would appear to be in the most buyable position is
Blackberry (BB)
as it pulls in towards its 50-dma on declining volume following Thursday's gap-up pocket pivot move off the 50-dma. The closer to the 50-dma one can buy it the better, in our view, using the line as your selling guide.