Current Focus List

The VoSI Focus List is a compilation and reference list of stocks for which Pocket Pivot or Buyable Gap-Up Reports have been issued and which have been deemed suitable for inclusion on the Focus List. Not all stocks for which a Pocket Pivot or Buyable Gap-Up report has been issued will necessarily be added to the list. It is not intended as a "buy list" or a list of immediately actionable recommendations. Stocks on the list may or may not be in proper buy positions, and investors should exercise discretion and proper judgement in determining when and where stocks on the Focus List can be purchased. The following notes are intended to assist in this process. Please note that members can enlarge the Focus List image by clicking on the body of the email and then holding the Control Key while pressing the "+" key until it is large enough to read.
General Observations:
Major market averages sold off hard in the middle of the week, as three days of a cascading sell-off on heavy volume finally came to an end on Friday. While the
S&P 500
and the
Dow Jones Industrials Indexes
remain below their 50-dmas, the
NASDAQ Composite Index
, below, was able to regain its 50-dma on an intraday basis. Over the past month, the market's character has changed dramatically, as is evident by the much wider price ranges seen in February and early March relative to the relatively tighter price ranges seen during the steady January uptrend. Volatility, which was previously scarce, has now returned in abundant fashion. Technically, the NASDAQ's fourth-day follow-through on February 14th remains in force, but the action remains choppy and somewhat haphazard, although several names for which we have issued Buyable Gap-Up and Pocket Pivot reports over the past few weeks, such as
Lumentum Holdings (LITE)
,
Fortinet (FTNT)
,
Atlassian (TEAM)
, for example, have continued to make higher highs, despite the market correction.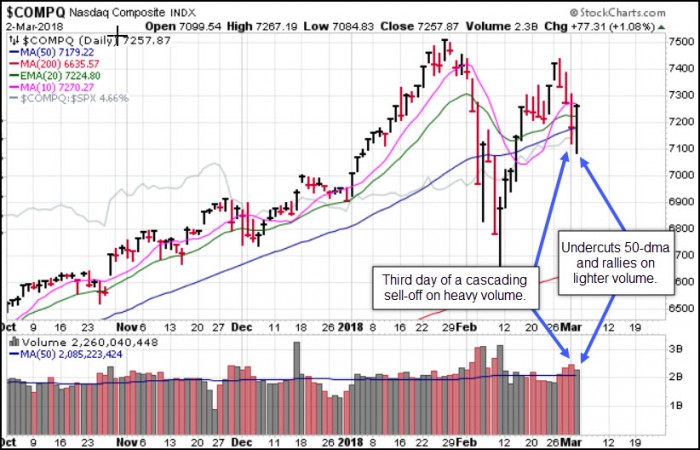 The
Market Direction Model (MDM)
remains on a cash signal.
Removed from the List this Week:
None.
Focus List Stocks Expected to Report Earnings this Week:
None.
Notable Action:
The three big-stock NASDAQ names that currently populated the Focus List exemplify the volatility inherent in this market.
Amazon.com (AMZN)
broke sharply to the downside on Thursday but managed to rally back above its 10-dma by the close. This, however, did not prevent the stock from gapping down sharply on Friday before finding support at its 20-dema and rallying on strong, above-average volume and closing back above the 10-dma. As we wrote last weekend in our Focus List Review report, the stock was wedging up into new high price territory and so was vulnerable to a pullback. That commentary turned out to be quite prophetic as the stock pulled back sharply during the ensuing week. Enterprising traders might have been able to buy shares at the 20-dema on Friday's pullback, but the volatility of this market can make this difficult to do in real-time.
AMZN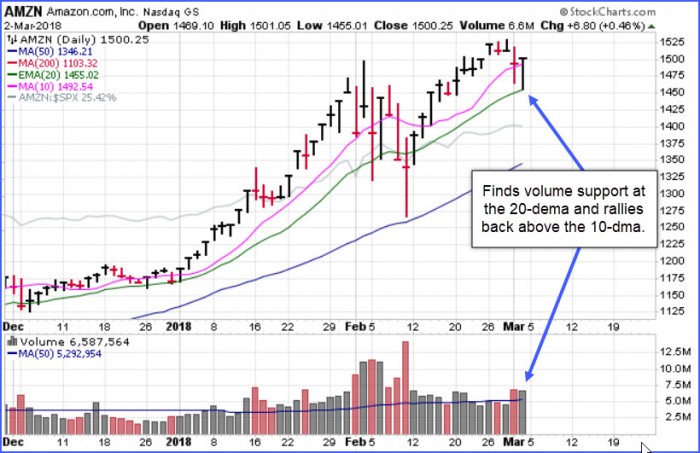 Netflix (NFLX)
posted a continuation pocket pivot at its 10-dma on Friday after initially trading below the line early in the day. News that the company's shows have received eight Oscar nominations likely helped drive the move. While NFLX is not in what can be considered a valid base formation, the continuation pocket pivot, however, would have been actionable before it became extended. NFLX is now above the $300 "Century Mark" which would trigger a buy signal based on Jesse Livermore's Century Mark buy rule, using the $300 price level as a tight selling guide.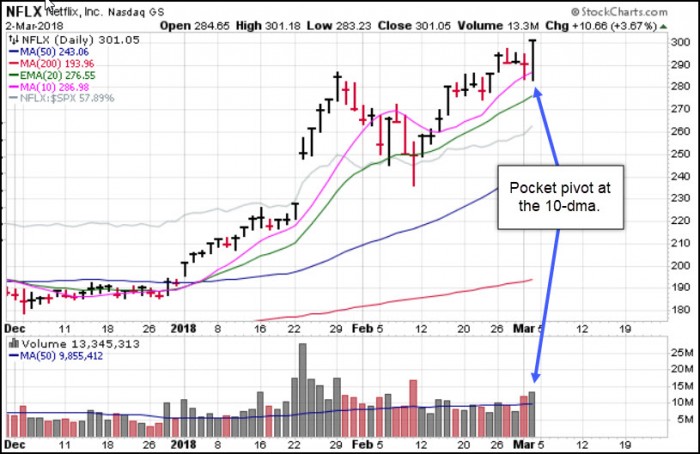 Nvidia (NVDA)
suffered a steep price break on both Thursday and early in the day on Friday before finding support around its 50-dma on above-average volume. This was another v-shaped formation, similar to AMZN, that we felt was vulnerable to a breakdown per our comments last weekend. Thursday's break carried the stock below the 20-dema, while Friday's rebound off the 50-dma closed just below the 20-dema. The stock remains in "no-man's land" in its current position, although it is possible that if it cannot regain the 20-dema a retest of the 50-dma may be forthcoming.