Current Focus List

The VoSI Focus List is a compilation and reference list of stocks for which Pocket Pivot or Buyable Gap-Up Reports have been issued and which have been deemed suitable for inclusion on the Focus List. Not all stocks for which a Pocket Pivot or Buyable Gap-Up report has been issued will necessarily be added to the list. It is not intended as a "buy list" or a list of immediately actionable recommendations. Stocks on the list may or may not be in proper buy positions, and investors should exercise discretion and proper judgement in determining when and where stocks on the Focus List can be purchased. The following notes are intended to assist in this process. Please note that members can enlarge the Focus List image by clicking on the body of the email and then holding the Control Key while pressing the "+" key until it is large enough to read.
General Observations:
Major market indexes have experienced a correction, with the NASDAQ Composite Index taking the brunt of the selling as high PE-expansion names see their PEs get compressed. The index corrected 12.52% before undercutting two prior lows from December and January, respectively, and rallying sharply on Friday in a typical reaction low type of move. This may result in a move towards the 50-day moving average, but for now the market remains in a correction. For now, we would continue to monitor the situation with interest rates as the 10-Year yield is again above 1.50% and closed Friday at 1.54% after hitting an intraday peak of 1.626%.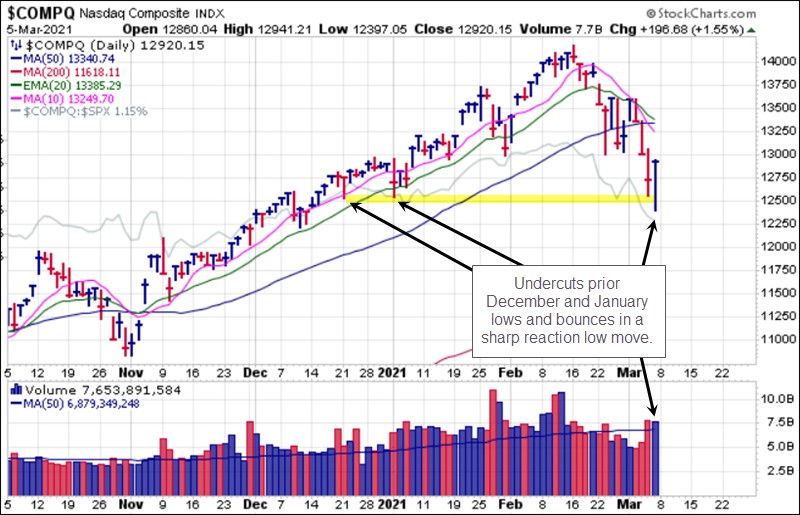 The
Market Direction Model (MDM)
remains on a
BUY
signal. Biden's stimulus bill just cleared the Senate after a long, grueling session. It is expected to clear the House next week. This should help stocks find a floor despite Biden's concerns about inflation as the capital has to go somewhere. This "somewhere" is typically into stocks and bonds and bitcoin among other fiat fighters whose prices rise as fiat falls.
Notable Action:
Bitcoin has been correcting off its recent highs of about two weeks ago, bringing the Grayscale Bitcoin Trust (GBTC) down with it. On Friday, GBTC found support at its 50-day line after shaking out below the line and recovering to close up on the day. This constitutes a moving average undercut & rally move that is buyable using the 50-day line as a selling guide. Note that in the process GBTC also filled the gap from early February.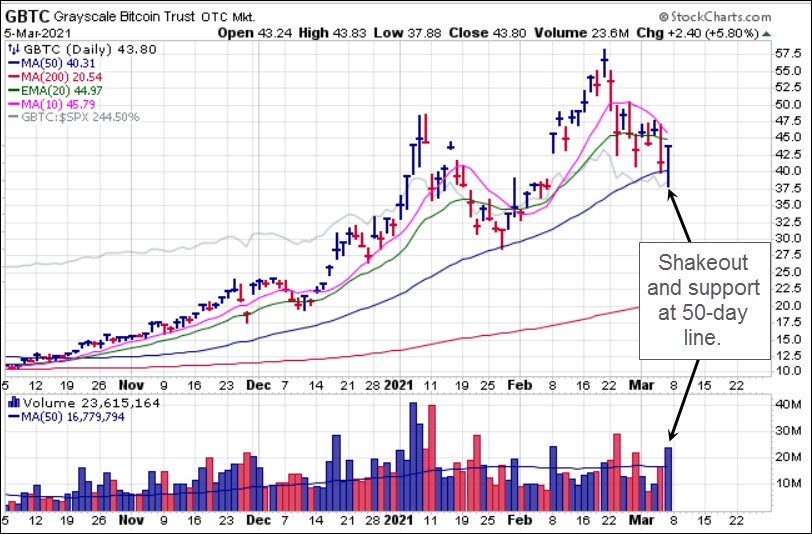 Microstrategy (MSTR)
topped nearly four weeks ago in a mad, climactic move and has since seen its price get cut by more than half. It closed below its 50-day moving average on Friday as it attempts to find support along an area of price congestion, essentially a three-week flag formation that formed in the latter part of January. The stock is obviously now out of play and will be removed from the Focus List, leaving no stocks on the list at this time.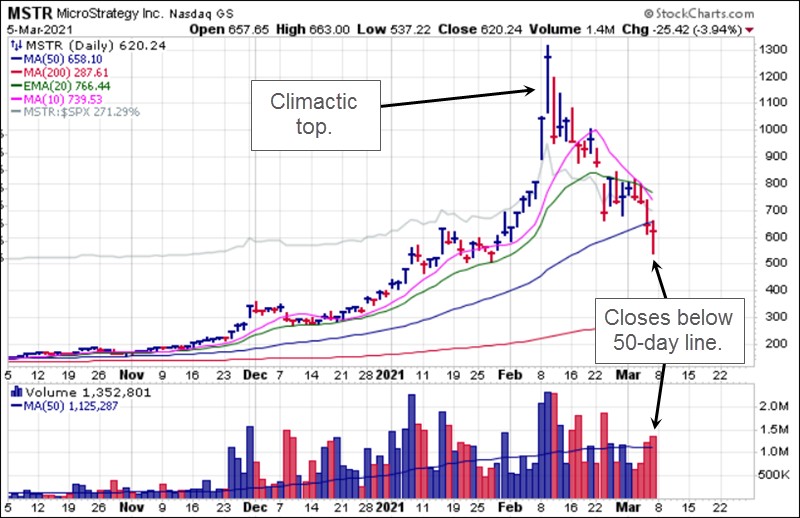 Precious metals have come under pressure as interest rates have risen, but we note some rumblings among silver mining stocks, many of which posted U&Rs along their lows on Friday. First Majestic Silver (AG) just missed undercutting its prior early February low but undercut and rallied at its 50-day moving average instead, triggering a moving average undercut & rally long entry. In each case, one would use the prior reference low as a selling guide. These are as follows: CDE - 8.10, FSM - 6.57, GATO - 12.92 (note that it is still just below this U&R trigger low), MAG - 16.69, PAAS - 30.14.