Current Focus List

The VoSI Focus List is a compilation and reference list of stocks for which Pocket Pivot or Buyable Gap-Up Reports have been issued and which have been deemed suitable for inclusion on the Focus List. Not all stocks for which a Pocket Pivot or Buyable Gap-Up report has been issued will necessarily be added to the list. It is not intended as a "buy list" or a list of immediately actionable recommendations. Stocks on the list may or may not be in proper buy positions, and investors should exercise discretion and proper judgement in determining when and where stocks on the Focus List can be purchased. The following notes are intended to assist in this process. Please note that members can enlarge the Focus List image by clicking on the body of the email and then holding the Control Key while pressing the "+" key until it is large enough to read.
General Observations:
The
NASDAQ Composite Index
broke out to all-time highs on Friday, while the
S&P 500 Index
regained its 50-dma. We had discussed the possibility of the S&P retaking the 50-dma in our Pre-Market Pulse Report of Thursday morning. At that time we believed that clarity surrounding the imposition of steel and aluminum tariffs had the potential to create a relief rally among steel-consuming stocks, and that this in turn would drive a move in the S&P 500 back above the 50-dma. That is what we saw on Friday as the index gapped above its 50-dma and never looked back. Meanwhile, the NASDAQ's breakout may imply that a new up leg in the major market averages is starting. We have added several names from recent Pocket Pivot and Buyable Gap-Up Reports to the Focus List in recognition of their leadership status. Keep in mind that this is mostly a formality as these names were all actionable at the time they were reported on and many have moved substantially higher since then. Some are, however, in buyable positions, as we discuss below.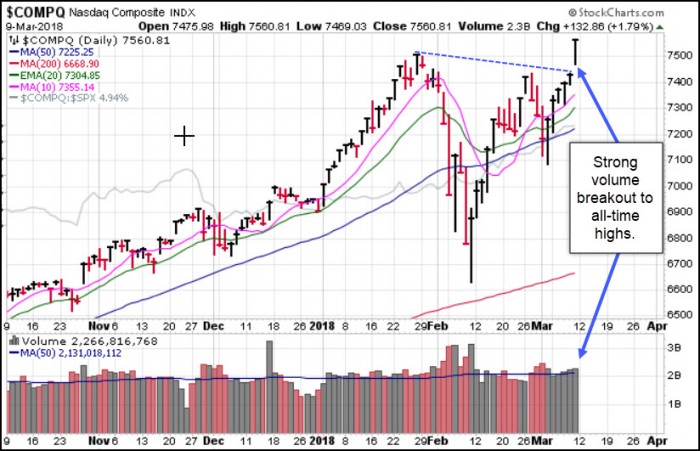 The
Market Direction Model (MDM)
went to a buy signal Friday at the open.
Removed from the List this Week:
None.
Focus List Stocks Expected to Report Earnings this Week:
None.
Notable Action:
Amazon.com (AMZN)
remains extended as it continues to trend higher.
Netflix (NFLX)
posted a new all-time high on Friday but was buyable a week ago on the basis of its continuation pocket pivot at the 10-dma as we discussed in last weekend's Focus List Review report.
Nvidia (NVDA)
remains in a buyable position, 2% above its 20-dema as it forms a new base that has the appearance of an ascending triangle.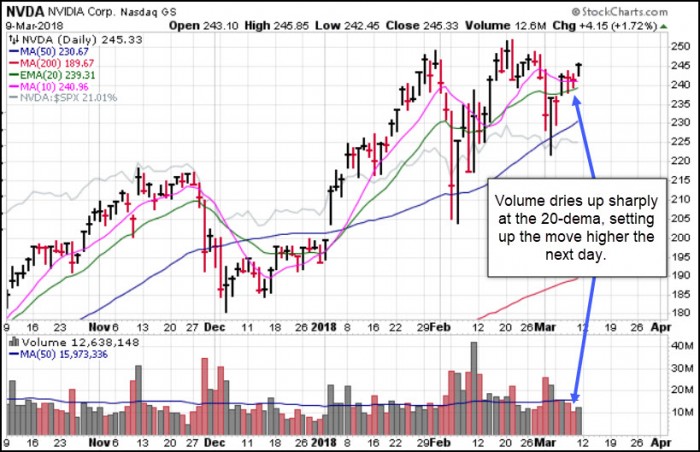 Names added to the Focus List this weekend:
Applied Materials (AMAT)
which remains just within buying range of a double-bottom base breakout. The stock is a leader among the semiconductor names.
Blackberry (BB)
which posted a second pocket pivot at its 50-dma on Thursday and remains in a buyable position just above the 50-dma. BB's new CEO's leadership bodes well in its commitment toward elevating their platform to incorporate blockchain technology and IoT.
Baozun (BZUN)
which posted a runaway buyable gap-up on Wednesday after it reported earnings. It has broken out of a five-month base formation, and we believe it has a reasonable shot at moving from mid-cap to large-cap status given its strong price trajectory.
Lumentum Holdings (LITE)
which we first reported on when it was trading down in the low 50's. The stock broke out to all-time highs on Friday, and is now 33.55% above where we first reported on its pocket pivot coming up through the 50-dma. The company's leading position as a maker of 3-D sensors bodes well for future performance as it emerges from a new base. Apple is a major client that will be increasing its use of LITE's 3-D sensors in its iPhones.
Fortinet (FTNT)
, a new cyber-security leader that has moved 16.97% higher since we first reported on it after it posted a pocket pivot.
Square (SQ)
, which we discussed last weekend as being on the verge of a cup-with-handle breakout. The stock then broke out on Monday, confirming its leadership status as it looks to integrate Bitcoin into its platform. The stock is just out of range of its recent breakout, but we would watch for pullbacks closer to the 50-51 price area as better entries if possible.
Atlassian (TEAM)
recently broke out of a nearly four-month long base and is up 12.9% since we first reported on its pocket pivot of February 20th.
Below is a spreadsheet showing all Pocket Pivot and Buyable Gap-Up reported stocks since February 1st. This also serves as a useful list of leading names to keep an eye on for future buy/entry points. This has been an unusual and at times difficult and volatile market, and we do not believe that spewing out 20-30 reports on each and every pocket pivot or buyable gap-up we see is helpful to our members. We have attempted to be selective in our choice of names, but this market is showing many pocket pivots and buyable gap-ups that are working, sometimes even surprisingly so, as has recently been the case with a name like
Twilio (TWLO)
, for example, on which we have not reported.