Current Focus List

The VoSI Focus List is a compilation and reference list of stocks for which Pocket Pivot or Buyable Gap-Up Reports have been issued and which have been deemed suitable for inclusion on the Focus List. Not all stocks for which a Pocket Pivot or Buyable Gap-Up report has been issued will necessarily be added to the list. It is not intended as a "buy list" or a list of immediately actionable recommendations. Stocks on the list may or may not be in proper buy positions, and investors should exercise discretion and proper judgement in determining when and where stocks on the Focus List can be purchased. The following notes are intended to assist in this process. Please note that members can enlarge the Focus List image by clicking on the body of the email and then holding the Control Key while pressing the "+" key until it is large enough to read.
General Observations:
Major market indexes have continue to stumble higher as they take two steps forward and one step backward in a choppy uptrend off the mid-March lows. In our view, this is not a business-as-usual market environment, despite the follow-through day of nearly a month ago. In fact, we would be hard-pressed to find any breakouts among so-called leading stocks that have produced significant upside gains since the follow-through. This is characteristic of a lackluster market environment, unless one is able to swing-trade stocks off their lows.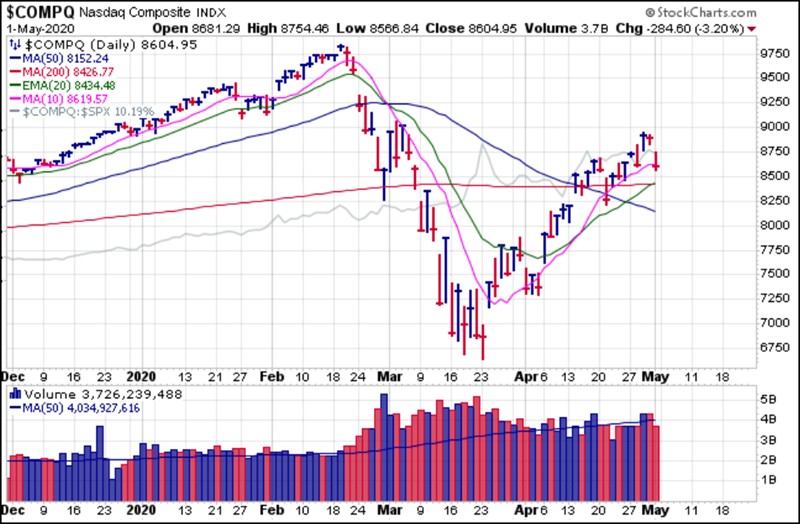 At this time, it is not clear whether the five-week rally off the March lows is just a bear market rally or a true bull trend. The action of individual stocks does not provide any firm answers, and the current Cov-19 news flow combined with infinite QE creates a volatile environment where overnight gaps both up and down are common. Unless one is skilled at swing-trading the volatility in individual stocks, cash likely remains preferable, while we favor precious metals and Bitcoin via their various ETF and ETN vehicles for potentially better trends.
The
Market Direction Model (MDM)
remains on a
CASH/NEUTRAL
signal.
Netflix (NFLX)
remains a breakout to nowhere while
Intel (INTC)
turned into a pocket pivot to nowhere this past week as semiconductor stocks were hit hard going into the end of the week. NFLX may be buyable along its 20-dema, but buyers should keep a tight selling guide at the line if the breakout fails. Meanwhile, INTC has gone nowhere since its pocket pivot of two Thursdays ago after earnings. It is now looking to test its 50-dma, where the pocket pivot originated. Overall, the action in individual stocks has been lackluster as the market rally off the mid-March lows starts to flatten out.

The
Sprott Physical Gold Trust (PHYS)
found some support along its 20-dema as gold futures pulled below the $1700/oz. level. Futures ended the week back above $1700. PHYS is in a buyable position here at the 20-dema while using the line as a tight selling guide.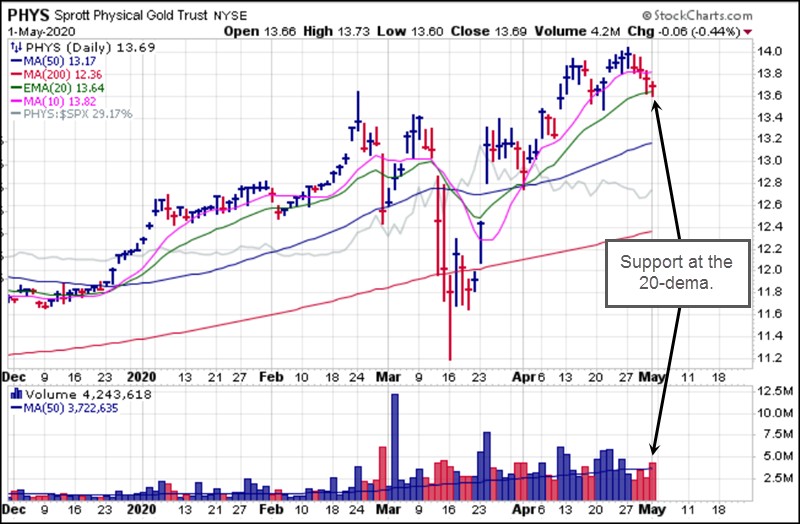 The
Sprott Physical Silver Trust (PSLV)
is moving in a tight sideways range but continues to run into resistance along its 50-dma. We would watch for a move above the 50-dma, preferably on a pocket pivot, as a long entry trigger from here.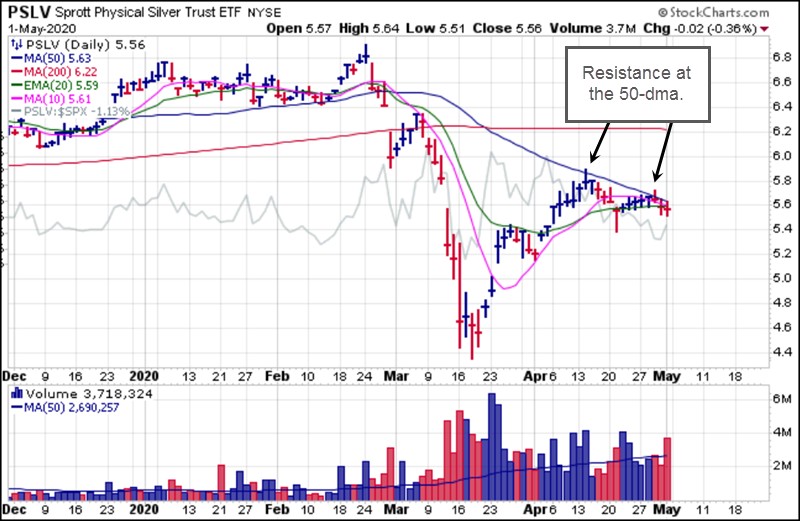 Bitcoin continues to move higher, resulting in higher highs for the
Grayscale Bitcoin Trust (GBTC)
as it approaches its 200-dma. We have reported on the three prior pocket pivots the GBTC has posted on the way up, with the first two down lower in its pattern. Over two weeks ago we discussed a move above $8 as potentially significant given that it would bring the GBTC back above a pair of primary lows from late 2019. GBTC decisively pushed through that level on the second pocket pivot that occurred seven trading days ago. At this juncture, we would watch for the rising 10-dma to act as a reference for any buyable pullbacks from current price levels.