Current Focus List
The VoSI Focus List is a compilation and reference list of stocks for which Pocket Pivot or Buyable Gap-Up Reports have been issued and which have been deemed suitable for inclusion on the Focus List. Not all stocks for which a Pocket Pivot or Buyable Gap-Up report has been issued will necessarily be added to the list. It is not intended as a "buy list" or a list of immediately actionable recommendations. Stocks on the list may or may not be in proper buy positions, and investors should exercise discretion and proper judgement in determining when and where stocks on the Focus List can be purchased. The following notes are intended to assist in this process. Please note that members can enlarge the Focus List image by clicking on the body of the email and then holding the Control Key while pressing the "+" key until it is large enough to read.
General Observations:
Major indexes posted distribution days on Friday, but for the most part remain in short four-day ranges following Tuesday's gap-down open. The
NASDAQ Composite Index
closed below its 10-dma on barely higher volume despite options expiration. In a continuing divergence, the small-cap
Russell 2000 Index
posted a new all-time high.
Higher interest rates were blamed for tentative action in the stock market as the 10-year Treasury Note yield closed at a new four-year high of 3.08%, its highest close since July 2008. Short-term rates in general moved higher, with the 2-Year Treasury Note year moving to its highest close since 2008 at 2.58%.
This is reflective of the Federal Reserve planning more rate hikes into the end of 2018. Higher rates and the ongoing quantitative tightening (QT) have kept the US stock market in a chop zone all year as the market has yet to make sustainable moves in either direction.
That said, when the market takes a pause, voodoo formations are more likely. When the market stages a reversal to the upside as it has done a few times this year, Wyckoff undercut and rally patterns are more likely, so set your screens accordingly.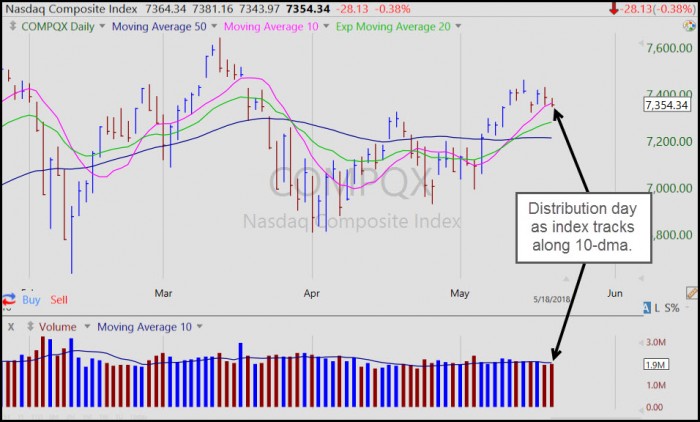 The
Market Direction Model (MDM)
remains on a cash signal.
Removed from the List this Week:
None.
Focus List Stocks Expected to Report Earnings this Week:
None.
Notable Action:
We observe currently that all three big-stock NASDAQ names that populate the Focus List are recent breakout failures.
Amazon.com (AMZN)
,
Netflix (NFLX)
, and
Nvidia (NVDA)
have all broken out either just after or just before recently reporting earnings, and all three have failed on those breakout attempts. Given that all three of these stocks have had long upside price runs, there is a late-stage case to be made with respect to these recent breakout failures. Notice how all three, following the breakout failures, have rallied up to the prior breakout points and turned lower over the past week.
Thus, we should be open to the possibility that all three could evolve into late-stage failed-base (LSFB) short-sale targets if we see them begin to breach their 20-demas, most likely on heavy selling volume. So, while these recent breakout failures and subsequent pullbacks to the 20-dema might simply present "Ugly Duckling" types of breakout failures where we see the stock stage a surprising "re-breakout." So, these remain dynamic situations, and what these stocks do, given their status as big-stock leaders, could provide clues as to where this market is headed from here.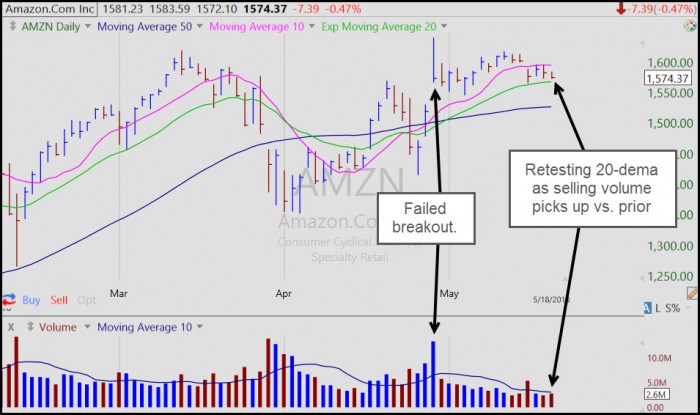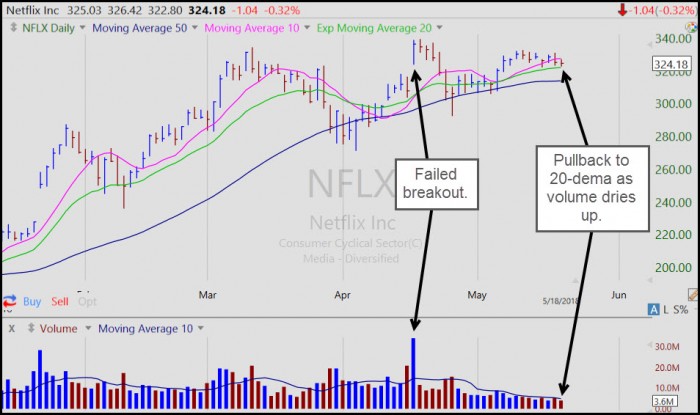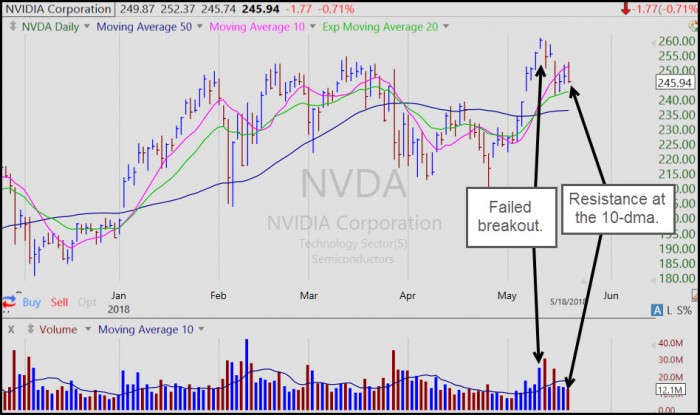 Baozun (BZUN)
reported earnings on Thursday before the close, and gapped up at the open. It was possible to play that as a buyable gap-up move, using the 47.33 intraday low as a selling guide. The stock opened at 47.50 and pulled back only slightly before breaking out in a standard-issue base breakout. Technically, it remains within range of the breakout, but buying the stock on Thursday, either as a type of buyable gap-up coming off the lows of the base, or as a breakout, was better.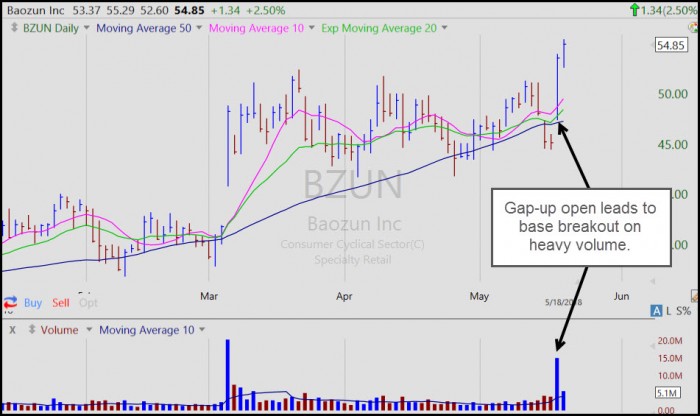 Square (SQ)
is forming a cup-with-handle formation, but was last truly buyable on the pocket pivot of early May, as we reported on at the time. The stock reversed from a higher-high on Thursday following the release of news that rival
PayPal (PYPL)
was buying a company that is alleged to be the "Square of Europe." That led to a big outside reversal on heavy selling volume. SQ then traded lower on Friday before undercutting the low of four days ago on the chart and then rallying to close up on the day and back above the 10-dma. Nimble traders might have been able to pick off the undercut & rally (U&R) set-up on Friday, which would have been successful by the close.