Despite extreme bearish sentiment the market continues to move lower, proving that sentiment is at best a secondary indicator. Sometimes the bearish money is the smart money, and that has certainly been the case in 2022. The market tested the prior week's lows on Friday and held, but remains in a nasty downtrend. Cash is king, while those nimble traders who are skilled on the short side have more or less had their way with this market, with no end in sight so far.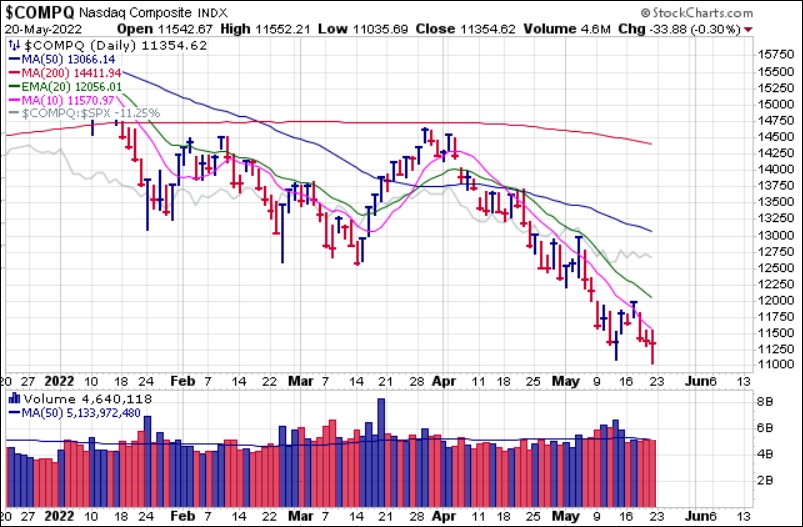 The
Market Direction Model (MDM)
remains on a sell signal.
We reported earlier in the week on possible short-sale set-ups in coals and fertilizers, two of the last remaining groups within earshot of their 52-week highs.
Arch Resources (ARCH)
triggered a short-sale entry at its 20-dema on Wednesday, but immediately bounced on Thursday back above the line. A clean break below the 20-dema would again trigger a short-sale entry using the 20-day line as a covering guide (green moving average). We also discussed
CONSOL Energy (CEIX)
and
Coterra Energy (CTRA)
as other coal names to watch for possible short-sale triggers if they breached their 20-demas. All three names continue to hold support at the 20-dema for now.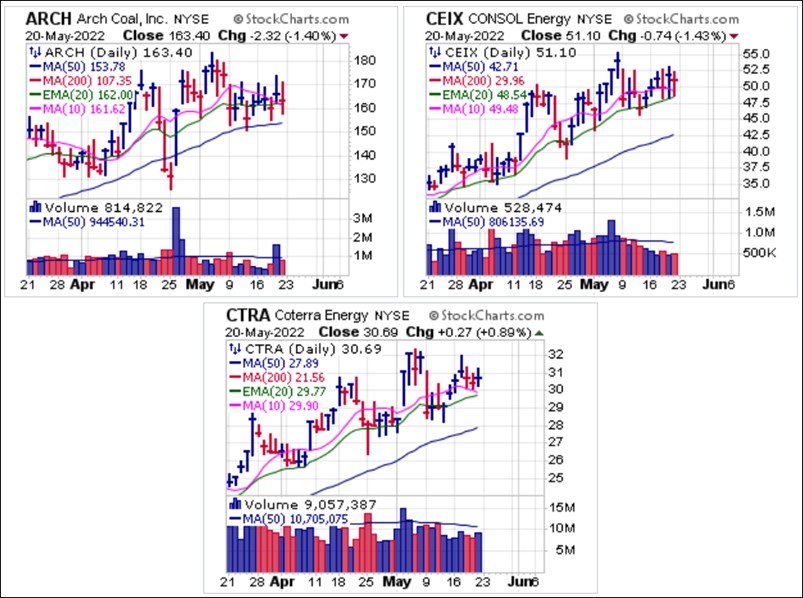 Among fertilizers, on Wednesday we also reported on
CF Industries (CF)
,
Mosaic (MOS)
, and
Nutrien (NTR)
as short-sale set-ups if and as they broke below moving average support.
CF
triggered a short-sale entry on Friday as it dropped through its 50-day moving average, while
MOS
had triggered a short-sale entry along its 50-day line on Wednesday before triggering a second at its 20-dema on the same day. On Friday it rallied back up into the 20-dema where it was shortable again and broke to lower lows from there.
NTR
was shortable on Friday as it pushed back up into its 50-day moving average. It then reversed from there and closed below its 10-day moving average. These are near-term extended to the downside such that they would only be in short-sale positions on rallies into the 50-dma for
CF
and
NTR
and the 10/dma/20-dema for
MOS
.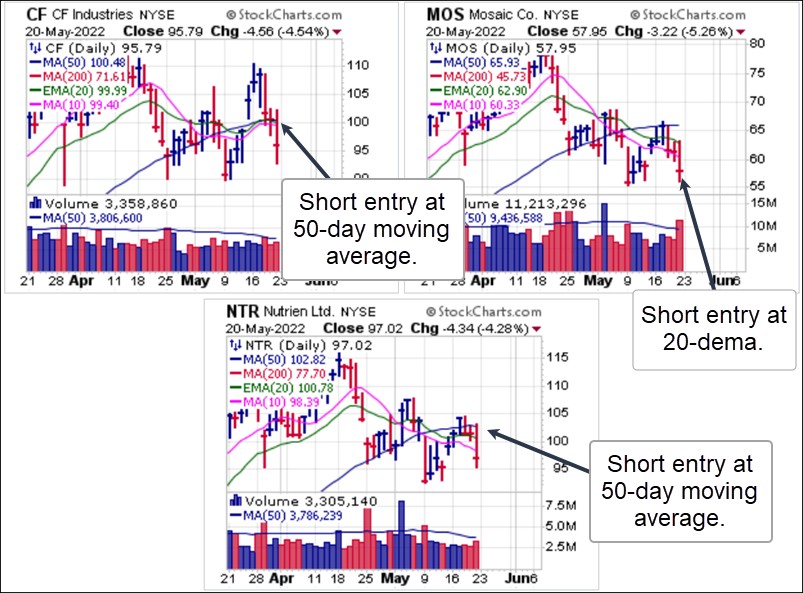 Two weeks ago we reported on
Visa (V)
as a short-sale entry set-up along the 200-day moving at the time that it and its close cousin,
MasterCard (MA)
reported earnings. Both stocks have moved lower in lock-step before posting oversold bounces two weeks ago that have now brought both stocks back into the undersides of their respective 20-day exponential moving averages (green line). These offer continuation entries here just below the 20-day lines which then serve as covering guides, for those familiar with our short-selling methods as detailed in
Short-Selling with the O'Neil Disciples (John Wiley & Sons, 2015)
.