Current Focus List

The VoSI Focus List is a compilation and reference list of stocks for which Pocket Pivot or Buyable Gap-Up Reports have been issued and which have been deemed suitable for inclusion on the Focus List. Not all stocks for which a Pocket Pivot or Buyable Gap-Up report has been issued will necessarily be added to the list. It is not intended as a "buy list" or a list of immediately actionable recommendations. Stocks on the list may or may not be in proper buy positions, and investors should exercise discretion and proper judgement in determining when and where stocks on the Focus List can be purchased. The following notes are intended to assist in this process. Please note that members can enlarge the Focus List image by clicking on the body of the email and then holding the Control Key while pressing the "+" key until it is large enough to read.
General Observations:
Market indexes continue to stumble higher as it has now shrugged off three sharp two-day sell-offs to push to higher highs this week before ending those week in a quiet consolidation. The
NASDAQ Composite Index
remains the leading index as big-stock NASDAQ 100 techs take the market higher. Meanwhile, the S
&P 500 Index
remains below its 200-dma, which serves as a meaningful hurdle for the index. A decisive move through the line would likely be a bullish development.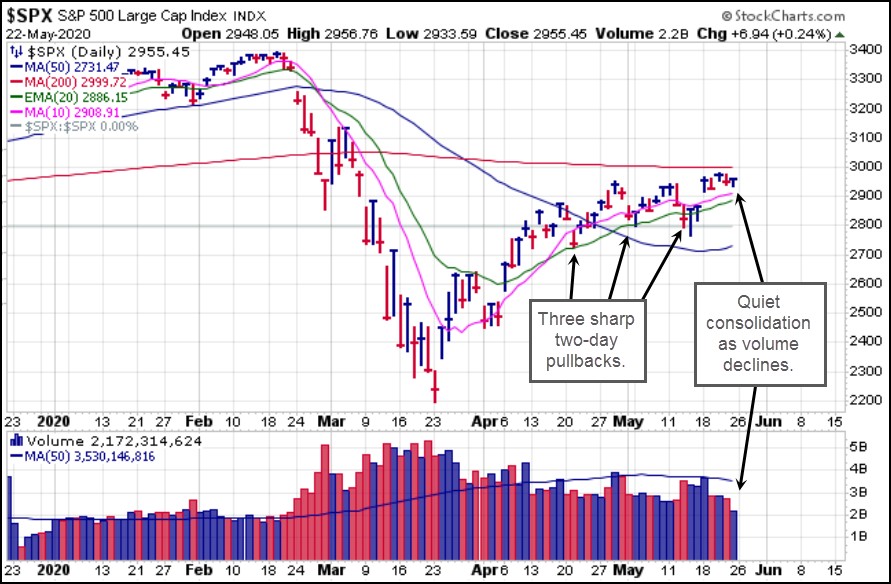 The
Market Direction Model (MDM)
remains on a
CASH/NEUTRAL
signal.
Facebook (FB)
was a timely add to the Focus List two weeks ago as it pulled into its 20-dema. The stock has since launched to all-time highs on heavy buying volume on a seven straight up days since we reported on it. FB is now quite extended from both the 10-dma and 20-dema but may be buyable on pullbacks below 230.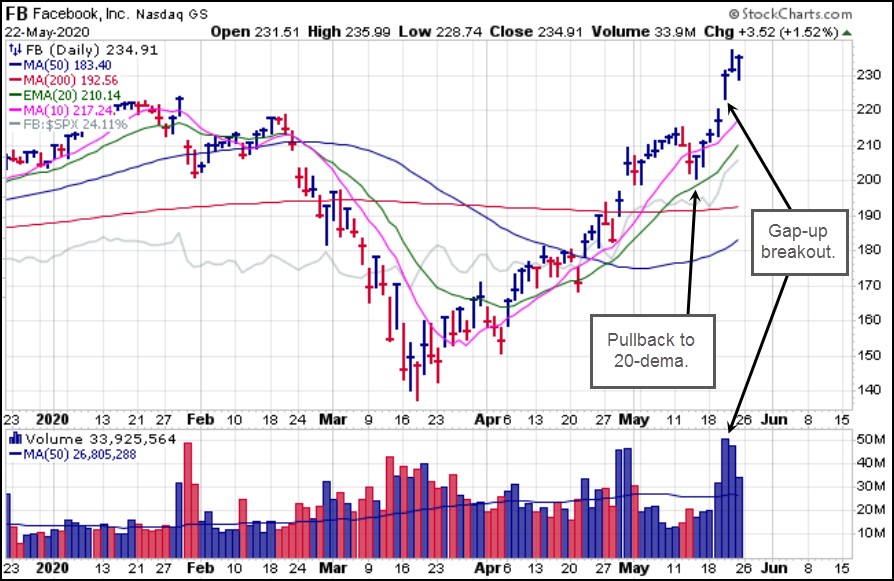 Intel (INTC)
has broken out of a six-week range and did so on a pocket pivot volume signature, which is can be sufficient for a successful breakout. A small pullback to the breakout point brings the stock into buying range using the 10-dma or 20-dema as reasonable selling guides. Semiconductors have been dormant for nearly the past two months, and if the current market rally is to continue we might expect the group to kick in, so to speak. INTC's action may offer a clue in this regard as it breaks out to higher highs.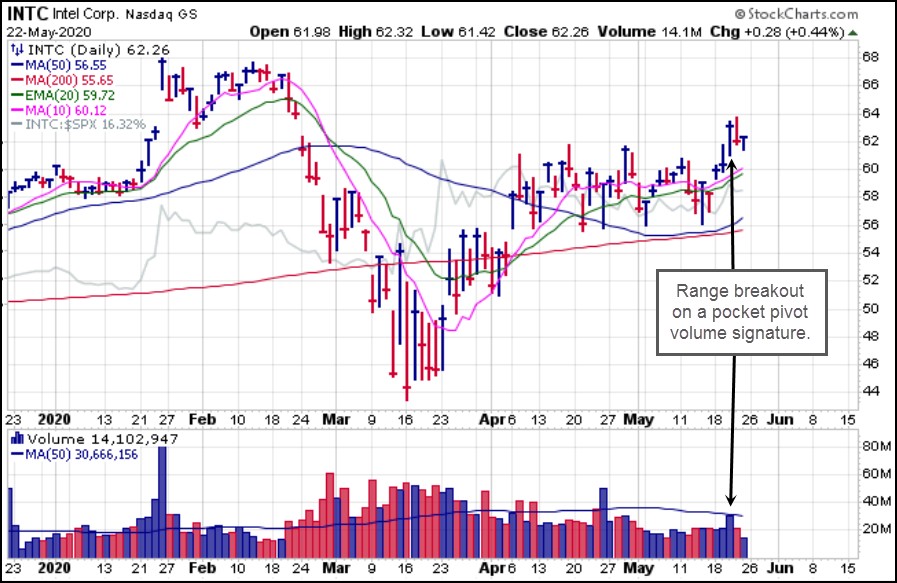 Netflix (NFLX)
is floundering a bit here after failing on a recent low-volume breakout attempt. It has now drifted below its 20-dema on light volume, which brings up the potential for a late-stage failed-base (LSFB) situation to develop. With states re-opening their economies, the stay-at-home theme that drove the stock to new highs may have run its course. If this does morph into an LSFB short-sale set-up then it would be shortable in here around the 20-dema, but a weak rally up into the 10-dma could also be one to short into. This is as yet not fully resolved, so its also possible that NFLX could be undercutting the 20-dema in a potential shakeout that then sees the stock attempt to re-breakout. Thus we will see how this plays out in the coming days.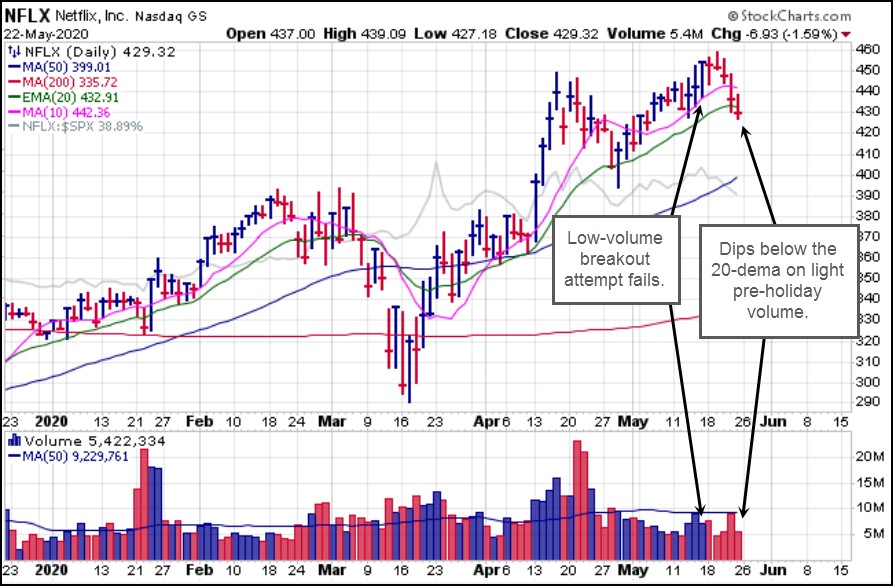 The
Sprott Physical Gold Trust (PHYS)
found support at its 20-dema on Thursday but remains within a slightly ascending consolidation extending back to mid-April. We continue to view pullbacks to the 20-dema as offering lower-risk entries for the yellow metal from here as we continue to look for a decisive breakout through $1800 on the futures.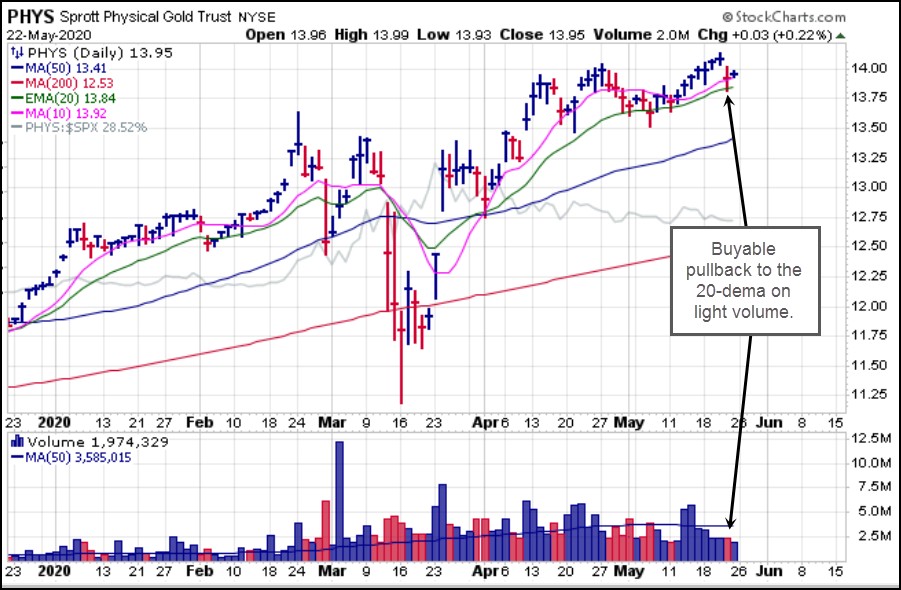 The
Sprott Physical Silver Trust (PSLV)
has pulled into its 200-dma after a sharp move through the 50-dma. The last lower-risk entry occurred on the pocket pivot at the 50-dma two weeks ago as we reported on at the time. This latest pullback to the 200-dma does offer a potential secondary entry opportunity, but we would also keep an eye on the rising 10-dma and 20-dema as secondary areas of support if the 200-dma does not hold.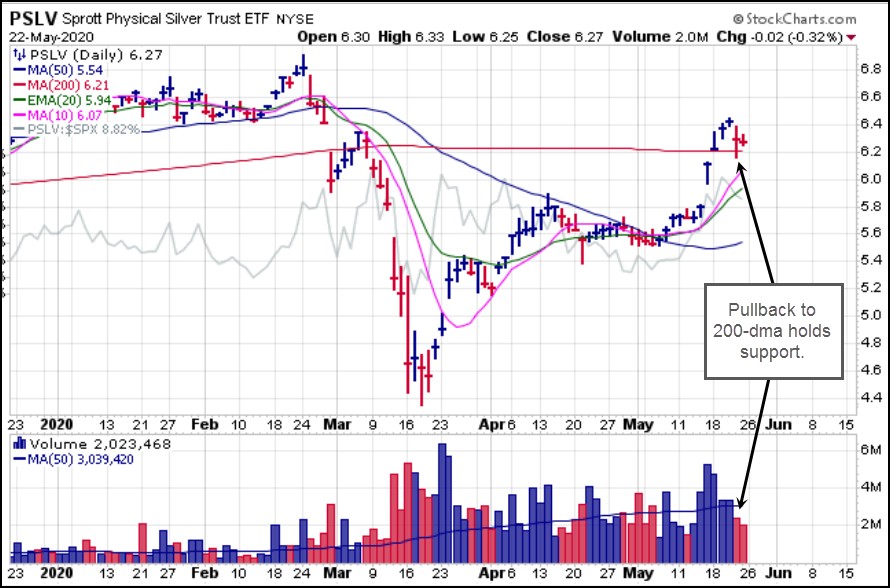 The
Grayscale Bitcoin Trust (GBTC)
retains its volatile nature here but so far the 200-dma has acted as solid, buyable support on pullbacks from the recent peak above $12. We view the 200-dma as an add point but it can also be used as an initial entry using the 200-dma as a tight selling guide.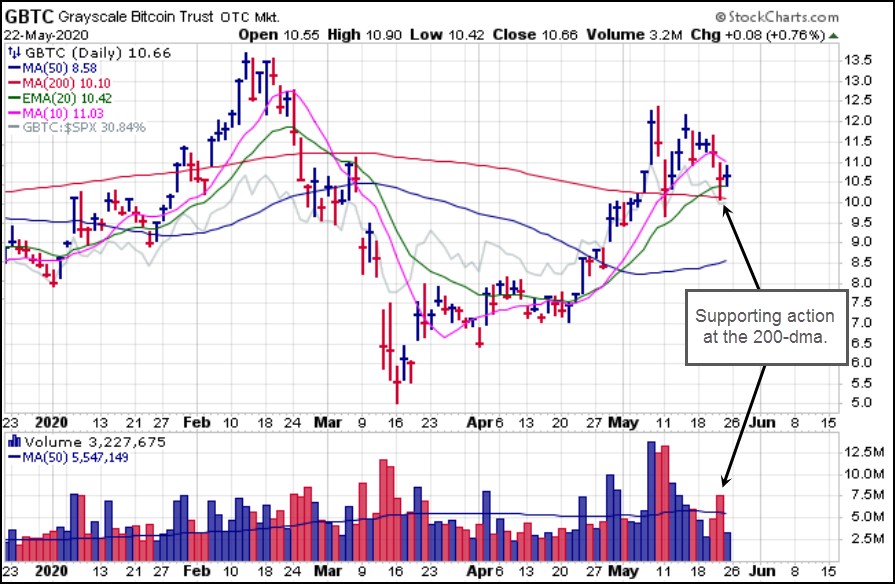 In general, the market and leading stocks tend to look somewhat extended as this point. The emergence of new areas of the market, such as semiconductors, for example, may provide the impetus for further upside, so this should be watched for. The situation remains highly news-oriented and fluid, so we would urge members to remain alert to changes as they occur. We also have a close eye on other industry groups that will benefit in the post-COVID environment as a definitive change in mindset takes place. Business wants to save money while maintaining optimal security. Work-from-home, online shopping, healthcare, AI, virtual reality (VR/AR/MR), security, and other transformational technologies will greatly benefit.