Current Focus List

The VoSI Focus List is a compilation and reference list of stocks for which Pocket Pivot or Buyable Gap-Up Reports have been issued and which have been deemed suitable for inclusion on the Focus List. Not all stocks for which a Pocket Pivot or Buyable Gap-Up report has been issued will necessarily be added to the list. It is not intended as a "buy list" or a list of immediately actionable recommendations. Stocks on the list may or may not be in proper buy positions, and investors should exercise discretion and proper judgement in determining when and where stocks on the Focus List can be purchased. The following notes are intended to assist in this process. Please note that members can enlarge the Focus List image by clicking on the body of the email and then holding the Control Key while pressing the "+" key until it is large enough to read.
General Observations:
Major market indexes gapped up on Monday after
Pfizer (PFE)
and its partner
BioNTech (BNTX)
announced favorable phase 3 trial results for their Covid-19 vaccine. The gap-up move was aggressively sold into as the major market indexes reversed sharply down from their Monday intraday peaks. The NASDAQ Composite Index posted a big outside reversal to the downside on massive volume, and then spent the rest of the week chopping around, along with the other major market indexes. For now, the indexes remains above their key 50-day moving averages and within 11-week consolidative ranges.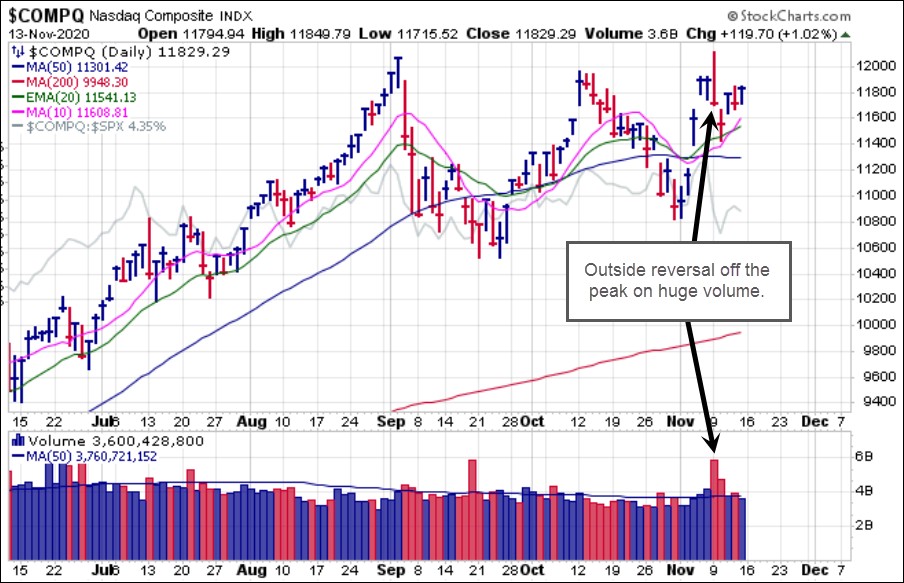 The
Market Direction Model (MDM)
remains on a
CASH
signal. Potential volatility ahead with a fresh wave of COVID-related lockdowns, a delayed stimulus package, and election uncertainty which could spur further social unrest.
Focus List Stocks Expected to Report Earnings this Week:
Nio (NIO)
on Tuesday after the close.
Notable Action:
Chinese electric-vehicle makers went nuts this past week, with names that we reported on back in October streaking higher, such as
Xpeng (XPEV)
,
Li Auto (LI)
and
Nio (NIO)
. While these names had been running higher in parabolic fashion since we first reported on them, the moves became exacerbated on Thursday and Friday after XPEV and LI reported earnings pre-open on Thursday and Friday, respectively. These led to massive gap-up openings in all these names on Friday which were then sold into, and all three stocks closed in the red. This looks like at least near-term climactic action, so members owning NIO or the others should consider carefully where they are a seller. Some may have recognized the climactic action on Friday morning and sold into it, while others may choose to use a moving average like the 10-day simple or the 20-day exponential as selling guides.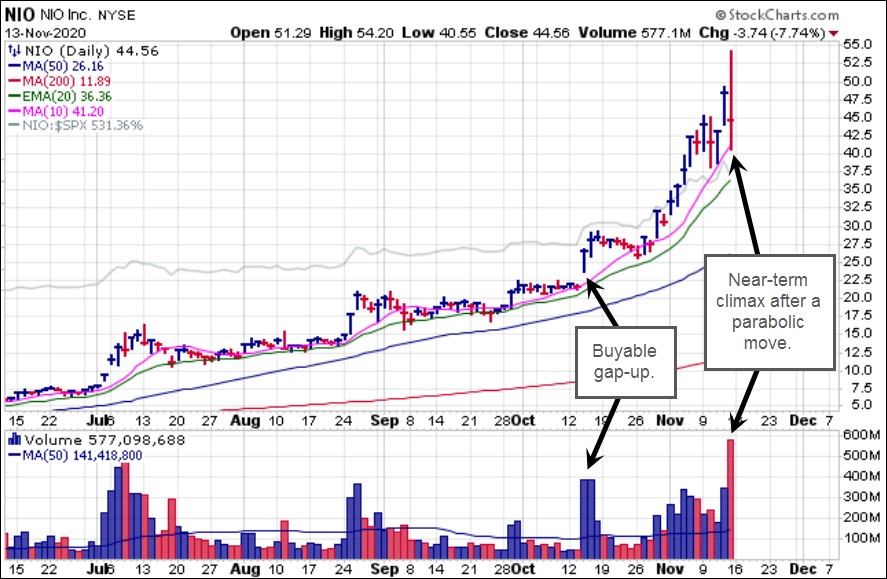 Tesla (TSLA)
is forming a narrowing pennant formation (by definition a triangular pattern) that continues to tighten up around but not along the 50-day moving average. On the chart below, however, we have added a black 65-day exponential moving average where you can see TSLA has found support consistently at or near since early September. That may, therefore, be a more meaningful moving average and so one could consider Friday's low-volume pullback into the 65-dema as a potential long entry spot using the line as a tight selling guide. Otherwise, with volume continuing to remain very low over the past month, the potential for a pocket pivot through the confluence of the 10-dma, 20-dema, and 50-dma is possible.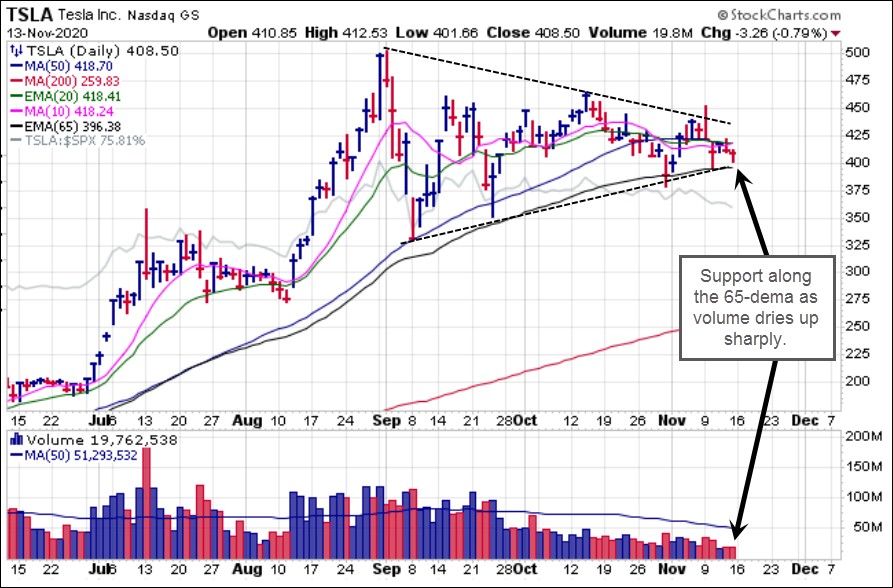 The
Grayscale Bitcoin Trust (GBTC)
continues to trend higher along its sharply rising 10-day moving average. GBTC held a pullback to the 10-dma on Monday and pushed to new 52-week highs on Thursday. Whether this is ready to go parabolic, or whether a pullback and consolidation, at least one of a short duration, is necessary before it can move higher remains to be seen. For now, it is solely a matter of knowing where you selling guide is, although longer-term we tend to think Bitcoin, and therefore GBTC, is going higher.
Microstrategy (MSTR)
has been a corollary to Bitcoin as an indirect play on the crypto-currency. The company recently announced that it had acquired another $175 million worth of Bitcoin, giving them a total Bitcoin position of $425 million. The stock gapped up in mid-October on this news on a little cup-with-handle breakout attempt but quickly failed. At that point the Ugly Duckling paid a visit, generating a U&R long entry set-up along the prior 162.33 low of October 15th. that worked immediately and the stock is again at all-time highs. This is not unusual behavior for stocks in this market. Chasing strength is not something we recommend, while we often prefer to use weakness with a certain Ugly Duckling mentality to look for specific set-ups like U&Rs, and we can see that such an approach worked well with MSTR, although the original BGU did fail. With a continued rise in Bitcoin, MSTR nevertheless has a strong thematic attraction for us. We think pullbacks to the 10-dma or 20-dema from here could offer lower-risk entries from here following a sharped v-shaped move off the late October lows.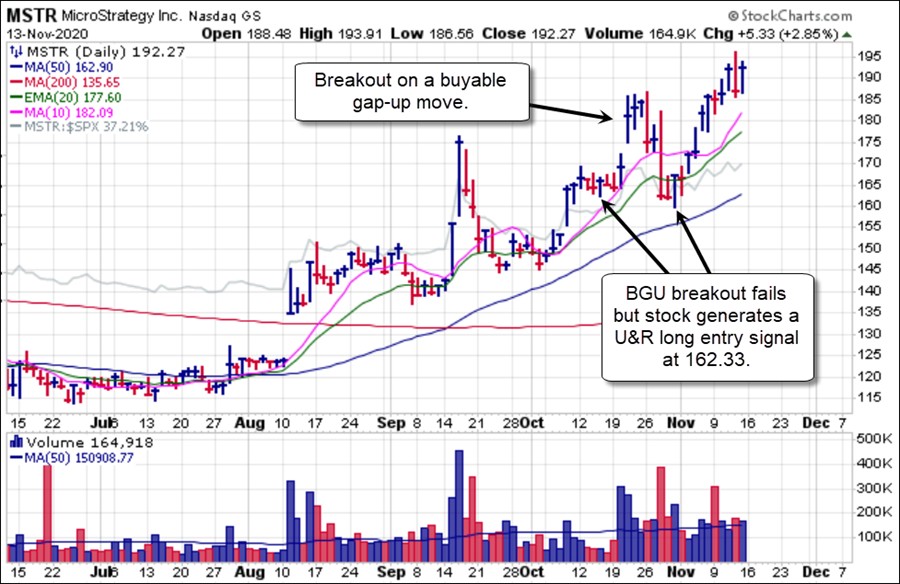 The
Sprott Physical Gold Trust (PHYS)
remains in a long, sagging, 14-week consolidation since peaking in early August. The PHYS posted a U&R through its prior September low on Monday, when gold and silver were both hit hard on the
Pfizer (PFE)
vaccine news. That remains in force for now.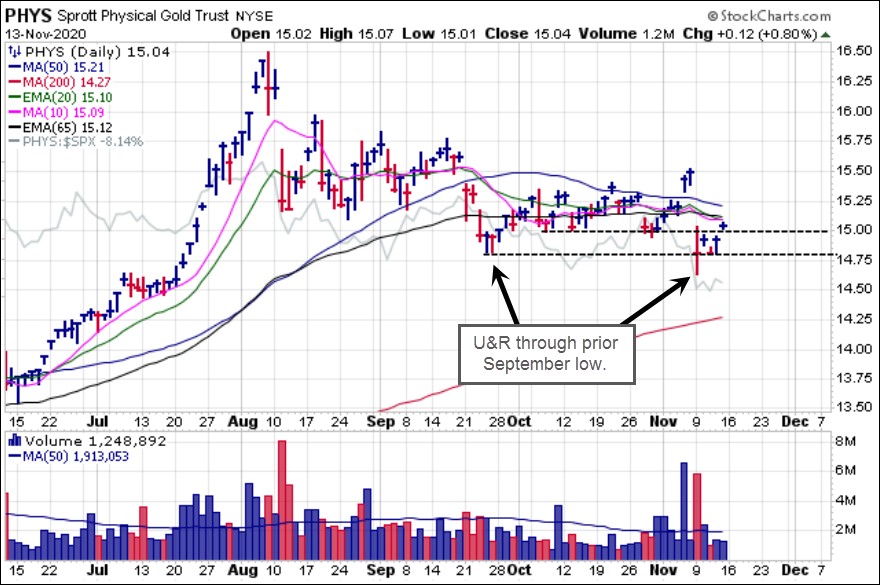 The
Sprott Physical Silver Trust (PSLV)
is in a slightly different position as it has been trending higher since posting a low in late September. Currently it is tracking above two prior October lows in a U&R type of set-up that remains in force as the PSLV runs up into its 50-day moving average.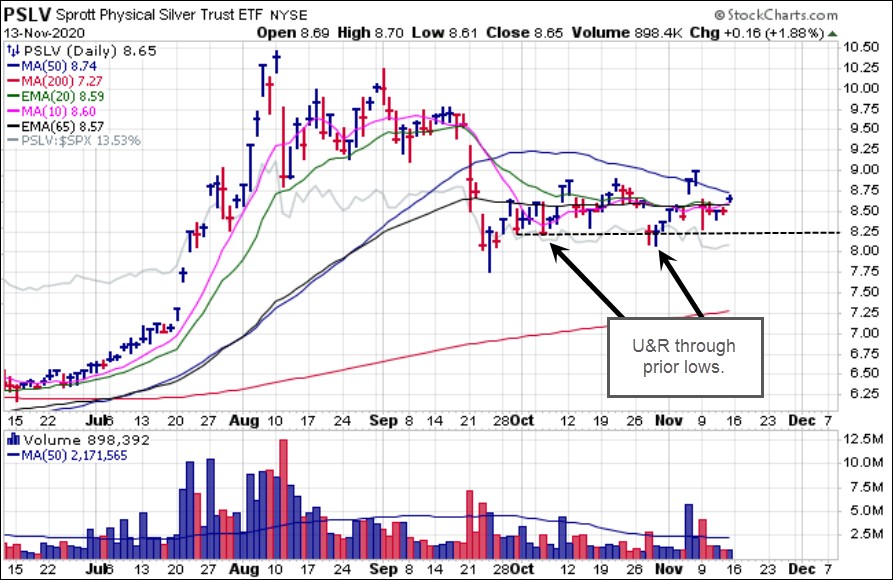 While we have not found a large number of what we believe to be high-potential trades recently, we have been able to do well by focusing on just a few quality situations. In this case, stocks like NIO and its Chinese EV compatriots, LI and XPEV, have worked very well, while GBTC has been one of the best-trending situations in the entire market for more than a month now. We believe it is important to maintain a certain standard of quality over quantity since these are tricky times, and we feel that risk is high given the potential for underlying conditions to shift very quickly, as we saw on Monday. This can pull the rug out on certain leading stocks, as the clouds and other techs experienced earlier in the week. If we're not seeing enough quality set-ups to report on, then that alone is a message: if there is not much to do, then don't do much while keeping things simple by focusing on a small handful of quality situations and set-ups.