Current Focus List

The VoSI Focus List is a compilation and reference list of stocks for which Pocket Pivot or Buyable Gap-Up Reports have been issued. It is not intended as a "buy list" or a list of immediately actionable recommendations. Stocks on the list may or may not be in proper buy positions, and investors should exercise discretion and proper judgement in determining when and where stocks on the Focus List can be purchased. The following notes are intended to assist in this process. Please note that members can enlarge the Focus List image by clicking on the body of the email and then holding the Control Key while pressing the "+" key until it is large enough to read.
General Observations:
The S&P 500 and NASDAQ Composite Indexes both finished the week at all-time highs, while the small-cap Russell 2000 Index remains in all-time high price ground as it consolidates its prior breakout. In addition, the S&P 500 Index closed above the 2600 level for the first time in history.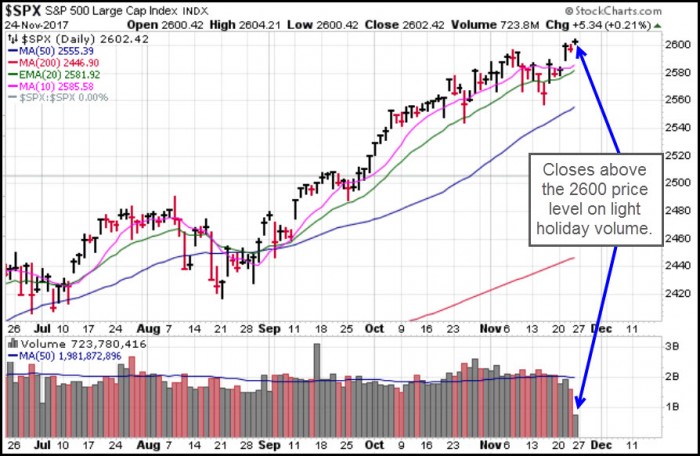 The event of the week will no doubt be the impending Senate vote on its own version of so-called "tax reform" legislation. If if passes, it is not clear whether it will trigger a wild upside rally or whether it will in a sell-the-news type of response. If it doesn't pass, conventional crowd wisdom leans toward a severe market crash. We believe that the various potential reactions to the binary outcome of this legislation passing or not cannot be quantified or determined in advance. What we do know is that many Focus List stocks are basing in constructive fashion, and are ready to launch higher if the general market rally continues. We would simply continue to focus on the action of individual stocks
The
Market Direction Model (MDM)
remains on a buy signal.
Removed from the List this Week:
None
Focus List Stocks Expected to Report Earnings this Week:
None.
Notable Action:
Arista Networks (ANET)
remains extended. The rising 10-dma would be the nearest reference for a potentially buyable pullback.
Alibaba (BABA)
is holding tight as it forms a miniature cup-with-handle. The stock posted a new all-time closing high on Friday, but remains within its current base. We prefer looking for pullbacks to the 10-dma as lower-risk entries.
Caterpillar (CAT)
posted a pocket pivot from a point about 1% above the 10-dma on Wednesday, but has not moved any higher since. It remains within a five-week base, with nearby support at the 10-dma. Pullbacks to the line would provide lower-risk entries from there.
Facebook (FB)
posted a pocket pivot on Tuesday and then pulled in slightly on lighter volume on Wednesday before pushing to a new closing high on Friday. The stock was most buyable on Wednesday's low-volume pullback to the 10-dma following Tuesday's pocket pivot.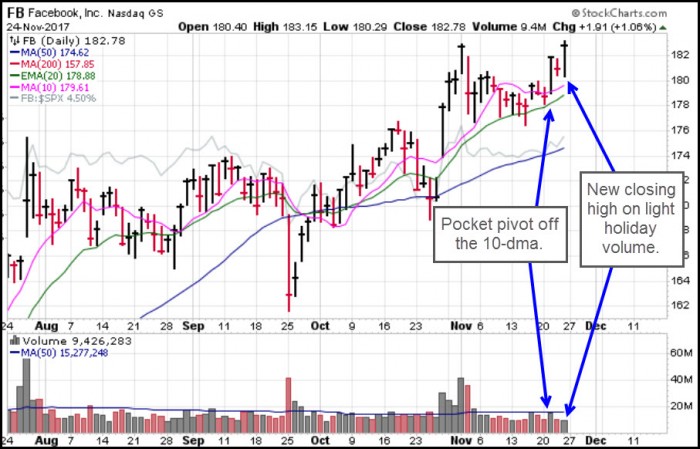 Netflix (NFLX)
has posted two five-day pocket pivots along the 10-dma and 20-dema on Tuesday and Wednesday. This was followed by a tight close just above the 20-dema as volume contracted, even if we account for the shortened post-holiday trading session. This can be considered a lower-risk entry position using the 10-dma as a tight selling guide, or the 50-dma as a wider selling guide given that it is also maximum downside support.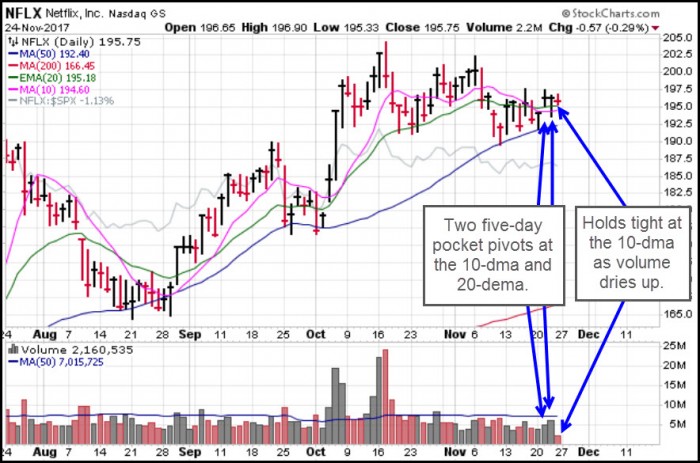 Nvidia (NVDA)
is trading tight sideways along its 10-dma. It remains in a buyable position using the prior buyable gap-up low at 211.48 as a maximum selling guide.
Take-Two Interactive (TTWO)
is sitting right at its 10-dma as it goes very tight sideways here. This can be considered a lower-risk spot along the 10-dma, while using the 20-dema as a maximum selling guide.
Weibo (WB)
pulled into its 10-dma where it was buyable per our prior Focus List Notes during the trading week. It held support at the line and closed up on the day Friday. It remains in an "add" position using the 10-dma as a tight stop for additional shares purchased up at these price levels. If one were looking to make an initial entry, we might consider taking the opportunistic route by waiting for any possible, deeper pullback to the 20-dema as a lower-risk initial entry point.