It was another tumultuous weak for the market. The Fed policy announcement was released on Wednesday and immediately triggered a rally in the major market indexes. Once Fed Chair Jerome Powell started his press conference thirty minutes later, the rally reversed, and the indexes closed negative on the day on higher volume. Powell essentially stomped on the rally with a very hawkish tone, insisting that interest rates would remain higher for longer, that it was wrong to assume they would be reversing policy any time soon, and that the terminal point, that is the maximum rate hike levels that the Fed is anticipating, may be higher than originally thought.
On Friday a stronger than expected Bureau of Labor Statistics jobs number showed unemployment ticking up 1/10th of a percent at 3.7% (the only weak part of the report) while reported jobs came in at 261,000 well above estimates of 205,000. Wages also rose 0.1% above estimates, so it was not clear what the market was keying on. Nevertheless, the
Dow
shot up over 600 points early in the day before reversing hard and turning negative on the day, evaporating the prior rally in its entirety and then some. But another change of personality sent the schizoid Dow flying back to the upside where it finally closed Friday up 401.97 points in a higher-volume stalling and churning day along 200-day moving average resistance.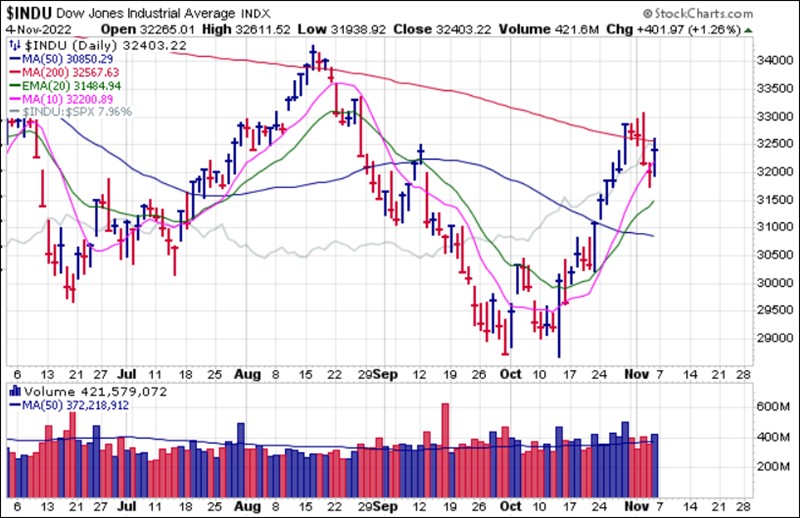 As the
Dow
runs into resistance at its 200-day moving average the
S&P 500
(not shown) runs into resistance at its 50-dma while the
NASDAQ Composite
remains far below either moving average. You can also throw in the 10-dma and 20-dema for good measure as the index continues to lag badly. The NASDAQ closed Friday at 10475.25, still well below its prior June low at 10565.14. Overall, the extremely volatile and news-dependent action creates an unstable environment that may not end well as November progresses.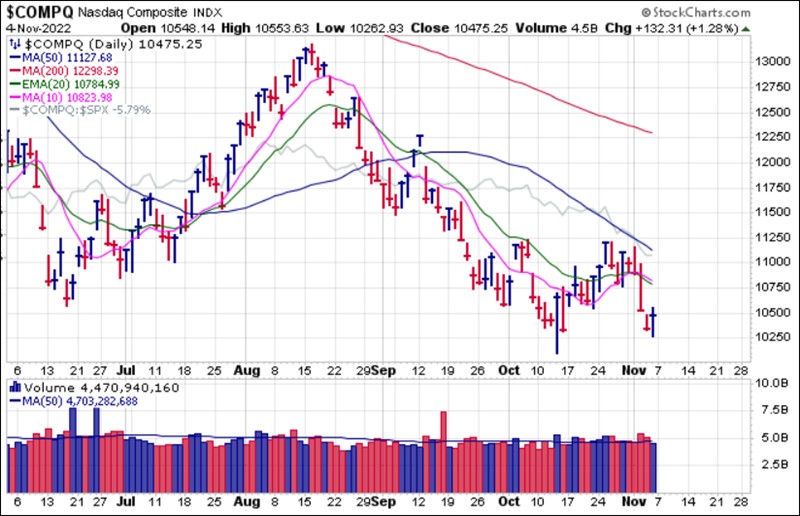 Making some sense of the market outside of the schizophrenic index action, on Thursday morning we issued a U&R Report for both gold and silver. At the time, the
Sprott Physical Gold Trust (PHYS)
was posting a price undercut & rally (U&R) along the 12.50 and 12.52 lows of September 26th and October 20th, respectively. Meanwhile, the
Sprott Physical Silver Trust (PSLV)
was posting a moving average U&R (MAU&R) sy its 50-day moving average. By the end of the day, it had traded enough volume to also post a pocket pivot at the 50-day line. Acting on those signals enabled one to participate in Friday's gap-up moves.

The
Market Direction Model (MDM)
remains on a
SELL
signal.