Major market indexes continued to melt higher with the NASDAQ Composite Index now up ten days in a row and 16 out of the last 18 days in a row. Note the big buying volume surge over the past two weeks as the index has surged off the early October lows in a blizzard of persistent buying.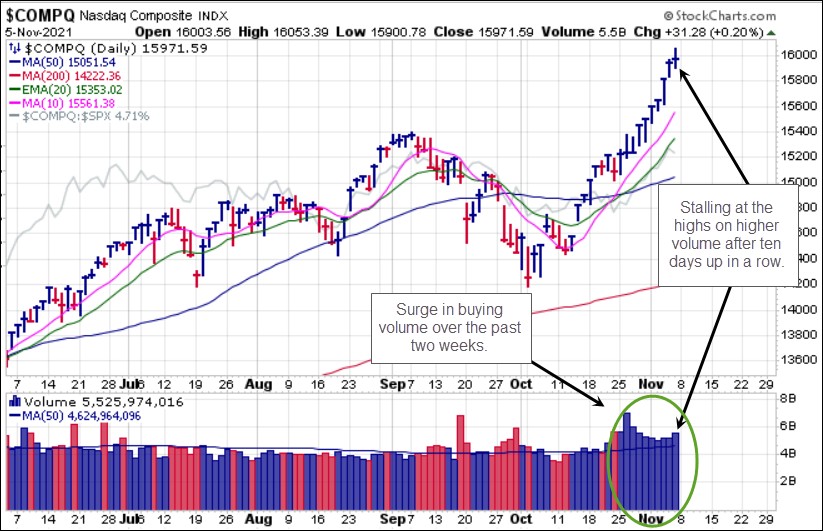 The Market Direction Model (MDM) remains on a BUY signal.
Travel-related names were moving on Friday as more authorities, pundits, and commentators begin to cite the "end of Covid" on the heels of
Pfizer (PFE)
announcing its new anti-viral drug for Covid. This created a buyable gap-up move in PFE using the Friday intraday low at 46.55 as a selling guide. PFE closed just under 5% above that price level so remains in an actionable position but still slightly extended. For those seeking to keep risk to a minimum, any pullbacks closer to the 46.55 low might offer better, lower-risk entries if they occur.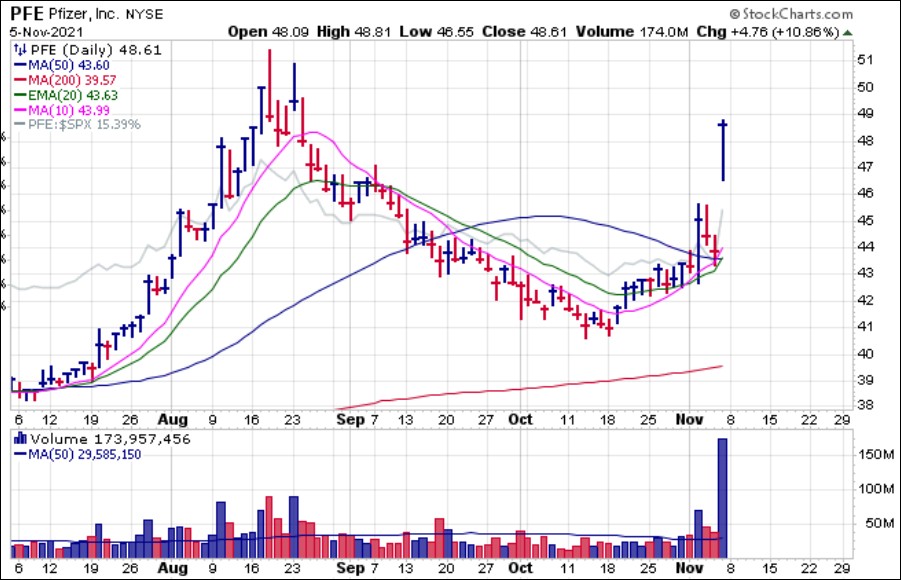 The news sent shares of travel related names higher. This included cruise-liners, hotels, resorts, and similar names higher, including
Booking.com (BKNG)
which broke out of a cup-with-handle formation after a failed breakout attempt on Thursday.
Airlines all posted posted buyable gap-up (BGU) types of moves which could be playable using their respective Friday intraday lows as selling guides. Of course, we've seen previous news of a post-Covid world returning to normal that hasn't quite panned out, so we'll see what sorts of legs the moves in travel-related names this past week have as we move forward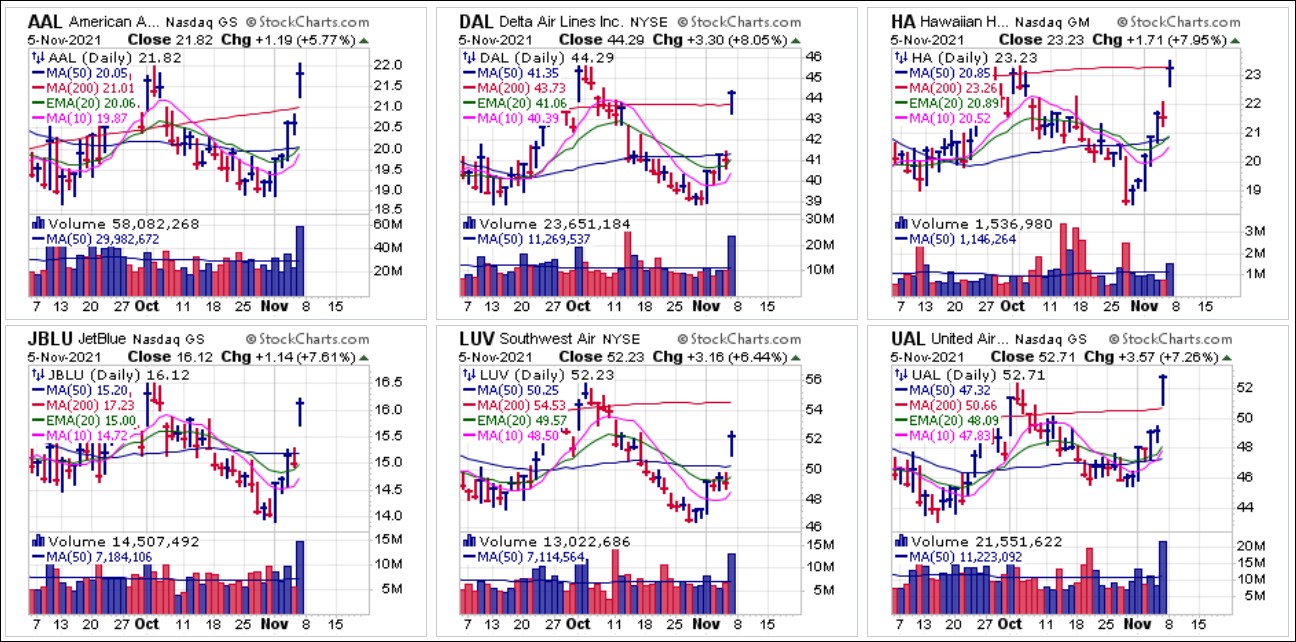 Bitcoin $BTCUSD
continues to consolidate along its 20-day exponential moving average. A break below the 20-day line would then bring the 50-day moving average (blue line) into play as potential support. While
$BTCUSD
can be bought here along the 20-day line whereupon the moving average would serve as a tight selling guide for portions of a position purchased at these levels, we might favor a more opportunistic entry on any weakness down to the 50-day moving average, if we can get it.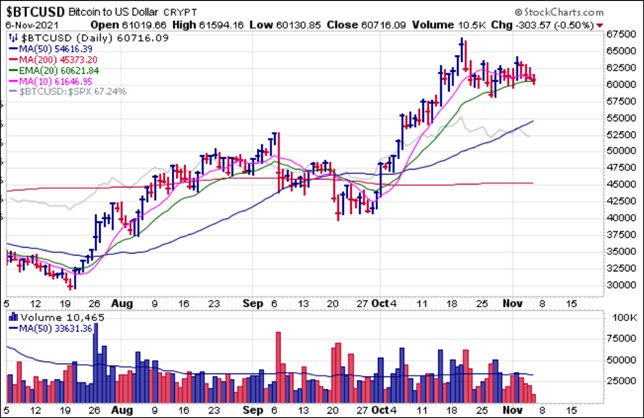 Coinbase Global (COIN)
is expected to report earnings this Tuesday after the close. The stock has streaked straight up from the initial pocket pivot coming up and off the 20-dema back in early October as it continues to obey its 10-day moving average. At this stage some consolidation might be expected, and for now we would tend to view the 20-day exponential moving average (green line) as the most attractive pullback point from current levels depending on how
COIN
plays out after earnings.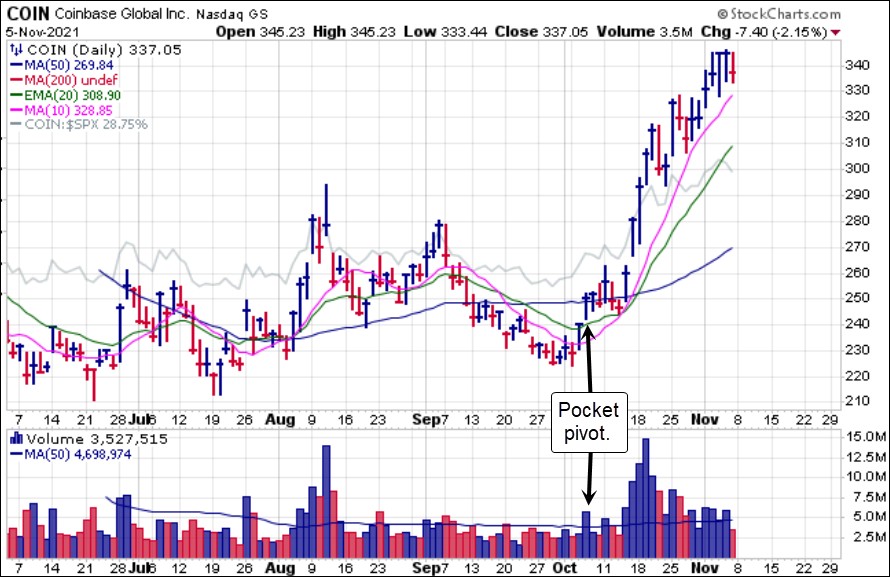 Uranium producer
Cameco (CCJ)
posted a pocket pivot at the 10-dma on Wednesday which we reported on at that time. As we've noted before, chasing strength like this after the fact is not advisable. Instead, watch for low-volume pullbacks such as that seen on Friday where CCJ came in to test the 10-day moving average without quite getting there before rallying to close nearer to its intraday highs. Constructive pullbacks to the 10-day line would continue to be our favored entries if and when they occur.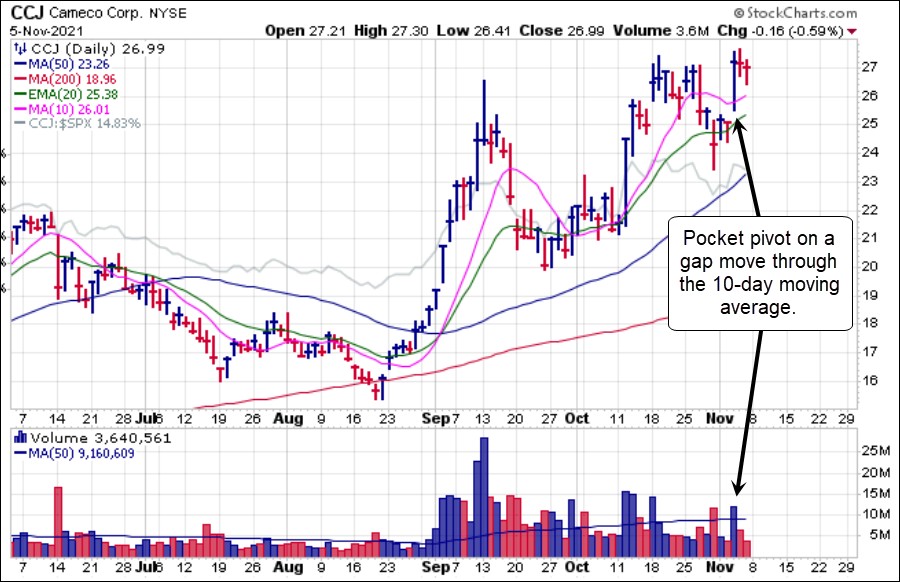 Last weekend we reported on a pocket pivot in
Repligen (RGEN)
after earnings last week. That led to one additional day of upside on Monday before the stock rolled over and failed immediately at the 50-day moving average. It has since moved lower, and mostly illustrates how strength in stocks can dissipate quickly in this market, necessitating the use of well-defined selling guides. In this case that would have been the 50-day moving average. In general, we do not advocate following any urges to chase extended strength, such that the only reasonable entry occurred early Monday morning before the stock moved higher. And, as it turned out, RGEN could have been reversed to a short-sale trade on Friday once it broke the 50-day line.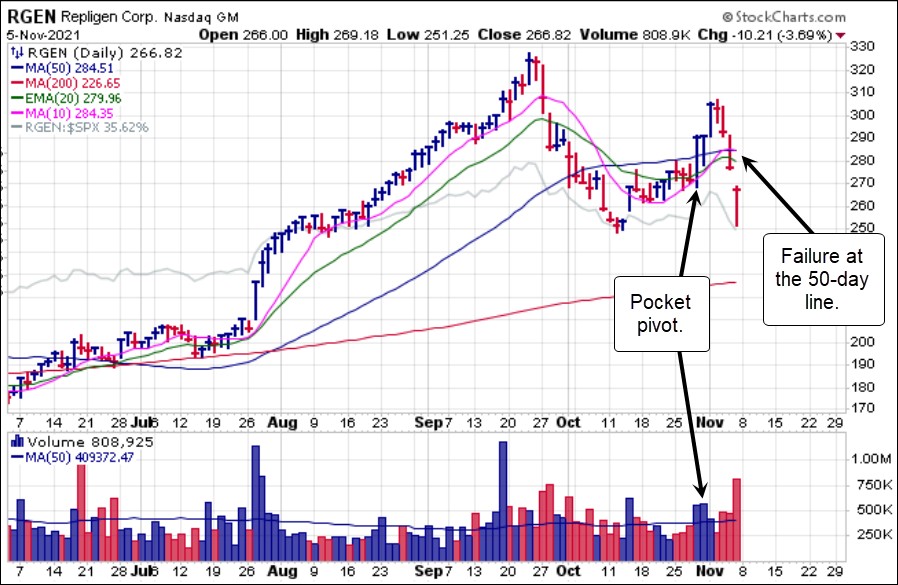 Most of the price action among individual stocks in this current market environment has occurred after earnings reports. As we move through the second half of earnings season this will likely remain the case. Otherwise, the smoothest upside trends to be found have been in the market indexes themselves while individual stock action remains a mixed bag.