Major market indexes posted a so-called follow-through day (FTD) on Thursday, the eighth day of a rally attempt off the lows of two weeks ago. At that time, as you will note on the chart below, the NASDAQ Composite Index was undercutting its prior August low. This led to three attempts to rally back above that low before the third one finally succeeded, sending the index gapping higher two Thursdays ago. It then backed up to fill that gap-up rising window, essentially coming down to the windowsill of the gap and then gapped up again this past Thursday on the FTD move. We do not consider such a move to represent an "all clear" for investors to begin piling into stocks. The reality is that tactical, swing-trade long entries were already occurring in a broad number of stocks up to two weeks prior to the FTD. The index rally has now brought the NASDAQ up to a 50% retracement of the prior downtrend off the early September lows as it also clears the 50-day line.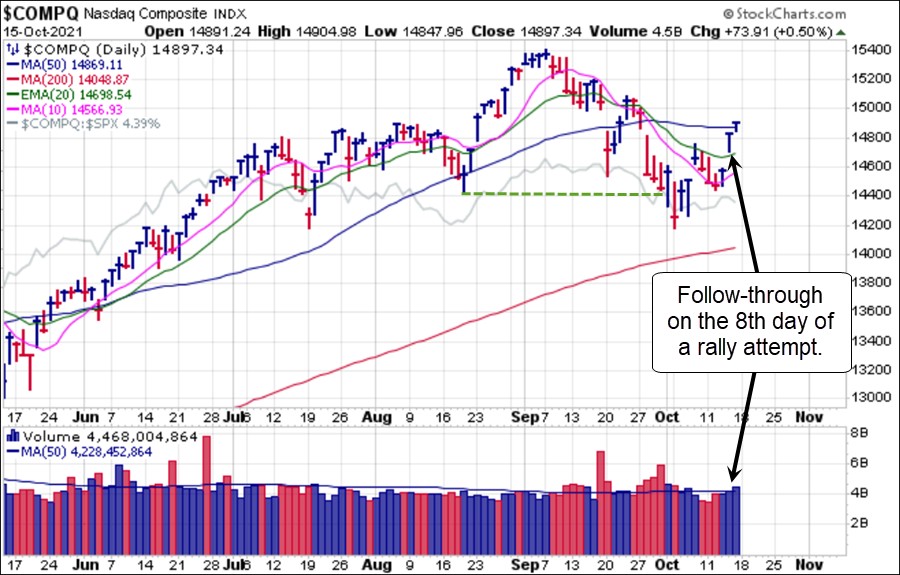 One example of a stock moving prior to the FTD was
Coinbase Global (COIN)
which posted a pocket pivot as it was coming up and off its 20-dema (our report had a typo incorrectly indicating the 200-dma, but members were likely able to figure that out since COIN has no 200-dma on its chart). That led to a move above the 50-day moving average which then led to a low-volume pullback to the 20-dema and then another launch higher on a decisive pocket pivot through the 50-day line.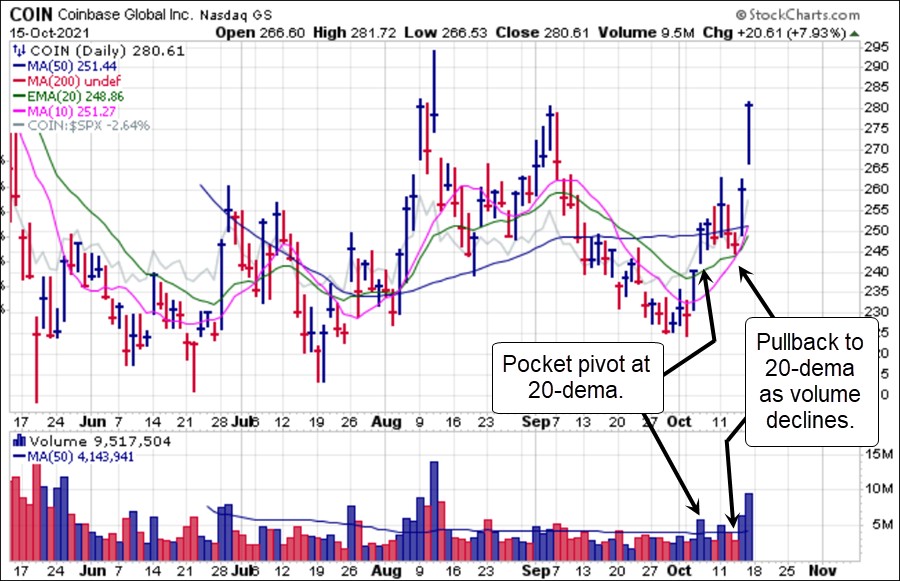 COIN is moving with other crypto-currency names as well as Bitcoin ahead of expectations regarding the imminent launch of several Bitcoin ETFs. This has of course led to a sharp move in Bitcoin (and other cryptos) as represented by the Grayscale Bitcoin Trust (GBTC). Two weeks ago we noted the gap-up move through the 50-day moving average that, while not meeting the criteria for a Buyable Gap-Up or a Pocket Pivot was potentially actionable based on the action in Bitcoin itself since "...the 50-day moving average could be used as a selling guide if one wished to take a position here."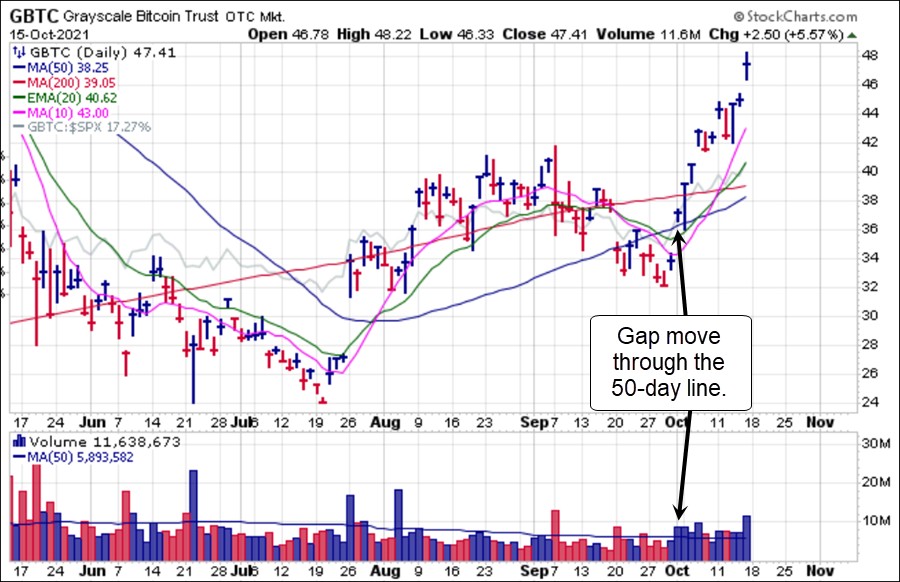 Also, as we noted in our live market webinars, our trigger for a long entry signal in
Bitcoin ($BTCUSD)
was a move through the 20-dema which would coincide with a U&R through the prior lows constituting what appeared as the neckline of a "head & shoulders" formation that ultimately fooled many. Bitcoin has since regained the $60,000 level in a large punchbowl like formation. We would also note that the current move in crypto-currencies began when Fed Chair Jay Powell stated that the Fed has no plans to ban crypto-currencies and a week later SEC Chair Gary Gensler stated that the SEC has no plans to ban crypto-currencies. This led to the initial upside reaction in cryptos, which has gained further momentum with the expected imminent launch of several
Bitcoin
ETFs as early as Monday.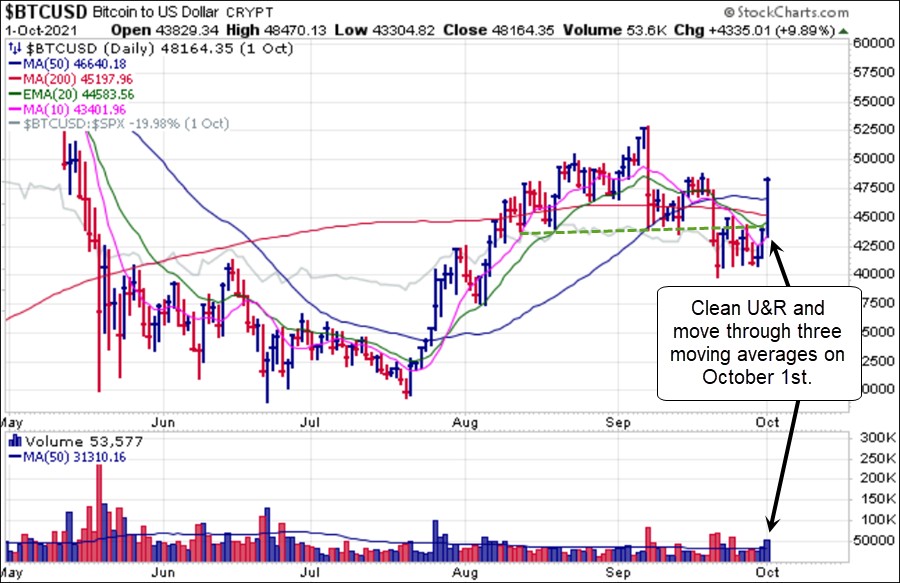 We recall that when
Bitcoin Futures (/BTC)
began trading in December of 2017 that marked a near-term top in Bitcoin after a period of market hype and excitement as it ran up to $20,000 all-time highs. As well, the 2021 top in Bitcoin when it hit an all-time high of $64,863 coincided almost perfectly with the widely anticipated and highly-hyped IPO of
Coinbase Global (COIN)
. Perhaps things will be different this time around when we begin seeing
Bitcoin
ETFs launch, but given the extended moves in crypto-currencies in general at the current time, a sell-the-news outcome is always a possibility.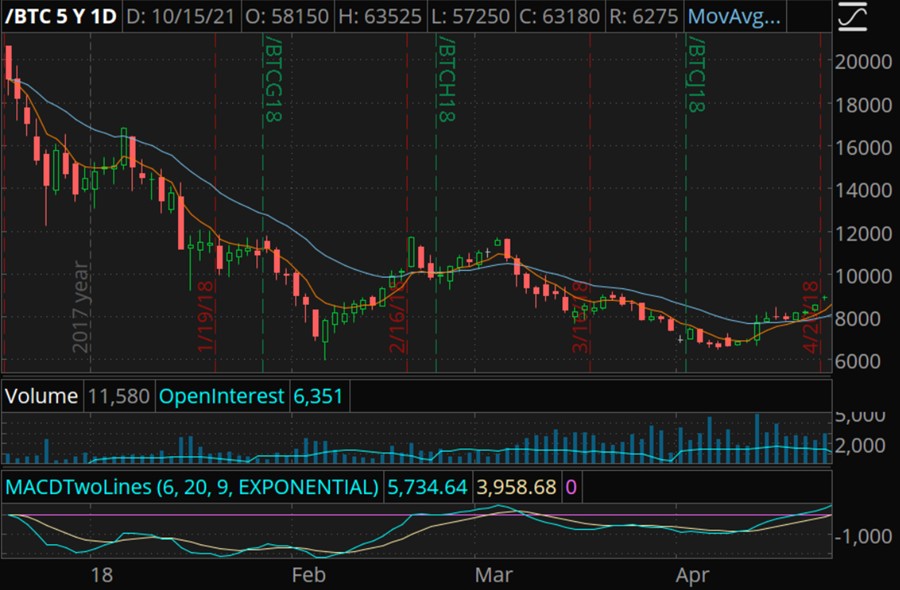 With respect to individual stocks, we see no reason to make any heavy commitments ahead of expected earnings reports as we move into the heart of earnings season in the latter half of October. Big-stock NASDAQ names
Apple (AAPL)
,
Amazon.com (AMZN)
,
Facebook (FB)
,
Alphabet (GOOG)
, and
Microsoft (MSFT)
are all expected to report in the final week of October, and this could have a significant effect on the general market as well. This week we will see
Netflix (NFLX)
and
Tesla (TSLA)
report on Tuesday and Wednesday after the close, respectively For now, we would lean towards watching stocks after they report earnings for possible set-ups to develop as we see whether the current FTD in the major market indexes has legs.