Current Focus List

The VoSI Focus List is a compilation and reference list of stocks for which Pocket Pivot or Buyable Gap-Up Reports have been issued and which have been deemed suitable for inclusion on the Focus List. Not all stocks for which a Pocket Pivot or Buyable Gap-Up report has been issued will necessarily be added to the list. It is not intended as a "buy list" or a list of immediately actionable recommendations. Stocks on the list may or may not be in proper buy positions, and investors should exercise discretion and proper judgement in determining when and where stocks on the Focus List can be purchased. The following notes are intended to assist in this process. Please note that members can enlarge the Focus List image by clicking on the body of the email and then holding the Control Key while pressing the "+" key until it is large enough to read.
General Observations:
Major market indexes posted higher highs on Monday, with the
NASDAQ Composite Index
posting a so-called follow-through day (FTD). That, however, did not lead to immediate and further upside as the indexes then came in over the next four days, with the
NASDAQ
and the
S&P 500
testing their 10-day moving averages. The action strikes us as highly tentative given the big move Monday on higher volume, and the lack of follow-through to the follow-through strikes a cautionary tone.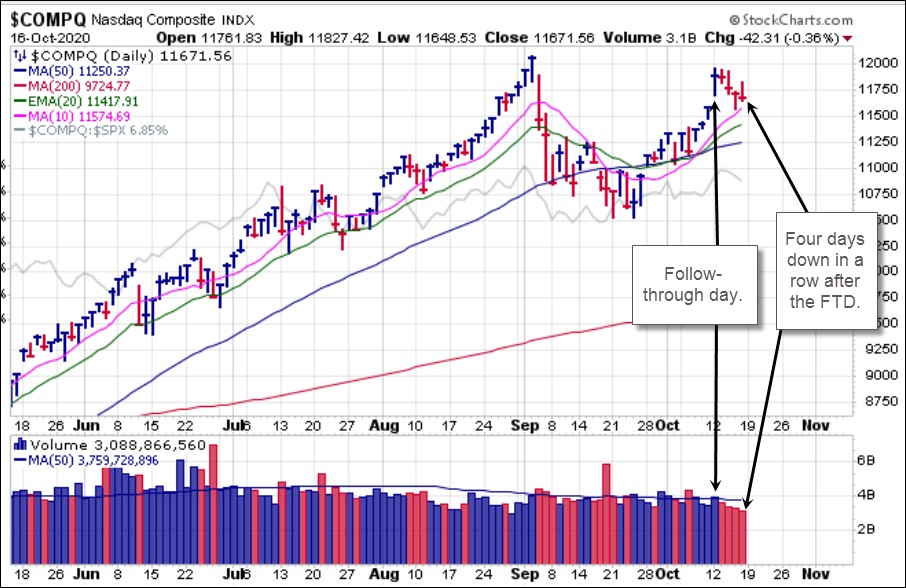 The
Market Direction Model (MDM)
remains on a
BUY
signal.
Focus List Stocks Expected to Report Earnings this Week:
Tesla (TSLA)
on Wednesday after the close.
Notable Action:
Facebook (FB)
was added back to the Focus List after posting a strong-volume pocket pivot through its 50-dma on Monday, but it may soon be removed. The pocket pivot went nowhere as the stock slid back below its 50-dma on light volume, but did not violate the line as it found support along the slightly lower 10-day simple and 20-day exponential moving averages. However, the stock failed on an attempt to regain the 50-dma on Friday as it reversed on higher but light volume and is on the verge of outright failure following Monday's pocket pivot. This, along with the lack of follow-through after a strong-volume pocket pivot is not what you want to see and makes the stock suspect ahead of earnings next week on October 29th.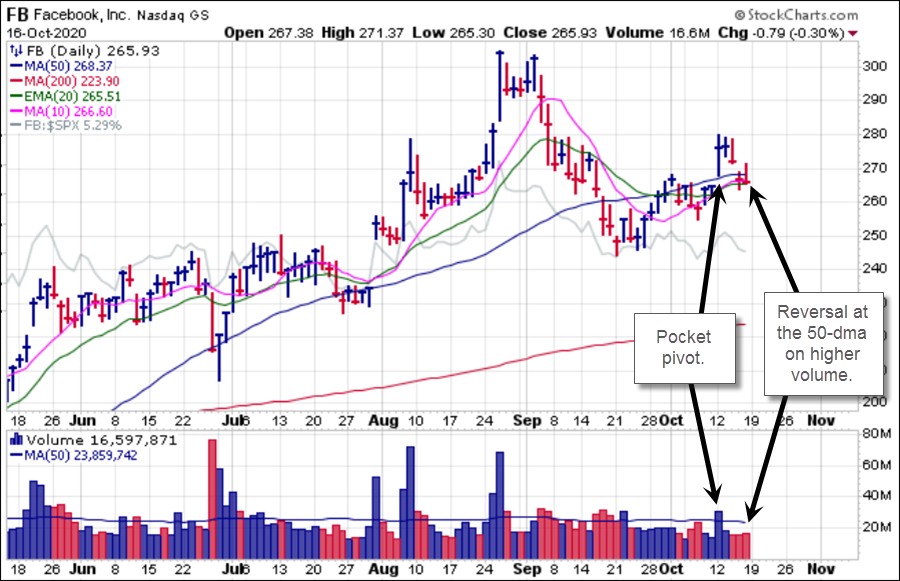 Apple (AAPL)
also posted a pocket pivot move on Monday, and has since pulled in to test its 50-day moving average. Such pullbacks can offer lower-risk entries using the line as a selling guide. AAPL is expected to report earnings next week on October 29th.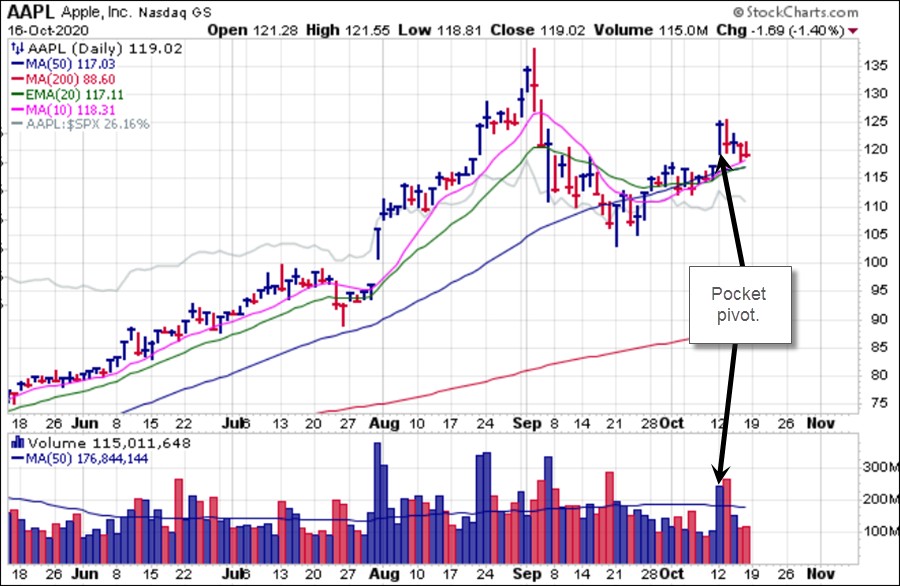 Chinese electric vehicle (EV) stocks have come to life recently. We originally reported on
Li Auto (LI)
in our newly initiated Undercut & Rally Reports on October 1st when it posted a pullback into its 10-dma and 20-dema following a U&R a few days prior. That presented a lower-risk entry around the $17 level and the stock then posted a pocket pivot this past Monday before moving to higher highs. In that very same report, we also noted interesting action in two other Chinese EV names,
Xpeng (XPEV)
and
Nio (NIO)
which is often referred to as the "Chinese Tesla." All three stocks have moved sharply higher since with NIO taking off on a buyable gap-up on Wednesday which we reported on at the time early in the day in a BGU Report. It has since moved higher and can be watched for any consolidation that allows the 10-day and 20-day moving averages to catch up and provide references for buyable pullbacks given how extended the stock became by week's end.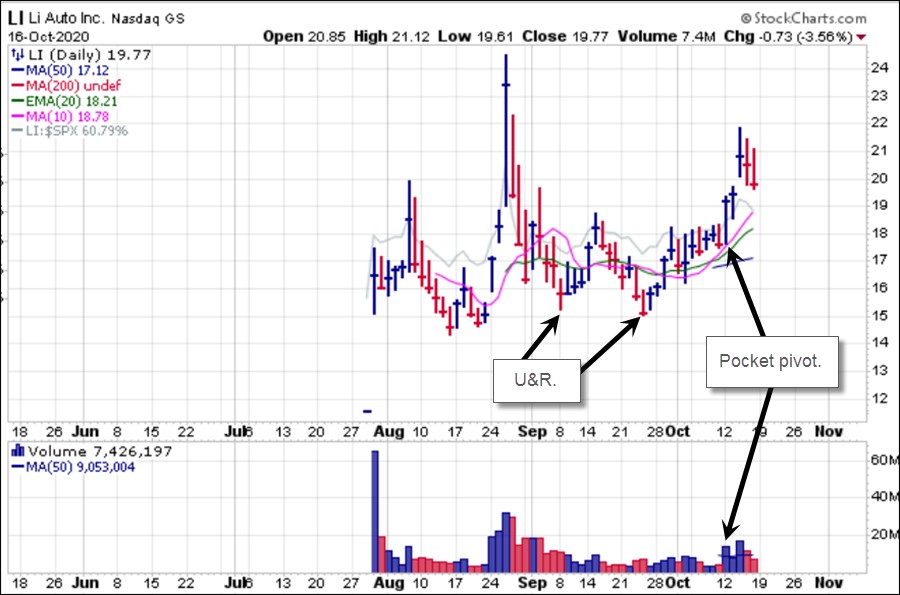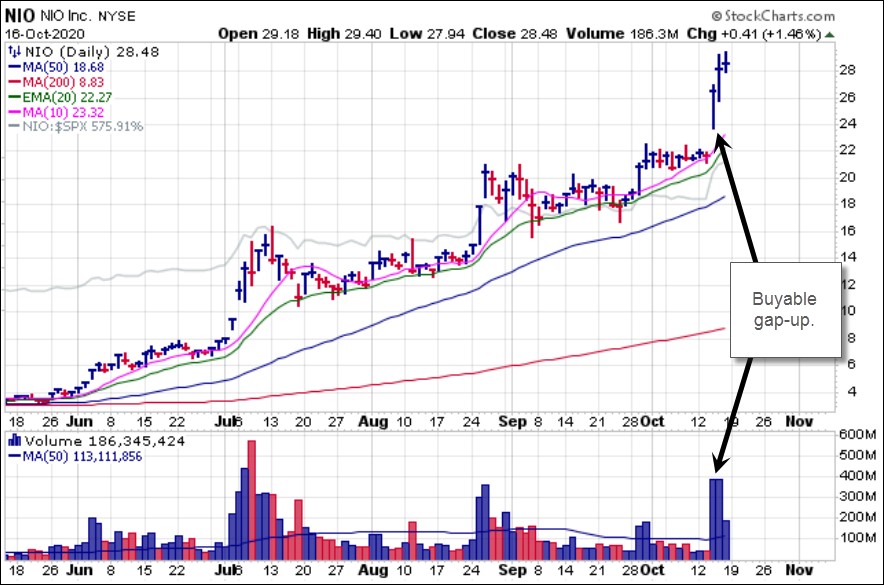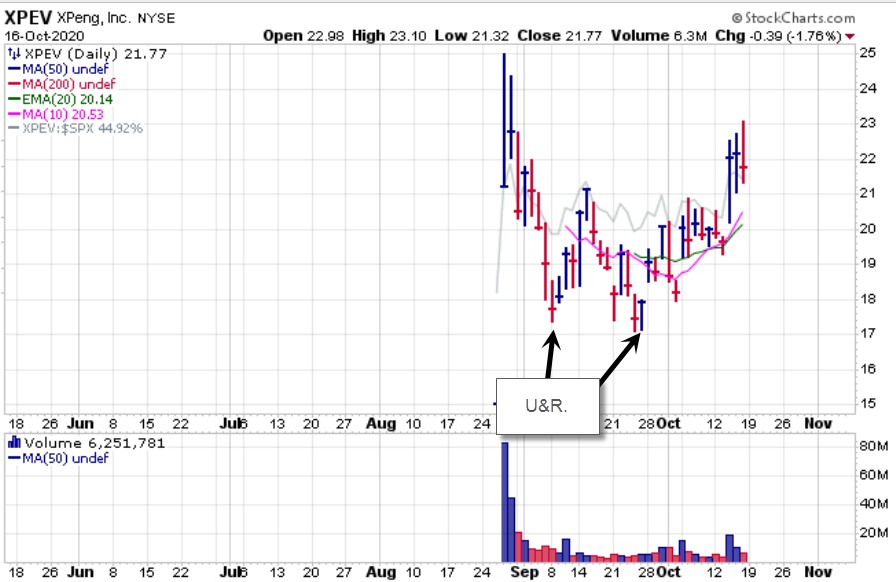 Tesla (TSLA)
is slightly extended from its 10-dma and 20-dema but was last buyable along the 10-dma earlier in the week per our comments in last weekend's Focus List Review. It is now pulling into the 10-dma on light volume with earnings expected this coming Wednesday, October 21st, after the close.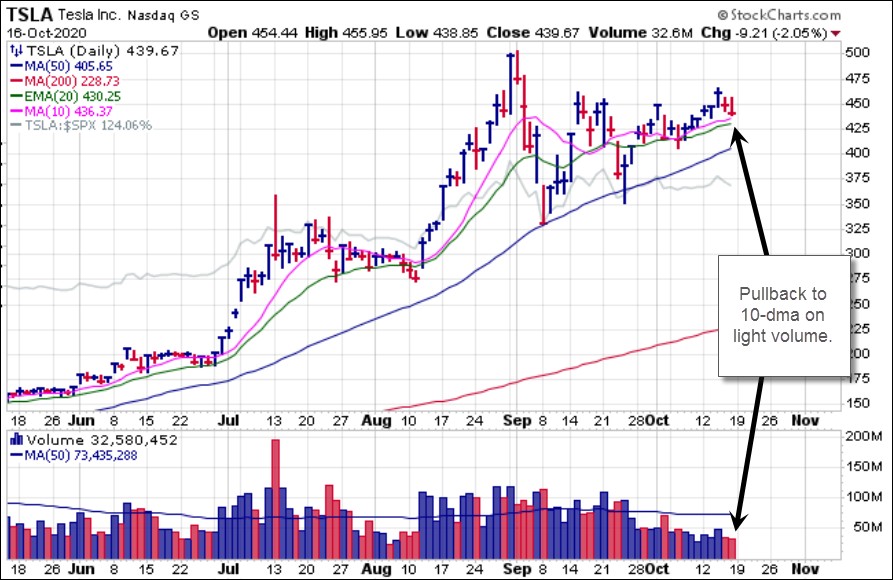 Livongo Health (LVGO)
posted a pocket pivot on Tuesday as it attempted to break out but has since pulled in, closing below its 10-dma on light volume. This is not the type of action you want to see following a pocket pivot and we would watch for a test of the 20-dema from here. The company is expected to report earnings on October 28th.
Alternative currencies remain in basing formations. Both the
Sprott Physical Gold Trust (PHYS)
and
Sprott Physical Silver Trust (PSLV)
failed on last Friday's pocket pivot attempts at their respective 20-demas. One could have therefore backed away from any shares in either ETF that were bought along the 20-dema.

Despite the near-term volatility in PHYS and PSLV, both gold and silver futures remain above their U&R lows at 1874.20 and 23.58, respectively, as the charts of the continuous futures contracts for $GOLD and $SILVER show below.

Bitcoin continues to hold up after rallying sharply off the late September lows. The
Grayscale Bitcoin Trust (GBTC)
continues to hold along its 50-day line as the 10-dma and 20-dema move to catch up. For now, we view the 10-dma and 20-dema as near-term support for the GBTC.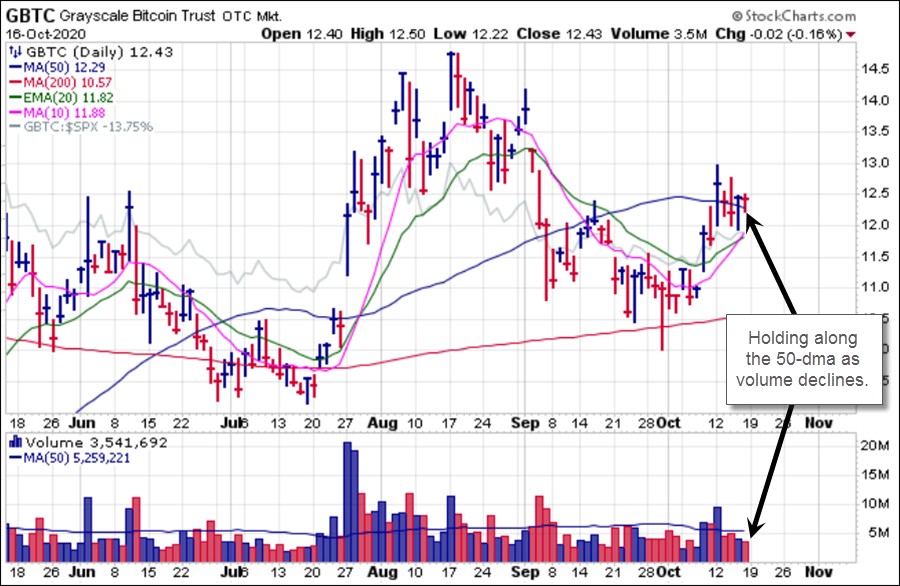 Despite the strong follow-through day seen on Monday in the NASDAQ Composite, stocks do not seem to be following through in any meaningful way. As we move into the thick of earnings season investors may consider sitting back, reviewing their selling guides, and letting things develop rather than making any significant commitments at the current time.