Major market indexes recovered from the sell-off of two Fridays ago to regain their June lows. In the process, undercut & rally moves were again in force along those lows, leading to what is technically a seven-day rally off the intraday lows of Thursday, October 13th which they have held since. On Friday morning, the indexes looked set for a downside turn at the open as the futures sold off ahead of the bell, but a news story from the Wall Street Journal claiming that while the Fed will raise rates 75 basis points in November they will begin debating the pace of future rate cuts sent the futures spiking in the other direction. Less hawkish comments from various Fedheads during the day kept the rally going as the S&P 500 and NASDAQ Composite Indexes posted O'Neil-style follow-through days with upside moves of 2.37% and 2.31%, respectively, on higher options expiration volume.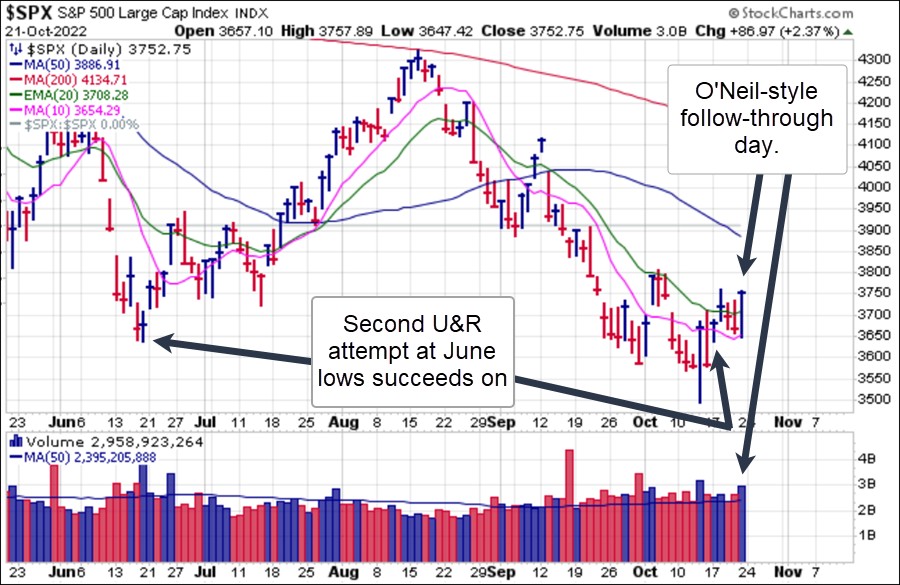 Short-sale targets we have reported on over the past several weeks, Lithium miner
Albemarle (ALB)
, energy drink producer
Celsius Holdings (CELH)
, and solar panel maker
First Solar (FSLR)
have all rallied with the market after becoming extended on the downside. These would need to clear 50-dma resistance in order to be considered bullish situations or would need to post OWL-style long entry set-ups along their lows. We can see that
ALB
has posted a U&R through the late September lows while
CELH
posted a mini-U&R along the lows of last week. FSLR is expected to report earnings this Thursday after the close so we would prefer to sit back and wait to see what transpires once earnings are out.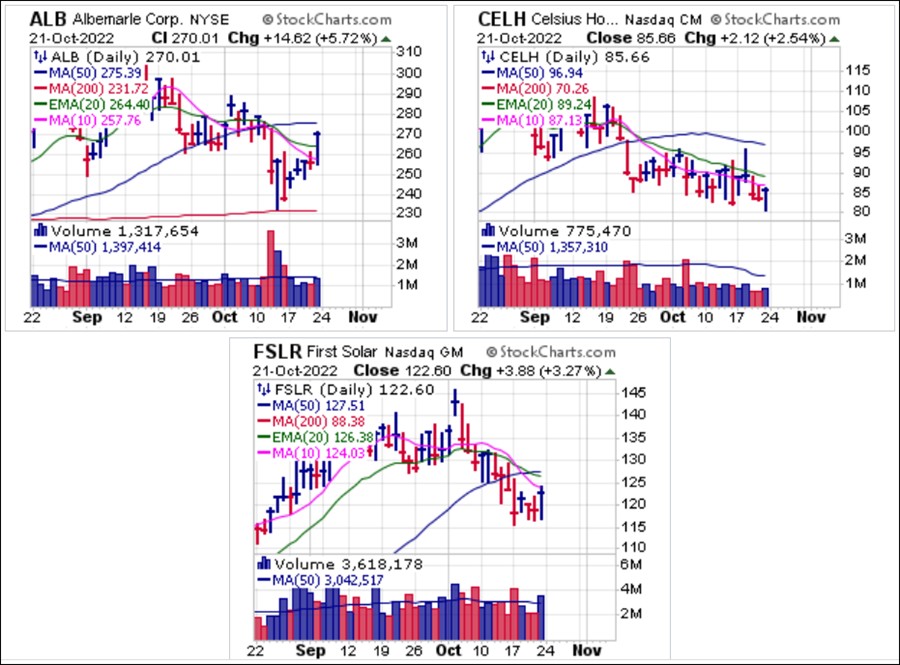 On Friday we issued Pocket Pivot Reports for aluminum producer
Alcoa (AA)
and silver miner
First Majestic Silver (AG)
. AA remains in a buyable position using the 20-dema as a selling guide while AA is extended from the 10-dma, 20-dema, and 50-dma and can be watched for constructive tests of this moving average support as potential lower-risk long entries.

The move in AG coincides with a sharp move in silver on Friday on the Fed pivot musings. Note that the
iShares Silver Trust (SLV)
had previously posted a sloppy U&R along the September lows on Monday, correlating to the major market indexes U&Rs at that time. The
SLV
went on to post a bottom-fishing pocket pivot along its 10-dma and 20-dema on Friday before closing just below the 50-dma.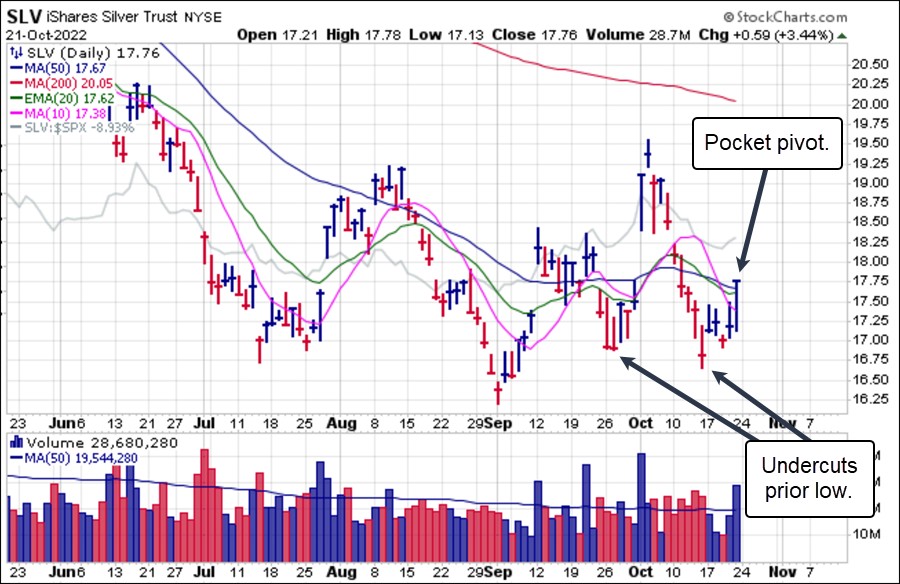 The market remains sensitive to news, rumors, and perceptions of a possible Fed pivot. As we have noted in our recent live market webinars, we believe the Fed will eventually engineer an economic crash-landing which will certainly necessitate a reversal of currently hawkish Fed policy at some point. Whether the current market rally off the lows of Thursday, October 13th holds up remains to be seen, and we will report on individual stocks, long or short, as appropriate and depending on how the market story unfolds from here and as we progress into the thick of earnings season.
The Market Direction Model (MDM) remains on a SELL signal.