The
S&P
500
and
Dow
Jones
Industrials
Indexes
forged new highs this past week as the S&P streaked higher on a six-day blitz to the upside before finally backing down and churning around the highs on Friday. The
NASDAQ
Composite
Index
remains below its all-time highs but the market for now is trending higher. Meanwhile, the situation among individual stocks remains a much more bifurcated story as our screens continue to remain bereft of any stocks that fit our criteria for inclusion on the VoSI Focus List, which for now remains the null set.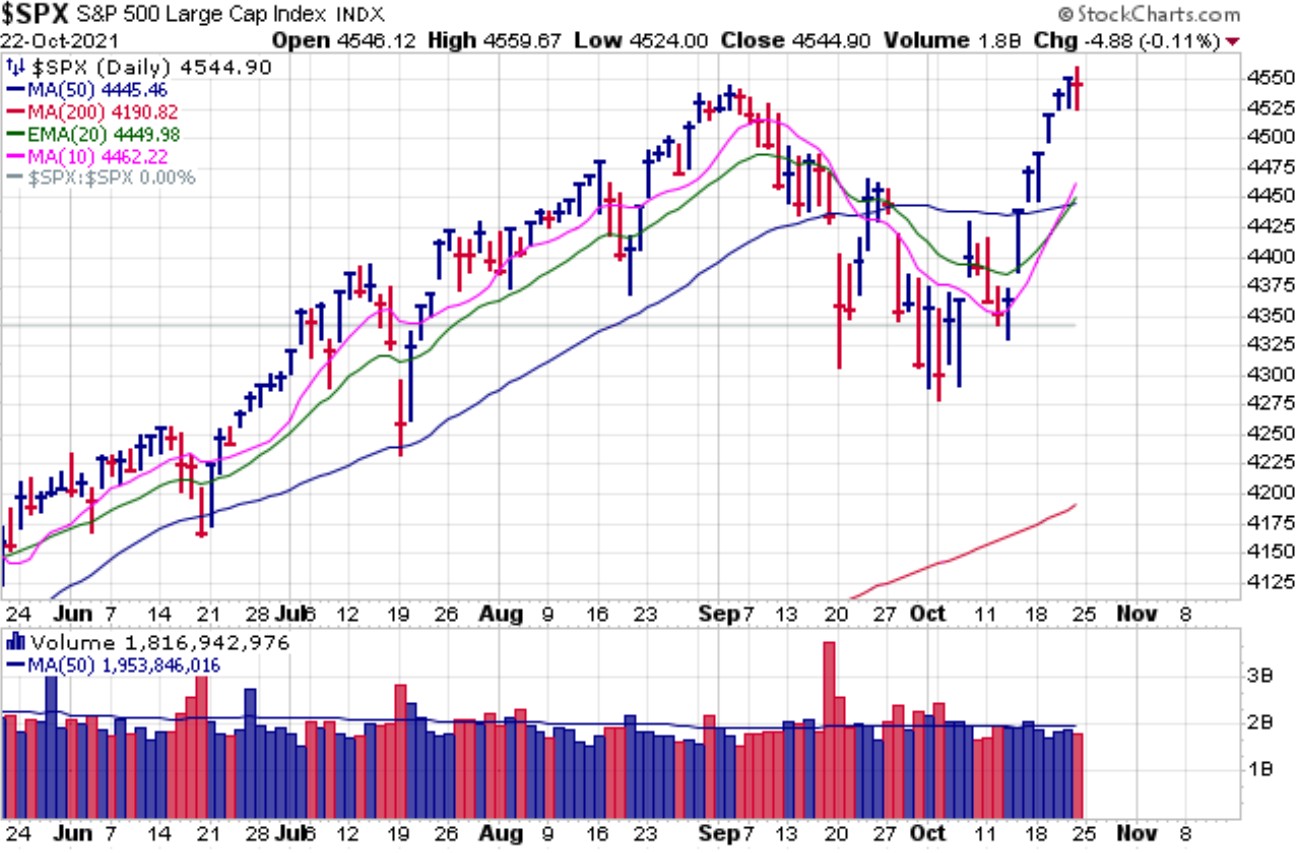 The Market Direction Model (MDM) switched to a BUY signal on Thursday, October 21st.
Big-stock NASDAQ names Apple (AAPL), Amazon (AMZN), Facebook (FB), Alphabet (GOOG), and Microsoft (MSFT) are all expected to report earnings this week with FB serving as the lead float in the earnings parade on Monday after the close. With the exception of MSFT, which has been pushing to all-time highs above the $300 Century Mark, these big-stock names have languished as of late even as the major market indexes push back towards or into new-high price ground. Note sharp price breaks and/or gap-downs in AMZN, FB, and GOOG Friday.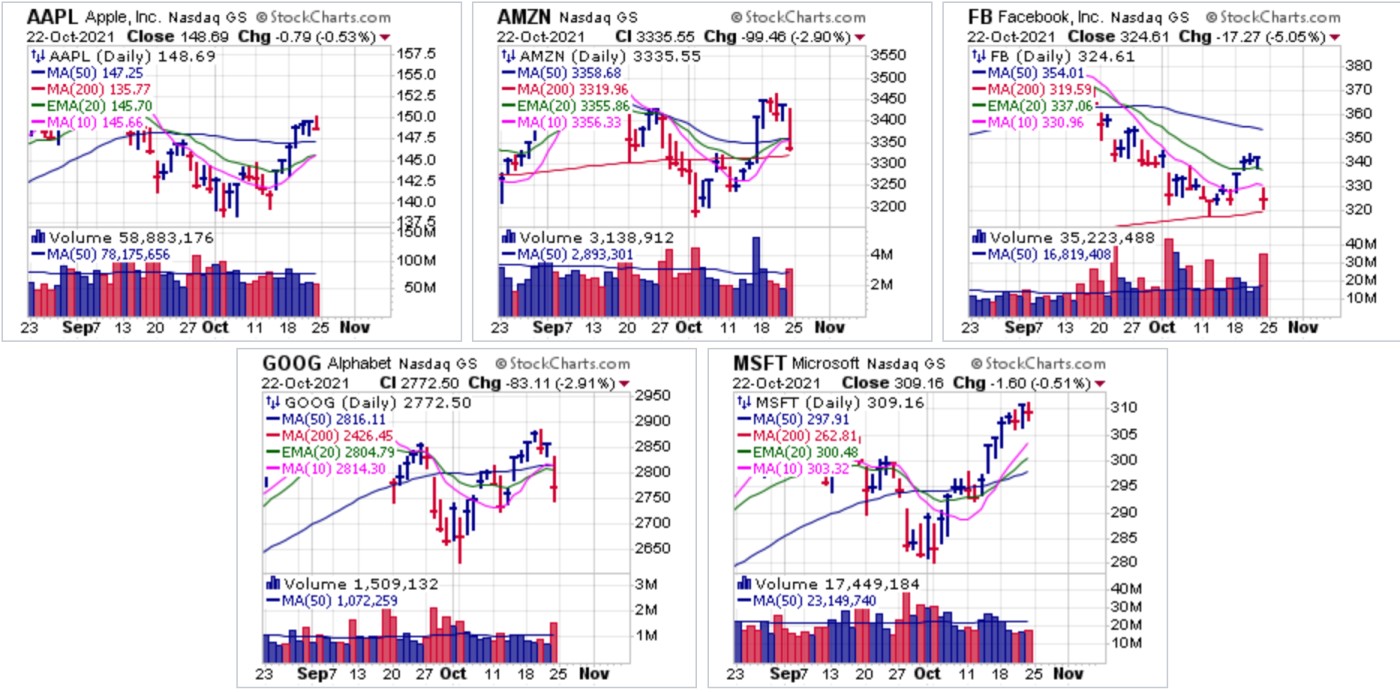 The big event of the week has been the launch of two new Bitcoin ETFs, the
ProShares Bitcoin Strategy ETF (BITO)
and the
Valkyrie Bitcoin Strategy ETF (BTF)
. Bitcoin itself has been rallying sharply over the past several weeks after bottoming just below the $30,000 level and is currently not in a buyable position. In fact, after reaching all-time highs earlier in the week on the ETF hype, it has declined 10% off the peak.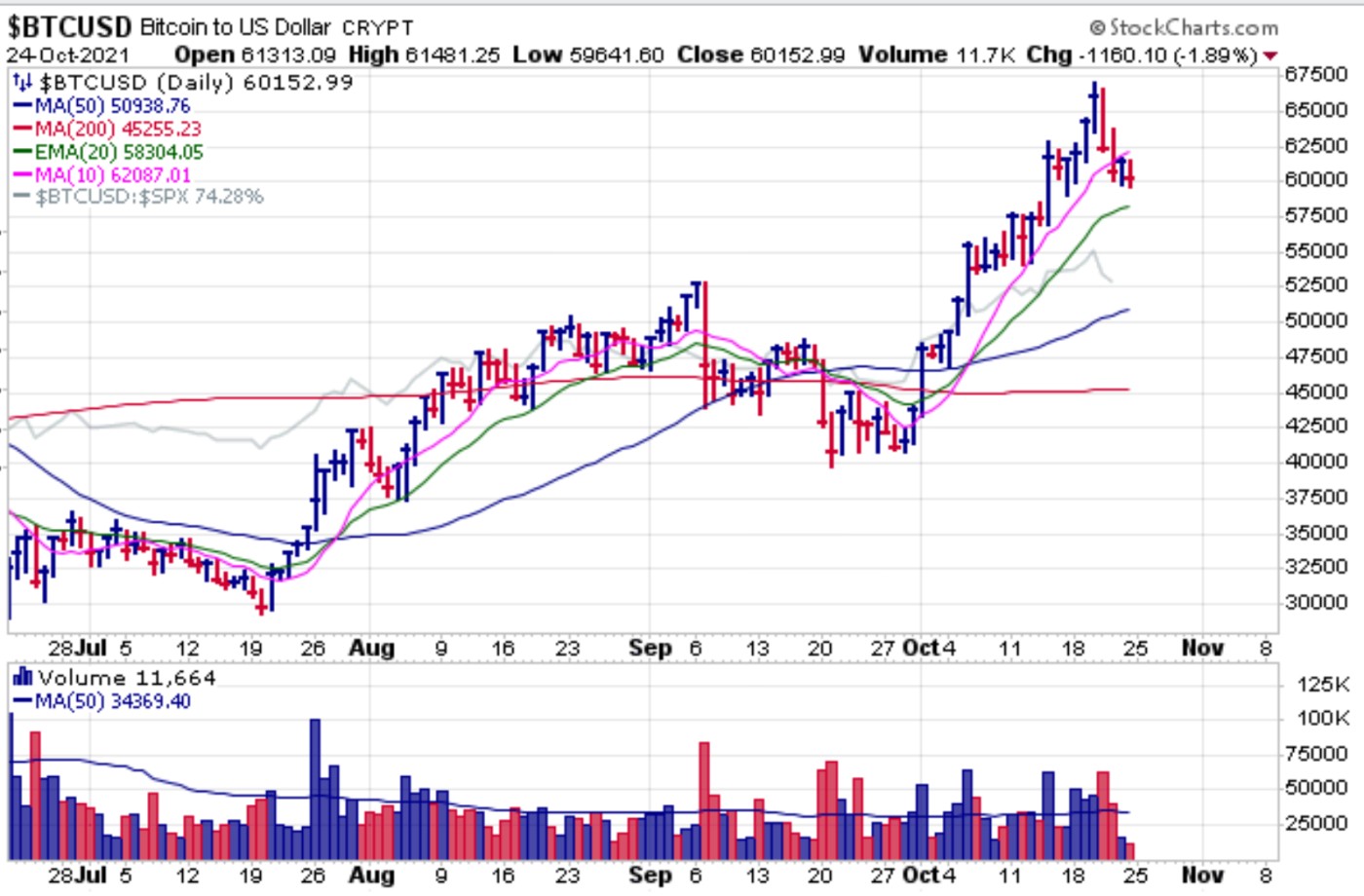 Bitcoin-related stocks like
Coinbase Global (COIN)
began moving higher three weeks ago and has pushed back up near its prior IPO peak following a pocket pivot along the 20-day exponential moving average which we reported on at that time. It is now extended and will likely continue to correlate to price movements in Bitcoin itself as it has done over the past three weeks.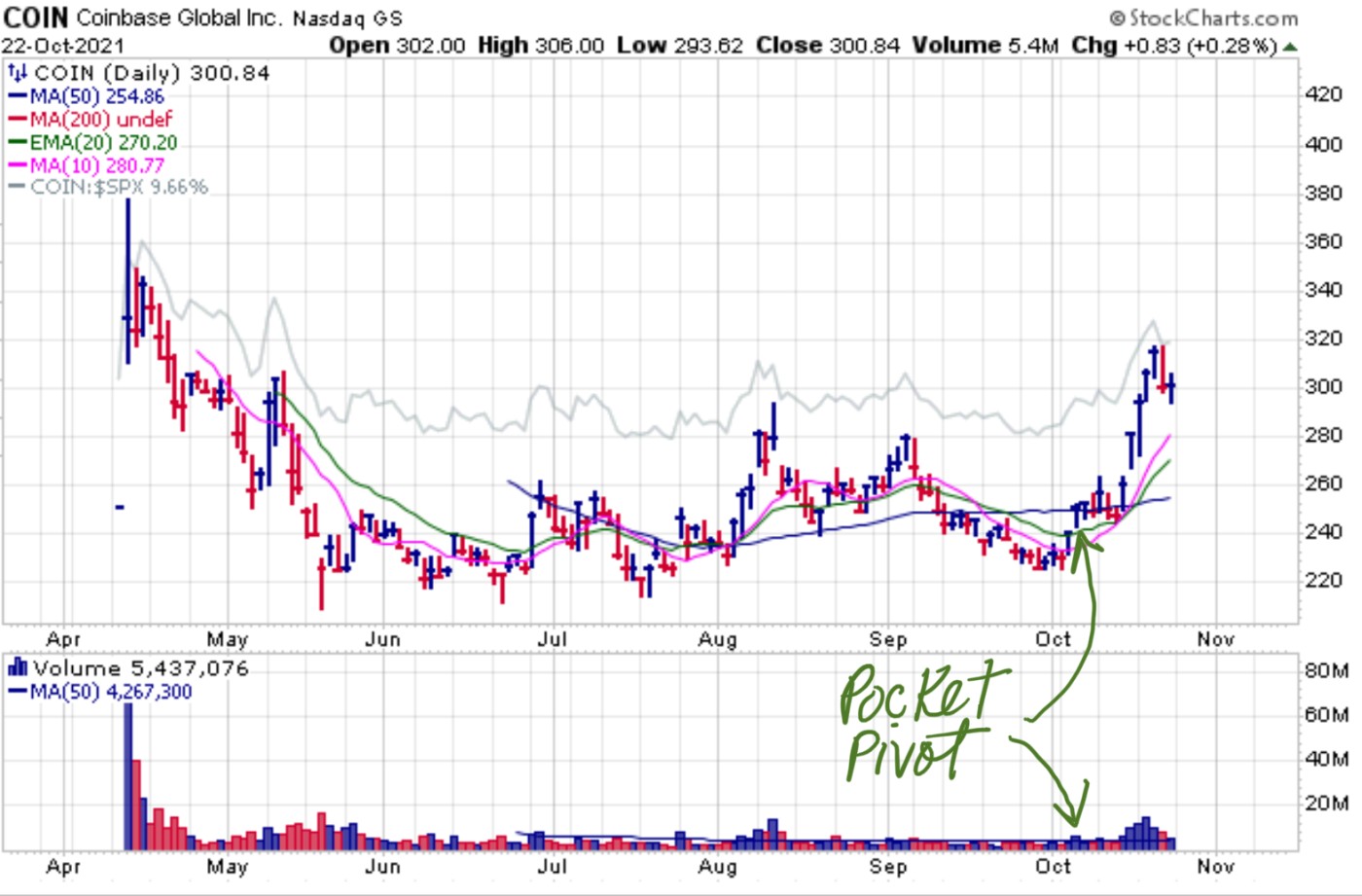 As we progress into the heart of earnings season this week, investors should remain alert to the fact that playing
earnings roulette
by holding stocks through earnings when one does not have a sufficient profit cushion can be dangerous. Witness the action in
Snap (SNAP)
which reported earnings Thursday after the close and blew apart on Friday in a massive gap-down break. The stock was already flashing warning signals after a strong-volume breakout failed very quickly in late September.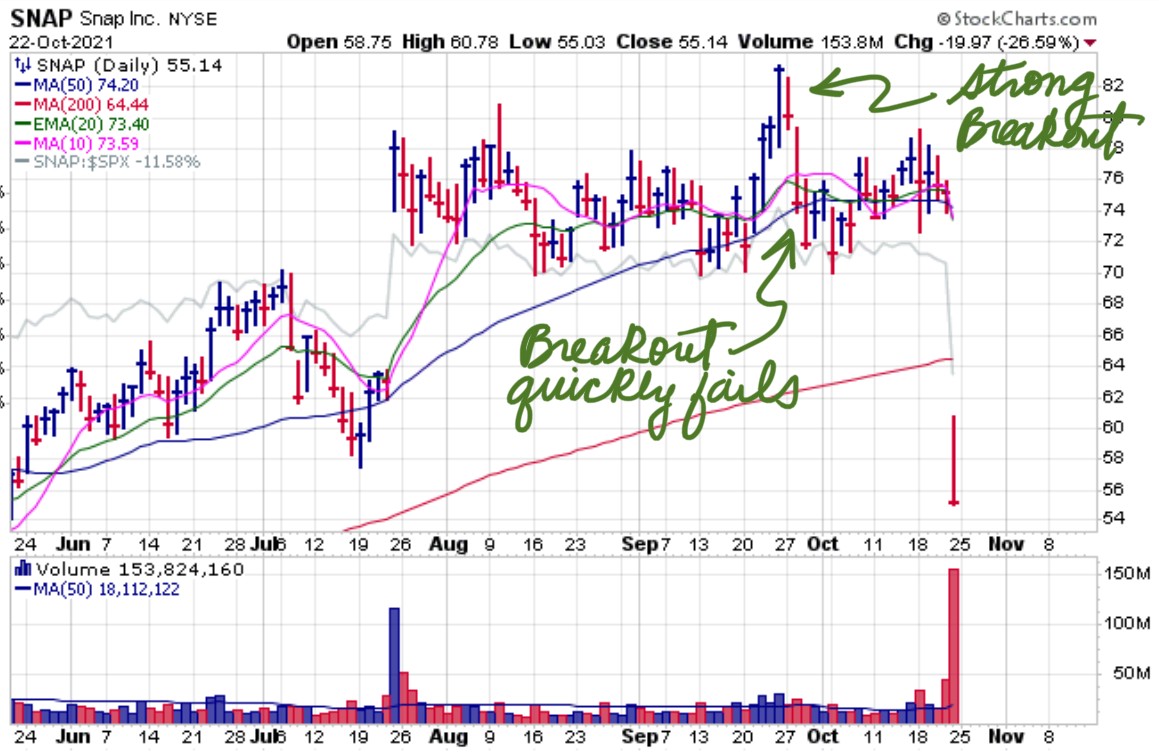 And in cases where a stock acts powerfully after a favorable earnings report, further upside is not guaranteed.
Alcoa (AA)
reported strong numbers over a week ago and broke out in a massive-volume buyable gap-up (BGU) move. Over the past four days
AA
has slid back to the downside and is now breaking below its prior breakout point as well as the 10-day and 20-day exponential moving averages in an emerging late-stage failed-base (LSFB) short-sale set-up. In this type of set-up, the initial breakdown is not necessarily a guarantee of further downside, particularly in the current market environment where breakouts fail and then become resurrected in re-breakout types of moves, but it does represent an actionable short-sale entry point where the 10-day or 20-day lines can be used as covering guides.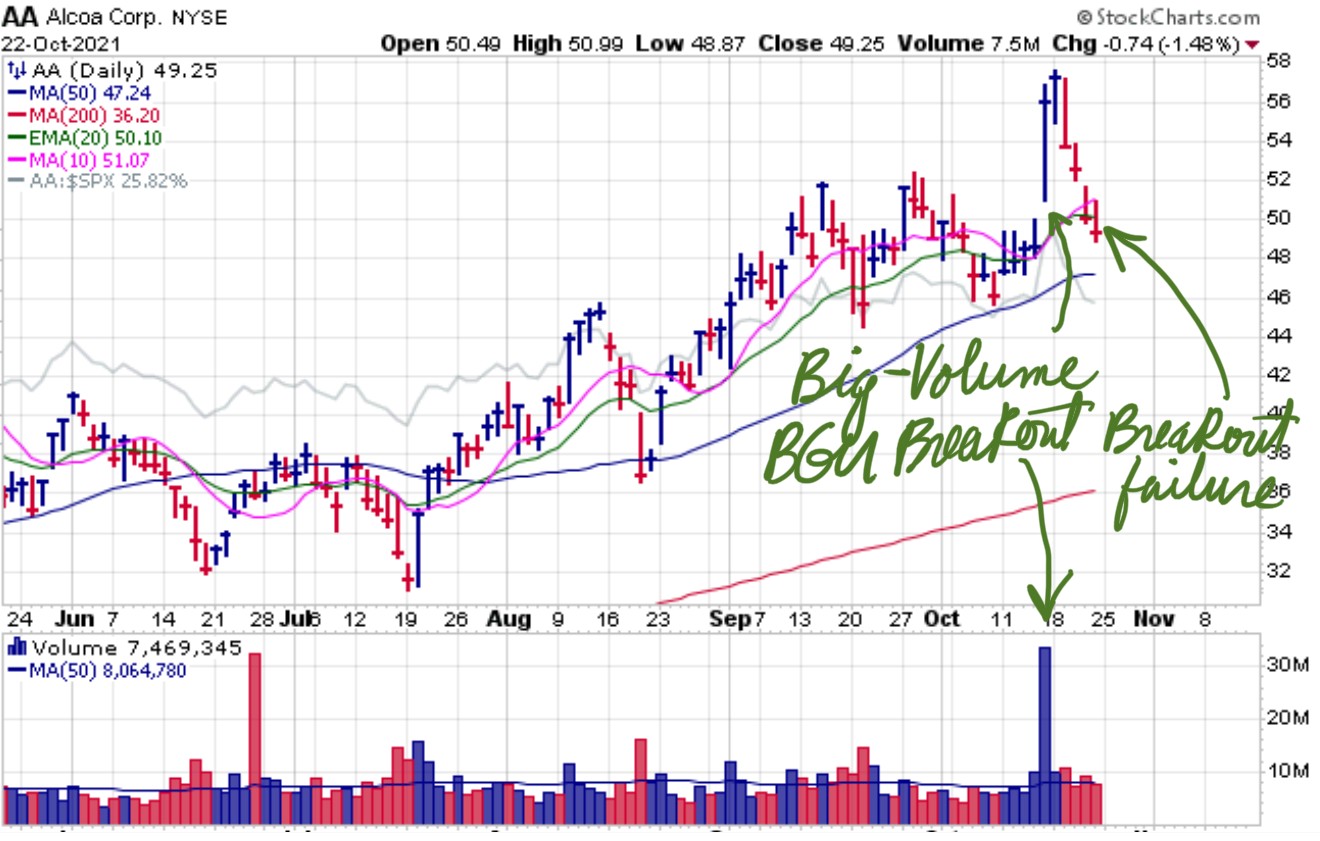 As the major market indexes rally towards or into new-high price territory market interest rates are doing the same. The
Ten-Tear Treasury Yield ($TNX)
is now within 10 basis points (0.1%) of its 52-week highs as the market raises interest rates while the Fed is forced to continue stand pat while lending much lip service to the idea of tightening monetary policy. It is indeed a strange world when we are seeing PPI inflation at an all-time year-over-year record of 8.6% but interest rates, at least those controlled and manipulated by the Fed, remain at zero. If the trend in market-determined interest rates like the
$TNX
persist in their up trends, this could eventually begin to more broadly weigh on stocks. Certainly, the action under the surface of the index rally is decidedly mixed among individual stocks, and investors must continue to tread carefully.