Current Focus List

The VoSI Focus List is a compilation and reference list of stocks for which Pocket Pivot or Buyable Gap-Up Reports have been issued and which have been deemed suitable for inclusion on the Focus List. Not all stocks for which a Pocket Pivot or Buyable Gap-Up report has been issued will necessarily be added to the list. It is not intended as a "buy list" or a list of immediately actionable recommendations. Stocks on the list may or may not be in proper buy positions, and investors should exercise discretion and proper judgement in determining when and where stocks on the Focus List can be purchased. The following notes are intended to assist in this process. Please note that members can enlarge the Focus List image by clicking on the body of the email and then holding the Control Key while pressing the "+" key until it is large enough to read.
General Observations:
The general market has been in a two-week pullback off the recent highs in what so far is playing out as a double-top type of formation. The NASDAQ Composite Index remains entrenched in a downward trend channel but is finding near-term support along its 20-dema as volume declines. Deeper support at the 50-day moving average is likely more critical, and so far the pullback does not necessarily look abnormal relative to the move straight up off the lows of late September. In most cases it is a matter of what individual stocks are doing as the underlying action has remained mixed to slightly negative.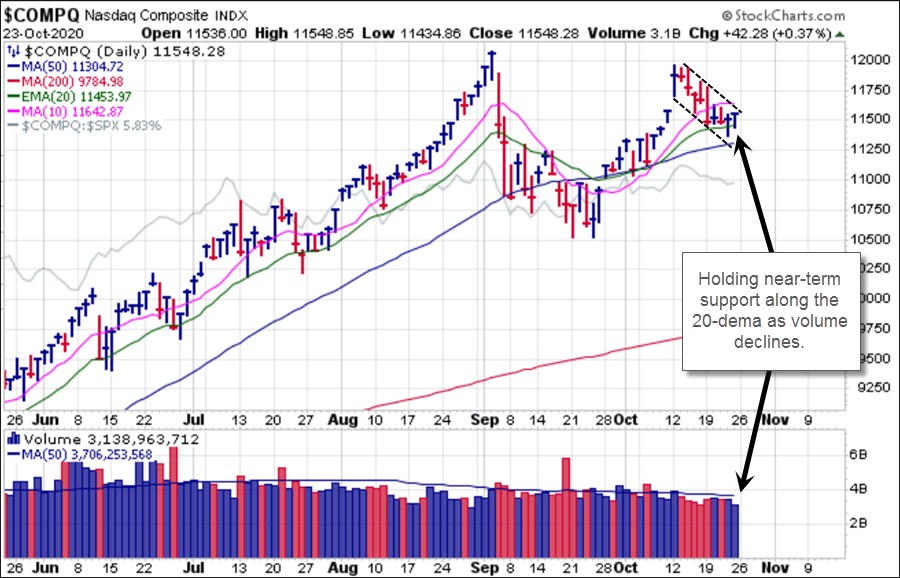 The
Market Direction Model (MDM)
remains on a
BUY
signal.
Removed from the List this Week:
Lennar (LEN)
,
Li Auto (LI)
.
Focus List Stocks Expected to Report Earnings this Week: Microstrategy (MSTR) on Tuesday after the close; Livongo (LVGO) on Wednesday after the close; Apple (AAPL) and Facebook (FB) on Thursday after the close.
Notable Action:
Microstrategy (MSTR) was reported on as a buyable gap-up on Thursday, but members should take note of the fact that the company is expected to report earnings Tuesday after the close. For this reason, we do not believe this is actionable pending the upcoming earnings report.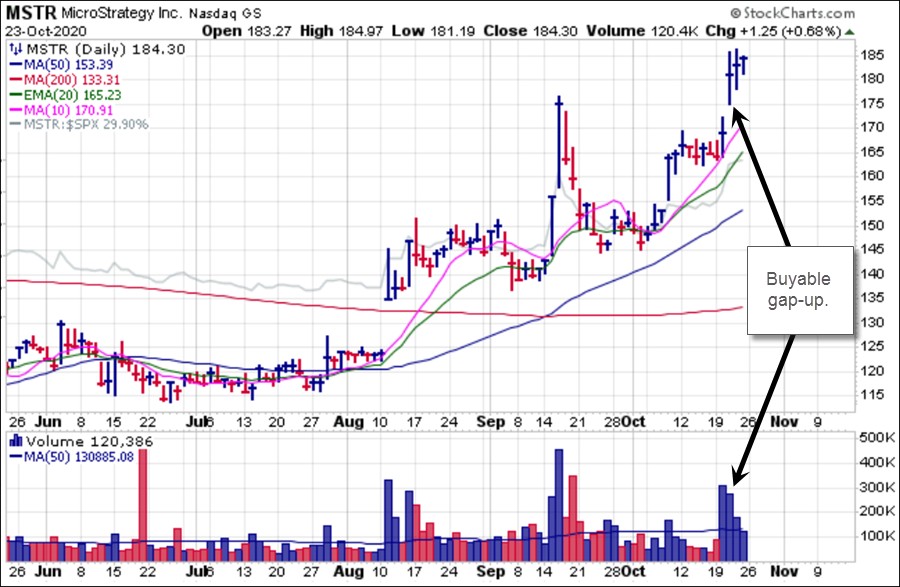 Tesla (TSLA)
sold off at it reported earnings on Wednesday after the close and initially gapped up at the open. It reversed and closed back below both its 10-dma and 20-dema on higher volume. On Friday it shook out at the 50-day moving average on light volume, posting a moving-average undercut & rally long entry set-up using the 50-day line as a selling guide. Should the stock break back below its 50-dma then it could trigger as a short-sale target at that point.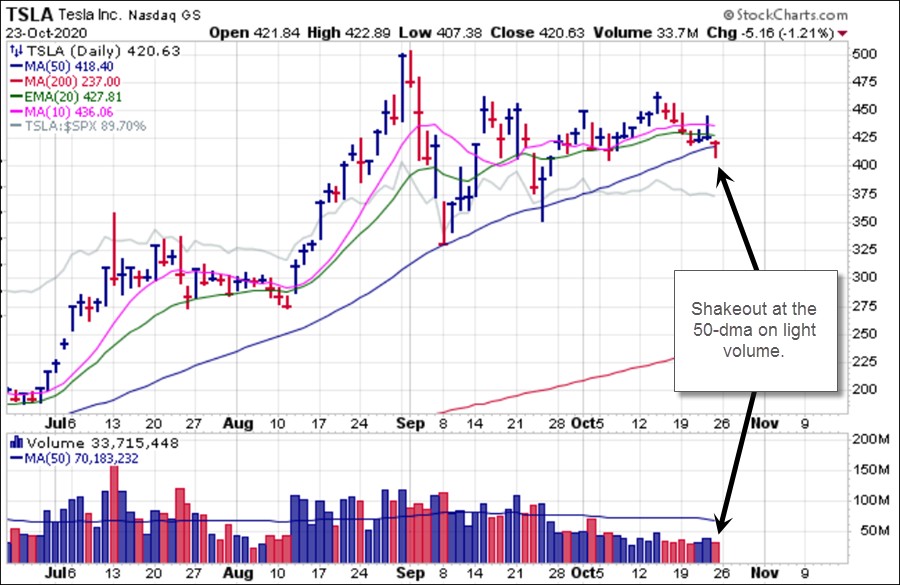 We removed Chinese electric vehicle maker
Li Auto (LI)
based on its weaker action relative to what we believe is the leader in the group,
Nio (NIO)
. NIO posted a buyable gap-up last week which we report on at that time. It has since moved higher and has now pulled into its 10-day moving average as volume dries up, creating a potential lower-risk add/entry point using th 10-dma as a tight selling guide.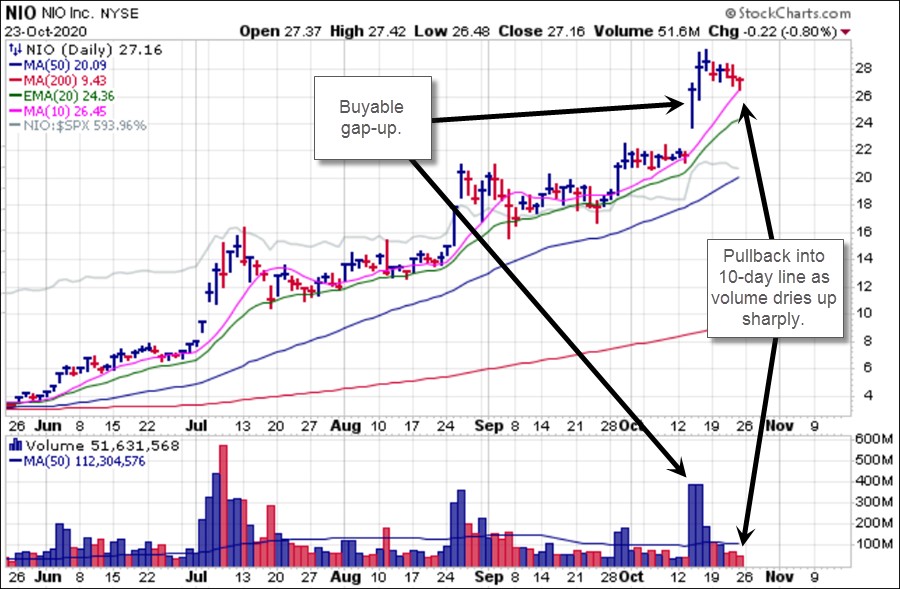 Earnings season will continue apace this week as we see several big-stock NASDAQ names report earnings, MSFT on Tuesday, and AAPL, AMZN, GOOG and FB on Thursday. These have the potential to move the market and investors should therefore remain attuned to what is a fluid situation as the market indexes remain in downward trend channels.