Current Report Watch List

The VoSI Report Watch List is a compilation and reference list of stocks for which Pocket Pivot or Buyable Gap-Up Reports have been issued. It is not intended as a "buy list" or a list of immediately actionable recommendations. Stocks on the List may or may not be in proper buy positions, and investors should exercise discretion and proper judgement in determining when and where stocks on the List can be purchased. The following notes are intended to assist in this process. Please note that members can enlarge the List image by clicking on the body of the email and then holding the Control Key while pressing the "+" key until it is large enough to read.
General Observations:
The paradox of having only one stock left on the Report Watch List as the S&P 500 Index posts all-time intraday highs is quite interesting. The market's move on Friday was fueled by vague news that the U.S. and China were close to finalizing some sections of the "Phase One" trade agreement following phone call between senior officials. However, the S&P failed to close in new high price ground on Friday as volume tapered off. Meanwhile volatility remains a force in this market, and particularly news-oriented volatility. We continue to view this market as mostly, if not entirely, void of any serious trends, outside of highly rotational moves back into beaten-down stocks.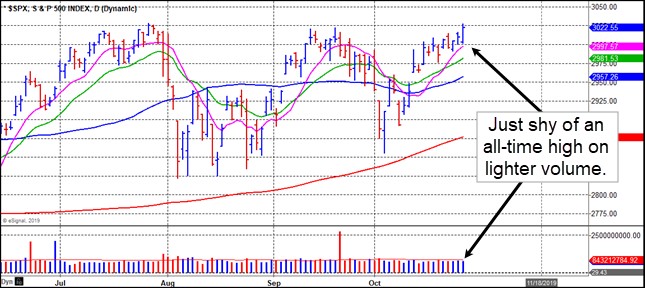 News will continue to be a big factor this week as we will likely get some clarification regarding the Friday U.S.-China trade news, the Fed will announce its latest policy move, and we will see more earnings from the likes of big-stocks like
Apple (AAPL)
which has the potential to move the market.
The
Market Direction Model (MDM)
remains on a cash signal. Lack of leadership and the string-pushing markets only supported by QE while battling a slowing global economy, Brexit, and the trade war explains the lackluster, sloppy move higher over the last couple of weeks in the S&P 500.
Removed from the List this Week:
Chipotle Mexican Grill (CMG)
and
Manhattan Associates (MANH)
.
Chipotle Mexican Grill (CMG)
came apart on Wednesday after reporting earnings. It gapped through its 50-dma on huge selling volume, and for that reason has been removed from the list.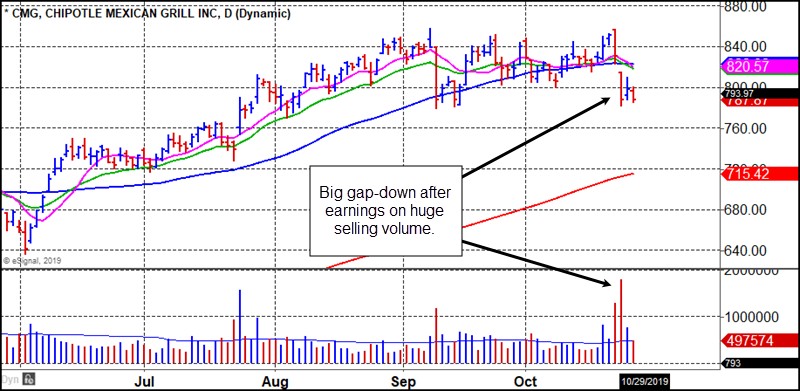 We put out four Short-Sale Set-Ups earlier in the week for
Carvana (CVNA)
,
Lumentum Holdings (LITE)
,
Netflix (NFLX)
, and
Viavi Solutions (VIAV)
. Both CVNA and LITE demonstrate how often a short-sale set-up will work as a short-term trade that sometimes is good for only a day-trade. Both stocks came off for one day before turning and rallying through their stops. LITE is also expected to report earnings Thursday before the open. VIAV has come slightly off of its double-top peak, but we would not look to hold a position through earnings which are expected to be reported on Wednesday after the close. We view NFLX as more of a strategic short, looking for a longer-term downtrend to develop. Near-term, the 20-dema acts as resistance, but in any market rally (perhaps following the Fed meeting this week), NFLX could rally up to the 50-dma, so one should be prepared to be flexible with this one depending on market context.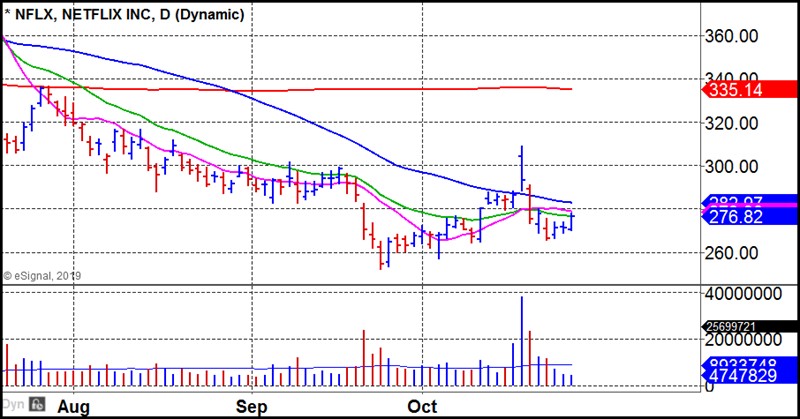 One of the more interesting moves this week came from Bitcoin, as shown on the daily chart of the
Grayscale Bitcoin Trust (GBTC)
. The Bitcoin ETN posted a big-volume bottom-fishing pocket pivot on Friday that started out as a small U&R move through last week's low. This was noted in real-time during our live webinar, although the move did not look like much at the time. However, we pointed out that based on this, one could take a position in the GBTC and keep a tight stop along last week's lows, which was only a few cents lower at the time. A Pocket Pivot Report was also issued on Friday. The big move in bitcoin, thus GBTC, was due primarily to China's president Xi Jinping saying for the first time in detail that he supports blockchain. Despite China's negative stance on bitcoin and cryptocurrencies, China has been an attentive student on such revolutionary technologies. Xi's position thus comes as no surprise. Keep in mind that this appears to have been leaked news by someone who probably aimed to front run the market. Nevertheless, the news appears valid as Xi's intent is to make China a digital totalitarian state.