Current Focus List

The VoSI Focus List is a compilation and reference list of stocks for which Pocket Pivot or Buyable Gap-Up Reports have been issued and which have been deemed suitable for inclusion on the Focus List. Not all stocks for which a Pocket Pivot or Buyable Gap-Up report has been issued will necessarily be added to the list. It is not intended as a "buy list" or a list of immediately actionable recommendations. Stocks on the list may or may not be in proper buy positions, and investors should exercise discretion and proper judgement in determining when and where stocks on the Focus List can be purchased. The following notes are intended to assist in this process. Please note that members can enlarge the Focus List image by clicking on the body of the email and then holding the Control Key while pressing the "+" key until it is large enough to read.
General Observations:
Major market indexes slashed through their 50-day moving averages in the latter half of the week, closing at their lowest lows since the October 12th "follow-through day" that was little more than a gamma squeeze to those paying attention. The NASDAQ Composite Index closed near the week's lows on Friday on higher selling volume as big-stock tech names were hit hard. The market is for now in a clear correction, pending evidence to the contrary. Investors should be heeding their selling guides as necessary, and in most cases one should be sitting on at least some cash based on the action in a broad number of leading stocks, including those on the Focus List as discussed below.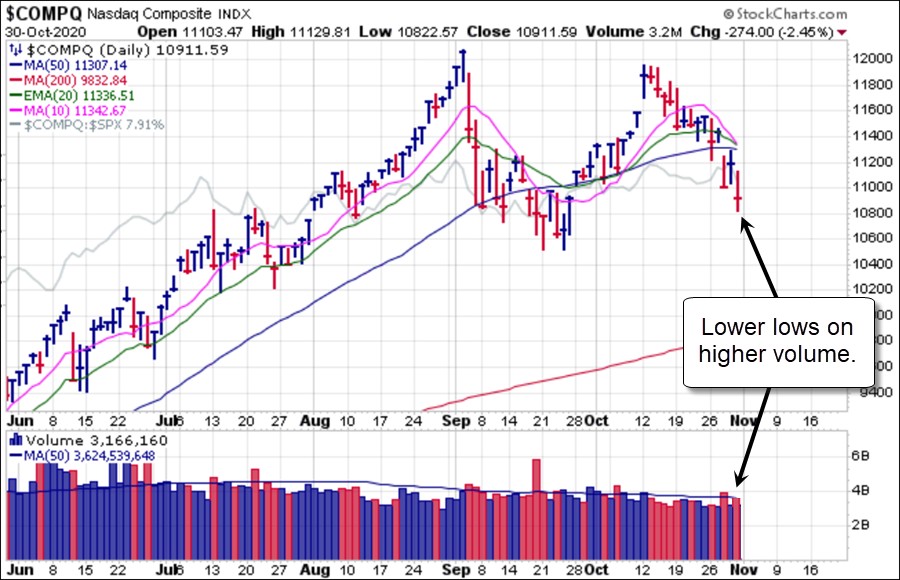 The Market Direction Model (MDM) remains on a BUY signal. Stimulus is looking more and more distant so the model is likely to switch signals as soon as this Monday. Once a stimulus package is reached, this will likely push the major averages into a new uptrend but price/volume will confirm whether or not this is true.
Removed from the List this Week: Apple (AAPL), Facebook (FB),Nvidia (NVDA) and Tesla (TSLA).
Focus List Stocks Expected to Report Earnings this Week: None.
Notable Action:
Apple (AAPL), Facebook (FB) and Nvidia (NVDA) all broke sharply below their 50-day moving averages to end a brutal week. AAPL and NVDA have technically violated their 50-day lines, while FB's huge-volume break through the line after closing below the line on Wednesday is not constructive.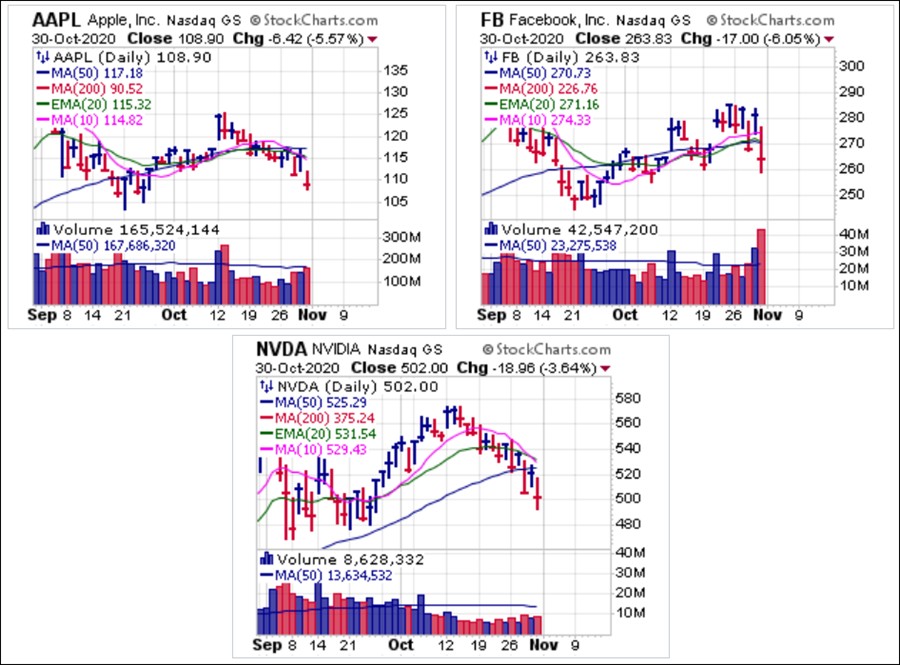 Tesla (TSLA)
was also removed from the list as it violated its 50-day moving average on Friday as selling volume picked up sharply.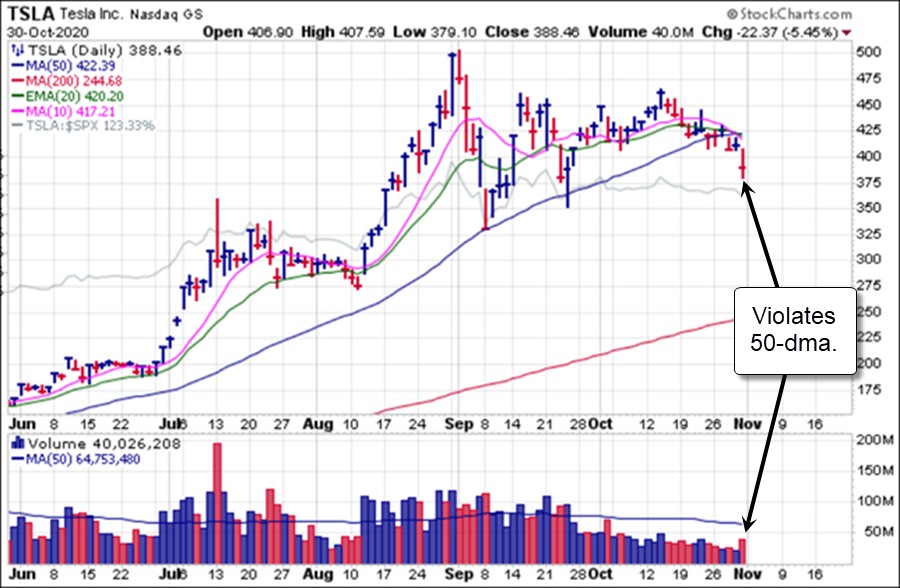 Microstrategy (MSTR) was reported on last week as a buyable gap-up, but the stock was likely extended in a later-stage base hence that BGU failed. Risk, however, could have been controlled tightly by using the intraday low of the BGU day as a tight selling guide. It is now a late-stage failed-base (LSFB) short-sale set-up where one could watch for a rally up to the 10-d moving average at 172.34 as a possible short entry using the line as a covering guide. Otherwise, a break back below the 20-dema would serve as an alternate short-sale trigger using the 20-dema as a covering guide in that case.
PayPal (PYPL)
was another buyable gap-up that was reported on last week as it also broke out of what turned out to be a late-stage base failure in just a few days. The fact that breakouts like MSTR and PYPL failed so quickly over the past week or so was a clear sign of general market trouble, which turned out to be the case this past week. The only saving grace in this case is that the intraday low would have been used as a tight selling guide, getting one out of the stock very quickly before the real carnage set in.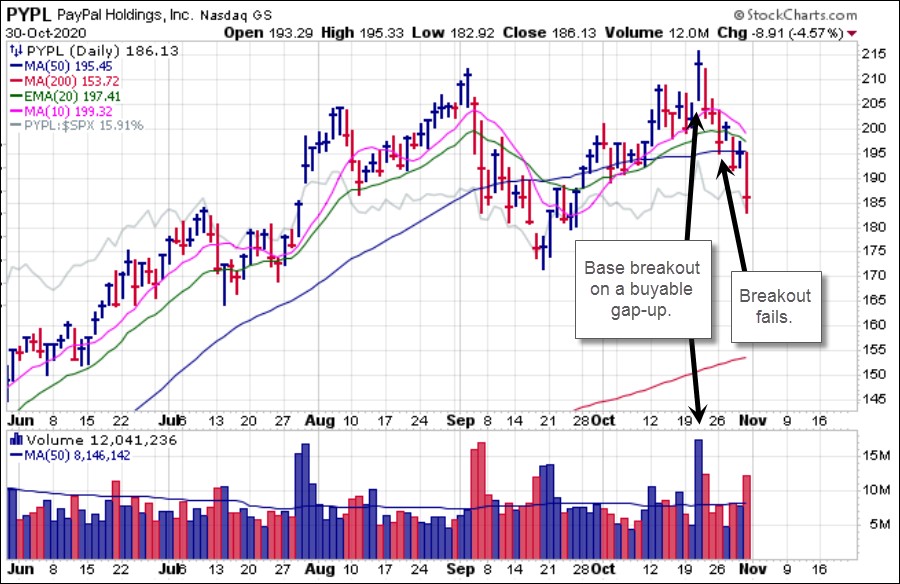 Back in September we reported on
Oracle (ORCL)
as a short-sale target in the 61-62 price area. It never cleared that price zone since then and more recently finally broke down through its 20-dema and this past week violated its 50-day moving average to confirm as a later-stage failed-base short-sale set-up. It is now extended on the downside.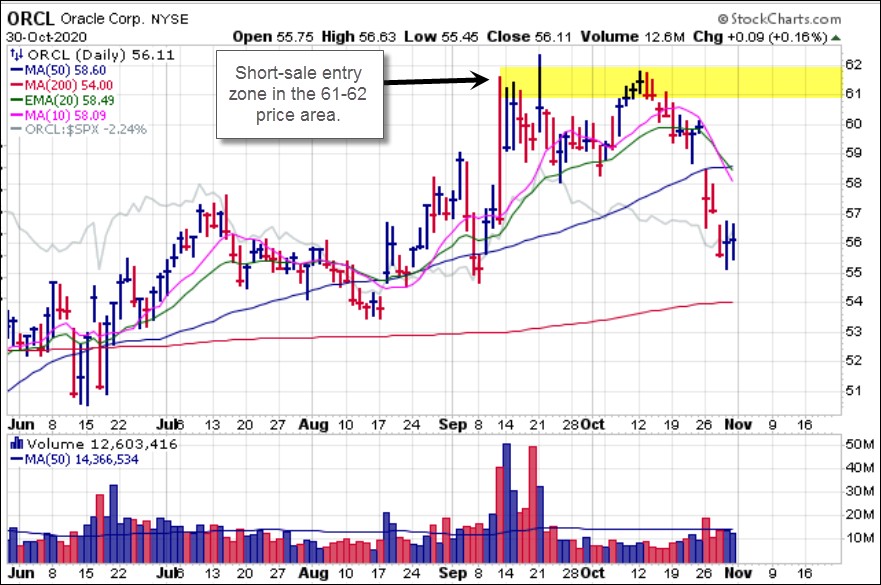 Bitcoin held near its recent highs as it reaches levels not seen since 2017. The Grayscale Bitcoin Trust (GBTC) remains in an extended position where we would prefer to see pullbacks towards the 20-dema as potential lower-risk entries on pullbacks. It is notable that the price of bitcoin has decoupled from stocks for the first time this year. This is an omen of further potential strength in bitcoin as more major companies and institutional funds realize they need exposure to bitcoin for themselves and their customers.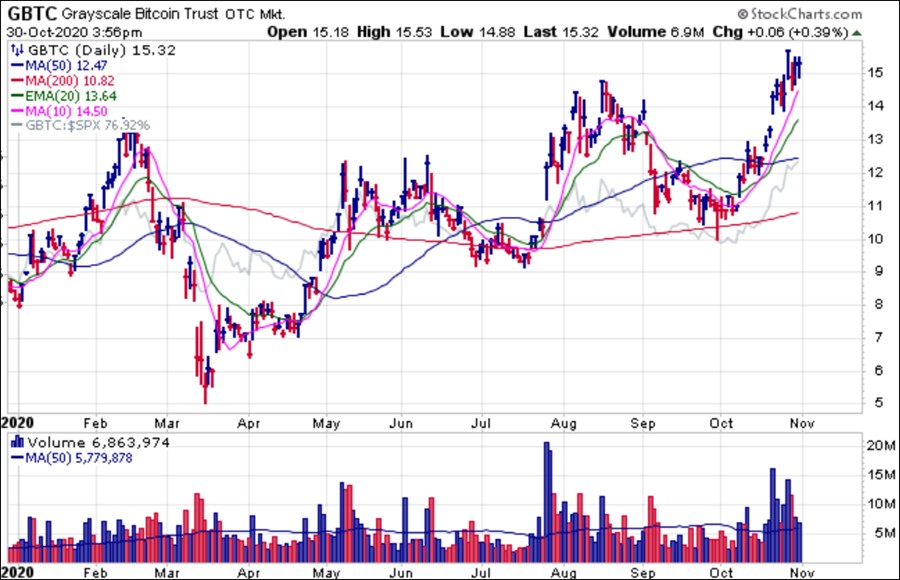 Precious metals initially sold off with stocks but on Friday diverged as they traded to the upside while stocks sold off. Both gold and silver are back above their prior early August lows at 874.20 and 23.58, with futures closing Friday at 1877.40 and 23.71, respectively. This keeps them within buying range of these U&R lows, using the lows plus an additional 1-3% of downside porosity as selling guides given the current volatility.