Current Focus List

The VoSI Focus List is a compilation and reference list of stocks for which Pocket Pivot or Buyable Gap-Up Reports have been issued. It is not intended as a "buy list" or a list of immediately actionable recommendations. Stocks on the list may or may not be in proper buy positions, and investors should exercise discretion and proper judgement in determining when and where stocks on the Focus List can be purchased. The following notes are intended to assist in this process. Please note that members can enlarge the Focus List image by clicking on the body of the email and then holding the Control Key while pressing the "+" key until it is large enough to read.
General Observations:
The general market indexes continue to forge new highs, with the
NASDAQ Composite Index
closing up for nine straight days, while the
S&P 500
and
Dow Jones Industrials Indexes
both paused on Friday after posting eight straight up days in a row. So far, the market rally shows no signs of abating. The star of the market has been the Russell 2000 Index, which has been on a tear since late August, as the chart of its closest proxy, the
iShares Russell 2000 Index ETF (IWM)
shows below. Since August 21st, the small-cap index has rallied approximately 11.5%, and has spent the last three days consolidating those gains as IWM volume declines in constructive fashion.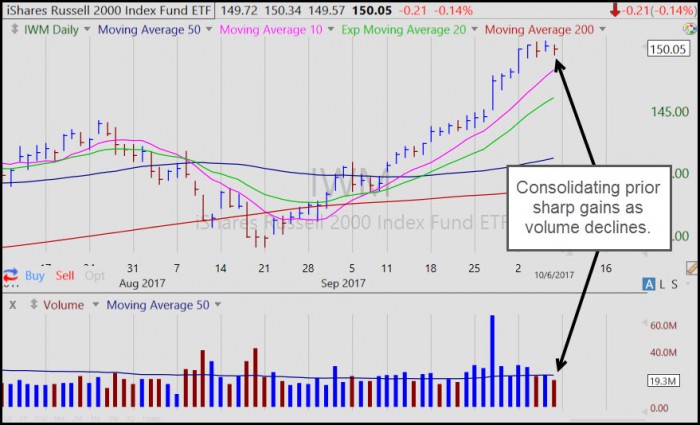 The Market Direction Model (MDM) is currently on a buy signal.
Removed from the List this Week:
None
Focus List Stocks Expected to Report Earnings this Week:
None.
Notable Action:
Arista Networks (ANET)
moved to new highs on Friday on higher volume relative to the prior day but -15% below average. The stock was last buyable along the 10-dma per our prior Focus List Notes during the week.
Alibaba (BABA)
is holding in a very tight four-day range that forms the handle of a miniature cup-with-handle formation. Volume declined to -53% below average on Friday, which when combined with the very tight price action may imply that a move to new highs is likely.
FireEye (FEYE)
broke out of a two-week flag formation this past Tuesday on a pocket pivot volume signature. It remains extended from the point where it was first added to the list after posting a buyable gap-up (BGU) on September 7th.
Netflix (NFLX)
broke out of a cup-with-handle base on Thursday on very heavy buying volume. It is now slightly extended from the breakout point.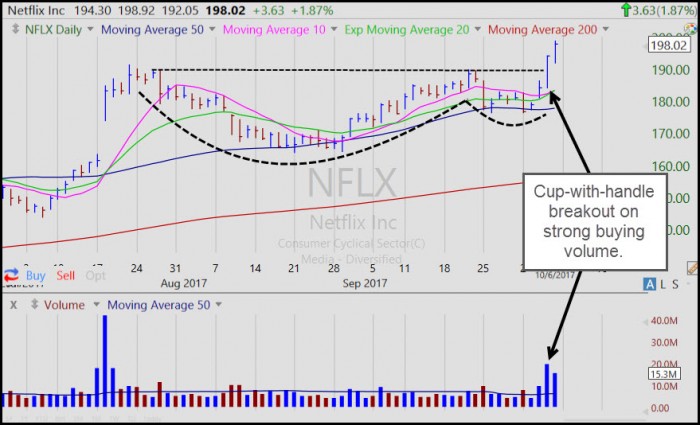 Take-Two Interactive (TTWO)
broke out to all-time highs on Friday on volume that was 9% above-average. The stock is currently out of buying range. Among the three video-gaming stocks, TTWO has been the de facto "monster stock" leader.
Vertex Pharmaceuticals (VRTX)
posted a pocket pivot at the 10-dma on Monday of this past week and then held tight along the 10-dma for the next three days before rallying on Friday to post a five-day pocket pivot coming up through the 50-dma on volume that was 50% above-average. Invoking the moving average undercut & rally (MAU&R) long set-up, this is buyable here using the 50-dma as a very tight selling guide.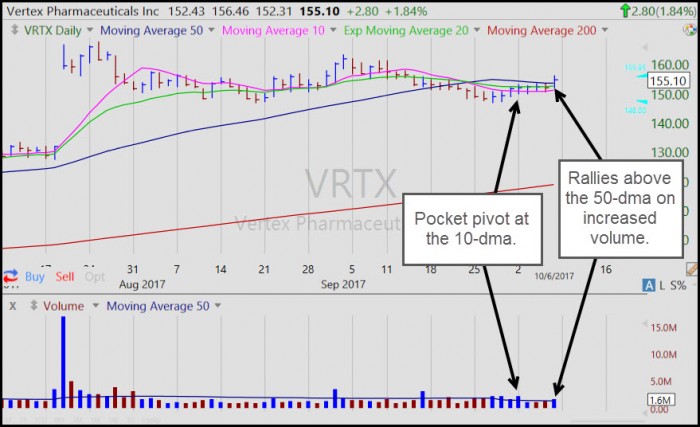 Weight Watchers International (WTW)
has exhibited erratic behavior after posting a strong pocket pivot move off the 50-dma on Monday. On Tuesday the stock gave up all of Monday's gains, and then on Wednesday held tight at the 50-dma before rallying back up to higher highs on an intraday basis on Thursday before reversing on increased, but well below-average volume. It is now sitting at the 50-dma with volume drying up to -56% below average. Objectively, despite the prior erratic action, this would offer a lower-risk entry point using the 50-dma as a tight selling guide.