Current Focus List

The VoSI Focus List is a compilation and reference list of stocks for which Pocket Pivot or Buyable Gap-Up Reports have been issued and which have been deemed suitable for inclusion on the Focus List. Not all stocks for which a Pocket Pivot or Buyable Gap-Up report has been issued will necessarily be added to the list. It is not intended as a "buy list" or a list of immediately actionable recommendations. Stocks on the list may or may not be in proper buy positions, and investors should exercise discretion and proper judgement in determining when and where stocks on the Focus List can be purchased. The following notes are intended to assist in this process. Please note that members can enlarge the Focus List image by clicking on the body of the email and then holding the Control Key while pressing the "+" key until it is large enough to read.
General Observations:
Major market indexes continue to rally as the NASDAQ Composite and S&P 500 Indexes posted higher highs on Friday on lighter volume. While there has been no follow-through, stocks have continued to rally despite continued contentious back-and-forth regarding the current stimulus bill talks between the White House and Congress.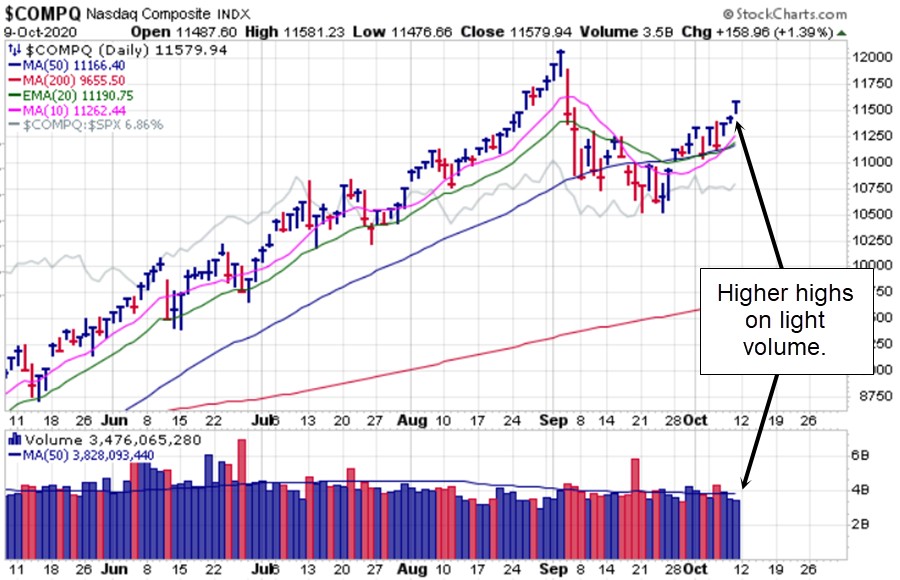 The
Market Direction Model (MDM)
remains on a
BUY
signal. Odds if history since 2008 is any guide as well as multiple long term debt cycles suggest, another major stimulus package will be launched.
Focus List Stocks Expected to Report Earnings this Week:
None.
Notable Action:
Apple (AAPL)
sits in a buyable position as it holds tight along its 50-day line while the line also serves as a reference for a selling guide.
Nvidia (NVDA)
is pulling into its 10-day moving average in orderly fashion as volume dries up. As it approaches the 10-day line watch for a potential lower-risk entry near the line. Finally,
Tesla (TSLA)
is showing voodoo action along its 10-day simple and 20-day exponential moving averages with volume drying up on Friday to -61.3% below average on Friday.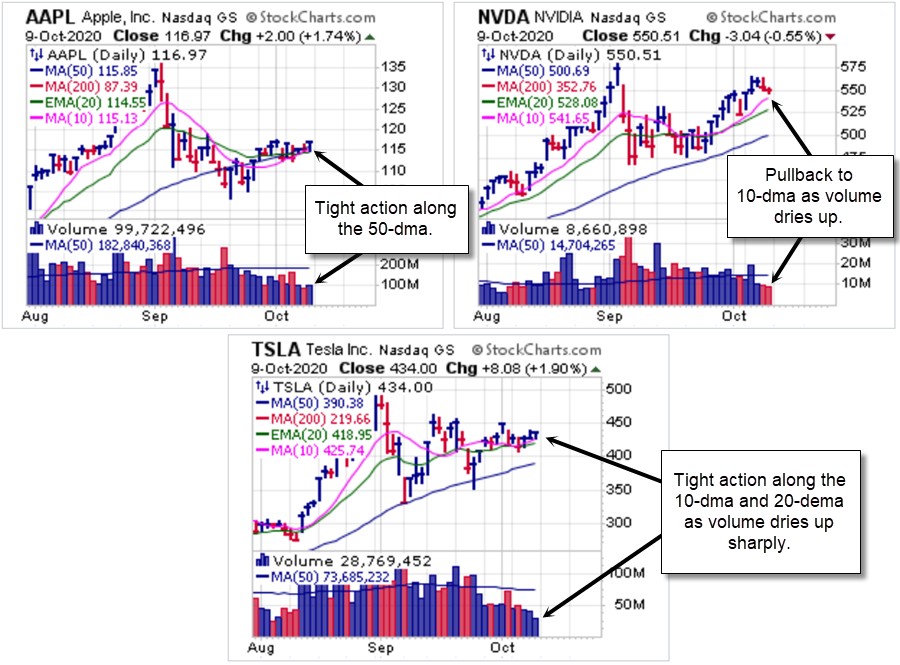 Recent IPO Rocket Companies (RKT) was reported on as a pocket pivot the week before, and again on Thursday when it posted a second pocket pivot along its 10-day moving average. Near-term support appears to lie along the 10-dma, so we would watch for pullbacks to the 10-dma as potential lower-risk entry opportunities from here.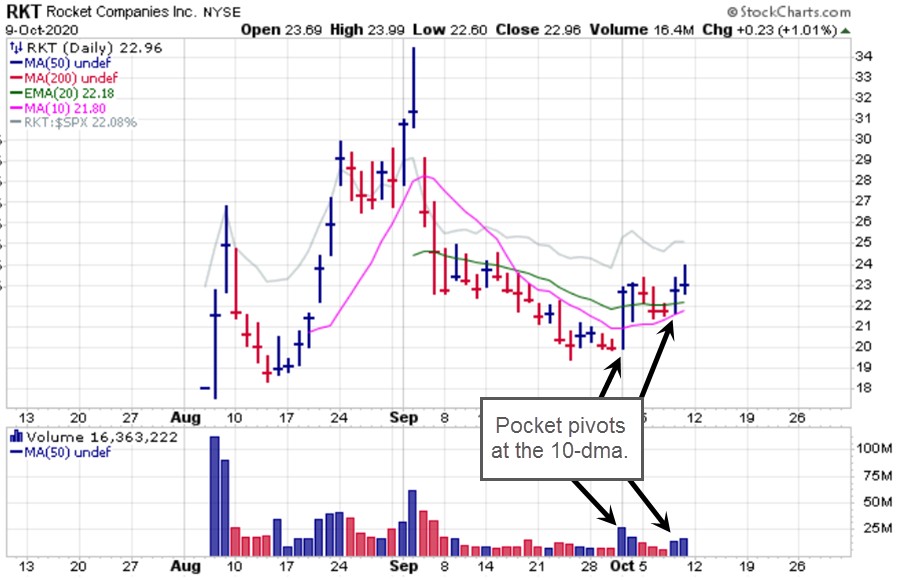 We reported on
DataDog (DDOG)
the prior week when it posted a big-volume pocket pivot, base breakout and Jesse Livermore Century Mark long entry signal at that time. It has since consolidated above the $100 price level and on Friday posted a continuation pocket pivot off the 10-dma.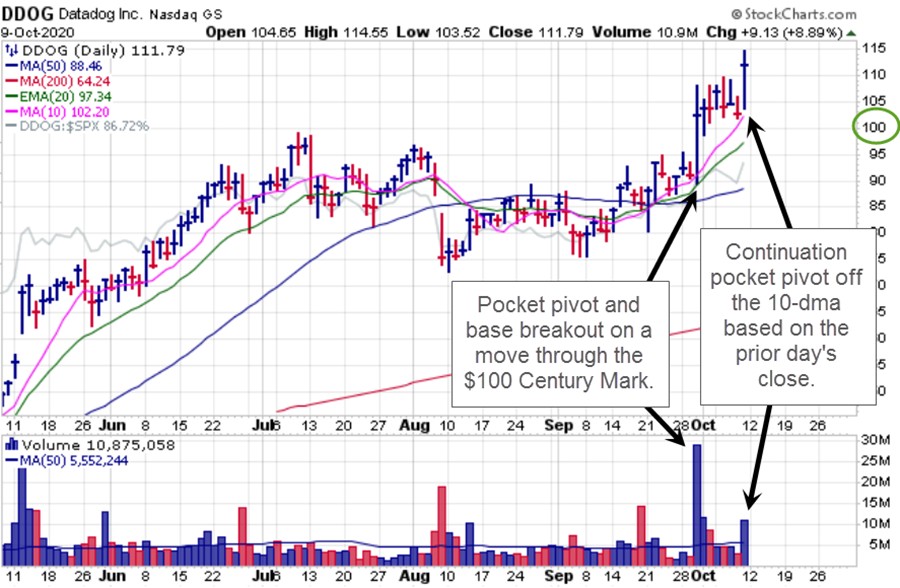 The
Sprott Physical Gold Trust (PHYS)
and the
Sprott Physical Silver Trust (PSLV)
both posted pocket pivots on Friday off their 10-day moving averages and up through their 20-day exponential moving averages. These are actionable using the 20-dema as a tight selling guide for either. Note also that PHYS has posted a U&R through the 15.09 low of its prior base while the PSLV closed Friday right at its early August low at 8.80 and is therefore on the verge of its own U&R long set-up. For now, however, the pocket pivots are in force.

The
Grayscale Bitcoin Trust (GBTC)
ran into logical resistance at its 50-dma on Friday following the U&R off the 200-day line the prior week. Watch for support along the 20-day exponential moving average on this pullback.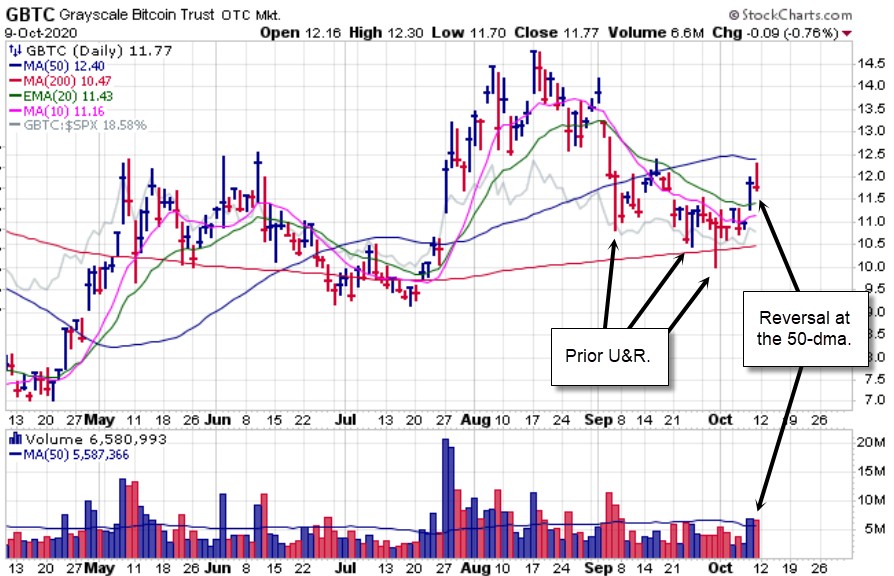 Despite the intraday volatility and the at times contradictory news flow, stocks continue to move higher. Where we can find fresh lower-risk long entries in potential leaders, we will report on them as we deem appropriate.