Current Focus List

The VoSI Focus List is a compilation and reference list of stocks for which Pocket Pivot or Buyable Gap-Up Reports have been issued. It is not intended as a "buy list" or a list of immediately actionable recommendations. Stocks on the list may or may not be in proper buy positions, and investors should exercise discretion and proper judgement in determining when and where stocks on the Focus List can be purchased. The following notes are intended to assist in this process. Please note that members can enlarge the Focus List image by clicking on the body of the email and then holding the Control Key while pressing the "+" key until it is large enough to read.
General Observations:
The general market staged a massive shakeout on Tuesday after news of another North Korean missile launching, this time with a trajectory that carried over Japan, sent after hours futures down hard overnight on Monday. That led to a sharp gap-down break on Tuesday morning, but this took the Dow right to its 50-dma, where it found support.
At the same time the NASDAQ Composite Index posted a very bullish outside reversal to the upside on heavy volume, closing Tuesday above its 50-dma. It has since continued higher and on Friday churned around its prior intraday highs while at the same time posting a new all-time closing high. It's possible the index could simply continue to drift higher as it did when it broke out on low volume in mid-July. A pullback to the 50-dma, however, is also possible, and would give us a chance to see just how real this latest move to all-time highs is. The market has been extremely volatile throughout the Summer of 2017, and it is likely that the volatility will continue into what is historically a difficult period for the market.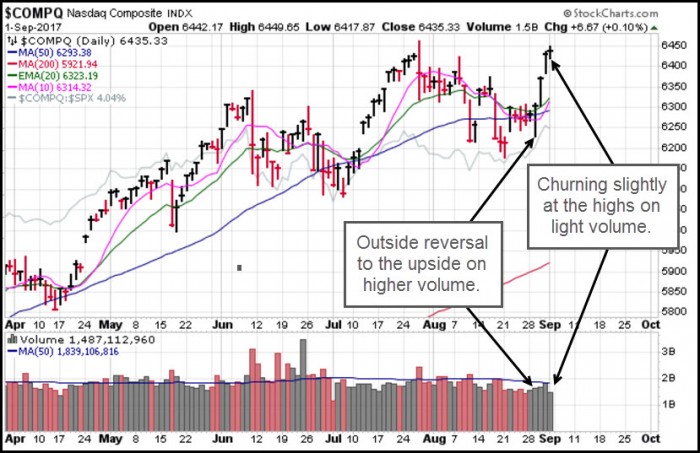 It has been noted by market commentators and pundits that gold, shown via its proxy the
SPDR Gold Trust (GLD)
, below, has outperformed the S&P 500 in 2017. This past week the GLD broke out of a four-month price range on heavy volume. The steady uptrend in gold has been associated with a steady decline in the U.S. Dollar all year long. In fact, the dollar's current decline is its steepest since 2010, and has sent the dollar to fresh two-year lows over the past month. Whether this is signaling some sort of embedded systemic risk that is currently not obvious is one concern that we have, but so far nothing conclusive has been forthcoming. Meanwhile, the steady dollar decline seems to be a primary driving force for stocks (and gold) as record QE levels remain in force.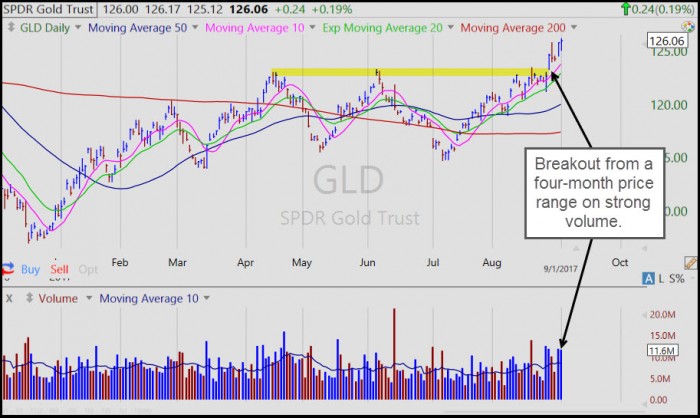 The Market Direction Model (MDM) is currently on a cash signal.
Removed from the List this Week:
None
Focus List Stocks Expected to Report Earnings this Week:
None.
Notable Action:
Electronic Arts (EA)
and
Vertex Pharmaceuticals (VRTX)
were added to the list this week by virtue of their respective pocket pivots, both posted on Wednesday. Of the two, EA already looks to be on the verge of failure as Wednesday's pocket pivot breakout immediately failed on Thursday and Friday as selling volume picked up noticeably. This needs to hold the 20-dema to remain viable, otherwise it could morph into a late-stage failed-base short-sale set-up, per Gil's VooDoo Report of last weekend.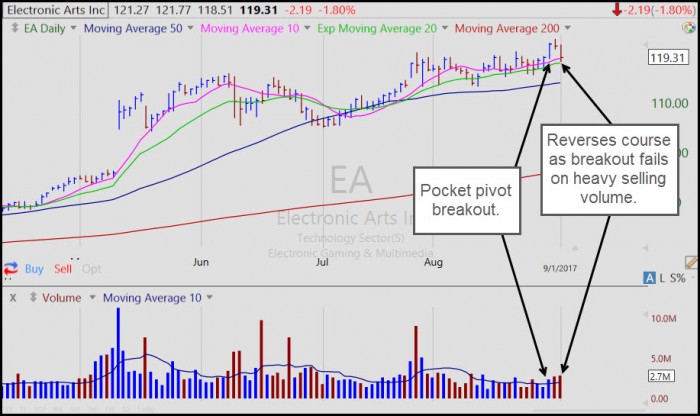 VRTX acts very well here as the bio-techs in general have surged strongly this past week. After posting one subtle pocket pivot on Wednesday, on which we issued a Pocket Pivot Report that afternoon, the stock briefly pulled into the confluence of its 10-dma and 20-dema before posting a second, higher-volume pocket pivot on Thursday. This looks very strong here, and only pullbacks closer to the 10-dma would offer lower-risk entry opportunities from here.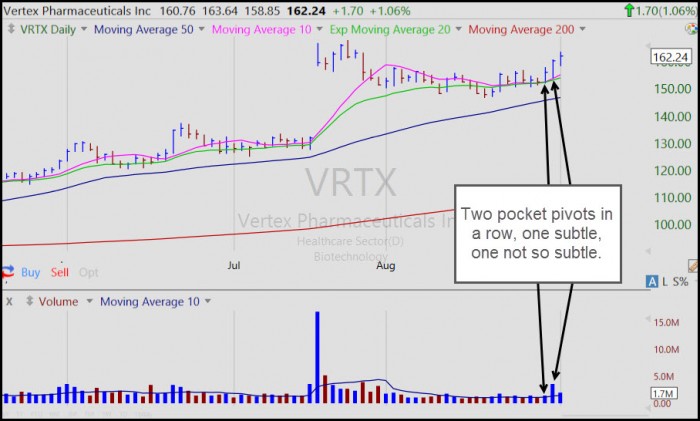 Arista Networks (ANET)
is holding tight along its 10-dma as volume dried up to -48% below average on Friday. This would make the stock buyable here while looking to use the 10-dma as a tight selling guide.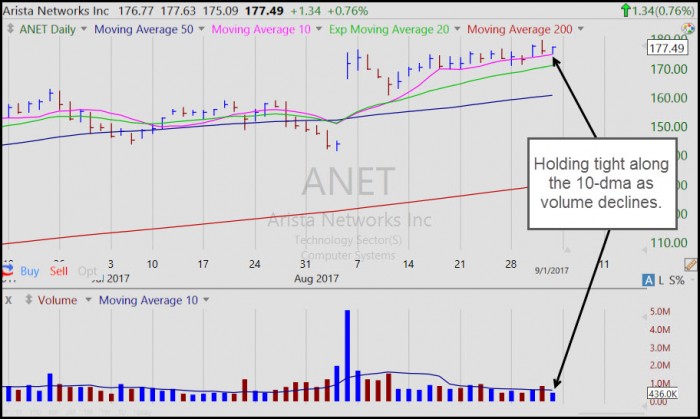 Appian (APPN)
is pulling back down towards its 10-dma, where it may become buyable using the line as a tight selling guide. The stock is a smaller, thinner, recent IPO that must be handled with care, meaning that one should seek to buy this only on constructive pullbacks to logical areas of support where risk can be kept to a minimum.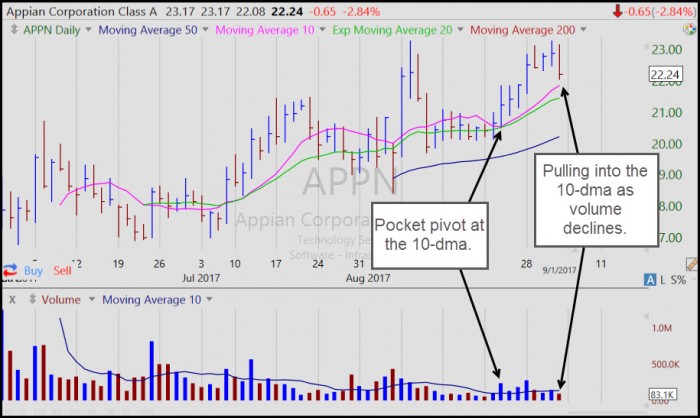 Alibaba (BABA)
is holding tight along its 10-dma, dipping just below the line on Friday as volume dried up to -36% below average. This appears to be setting up a "Wyckoffian Retest" of Tuesday's move down to the 20-dema where the stock found support as selling volume declined. We like the stock on pullbacks as close to the 20-dema as the stock wants to get!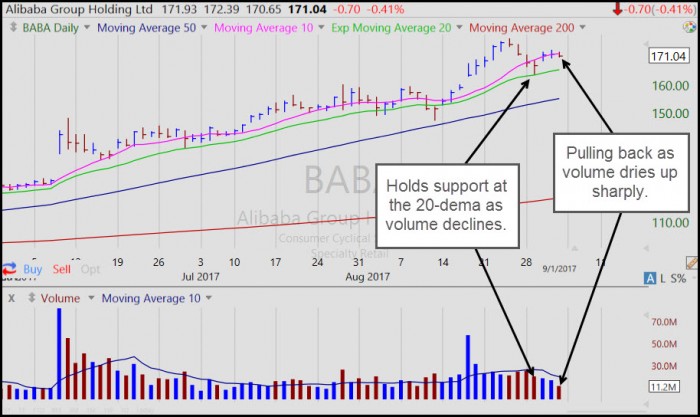 Netflix (NFLX)
came back to life with the general market, regaining its 50-dma on Tuesday on an outside reversal to the upside that mimicked a similar move in the NASDAQ Composite Index. On Wednesday, it followed up that bullish action with a strong-volume pocket pivot off the 10-dma and up through the 20-dema. Watch for low-volume pullbacks closer to the 20-dema that would present lower-risk entry opportunities.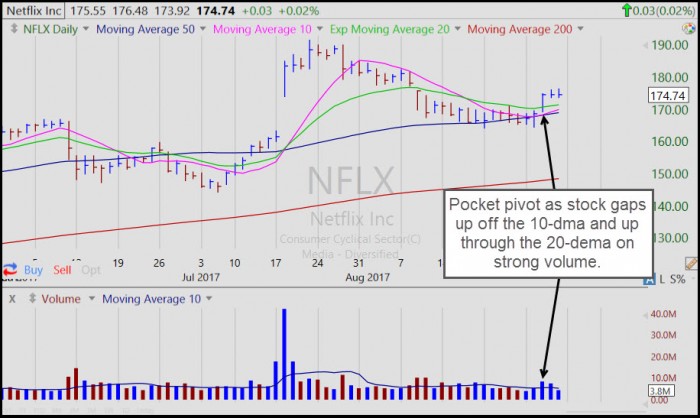 Short-Sale Notes:
Tesla (TSLA)
looks to be setting up as a long here after posting two five-day pocket pivot signatures this past week while it regained the topside of its 50-dma. This is therefore no longer a short-sale target until further notice, and in our view one could even consider buying the stock here while using the 50-dma as a tight selling guide. We also note that short interest in the stock increased by 75% between the August 15th and July 31st short interest reporting periods.