Major market indexes ended the week on a negative note as a higher-than-expected Producer Price Index revived inflation fears. After an initial gap-up open, allegedly on "news" of a phone conversation between U.S. President Biden and Chinese President Xi, the market reversed and extended its morning decline into the close with the NASDAQ Composite, Dow, and S&P 500 Indexes all closing near their intraday lows. The Dow has now violated its 50-day moving average while the S&P breaks below its 20-day exponential moving average and the NASDAQ is testing its own 20-dema. Furthermore, based on the underlying action of individual stocks, the market has taken on a more cautionary tone and we would remain alert to any potential, deeper correction.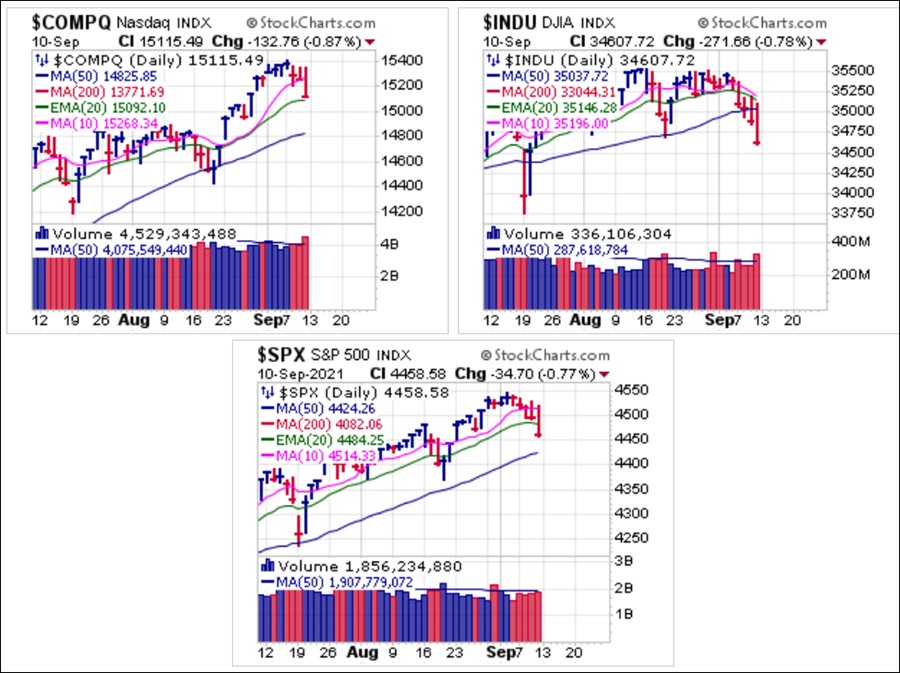 The
Market Direction Model (MDM)
remains on a
BUY
signal.
Earlier this past week and out of the blue, crypto-currencies of all stripes broke down sharply off recent highs in a "flash crash" as sellers swarmed out of the crypto space.
Bitcoin
is now trading back below its 200-day moving average but holding support at the 50-day line as of Saturday. This would be critical support for
$BTCUSD
and correspondingly to the
Grayscale Bitcoin Trust (GBTC)
.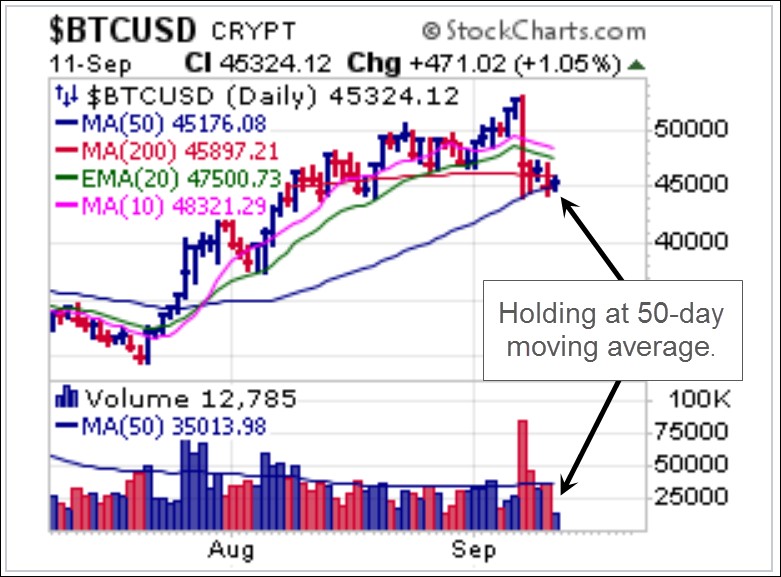 Ethereum
is holding up relatively better in that it was already moving sharply higher after breaking out from a short base in late August and has now dropped back into the prior base and area of price congestion as
$ETHUSD
holds slightly above the 50-day line.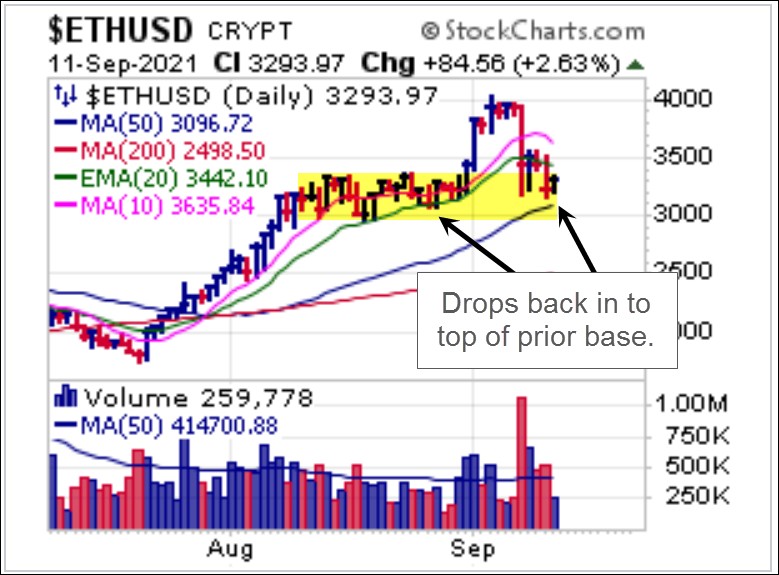 Cardano ($ADAUSD)
, which we have also discussed at length in our live webinars, is doing even better as it quickly regains its 20-day exponential moving average in a moving average undercut & rally (MAU&R) type of move on Saturday. Perhaps this is portending similar moves of
$BTCUSD
and
$ETHUSD
. The situation with crypto-currencies remains highly fluid, but at the time of this writing the entire space was holding up even after Russia announced it would not make $BTCUSD a legal tender currency.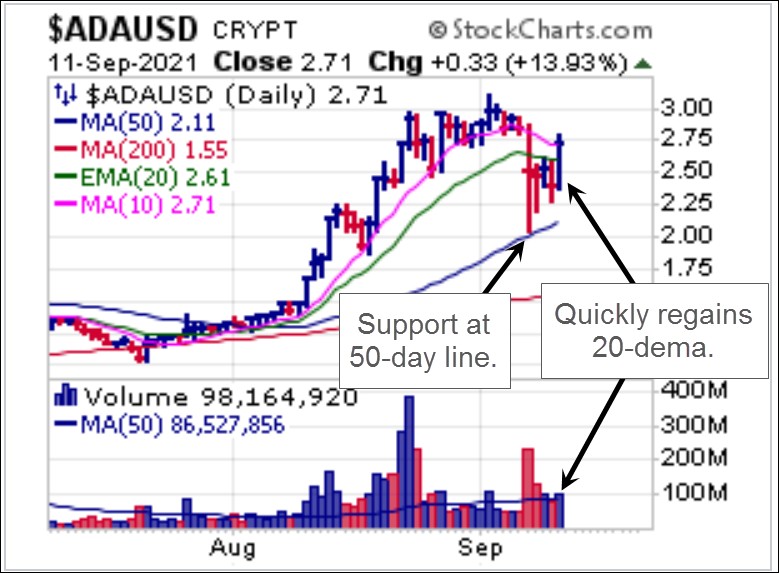 Apple (AAPL)
was hit hard after a judge ruled that the company must stop prohibiting software developers from informing users of alternative payment methods outside their apps. While AAPL hailed the ruling as a victory, investors saw it differently, hammering the stock back below its 20-day exponential moving average on heavy selling volume in a clear breakout failure. The court ruled that Apple can't keep blocking external payment options, so it may soon become much easier to spend cryptocurrency on iPhone and iPad devices. Epic Games had challenged Apple's locked-down ecosystem in August 2020. It had enabled the ability to purchase in-game currency (V-Bucks) directly from Epic which violated Apple's developer terms, thus was removed from the App Store. This is a major blow to Apple and its "walled garden" ecosystem strategy.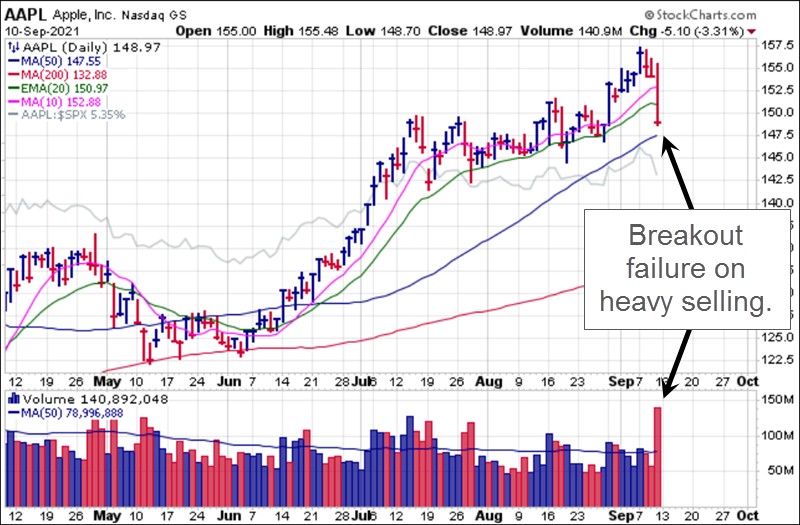 Alphabet (GOOG)
and
Microsoft (MSFT)
sold off in sympathy. Both stocks closed below their 20-demas, which, along with AAPL, sets them up as potential short-sale targets if they cannot quickly regain their 20-day lines.

Currently we see no reason to be entertaining any further deployment into the long side of this market. If long anything, know where your selling guides are as the market action takes on a bearish tone, at least near-term.