Current Focus List

The VoSI Focus List is a compilation and reference list of stocks for which Pocket Pivot or Buyable Gap-Up Reports have been issued and which have been deemed suitable for inclusion on the Focus List. Not all stocks for which a Pocket Pivot or Buyable Gap-Up report has been issued will necessarily be added to the list. It is not intended as a "buy list" or a list of immediately actionable recommendations. Stocks on the list may or may not be in proper buy positions, and investors should exercise discretion and proper judgement in determining when and where stocks on the Focus List can be purchased. The following notes are intended to assist in this process. Please note that members can enlarge the Focus List image by clicking on the body of the email and then holding the Control Key while pressing the "+" key until it is large enough to read.
General Observations:
The market remains in a correction after posting its fastest 10% correction off the peak in market history by Tuesday's close. This is indicative of an increasingly volatile market which we believe is at best a sharp cautionary signal. Most names on the Focus List have sold off recently, some more sharply than others. The NASDAQ Composite Index closed below its 50-dma on Friday as tech stocks continue to weaken. Review your selling guides and be prepared to take action as necessary.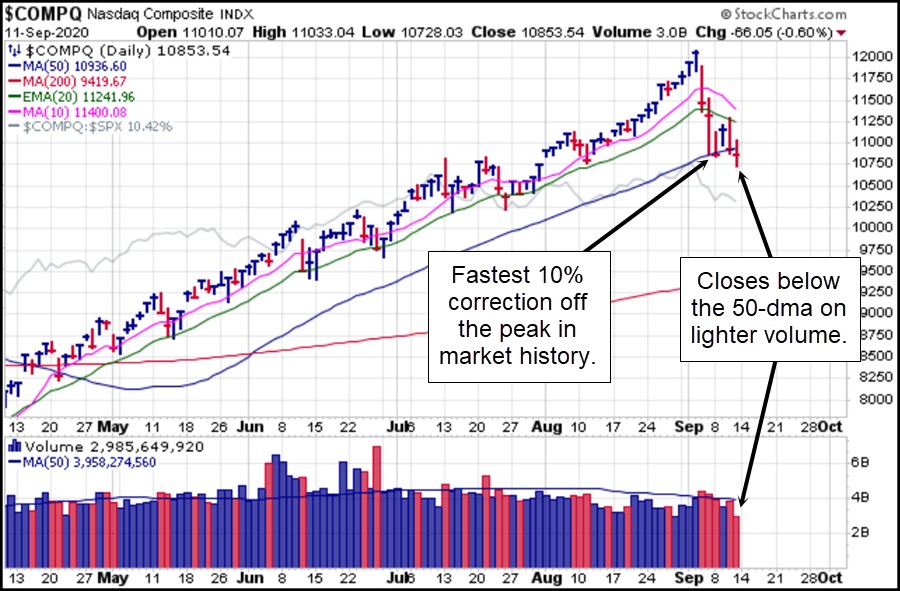 The
Market Direction Model (MDM)
remains on a
BUY
signal.
Removed from the List this Week:
Lululemon Athletica (LULU)
has violated its 50-dma. The stock illustrates how quickly gains can disappear in a leading stock. Note the steady orderly trend that eventually results in two months' of gains virtually disappearing in just six trading days. This is why risk-management and the setting of reasonable selling guides within the context of an extending trend are so important in this market.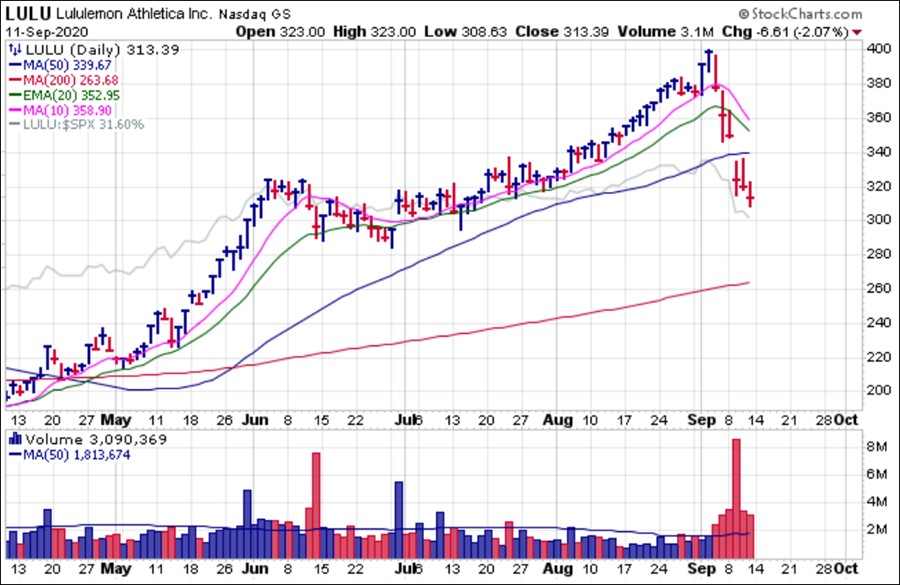 Focus List Stocks Expected to Report Earnings this Week:
Lennar Group (LEN)
on Monday after the close.
Notable Action:
When we speak of selling guides, we can see that for names like
Apple (AAPL)
and
Facebook (FB)
the 50-day moving average serves as a maximum selling guide based on the Seven-Week Rule since these stocks have obeyed the line for seven weeks or more. By contrast,
Livongo Health (LVGO)
had been obeying the 20-dema for more than seven weeks before it finally violated the line last week. Thus one could have used that violation as a sell signal. Like AAPL and FB it is now approaching its 50-dma, which would serve as a maximum selling guide in our view for those who prefer to give LVGO more room. However, note that when it violated its 20-dema it confirmed a possible late-stage base-failure from a cup-with-handle formation.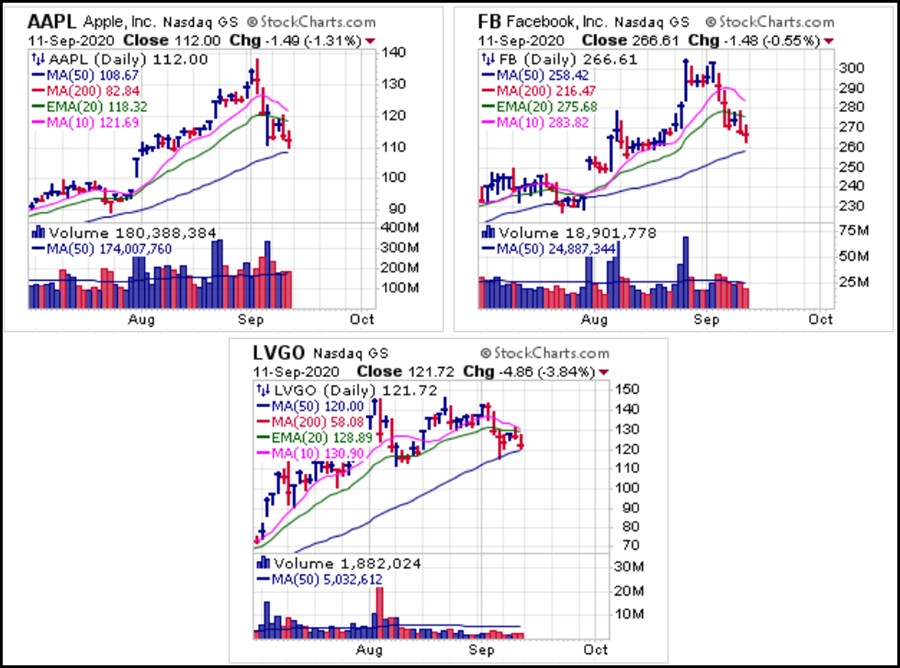 Netflix (NFLX)
has closed below its 50-dma again. The stock is beginning to transpose in a late-stage failed-base (LSFB) situation after failing on a recent, powerful-looking breakout. Proof that things are not always what they seem in this market. The stock is technically in a short-sale entry position using the 50-dma as a selling guide, but also rallies up as far as the 20-dema could also be used as short-sale entry reference points for those inclined to sell short in this market.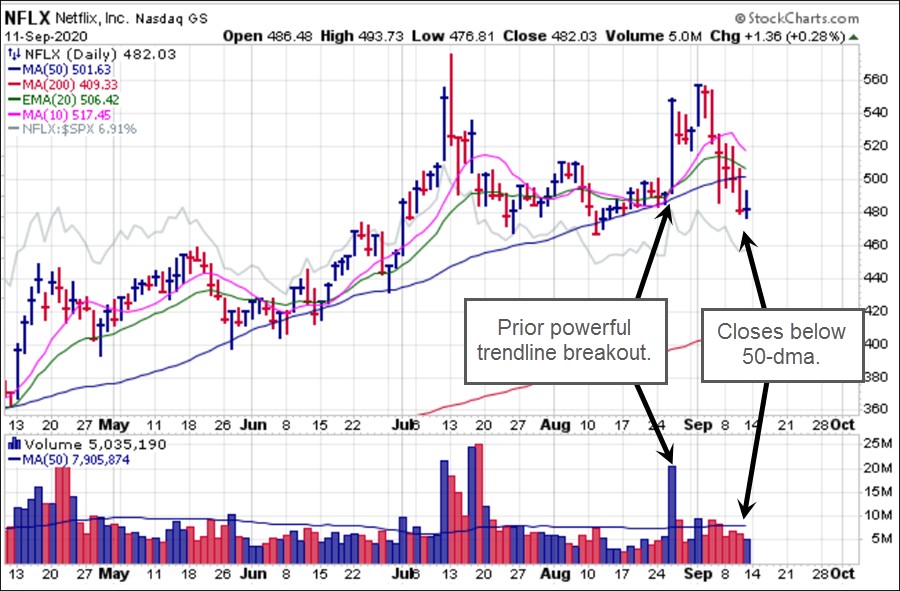 Tesla (TSLA)
has held near-term support at its 50-dma, but the current rally into the 20-dema may offer a short-sale entry based on the idea that its most recent climax top, the third in 2020, may be its final one.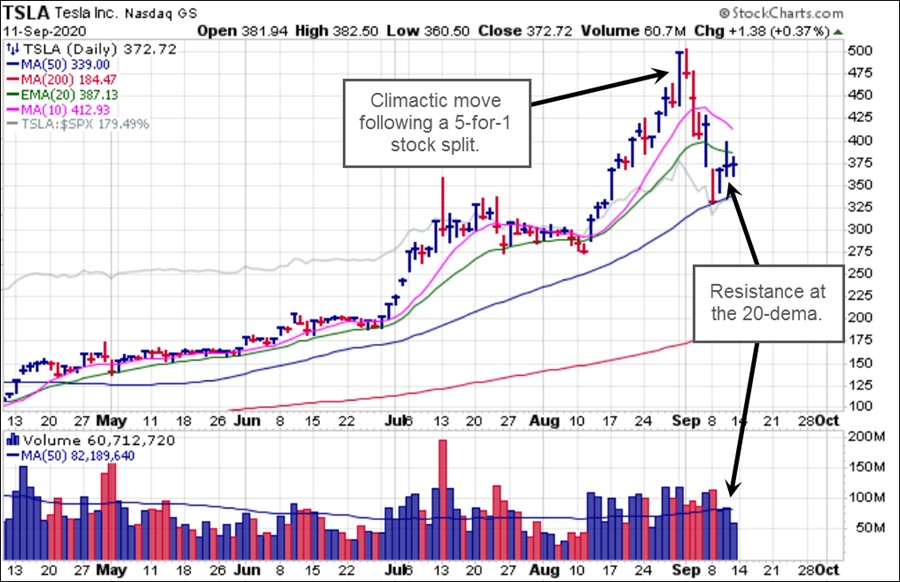 The
Sprott Physical Gold Trust (PHYS)
is working on what is now a five-week based with support along the 10-week line. The 10-week line serves as near-term support and thus a potential selling guide if the metals begin to sell off in conjunction with any continued general market correction.
The
Sprott Physical Silver Trust (PSLV)
holds up much better in its own five-week base as it has yet to test support at the 10-week moving average. For now the metals continue to base-build constructively, and it remains to be seen whether any further general market correction drags them lower or whether they diverge from stocks and continue to hold up well or even move higher.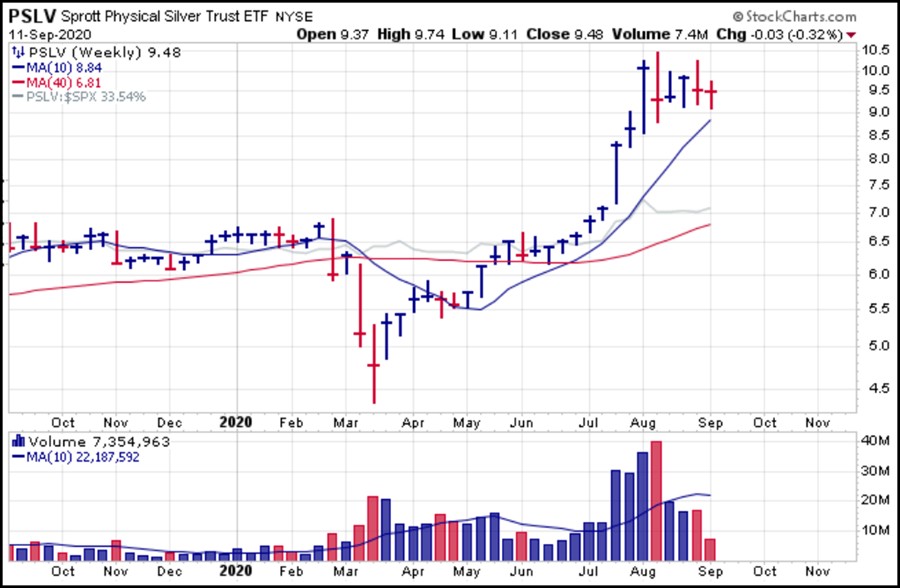 Bottom line: there is no reason to step into this market on the long side given the current technical action. Further downside is a distinct possibility, or a period of extreme volatility that started with the fastest 10% correction off the peak in market history. Caution is advised.