Current Focus List

The VoSI Focus List is a compilation and reference list of stocks for which Pocket Pivot or Buyable Gap-Up Reports have been issued and which have been deemed suitable for inclusion on the Focus List. Not all stocks for which a Pocket Pivot or Buyable Gap-Up report has been issued will necessarily be added to the list. It is not intended as a "buy list" or a list of immediately actionable recommendations. Stocks on the list may or may not be in proper buy positions, and investors should exercise discretion and proper judgement in determining when and where stocks on the Focus List can be purchased. The following notes are intended to assist in this process. Please note that members can enlarge the Focus List image by clicking on the body of the email and then holding the Control Key while pressing the "+" key until it is large enough to read.
General Observations:
The market remains in an uptrend as it leans into the headwind of negative news flow stemming from the current Trade War rhetoric and actions by the U.S. as it seeks to rectify what it views as an unfair playing field with respect to its trade with China, Canada, Europe, and Japan. Whether this develops into something that entirely derails the current market rally is still pending, but thus far the major indexes have been able to bounce back from wave after wave of negative trade-related news. Meanwhile, the
NASDAQ Composite Index
daily chart shows that the index has worked its way higher within a choppy uptrend channel extending back to early summer, despite waves of selling in June, July, and early September.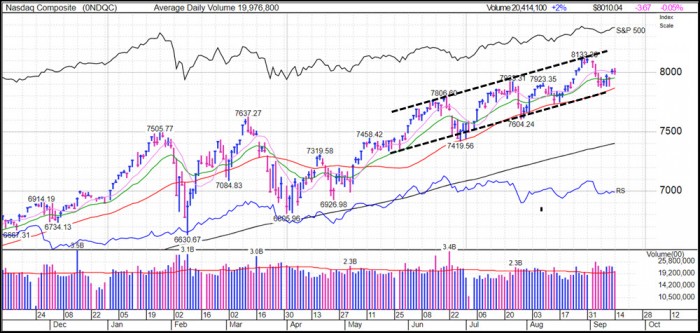 The Focus List is now down to three names, which reflects the lack of fresh, first- or second-stage situations that we believe have the potential for intermediate- to longer-term up trends among big-stock candidates. We believe that new additions to the Focus List should be comprised of names that are in the earlier phases of their price moves, and currently most existing market leaders have been trending higher for a considerable length of time. Meanwhile, we have issued reports on other leading names in our Buyable Gap-up, Pocket Pivot, and VooDoo Reports, although in general we find the same later-stage characteristic is typical of most of these ideas at this stage of the market rally. Thus the current environment strikes us as one where investors are doing more sitting and less thinking as long as their positions continue to trend bullishly.
The
Market Direction Model (MDM)
remains on a buy signal.
Removed from the List this Week:
Baozun (BZUN)
Focus List Stocks Expected to Report Earnings this Week:
None.
Notable Action:
Amazon.com (AMZN)
has pulled into its 20-dema on declining volume, which brings it into a lower-risk buy/add position using the 20-dema as a selling guide for shares purchases at current price levels.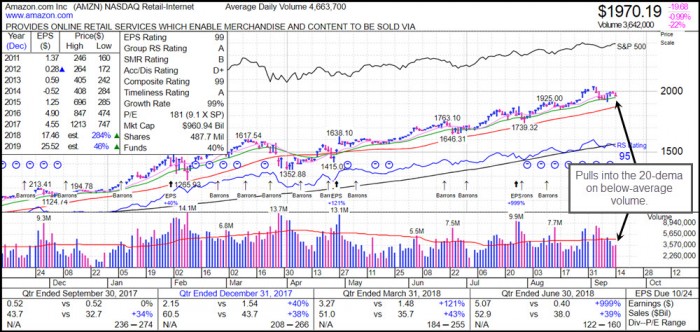 Fortinet (FTNT)
posted another series of all-time highs throughout the past week as it continues to slowly and steadily trend higher.
Square (SQ)
has again met up with its 10-dma as volume declines. This could be considered an add point for the stock, although we would like to see the stock post a continuation pocket pivot off the 10-dma. Note that SQ was last buyable along the 10-dma in mid-August, some 20-points lower. SQ demonstrates that despite having only three names on our Focus List, some of these names can have sharp price moves. We would not be surprised to see the stock test the $100 Century Mark if it can build upon the momentum it showed in late August.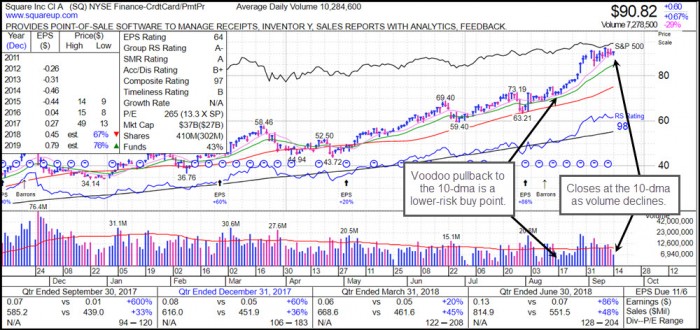 Among stocks recently reported as Pocket Pivots,
Regenxbio (RGNX)
has followed through on its pocket pivot of over two weeks ago by posting a trendline breakout this past Friday on very strong volume. For standard-issue base-breakout buyers, this is right on the border of being 5% past the breakout point at 77.50 and thus extended. Watch for pullbacks below the $80 price level as potential lower-risk entries.