An upside surprise in the Consumer Price Index on Tuesday upended the four-day rally heading into the number. Core CPI grew at a surprising 0.6% vs. expectations of 0.3%. Year-over-year inflation also came in hotter than expected at 8.3%. This sent the indexes crashing through their 50-day moving averages and lower lows since the market peak at the 200-day moving average in mid-August. The weekly chart of the NASDAQ Composite reveals an outside reversal on the weekly bars as volume expanded. The index appears to be set for a third down leg in an ongoing 2022 bear market.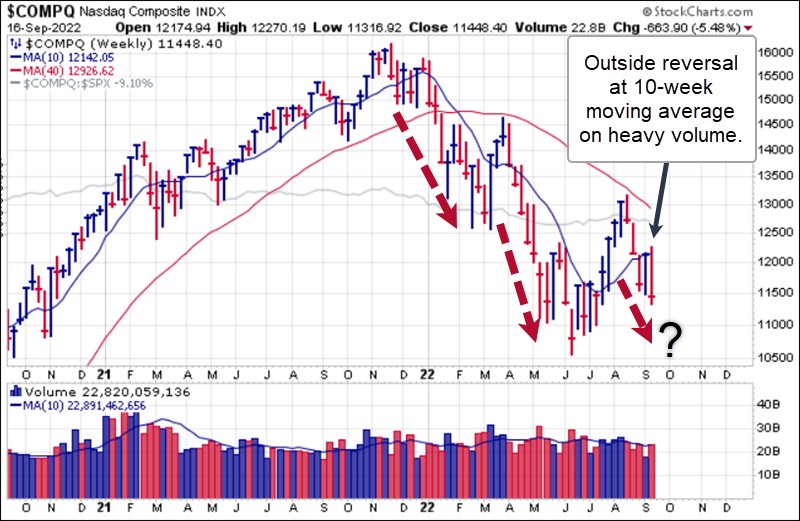 Celsius Holdings (CELH)
continues to play out as a late-stage failed-base (LSFB) and Punchbowl of Death (POD) short-sale set-up although so far has been able to hold support at its 50-day moving average. Price resistance at the prior failed breakout point was seen on Thursday as the stock reversed back below its 20-dema and closed there on Friday. This keeps it in a shortable position using the 20-dema as a covering guide in case it attempts to test price resistance at the prior breakout point again.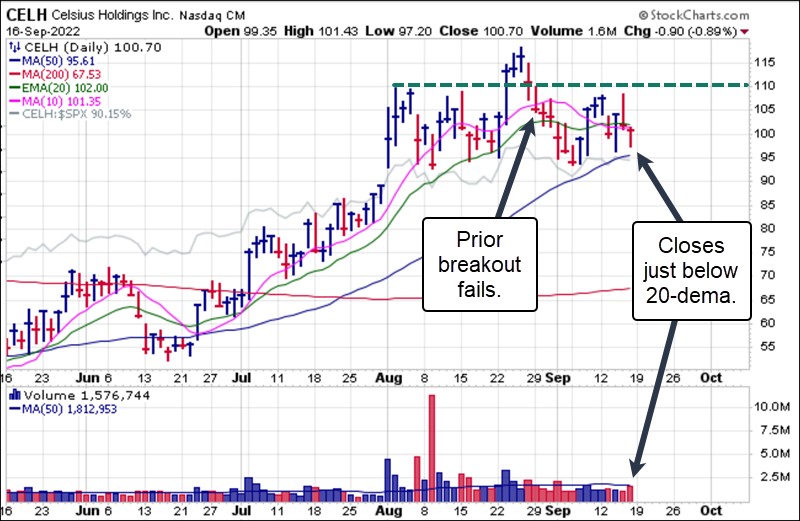 Lithium producer
Albemarle (ALB)
has been on a wild ride as positive news flow on the electric vehicle front has kept the stock buoyant, even to the point of generating all-time highs on Wednesday. That move failed immediately on Thursday as the stock triggered yet another short-sale entry at the $300 Century Mark based on Jesse Livermore's Century Mark Rule for the short side.
ALB
only cleared the $300 level two Fridays ago and has been volatile around the Century Mark all of this past week in a wild, broadening megaphone formation. It found support at the 20-day exponential moving average on Friday and bounced to close just above the higher 10-day moving average. The Century Mark short-sale entry at the $300 level remains in force as we now watch for any clean break below the 20-dema as a potential late-stage failed-base (LSFB) short-sale entry trigger.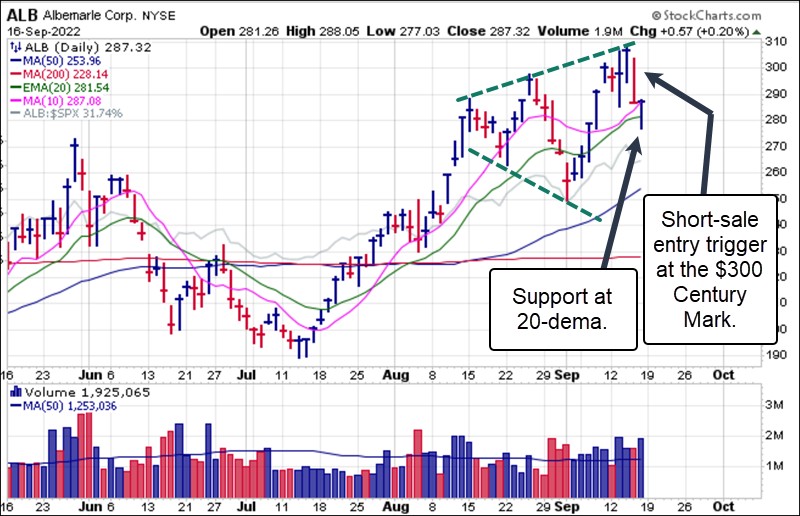 Silver has embarked on an interesting divergence from gold and the white metal holds support along its 50-day moving average even as the yellow metal plumbs lower lows. The
iShares Silver Trust (SLV)
posted a pocket pivot at its 50-day moving average after shaking out at the line on Friday. This may be considered actionable using the 50-dma as a selling guide.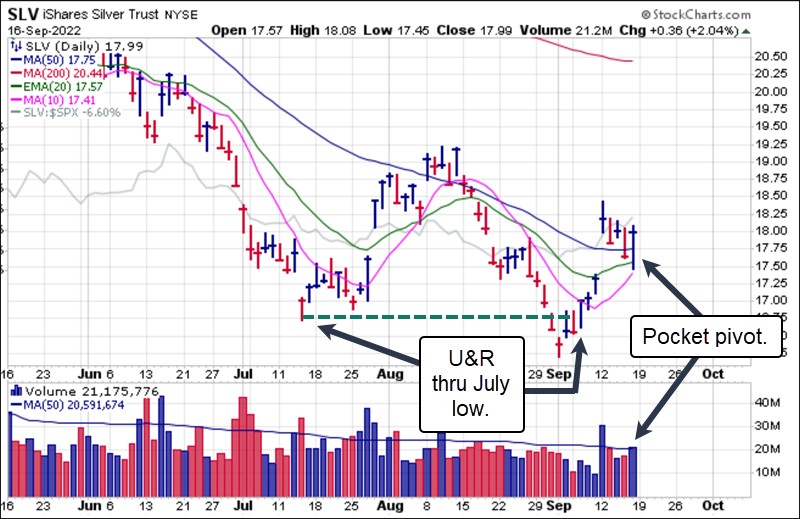 A pocket pivot signal in the
SLV
can be used as a long entry signal for our preferred silver ETF/ETN vehicle, the
Sprott Physical Silver Trust (PSLV)
, which missed a ten-day pocket pivot on Friday by a single day but still posted a moving average undercut & rally (MAU&R) long entry (as did the
SLV
) which is actionable using the 50-dma as a selling guide. Generally, if stocks continue to sell off precious metals will sell off as well as forced selling overcomes the market and anything that isn't nailed down gets sold as a fungible source of cash to shore up liquidity. Silver's divergence is curious in this regard since gold is adhering to this general pattern of selling off with stocks as it makes lower lows. There have been rumblings of massive depletion of physical silver from London Bullion Market Association (LBMA) vaults which brings up the possibility that physical silver is in short supply and that this is what is driving the current action in silver.
The Fed policy announcement is due out on Wednesday and CME futures are predicting an 82% chance of a 75 basis point interest rate increase and an 18% probability of a full percentage point increase. Whether any of this has the ability to prevent the market's current course of lower lows will not be known until Wednesday, but for now the market remains in a clear downtrend with the potential for lower lows and a new bear market down leg rising by the day. We will be updating members as to any additional potential favourable set ups via our other ongoing reports and upcoming webinar.
The
Market Direction Model (MDM)
remains on a
SELL
signal.