The S&P 500 Index again sold off to its 50-day moving average just before or around monthly options expiration as been the case throughout the Summer of 2021. Each time this has occurred the index has bounced in a V-shaped move back to all-time highs. The latest test of the 50-day line this week differs somewhat in that instead posting a V-shaped bounce it is lingering along the 50-day moving average and forming what might be considered to be a short four-day bear flag. That flag resulted in a small breakout to the downside on Friday and a close below the 50-day moving average on very heavy quarter-end triple-witching options expiration.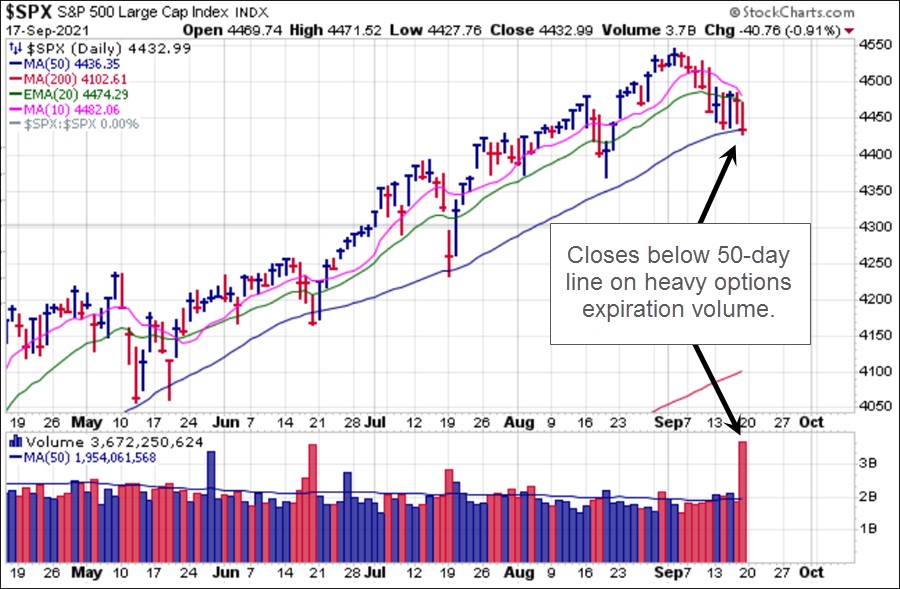 The
NASDAQ Composite
and
NASDAQ 100 Indexes
both closed below their 20-day exponential moving averages on heavy options expiration volume. The
NASDAQ 100
or
$NDX
took the brunt of the selling on Friday with a decline of -1.18%. The
Market Direction Model (MDM)
switched to a
CASH
signal. The real estate Evergrande collapse in China could be $XXX trillion in fiscal/monetary stimulus for bailouts galore as China is levered to the hilt and Evergrande could be the first real-estate related major domino to fall. It could be China's Lehman 2.0. It would have a profound effect on China's economy. The fall of Lehman sparked the financial collapse of 2008. Of course, China will just print their way out of this mess to avoid catastrophe which is good for stocks, real estate, and bitcoin. Alternatively, China may not bail out Evergrande as it may seek to gain more authoritarian control over this market. This could create further downside in markets around the world.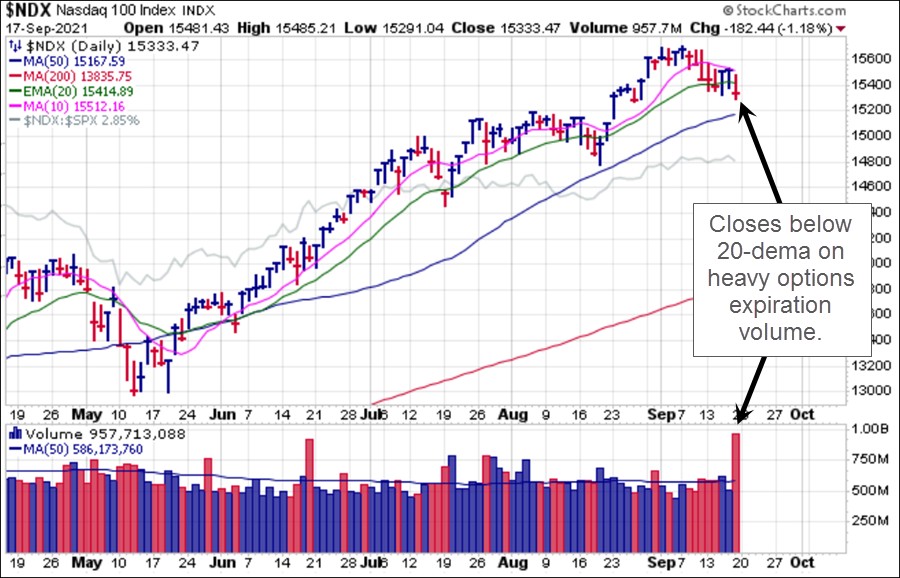 Big-stock NASDAQ leaders, such as the S&P Five or the NASDAQ Five, as we refer to them given their outsized 22.8% weighting in the S&P 500 Index and their 41.5% weighting in the NASDAQ 100, were all hit on Friday, with
Apple (AAPL)
moving further below its 50-day moving average. Breaks below the 20-day exponential moving average (green line) were also seen in
Facebook (FB)
and
Alphabet (GOOG)
while
Microsoft (MSFT)
has dropped below its 10-day moving average but is still clinging to support at its 20-day exponential moving average.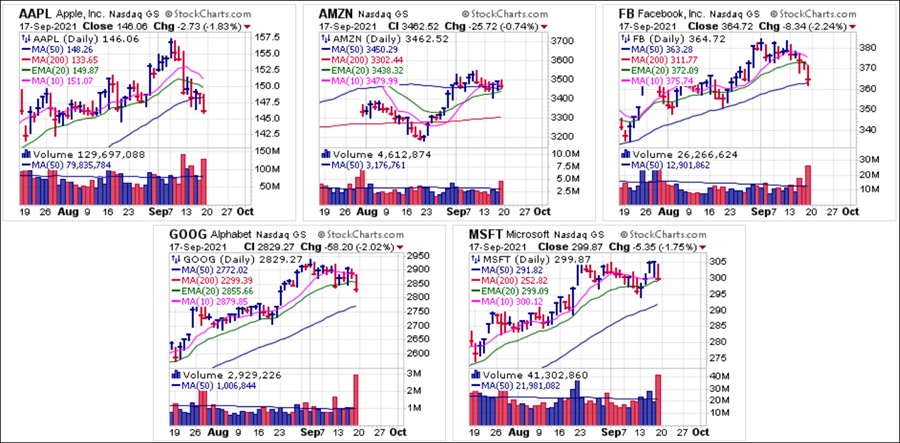 Materials and Industrials were all slammed on Friday which speaks to the possibility that what the market fears is not inflation but
deflation
amid a possible collapse in economic demand as stimulus checks, mortgage forbearance, and rent moratoriums disappear. The sharp break in technology was also a bearish development on Friday as the XLK now looks to test its 50-day moving average.
In our view, the current market and underlying stock action confirms our view that outside of what is going on with the indexes, this remains a challenging environment at best. We are also open to the possibility that the major market indexes may now start to deteriorate even further, which has resulted in a change in the Market Direction Model signal. For now, we await the action this coming week as the situation regarding S&P 500 tests of the 50-day moving average that are concurrent with options expiration days clarifies. For now, we see no reason to commit fresh capital to the long side of this market pending fresh evidence to the contrary. Keeping the Focus List clean of names has been a decent strategy so far as capital protection is rule number one when it comes to investing.