Current Focus List

The VoSI Focus List is a compilation and reference list of stocks for which Pocket Pivot or Buyable Gap-Up Reports have been issued and which have been deemed suitable for inclusion on the Focus List. Not all stocks for which a Pocket Pivot or Buyable Gap-Up report has been issued will necessarily be added to the list. It is not intended as a "buy list" or a list of immediately actionable recommendations. Stocks on the list may or may not be in proper buy positions, and investors should exercise discretion and proper judgement in determining when and where stocks on the Focus List can be purchased. The following notes are intended to assist in this process. Please note that members can enlarge the Focus List image by clicking on the body of the email and then holding the Control Key while pressing the "+" key until it is large enough to read.
General Observations:
The market remains in a correction as the
NASDAQ Composite Index
posted a lower closing low on Friday on very heavy quadruple-witching options expiration volume. The relatively well-contained rally off the march lows has now changed character as the indexes correct. Many leading stocks continue to break down, and in many cases intermediate-term, trend-following investors have likely been stopped out at this point.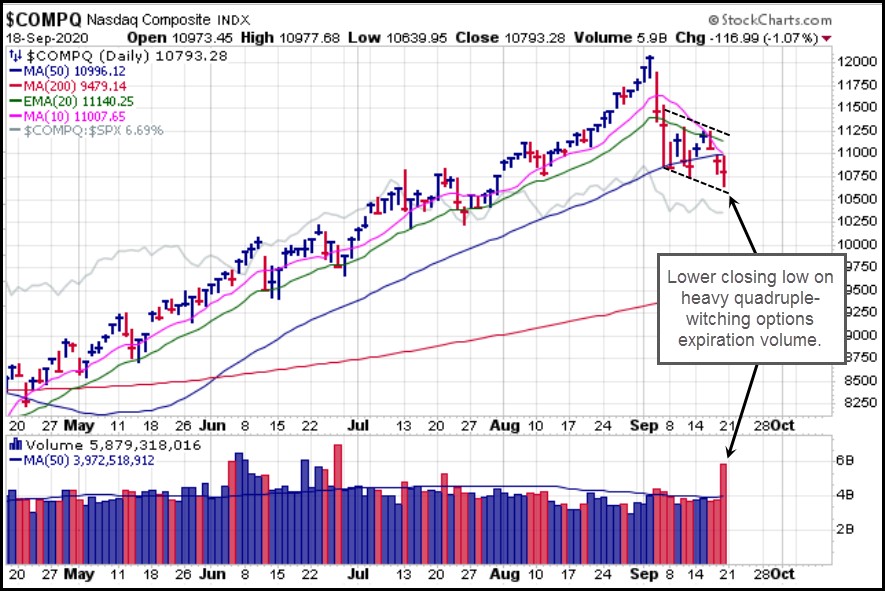 The
Market Direction Model (MDM)
remains on a
BUY
signal.
Notable Action:
Big-stock NASDAQ names have come apart, with five of the six big-stock NASDAQ names currently on the Focus List now breaking below their 50-dmas.
Amazon.com (AMZN)
,
Alphabet (GOOG)
, and
Netflix (NFLX)
have all violated their 50-day moving averages, and
Apple (AAPL)
may not be far behind. Unless these stocks can recover in the next week, they will be removed from the Focus List.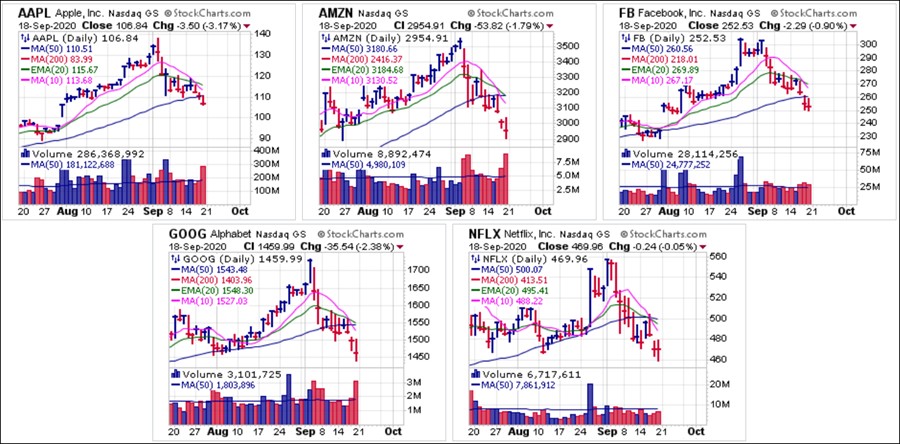 The one outlier is
Nvidia (NVDA)
which has now dropped below its 20-dema. The 20-dema is now acting as resistance, making the stock shortable at the line over the past two days. It has also violated its 20-dema, which it has obeyed for the past four months plus. This is another cautionary sign as other major market leaders begin to shows signs of deterioration.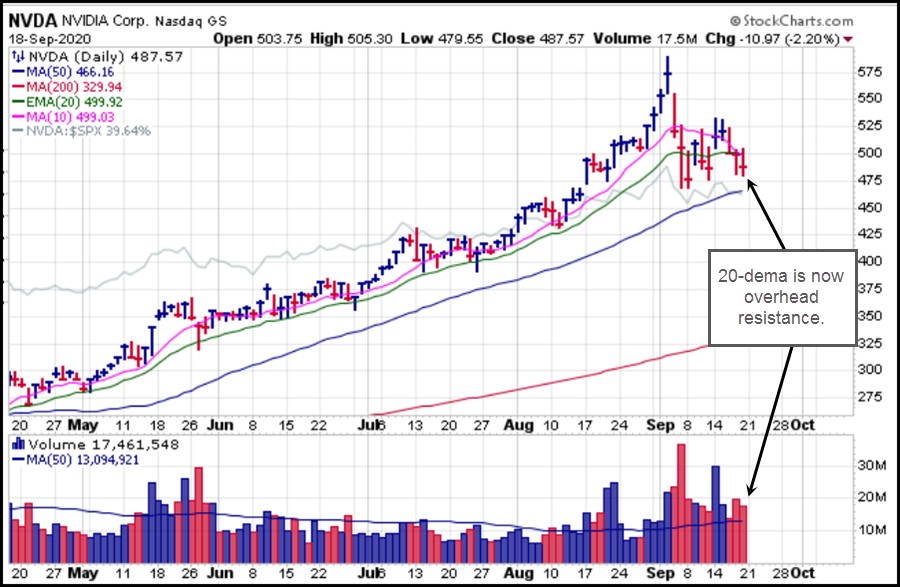 Livongo Health (LVGO)
is showing near-term strength on a pocket pivot volume signature Friday. The move began from a position that was extended from the 10-dma, so was not a valid pocket pivot.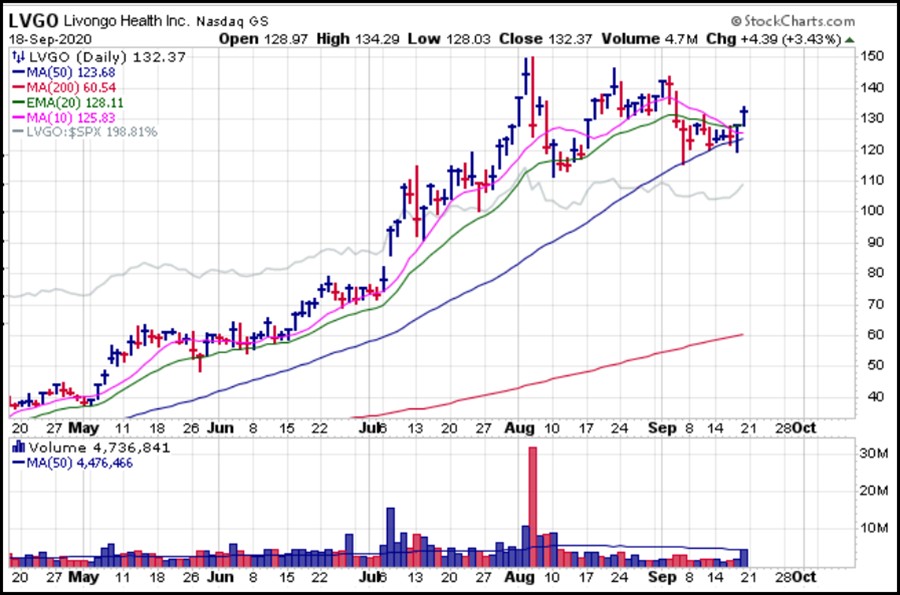 On Tuesday we issued a Pocket Pivot Report on
Digital Turbine (APPS)
as it pushed off the 10-dma on what was also a trendline breakout. The stock is now well extended on the upside but shows that there are still some timely opportunities on the long side for those alert to them. Given the state of the general market, however, it may be prudent to treat this as a swing-trade. although members are free to handle things as they see fit. The fundamentals of this company are strong. Right time, right place.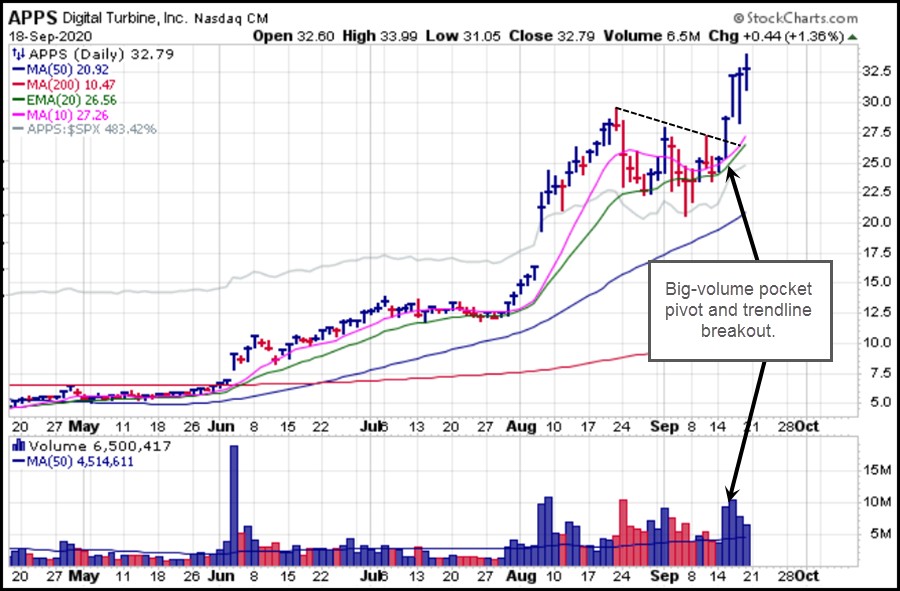 Precious metals continue to base, but a protracted sell-off in stocks could easily drag down the metals along with precious metals-related stocks
Kirkland Lakes Gold (KL)
and
Pan-American Silver (PAAS)
. Thus we would only be interested in stepping in on the long side of these at deeper support within their patterns. For the Sprott Physical Gold Trust (PHYS) this would be at the 50-day moving average.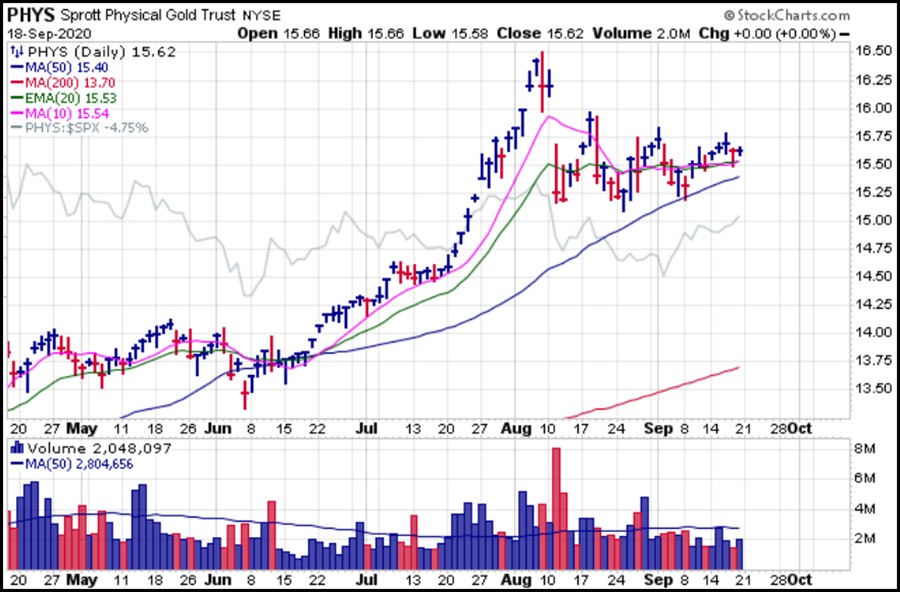 The
Sprott Physical Silver Trust (PSLV)
is holding support at its 20-dema, but if looking for a long entry opportunity we would tend to favor waiting for a pullback to the 50-dma, which could occur within a continued general market correction.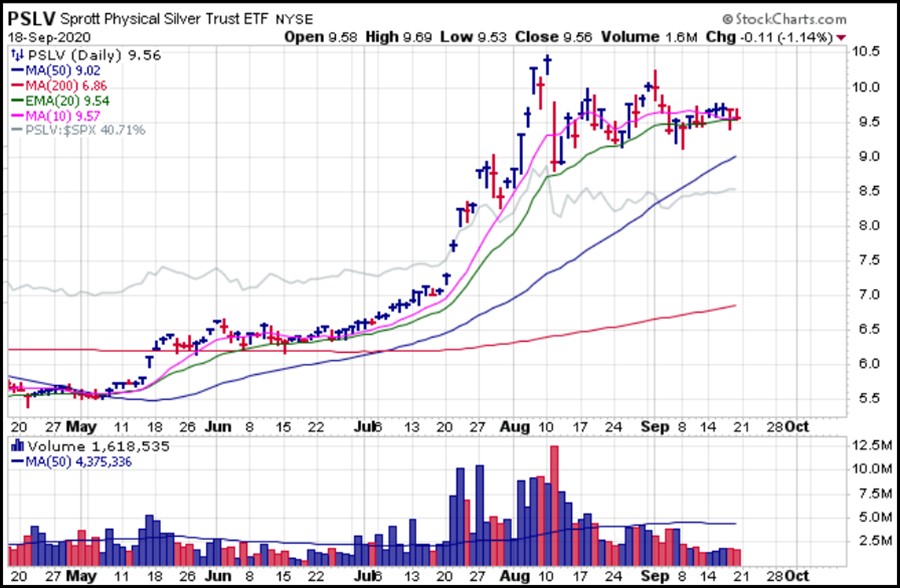 The market environment remains dangerous. At this time we see no reason to re-deploy cash from stocks that have been sold as a result of violating their respective selling guides. We believe it is more prudent to allow this process to push one further into cash, assuming one isn't already mostly in cash at this point.