Major market indexes remain in a bear market following the S&P 500 Index's reversal at the 200-day moving average over two weeks ago. The NASDAQ Composite Index is meanwhile down six days straight since Fed Chairman Jerome Powell spoke at the Jackson Hole Economic Symposium two Fridays ago. An early morning rally attempt on Friday after the latest Bureau of Labor Statistics jobs report failed as the S&P ran into solid resistance at the 50-day moving average and reversed. Volume was light as buyers failed to show up in force. Weekly jobless claims reports this Thursday followed by the CPI this following Tuesday, both at 830 am EST. Jobless claims have been accelerating which should push unemployment substantially higher in the months ahead.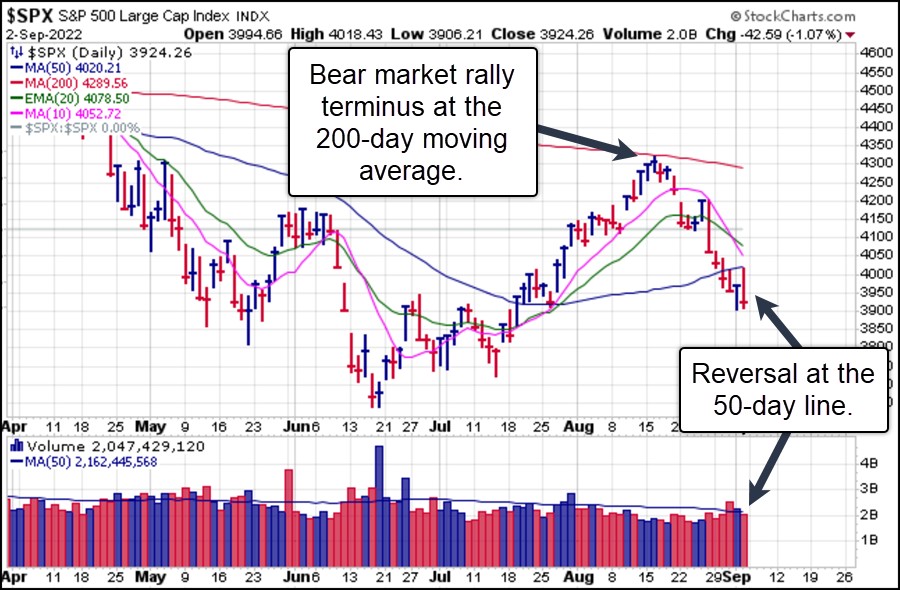 Celsius Holdings (CELH)
confirmed as a Punchbowl of Death or POD short-sale set-up on Thursday when it finally broke below its 20-day exponential moving average. It had already triggered a double-top short-sale (DTSS) entry when it gapped below the 110.22 left-side peak of its current 63% deep punchbowl formation. We discussed this as something to watch for in last weekend's Focus List Review report. A rally back up into the 20-dema early on Friday presented short-sellers with an optimal entry at the line. This would remain the case for now on any further rallies back up towards or near the 20-day line.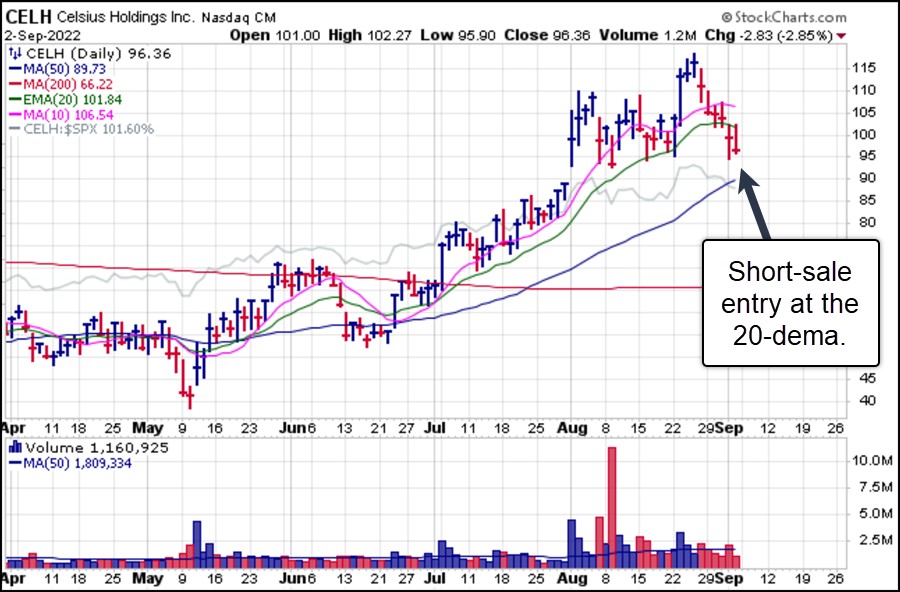 Lithium stocks have been on a tear over the past two months on news of shortages and higher prices to come.
Albemarle (ALB)
is a leading producer of lithium that
has recently failed on a double-top breakout attempt. As with any double-top short-sale set-up, the left-side peak of the formation can be used as a short-sale entry reference point. On Wednesday,
ALB
broke below its 20-day exponential moving average and thus confirmed as a potential late-stage failed (LSFB) set-up where rallies into the 20-dema would offer potential short-sale entries. That was the case on Friday as
ALB
approached the 20-dema before reversing to close near the intraday lows. Generally, an LSFB set-up will have several rallies back up into the 20-dema, sometimes as far as the 10-day moving average, all of which can work as potential short-sale entries.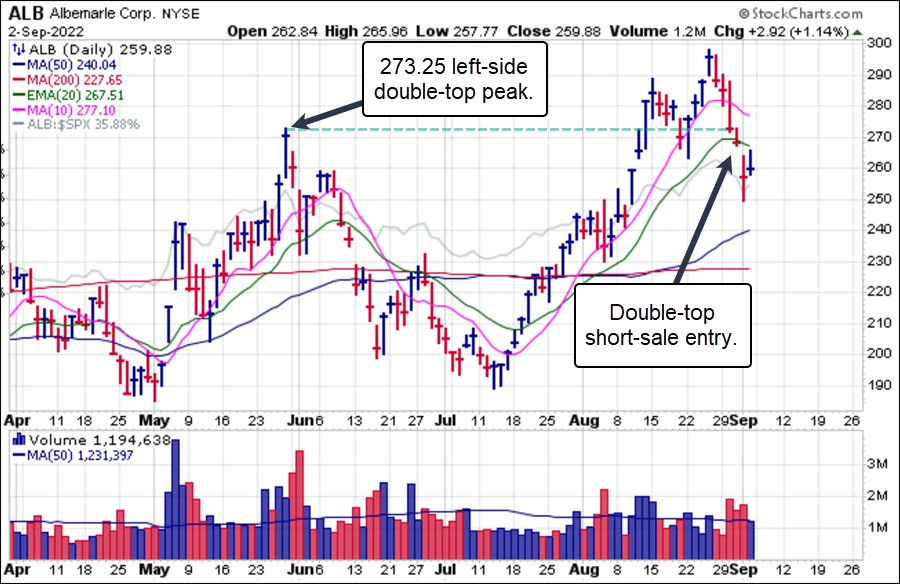 In our view, set-ups like ALB where you see a double-top breakout from a deep cup formation start to falter and break below the left-side price peak of the cup can almost always be utilized as DTSS entries at the left-side peak. The left-side peak, in this case 273.25 for ALB and 110.22 for CELH, is then used as a covering guide, adding 1-3% to account for any porosity around the left-side peak depending on one's risk preferences. The weekly charts of ALB and CELH are shown below.

Below are six examples of potential double-top situations consisting of breakouts from deep formations that have failing and one double-top where no breakout has occurred in fertilizer/ag-tech name
Corteva (CTVA)
. Among these, we note that
First Solar (FSLR)
is a punchbowl breakout that could trigger a double-top entry by moving back below the 123.13 left-side peak of the punchbowl.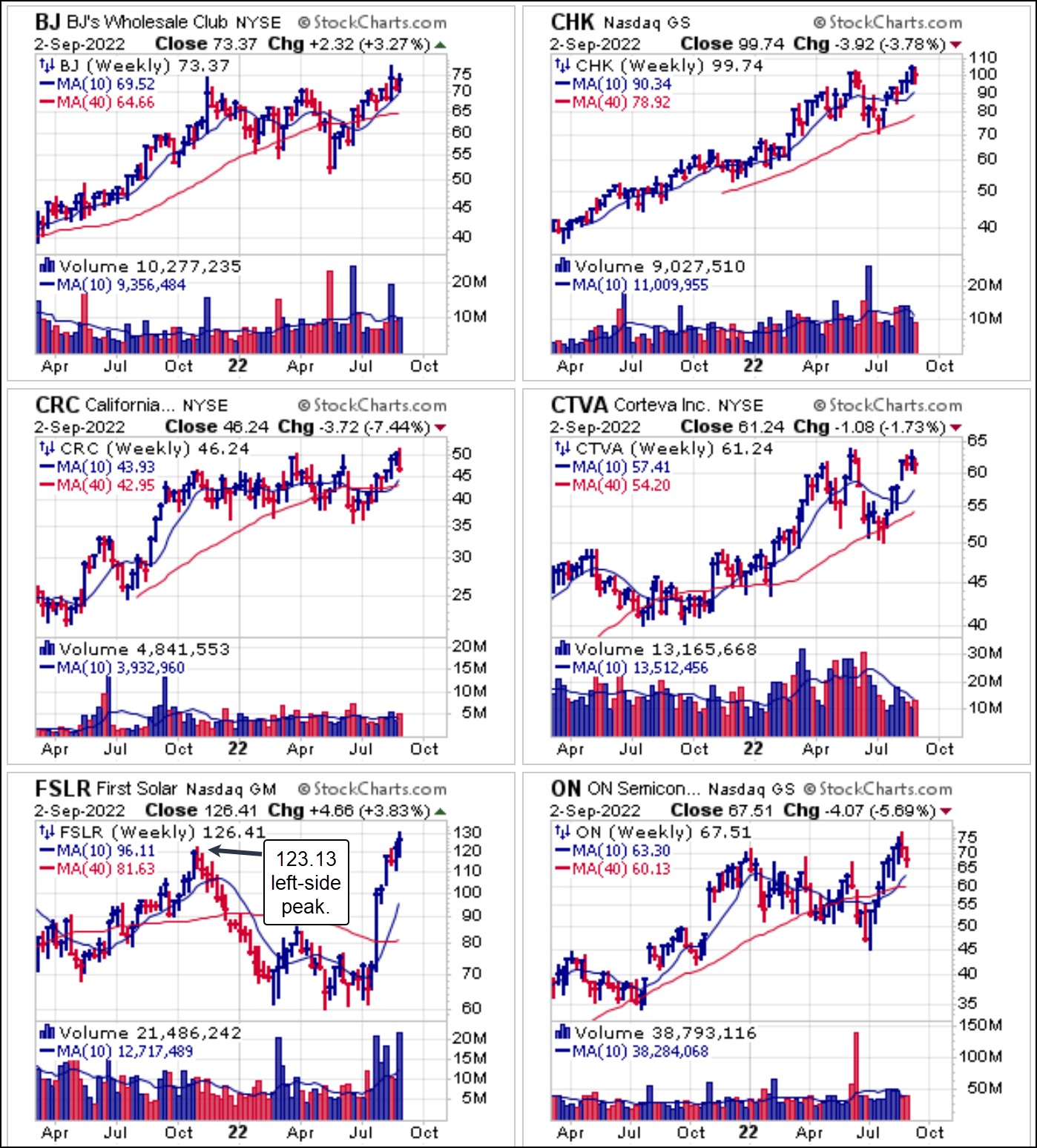 While some of the charts shown above might likely be considered as normal bases during a bull market phase, such patterns become worth monitoring for potentially shortable base-failures in a bear market phase. These would occur on reversals back through left-side peaks or, in cases where no breakout has occurred, from price resistance at those same left-side peaks, and would tend to work as short-sale set-ups within the context of a new bear market leg to the downside. Refer to the examples of CELH and ALB for the specific dynamics of the set-ups as they related to reversals/resistance at left-side peaks as DTSS and confirming breaches of the 20-dema where an LSFB, including a POD which is an LSFB corollary, will generally begin to evolve.
While the short side could come into sharp focus in any Fall 2022 bear market down leg, we continue to believe that with respect to the long side of this market, cash is king.
The
Market Direction Model (MDM)
remains on a
SELL
signal.