Current Focus List

The VoSI Focus List is a compilation and reference list of stocks for which Pocket Pivot or Buyable Gap-Up Reports have been issued and which have been deemed suitable for inclusion on the Focus List. Not all stocks for which a Pocket Pivot or Buyable Gap-Up report has been issued will necessarily be added to the list. It is not intended as a "buy list" or a list of immediately actionable recommendations. Stocks on the list may or may not be in proper buy positions, and investors should exercise discretion and proper judgement in determining when and where stocks on the Focus List can be purchased. The following notes are intended to assist in this process. Please note that members can enlarge the Focus List image by clicking on the body of the email and then holding the Control Key while pressing the "+" key until it is large enough to read.
General Observations:
The
Dow Jones Industrials Index
posted two all-time highs in a row as it exceeded January's prior peak. Friday's action saw the index trade around in a narrow range, essentially churning between its opening and closing levels on extremely high quadruple-witching options expiration volume. The index is now extended on a four-day run and may be susceptible to a pullback.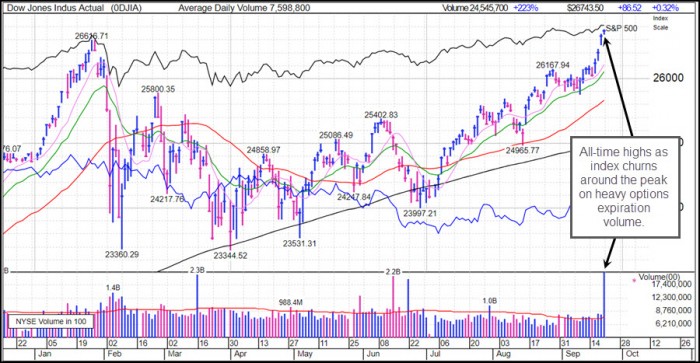 The
NASDAQ Composite
and
S&P 500 Indexes
diverged on Friday by closing down on heavy options volume. The S&P 500 had posted an all-time high the day before. The NASDAQ led on the downside, posting a -0.51% decline on heavy volume, which technically qualifies as another distribution day. On Friday night, news came out that the Chinese had cancelled the upcoming trade talks. Reports of these talks were what had righted the market as it began to sell off two Tuesday's ago, and we will have a chance to see how the market handles this latest news. After imposing $200 billion in additional tariffs this past week, President Trump threatened that any retaliation by China would result in an additional $257 billion in tariffs on Chinese goods. China did in fact retaliate with its own tariffs on $60 billion of U.S. goods, but so far the additional, threatened U.S. tariffs have not been forthcoming. We may see these get put into place after this latest news, which could escalate the U.S.-China trade dispute into an all-out trade war.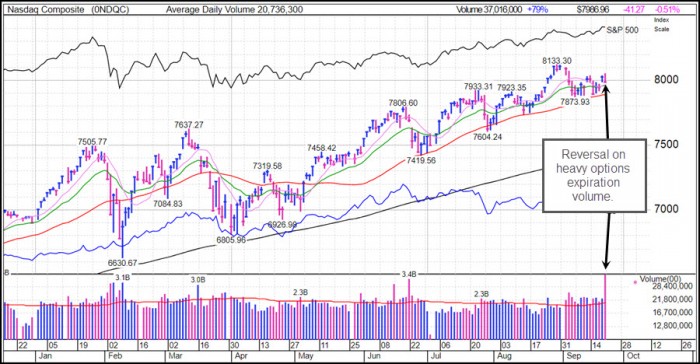 The
Market Direction Model (MDM)
remains on a buy signal.
Removed from the List this Week:
None.
Focus List Stocks Expected to Report Earnings this Week:
None.
Notable Action:
The remaining three Focus List names all came under some selling pressure over the past few days. This is notable action insofar as it is occurring as the Dow and S&P make all-time highs, leading to much media hoopla.
Amazon.com (AMZN)
is retesting its 50-dma once again after dropping below the 20-dema on heavy selling volume. While Friday's volume can perhaps be attributed to quadruple-witching options expiration, the level of selling is not as great as was seen in three prior spikes in selling volume seen so far in September. The 50-dma has served as consistent support for the stock since it gapped up after earnings in late April, so should be used as a selling guide for the stock.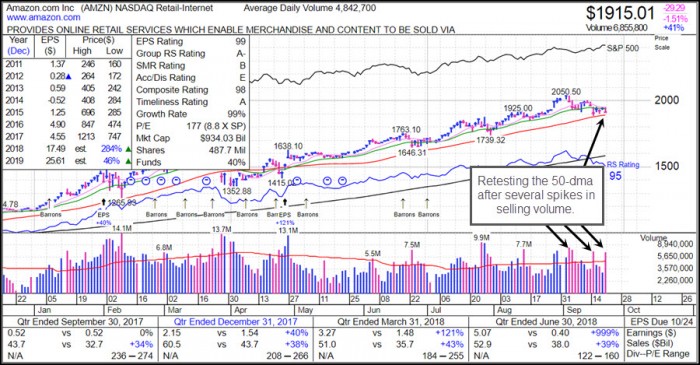 Fortinet (FTNT)
has come under three straight days of heavy selling volume, with some support around the 20-dema on Thursday. Higher volume traded on Friday as the stock reversed off its highs after briefly rallying to the upside. The stock has been in a steady, consistent uptrend since gapping up after earnings in early August. One can use the 20-dema as a tight trailing stop or selling guide, while the 50-dma would serve as the maximum downside selling guide in any protracted decline.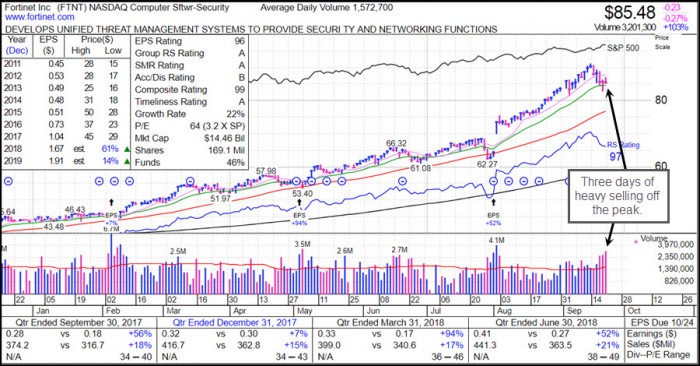 Square (SQ)
closed just below its 20-dema for the first time since late July. The 50-dma serves as the maximum selling guide for the stock based on the Seven-Week Rule, as is also the case for AMZN and FTNT. Note that SQ has seen several selling volume spikes so far in September, not unlike AMZN.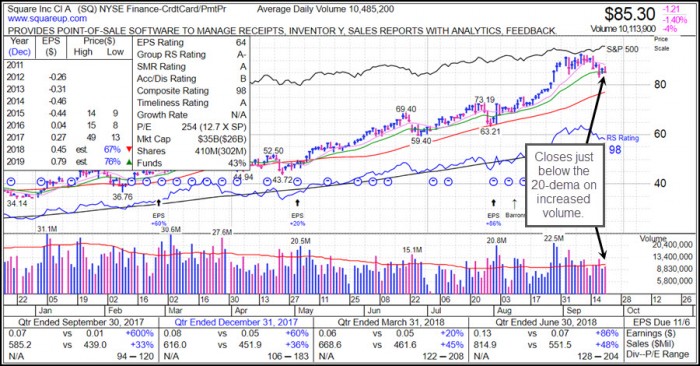 We would also note that various Buyable Gap-Up and Pocket Pivot Reports sent out over the past 2-3 weeks are not showing any upside follow-through, and in some cases are breaking down, some worse than others. Examples would be ADBE, CRSP, and FIVE. Those that are holding up, such as LULU, ADSK, etc. are showing little to minor upside progress, although in some cases it may still be early. However, the evidence does attest somewhat to the sluggishness of this market beneath the surface as the Dow and S&P 500 post all-time highs. Therefore, it is imperative that investors know where their selling guides are, and seek to keep to risk to a minimum in any new positions that are taken.