Major market indexes all gapped down on Monday morning on news of a default by major Chinese property developer and real estate company, Evergrande. The gap-down move came after the indexes had already been trending lower for several days thus represented a near term exhaustion gap. The indexes have since been able to rally back to the upside over the past three to four days with the NASDAQ composite and the S&P 500 regaining their 50-day moving averages as all the major market indexes shown below, the Dow, S&P 500, NASDAQ and Russell 2000 bounce in sharp, V-shaped moves off Monday's exhaustion gap-down lows.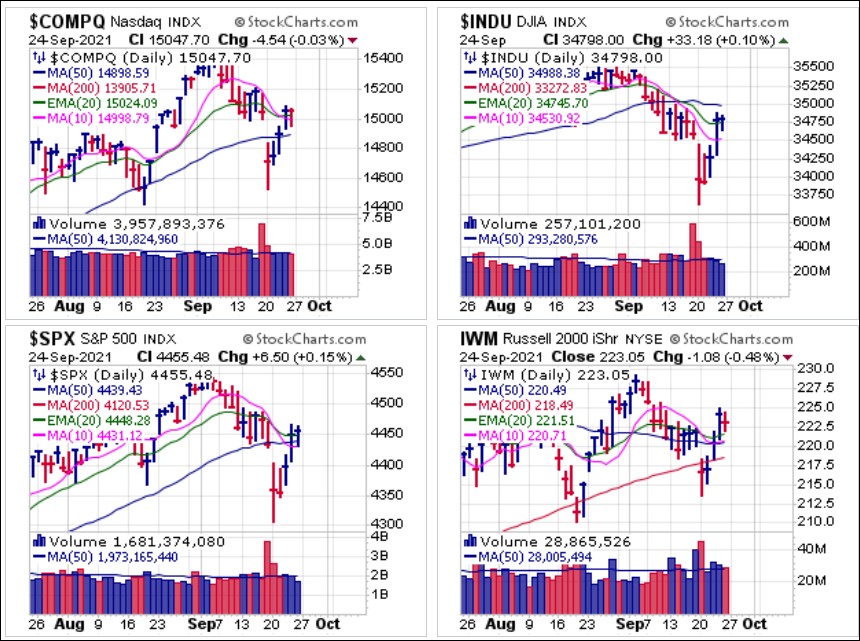 As we have noted in recent Focus List Reports the market, outside of the major market indexes themselves, has very little going for it in the way of what we feel make for strong, intermediate- to longer-term long side ideas. This remains the primary reason why our Focus List is essentially the "null set" although there are tactical swing-trades to be found based on OWL set-ups like U&Rs and MAU&Rs. The Focus List is, however, intended to highlight stocks we believe have strong intermediate- to longer-term upside potential, and at the current time we find nothing that meets our criteria.
The
Market Direction Model (MDM)
switched to a
CASH
signal on Monday, September 20th, and then back to a
BUY
signal on Wednesday, September 22nd where it remains for now.
Big-Stock NASDAQ names that comprise 22.8% of the S&P 500's overall weighting, why we like to refer to them as the "S&P Five," have all broken down with the market. As they engage in oversold reflex rallies following Monday's gap down panic break, they drag the indexes back up with them. Whether this results in a return to prior all-time highs remains to be seen but we can see in the group chart below that Apple (AAPL) and Facebook (FB) have both posted U&Rs through two prior lows in their patterns and have continued to rally. Meanwhile, Alphabet (GOOG) and Microsoft (MSFT) posted shakeouts at their 50-day moving averages on Monday, constituting moving average undercut & rally (MAU&R) moves, so the action does have a strong Ugly Duckling/OWL technical basis following Monday's near-term exhaustion gap.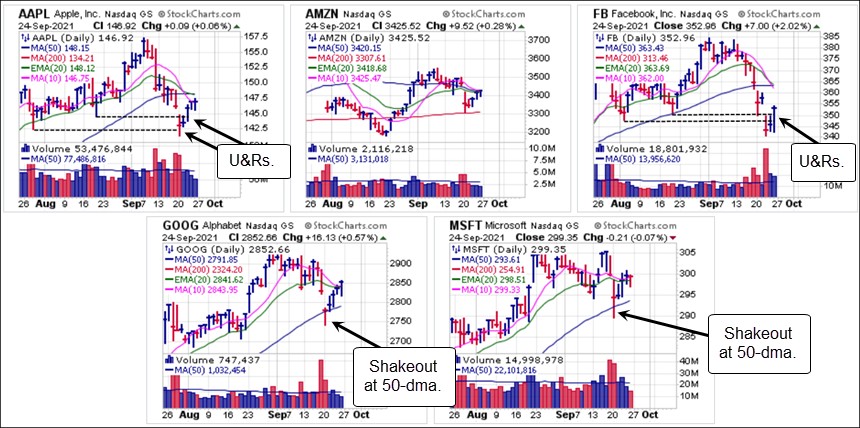 Interest rates continue to move higher with the
10-Year Treasury Yield ($TNX)
breaking out of a six-week consolidation on Thursday before pressing higher to end the week at 1.47% at the time of this writing. With higher inflation, and an economy still fueled by massive stimulus we see no reason why interest rates cannot continue higher, which could at some point put a lid on stocks.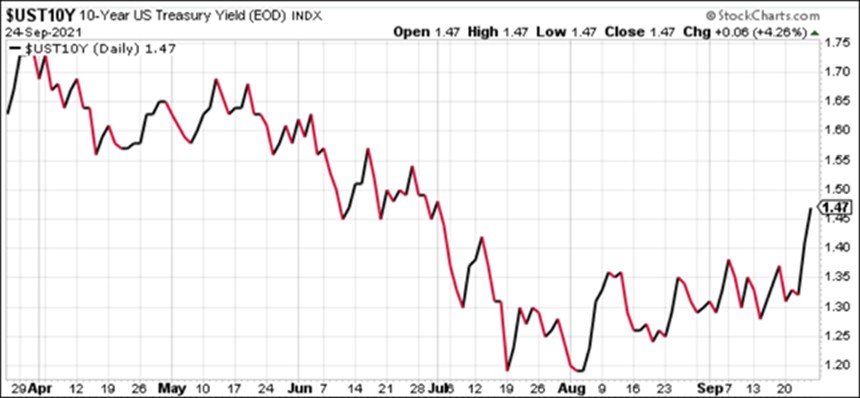 While much can be made of China's recent declaration that all crypto-currency based transactions are now illegal, the fact is that after a beautiful run off the lows in late July through early September Bitcoin ($BTCUSD) was getting a bit frothy as it marched back to its prior highs. As we discussed in our live webinar two weeks ago, near-term topping and correction signs were there on a technical basis, and the pattern has now evolved into a full-blown head and shoulders top with two short-sale entries occurring at the 200-dma over the past six trading days. Note, however, that $BTCUSD is now sitting below the neckline of the current H&S formation, and if this current pullback merely plays out as a much-needed correction then we would watch possible undercut & rally (U&R) moves through the lows that constitute that neckline as possible re-entry signals.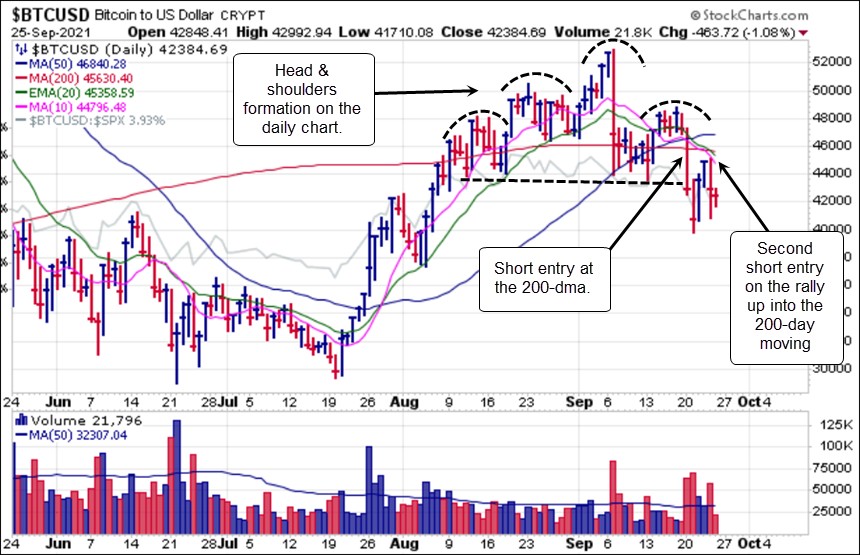 Since crypto-currencies tend to correlate closely, we are not surprised to see a similar H&S formation in Ethereum ($ETHUSD). Note that the neckline of this H&S served as resistance and $ETHUSD is looking to test its 200-dma. We would watch for support at the line to hold up here as this pullback and correction following a blistering move off the lows in late July to early September runs its course.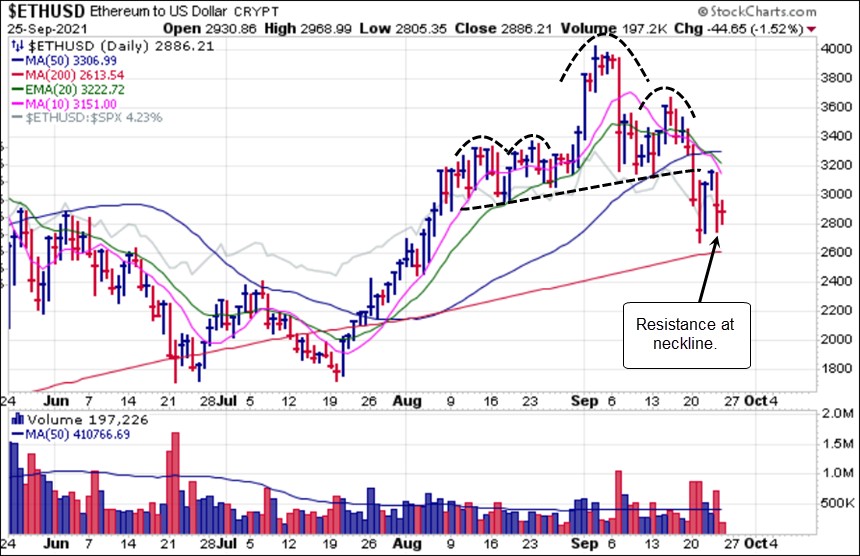 This remains a challenging environment for trend-following investors and this may remain the case for at least the near-term. While the Fed pays much lip service to the idea of tapering, Fed Chair Powell still took the time during his press conference on Wednesday to assure the markets that "tapering is not tightening." The bond market didn't move much on Wednesday but finally took this to heart on Thursday when the $TNX broke out. Our view is that the Fed can't afford to taper, much less raise interest rates, despite the fact that there will be much talk about doing so. Meanwhile, the bond market's reaction at the end of the week brings up the possibility that the Fed will fall behind the curve when it comes to addressing inflation and the market senses this. Expect more volatility as we move through the final quarter of the year and make sure that if you are long anything you understand clearly where your selling guides are.