Current Focus List

The VoSI Focus List is a compilation and reference list of stocks for which Pocket Pivot or Buyable Gap-Up Reports have been issued and which have been deemed suitable for inclusion on the Focus List. Not all stocks for which a Pocket Pivot or Buyable Gap-Up report has been issued will necessarily be added to the list. It is not intended as a "buy list" or a list of immediately actionable recommendations. Stocks on the list may or may not be in proper buy positions, and investors should exercise discretion and proper judgement in determining when and where stocks on the Focus List can be purchased. The following notes are intended to assist in this process. Please note that members can enlarge the Focus List image by clicking on the body of the email and then holding the Control Key while pressing the "+" key until it is large enough to read.
General Observations:
Major market indexes remain within descending bear flags as they bounce around on a daily basis. For now the trend is down pending further evidence to the contrary. We believe the market may be looking for a stimulus bill deal from Congress as the Fed has insisted that they have done enough with monetary policy for now, and fiscal policy must now take the lead. Regardless, more stimulus bills mean more debt on top of the $3 trillion the U.S. government has added to its deficit so far in 2020, and the Fed certainly stands ready to monetize this by printing more money as necessary.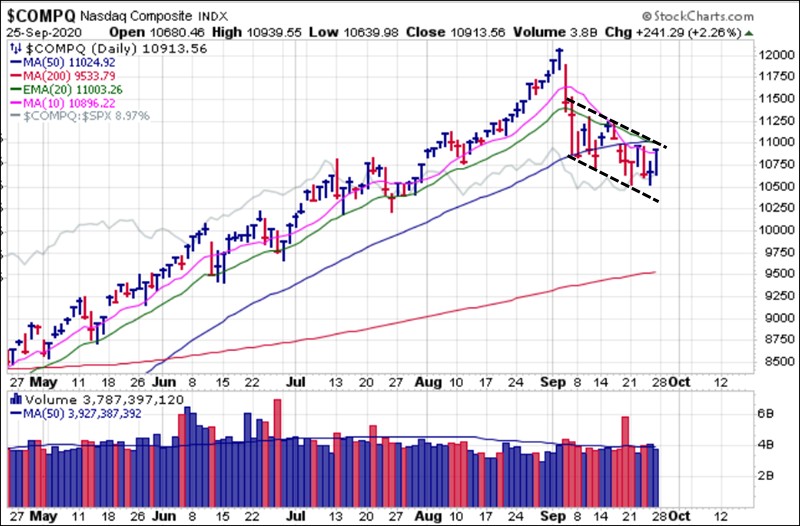 The Market Direction Model (MDM) remains on a BUY signal.
Removed from the List this Week: Amazon.com (AMZN), Alphabet (GOOG), Facebook (FB), Kirkland Lakes Gold (KL), Netflix (NFLX) and Pan-American Silver (PAAS) have all violated their 50-dmas.
Focus List Stocks Expected to Report Earnings this Week: None.
Notable Action:
Apple (AAPL) has so far avoided a technical violation of its 50-dma. It is currently attempting to move up through at least two prior lows in the pattern, closing just above its 50-dma on Friday. This can be treated as a U&R long entry, using the prior 110 low of September 11th as a selling guide.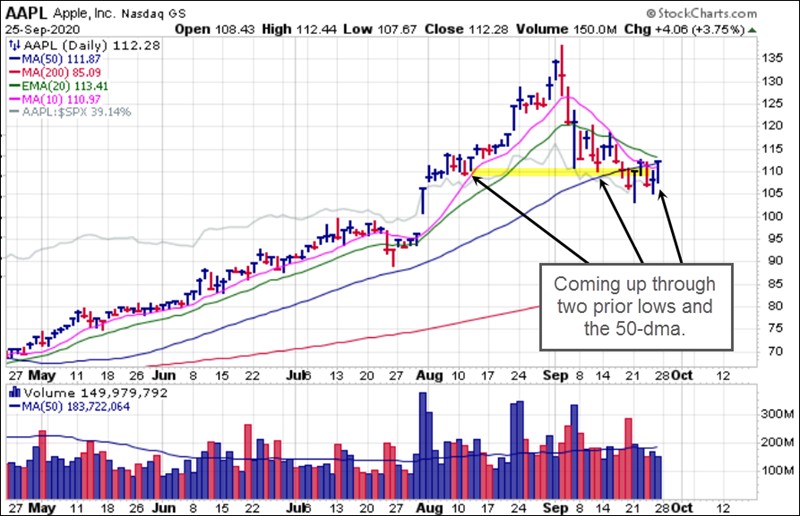 Tesla (TSLA) remains in a volatile state. It busted the 20-dema on Wednesday on a high-volume gap-down move but found support at the 50-dma on Thursday to post a supporting pocket pivot that day. It has now rallied into the 20-dema on light volume as it tests potential overhead resistance.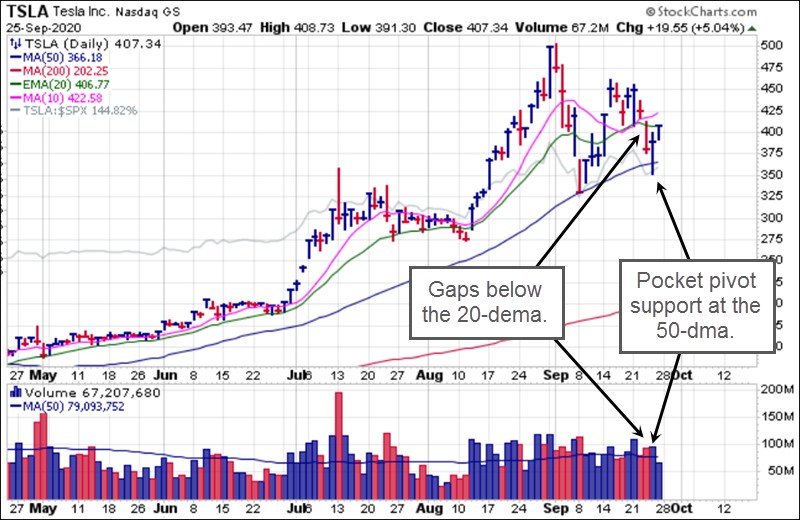 Livongo Health (LVGO) posted another pocket pivot, this time at its 10-dma and 20-dema. It had previously posted a pocket pivot at the 50-dma the prior week as we noted in last weekend's Focus List Review. It is now extended as it moves up to the highs of its current base, and overall continues to base constructively.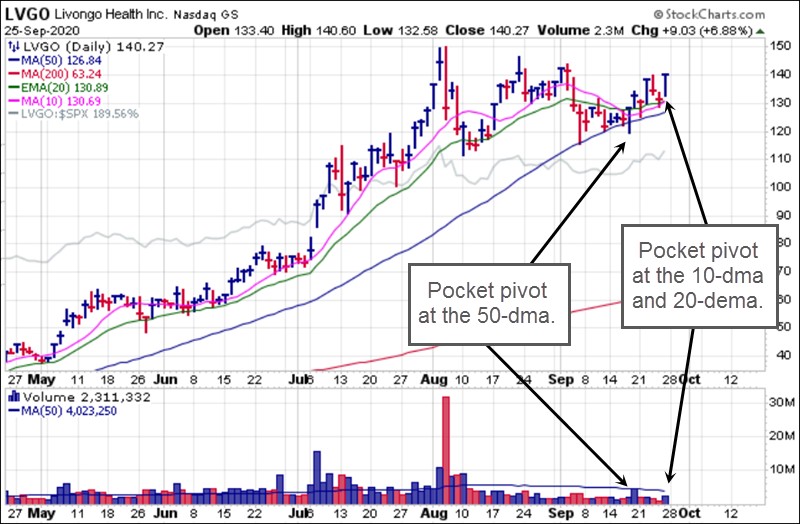 To get a better perspective on the action in gold and silver it is useful to look at the daily charts of their respective continuous futures contracts. Both metals are currently sitting just below prior lows set in early August. That pullback came after a sharp, near-term climactic run in the metals from mid-July into early August. We would monitor the action in these two charts as they could signal early undercut & rally (U&R long set-ups if the metals can move up through those prior lows at 1874.20 for gold and 23.58 for silver. One could then take a corresponding position in the Sprott Physical Gold Trust (PHYS) or the Sprott Physical Silver Trust (PSLV) based on any U&R setups that might appear on these futures charts. One can then manage risk by using the prior futures lows at 1874.20 and 23.58 as corresponding selling guides in PHYS/PSLV or any other precious metals ETFs one chooses to use.

The Grayscale Bitcoin Trust (GBTC) has been under pressure since mid-August. It peaked in early August with the precious metals and may finally be finding support along its 200-day moving average. It bounced off the line on Thursday and then posted a U&R long entry signal through the prior 10.80 low which can be used as a reasonably tight selling guide.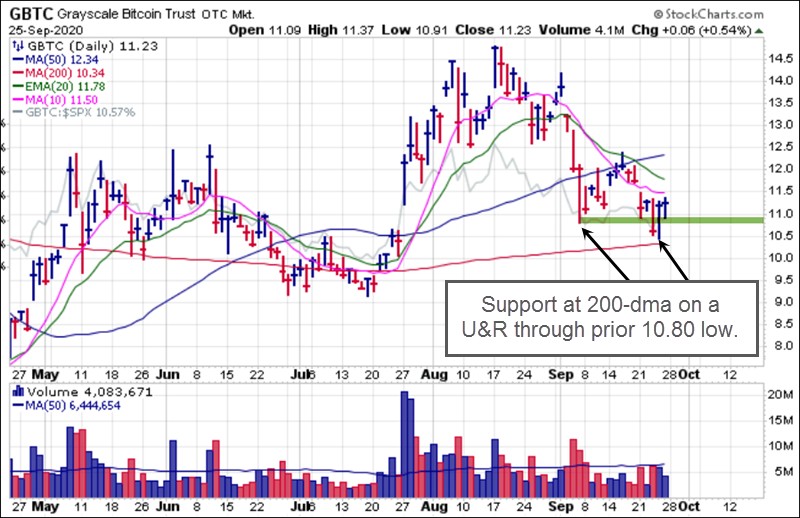 The bottom line currently is that the market remains in a correction. Various leading stocks have also triggered selling guides so most investors have likely been pushed mostly into cash or even entirely into cash depending on their specific holdings. We remain cautious but opportunistic as we scout the horizon for possible set-ups long or short as they appear in real-time.