Major market indexes rallied off their Wednesday lows as the NASDAQ 100 Index posted an undercut & rally move on Thursday along the mid-August lows. The NASDAQ Composite also rallied back above its mid-August lows but every other major market index remained in lower-low territory as the broader market remains quite weak. The more robust action in the NASDAQ indexes was due to the fact that the most beaten-down areas of the market have been higher PE and PE-expansion names such as techs and the AI Meme Stocks which were quite oversold by mid-week. Nevertheless, major averages finished near the low end of their trading ranges on Friday despite the positive PCE report that showed inflation came in under expectations by a hair as fears of a government shutdown loomed.
The Fed's allegedly favorite inflation measure, the Personal Consumption Expenditures (PCE) inflation indicator, reported non-core inflation at 3.9% year-over-year matching expectations, while the non-core monthly change came in at 0.4% vs. expectations of 0.5%. The core PCE, which excludes food and energy, was up 0.1% vs. expectations of 0.2%. As we have said before, as long as the PCE, CPI, and PPI numbers continue to print positive then inflation continues to
increase
. It is nothing more than a word game to call a slowing of the
rate of increase
in inflation as
disinflation
since it is inflation no matter how much the Fed and government talking heads wish to parse it.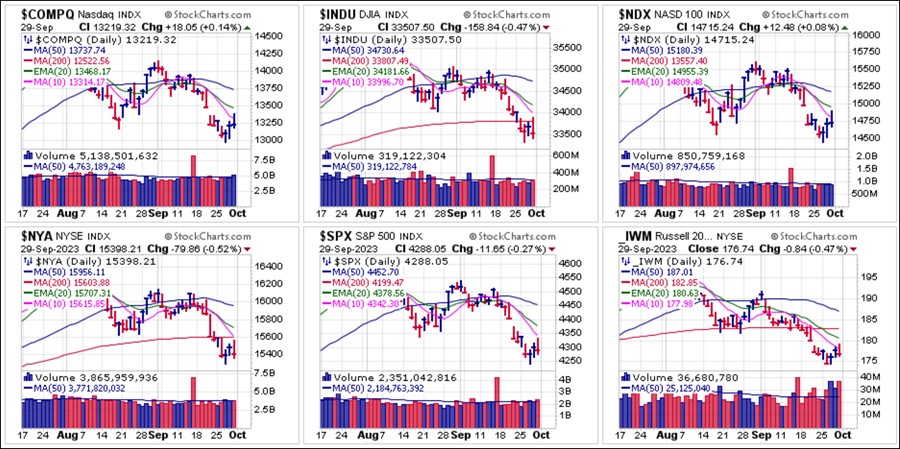 Short-sale target stocks that we first reported on a short-sale entries over two weeks ago bounced with the market and by Friday most were back in short-sale range after rallying into logical areas of moving average resistance. All six of the names below, Broadcom (AVGO), Fortinet (FTNT), MongoDB (MDB), Meta Platforms (META), Marvell Technology (MRVL), and Nvidia (NVDA) reversed Friday at moving average resistance to trigger short-sale entries. All of these names except META reversed at 20-dema resistance and remain shortable at the moving average on any small rallies back into the line from here. On Friday, META reversed near double-top resistance at the 312.87 left-side peak of two weeks ago triggering a double-top resistance type of short-sale entry, and then closed below the 50-dma where it is technically a short-sale entry using the 50-dma as a tight covering guide.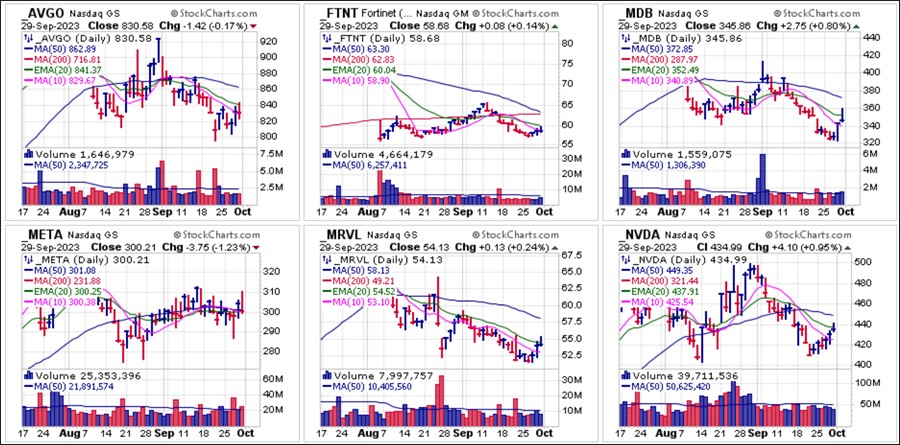 Alphabet (GOOGL) continues to play out as a late-stage failed-base (LSFB) short-sale set-up in process. The latest rally took the stock up to 134.05, just above the 133.74 left-side double-top peak and prior base breakout point before reversing to close at 130.86. That triggered a double-top short-sale (DTSS) entry at 133.74 which is then used as a covering guide.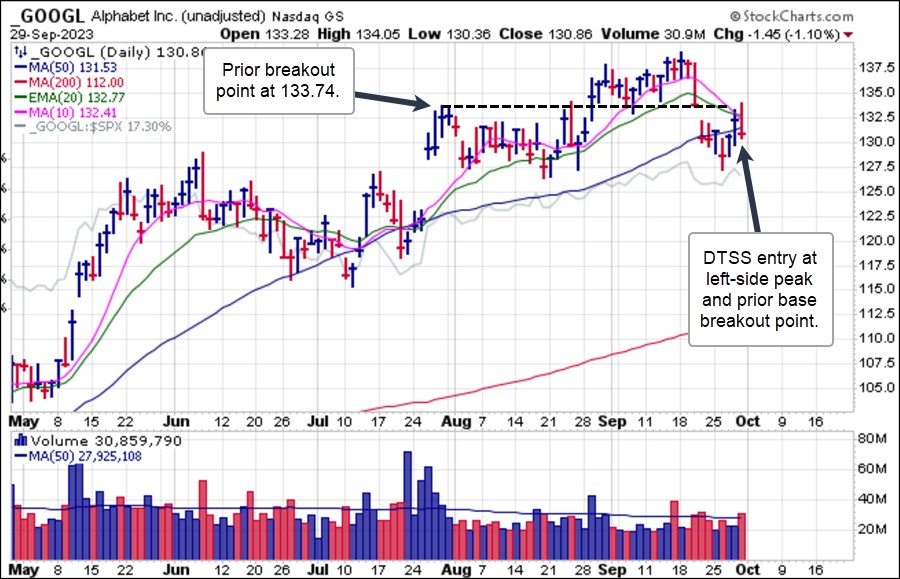 CrowdStrike (CRWD)
has rallied back above the left-side peak in its pattern at 166.99, closing Friday at 167.38. We would watch for a break back below 166.99 as a double-top short-sale entry trigger where the 166.99 level is then used as a covering guide.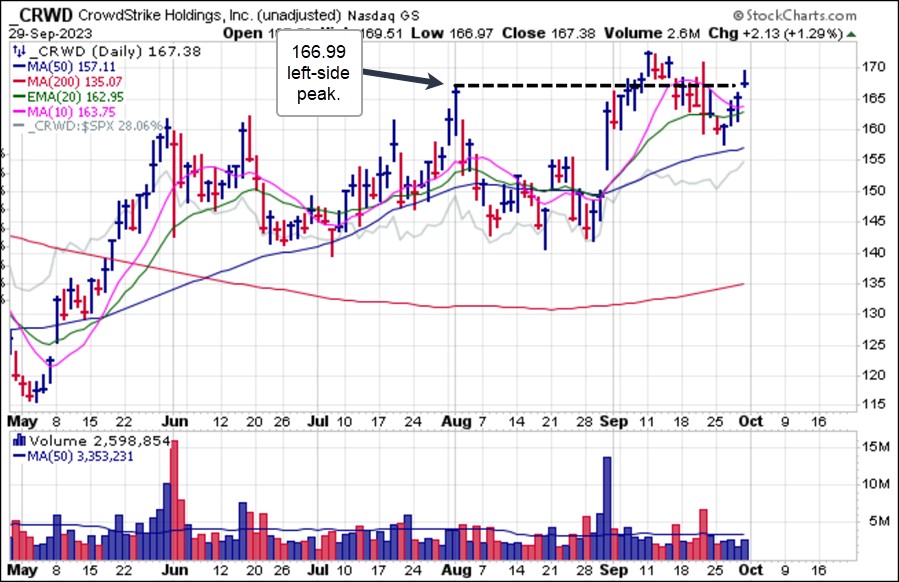 Lululemon Athletica (LULU) is a recent late-stage failed-base (LSFB) short-sale set-up that continues to bounce around its 10-dma, 20-dema and 50-dma following a clean breakout failure three weeks ago. In this position, where LULU has closed Friday just above the 20-dema, we would watch for any break below the line as a short-sale entry trigger using the 20-dema as a covering guide.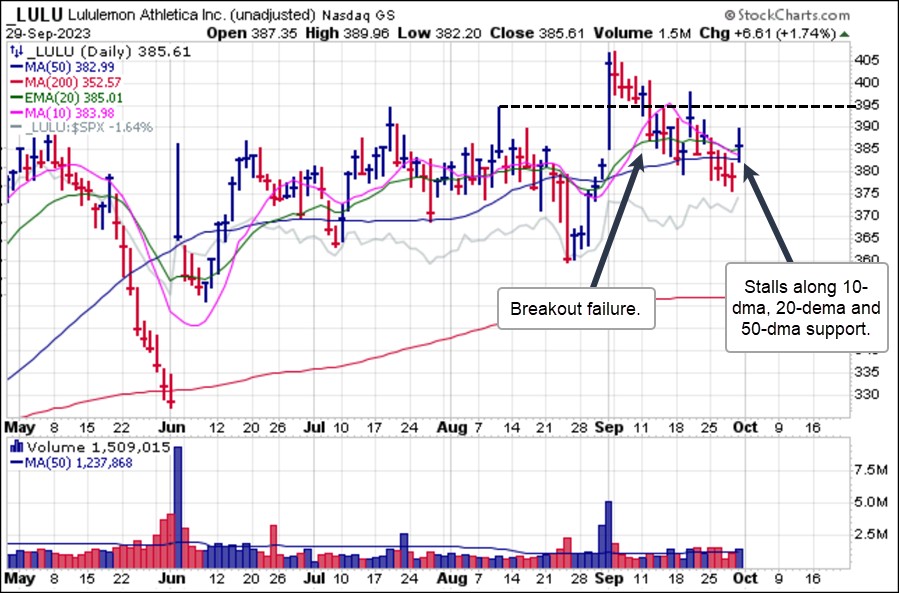 ZScaler (ZS)
ran up on Friday after
Morgan Stanley (MS)
raised its price target on the stock to $155 from $145, sending the stock to an intraday high of $159.39. The logic behind this move escapes us given that MS only raised the new price target to $155, or 55 times 2025 earnings. Whether such a PE-expansion in a rising interest rate environment can be sustained is a valid question to ask. In this position, breaks below the 20-dema would trigger short-sale entries so can be watched for.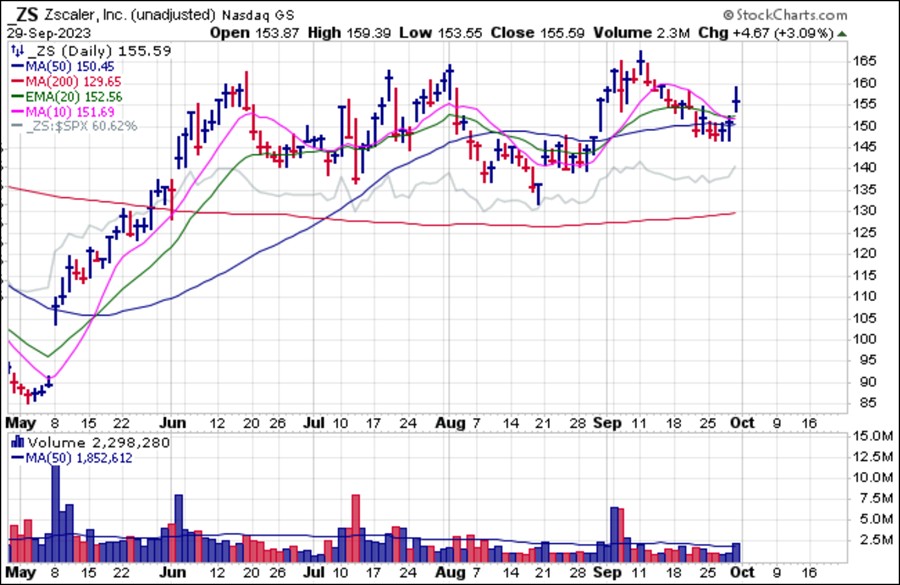 On Saturday Congress passed a resolution funding the U.S. government for 45 more days as they once again kicked the can down the road. It is possible that this will lead to an up open when trade resumes on Monday. We would be alert to the potential for this to create shortable rallies in short-sale target stocks discussed above.
The
Market Direction Model (MDM)
switched to a
CASH
signal on Monday, September 25th and then switched back to a
SELL
signal on Tuesday, September 26th.